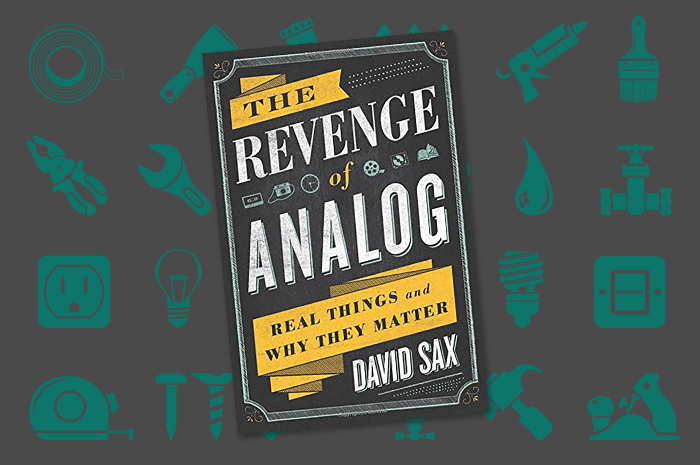 Byte Back
A journalist extols the virtues of vinyl, handwritten letters, and other old-fashioned tactile experiences that enrich our digital lives.
The Revenge of Analog: Real Things and Why They Matter
By David Sax.
Johns Hopkins University Press, 2016. 396 pages.
The rustle of newspaper in your hands, smack of dice on a game board, live saxophone music, or the glide of ink on paper. David Sax states in the preface of his book that his is not a screed against digital; yet, it is certainly a hymn to analog. Examining film photography, handmade watches, print magazines, and other objects and pursuits divorced from computers, The Revenge of Analog focuses largely upon the pleasure of physical, not virtual, experiences.
Make no mistake, this is no journey of nostalgia. The author professes himself surprised to learn that the people actively pursuing analog experiences are not old-timers, longing for simpler, less "connected" lives. Many are of a younger generation, often too young to have experienced analog the first time around—manual typewriters, long, handwritten letters in cursive script. Consider, for example, communities of young people who are passionately buying vinyl records and newly manufactured record players. Or contemporary bands cutting to vinyl rather than recording to digital, because they eschew the "safe, vanilla sounds" easily achieved with multitrack recording and digital editing. Today, the weeping passion of David Bowie's Ziggy Stardust would have been smoothed out by a sound engineer, notes Sax. But the cracks in his emotion-laden voice are "precisely what makes the song's finale so arresting." As people discover such limitations to digital, they are turning to analog, because they crave "experiences that are more tactile and human-centric." And that is "the revenge of analog." From Milan to Menlo Park, we are recording notes in Moleskine journals, not on iPads, because paper has become cool, "in the way that candles and bicycles are cool, even if they are technically 'obsolete.'"
Pleasure is a core motivator for this shift, but there is also a great deal of weariness and wariness about digital technology. After decades of exposure to computers, the Internet, and smartphones, people are beginning to recognize that the next new (digital) thing is not necessarily the best thing. And so, we are making choices that better suit us: A book doesn't require batteries or an online connection; you can easily flip to different chapters, determine how much you have read, and enjoy the feel and weight of it. Moreover, if you step on a book, you don't "have to pay Amazon $140 for a replacement." Digital has many advantages, the author admits, including speed, broad connectivity, and vast processing power; but each gain sacrifices "quiet, personal connections, contemplative thought." People are choosing analog, he says, for pleasure, efficiency, and peace of mind.
Sax states that our "post-digital" future will involve greater complexity than a binary choice between digital and analog: The ideal is to "[strike] a balance between the two." His argument for balance as a means to happier, grounded lives is persuasive, yet the author demonstrates strong bias when discussing analog and digital. The book offers lively evocations of device-free summer camps, Polaroid film enthusiasts, and students who build physical contraptions, not apps. But digital is given much shorter shrift, presented as an oppressive, if inferior reality, with denunciations that often feel too broad. It seems unfair to compare MOOCs, or massive open online courses, with Harvard, the oldest and most revered of American universities, for example, or to flatly declare that "digital education technology cannot ever replicate or replace" face-to-face encounters between students and teachers. Sax surely knows that educators are vigorously developing effective integrations of digital and analog in their teaching. As he says, it is not a binary choice, one or the other. And though Snakes and Lattes, Toronto's wildly popular board-game café, may demonstrate a strong desire for analog games, one might ask how a single retro café stacks up against millions of Minecraft players. This book does a service in emphasizing the need to understand how, when, and why analog enriches our relentlessly digital lives. The Revenge of Analog would be far more convincing, however, if it acknowledged more of digital's evolving complexities, subtleties, and uses.
Review by Robin Tatu
Robin Tatu is Prism's senior editorial consultant.
Image Courtesy of Amazon/Thinkstock