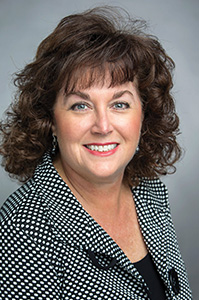 Board Profile
Teri Reed
A Glass-half-full Mentor of Success
Growing up, Teri Reed had a single ambition: She wanted to be a petroleum engineer. Raised in a household of Haliburton employees, "I think I was the only fourth grader to have an oil collection," she recalls. "I had baby food jars of different types of crude oil that my dad would bring back from the field. I thought the differences were fascinating."
After receiving her B.S. in petroleum engineering from the University of Oklahoma in 1985, Reed worked for the oil industry in the field for seven years. Her company sent her to night school to receive her M.B.A. "During that time, I was asked to teach a couple of classes, and I found out that I loved it." She returned to school—Arizona State University this time—for her Ph.D. in industrial engineering, with an emphasis in quality engineering. "I ended up teaching ethics, and I found the best way to combine ethics and engineering was by teaching quality."
Reed's reputation is defined not just by her scholarship but also by an effervescent personality—some students still call her "Doctor Disney." This is what landed her on her path to engineering education in 1996, while she was still a Ph.D. student. Reed tells the story of being summoned to a meeting with the the department head. "We were all scared to death of her." She told Reed about a grant for a new line of research studying how students learn statistics. It required hands-on activities for the students that had to be both fun and cheap. " 'And I hear you're fun,' is what [the director] said. I told her, 'I hope you've never heard I'm cheap!' " Reed credits her engineering education background with helping her rise quickly to leadership positions at multiple universities.
Now an assistant vice president in the office of research at the University of Cincinnati, Reed continues to study student success and what drives it. "A lot of people study failure, but I find that depressing," she says. "I'd rather the glass be half full." As the former head of ASEE's Diversity Division and current president of WEPAN (the Women in Engineering ProActive Network), Reed is passionate about making sure that students of all stripes succeed, and continues mentoring even after graduation. She views ASEE as "one of the most important engineering societies we have," she says. "I feel at home here. Everybody has a place where they can get rejuvenated. ASEE is that place for me."
New ASEE Webinar Series
Engineer Your Career
This month, ASEE is launching Engineer Your Career—Success for Up-and-Coming Faculty and Professionals, a four-part professional development webinar series for students and new and up-and-coming engineering professionals. Each webinar will feature thought leaders and subject matter experts and is priced at only $5 for ASEE student members!
Getting a Head Start—Fellowship Focus (FREE!)
January 25, 2017 (1 – 2 PM, ET)
Learn more about the importance of fellowships, the application process, and the different fellowships administered by ASEE.
Building Strategic Networks—Mentors and More
February 15, 2017 (2 – 3 PM, ET)
Explore the concepts of personal vs. professional identity, and learn how to establish social capital and how to maintain and navigate relationships and networks in your early career.
Landing the Job—Seeking, Securing, and Negotiating
March 22, 2017 (3 – 4 PM, ET)
Learn tips and techniques to interview and negotiate for positions, how to know when a position is the right fit, and how to be your own advocate during the hiring process.
Maximizing Value—Creating an Engineering Portfolio
April 12, 2017 (1 – 2 PM, ET)
Discover the benefits of Web-based engineering portfolios and learn a framework for crafting your own.
Learn more about these webinars and register now:
https://www.asee.org/conferences-and-events/webinar-series
ASEE Student Chapter Promotion: Highlight Your Chapter in an Upcoming Prism! We are happy to announce a special Student Chapter Promotion for the ASEE webinar series Engineer Your Career—Success for Up-and-Coming Faculty and Professionals. The winning chapter of this promotion will be featured in the September 2017 issue of Prism. How do you get involved? It's simple! Promote this webinar series to your friends, colleagues, faculty, and administrative staff. The ASEE student chapter whose institution receives the highest number of individual webinar registrations for the four-part series will be featured in Prism. Have questions? Please direct them to education@asee.org.