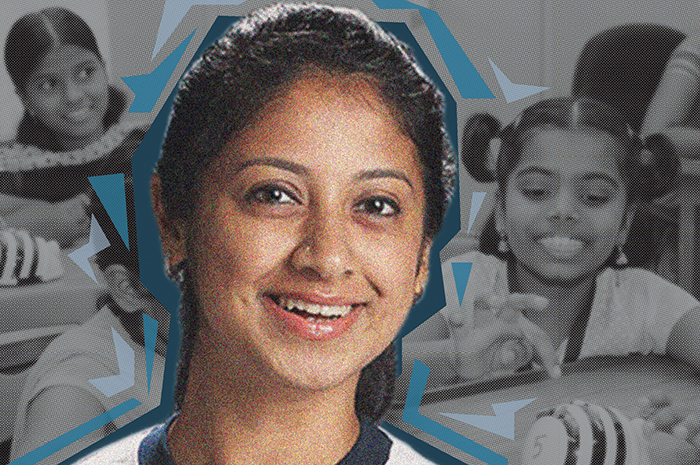 Robotics for All
An enterprising engineer seeks to fight poverty and empower young women through tech education.
By Jennifer Pocock
At the Annai Ashram orphanage in Trichy, India, happy young voices comingle with bleeps and bloops as black-and-yellow "Bee-Bots" scoot across the ground, navigating rudimentary mazes. This is where 25 girls, ranging in age from seven to 12, are learning sequential code.
Indian Girls Code is just one of many outreach programs Deepti Suchindran has launched in the past few years. Suchindran, who holds a degree in industrial biotechnology from Anna University in India and a Ph.D. in neuroscience from the University of North Carolina, Chapel Hill, is fascinated by developmental memory, learning, and robotics. Since becoming CEO of Robotix Learning Solutions in 2012, she has committed the family business – begun in 2009 and co-run with her sister Aditi – to solving societal issues through tech instruction. "Growing up, my parents always stressed the power of education," says Suchindran, noting their many efforts in schools. "Seeing the robotics revolution coming, my father, who is an electrical engineer, decided to teach it to young kids."
Robotix Learning Solutions supplies lesson plans, workshops, and technology to K-12 schools throughout India, benefitting some 10,000 children annually. The program is now expanding to the United States. In addition, the company runs the Indian Robotix League (IRL), a three-day contest where kids who have never coded before learn to build a robot and compete against other teams. "It's a robotics sports event, basically," says Suchindran, noting that newbie participants have gone on to win international robotics competitions.
In addition to groundbreaking educational programming, Suchindran, 33, has created her own multilingual robot called Phiro, which she funded through Kickstarter last month. Phiro teaches five different open-source languages (Binary, Sequential Programming, Pocket Code, Scratch, and Snap) and is Arduino and LEGO adaptable. Her revolutionary binary technology – "swish cards" that kids can customize and code through coloring – is built into the 'bot, providing one of the key building blocks to introducing children as young as three to the fundamentals of how to problem-solve with code.
Suchindran hopes that such versatile robots will give underprivileged youngsters a fun start in the field of robotics. To do this, she has partnered with the Ford Motor Company to mentor a group of orphans in Trichy. "These girls have limited English, so we're teaching coding and robotics in Tamil, which is their native language. They've never used a computer before; they don't know how to move a mouse," explains Suchindran. "There's an initial gap to overcome, but they're really smart. They've seen robots and fancy technology in the movies and wondered how they worked. They're able to grasp the concept very quickly."
Focusing on orphan girls allows Suchindran to address the significant gap in who gets high-tech education while helping to break the poverty cycle. Many young women raised in orphanages end up placing their own offspring in orphanages – the best and only life they know. Instead, Suchindran wants to empower them to take charge of their lives, starting with technology. "The robots are just building blocks," she says. "We're trying to teach them to familiarize themselves with different aspects of software and hardware, but our goal is actually to help them brainstorm real-world problems that will be relevant to them," such as a security system for their orphanage. "We can show them they can use technology to solve these problems."
Suchindran's Phiro 'bots and social initiatives are small steps toward her larger goals. She wants to eradicate barriers to higher education and jobs for women and underprivileged youth, and to teach kids with Down's syndrome or other neurological disorders how to learn and function socially. She already is leading workshops for both groups, but hopes to expand by partnering with universities and companies that will promise to work with her graduates, positioning them in the pipeline for degrees and careers.
Suchindran, who currently is based in Cambridge, Mass., following a stint with an MIT neuroscience start-up, also wants to integrate artificial intelligence and neuroscience into future robots. "Kids would use their brainwaves to control robots," she said. "But, you know, one thing at a time."
Jennifer Pocock is assistant editor of Prism.
Image Courtesy of Deepti Suchindran/Francis Igot