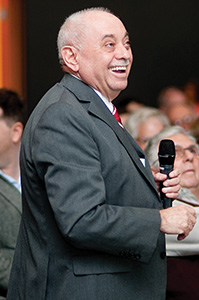 Letter from the President
From P-12 to Global Engineering
ASEE initiatives aim to strengthen education on multiple levels.
By Louis A. Martin-Vega
It is hard to believe that as of this writing I am just over halfway through my ASEE presidency. I have enjoyed the opportunity to represent you and lead our Board of Directors as we set the course for ASEE's future. It's been an active year so far.
Making a more diverse, welcoming environment in our institutions has been a growing focus of ASEE and its members and I'd like to give you an update on a high-profile effort on this front. The Deans' Diversity Pledge, launched in 2015 in response to a White House initiative, continues to add supporters. Nearly 210 deans have signed this letter, listing specific actions to "further promote the pursuit of engineering education to all those who have been historically under-represented within our discipline." Last November the Obama administration included the pledge as part of a collection of commitments it had received from engineering-focused organizations in the public and private sector. This was great exposure for ASEE and our institutions, something about which we can be very proud. ASEE staff are currently collecting examples from deans of how your institutions are upholding this pledge and making our campuses more inclusive and welcoming.
Perceived Gap
Looking at earlier stages in the education pipeline, we are currently in the middle of ASEE's Year to Commit to P-12: When Engineering Begins, as designated at our 2016 Annual Conference. Liz Parry of North Carolina State University chairs a P-12 committee of the ASEE Board of Directors that will provide recommendations on proposed initiatives. Pamela Lottero-Purdue of Towson University chairs ASEE's Pre-College Engineering Education Division, a rapidly-growing body that approved a new vision, mission, and set of core beliefs at the 2016 conference. Both the division and committee are strengthening ASEE's position and efforts in this important focal point of engineering education. We have a number of activities in this area planned for our 2017 Annual Conference in Columbus, Ohio. In addition to the ever-growing annual P-12 Workshop, we will have a Columbus Community Family Engineering Night activity and an interactive area on P-12 engineering research and practice in the exhibit hall.
A Theme for the Conference
Speaking of the Annual Conference, our theme, "Where Engineering Education Takes Flight – From P-12 Through Life," recognizes Ohio's historical ties to aviation. We are in the process of securing dynamic plenary speakers and firming up technical sessions. As in previous years, you can expect a number of new and interesting opportunities to interact with your peers.
In two years ASEE will turn 125 (allowing me to give you your fun fact of the day: a 125th celebration is a quasquicentennial). At our Annual Conference in Salt Lake City in 2018 we will kick off a year-long set of activities and promotions to celebrate our Society's rich history and bright future. ASEE staff are currently working with a volunteer member committee to generate and vet ideas. You will have an opportunity over the next several months to offer your own suggestions.
An Engaging Four Days in Seoul
Last November I had the honor of representing ASEE at the joint World Engineering Education Forum/Global Engineering Deans Council meeting in Seoul, South Korea. During the engaging four-day program I had the opportunity to learn from and share insights with colleagues from around the world, strengthening ASEE's position in the global engineering education space. Our domestic institutions are educating, after all, future "global engineers," and international relationships are more and more important in an ever-shrinking world.
One of the speakers at this event was Dan Mote, president of the National Academy of Engineering, who spoke on the Grand Challenges for Engineering project, with which most of you are familiar. As I said in my September 2016 letter in this space, this activity provides a great opportunity for members to engage with our students in exciting new ways. The biennial Global Grand Challenges Summit will be held in Washington, DC in 2017, and I look forward to ASEE leadership being engaged in this event.
A Mission and Vision
It is an exciting time for ASEE. As "STEM education" has grown to politically friendly buzzword status, our members are at the forefront of shaping the ways we educate our best and brightest students. In addition, ASEE's recent financial turnaround puts us in a position to make investments to strategically grow the organization and improve member services and benefits. In order to better codify what ASEE means as a society and lay out our future direction, ASEE's Long Range Planning Committee, under the leadership of Jenna Carpenter, Dean of the School of Engineering at Campbell University, crafted a new mission and vision statement for the Society. Approved by the Board in 2016 they are:
Mission
ASEE advances innovation, excellence, and access at all levels of education for the engineering profession.
Vision
ASEE is the pre-eminent authority on the education of engineering professionals.
Having had the opportunity to meet many of you, I know that our members support these lofty statements with their actions. I thank you all for your dedication to our organization, and look forward to seeing you this summer in Columbus.
Louis A. Martin-Vega is president of ASEE.
Meet Your Staff
'Girl from Galicia' at Home in I.T.
By Nathan Kahl
Eva Castelo is on ASEE's IT team, previously as lead developer for the Graduate Research Fellowship Program. Her work is now distributed across many projects, including mentoring several new junior staffers.
Eva hails from the Galicia region in the northwest of Spain, an area known for its delectable seafood dishes, the stunning Cathedral of Santiago de Compostela, and an eclectic culture, influenced heavily by Celtic settlers from Ireland.
For Eva, though, the region meant grapes—lots and lots of grapes. Her family owns a vineyard and sells wine from their home, building a large customer base over the years through a great word-of-mouth reputation. Helping out was simply part of growing up, sometimes even with extended family pitching in. "We were 13 female cousins and my father took advantage of that. 'Thirteen girls? OK, 13 of you will be stomping grapes.' "
When Eva was in high school she didn't aspire to go to university, but she didn't want to spend her life in the vineyards. After exposure to computer science classes piqued her interest, a teacher urged her to study the field formally and she did so at the Universidade de Vigo, not far from home. After graduation she first worked providing IT support at a university and then moved to Madrid. She adjusted to the capital with surprising ease, despite her roots in the countryside.
On a Madrid sidewalk one day she helped out a lost American. She was eager to converse in English with someone who had a "real" American accent, having relied on European friends and software programs to practice the language. Little did she know that her brief interaction with him would turn into weekly Skype dual-language sessions, more trans-Atlantic visits, and eventually a marriage proposal. "I mean, he's 10 years older, American, a government lawyer, and I'm just a girl from Galicia!" she still marvels at the turn of events.
Eva's 2013 move to his home in Washington, D.C., was a challenging event for her family. "For my mother, Madrid was very far," she says. "Now America?" Eva has since become fascinated by the U.S. political system and has come to enjoy our casual dress code. "On one of my first visits my husband [then boyfriend] came to pick me up on a Sunday and I had gotten very dressed up, because that's how we do it at home on a weekend," she recalled. "He saw me and said I might be overdressed, and I just thought he was being a guy. But then we stepped outside and I saw everyone wearing sports clothes. You go to brunch in the clothes you wear to the gym?" Eva is now happy to skip the makeup and slip on sneakers for most any event. "I like my life here a lot."
And ASEE is happy to have her on the IT team, where every day is casual Friday.
Expanding ASEE's Global Reach
ASEE's ties with peer organizations overseas have deep roots. As Japan sought to rebuild its economy after World War II, for instance, ASEE in 1951 sent a 15-member mission to visit universities and industrial sites. Led by Harold Hazen, then head of MIT's electrical engineering department, the mission was well received by engineering educators and contributed to the founding soon afterward of the Japanese Society for Engineering Education (JSEE). Today, the Society's global relationships encompass seven partner organizations, including JSEE, and representation at a half-dozen or so meetings a year, including ASEE's own International Forum.
At the heart of these relationships is the 10-member International Advisory Committee, which reports to the Board of Directors. "Engineering education, as with many other fields, is more and more global. We need to connect, be aware, and be leaders in that arena," says Catherine Skokan, ASEE vice president for external affairs, who chairs the committee. Several members, along with Executive Director Norman Fortenberry, participated in the World Engineering Education Forum last November in Seoul, South Korea, held jointly with the Global Engineering Deans Council. In September, ASEE will revive its Global Colloquium, last held in Singapore in 2010, at a joint conference with the European Society for Engineering Education in the Azores.
Besides large partner societies, ASEE has instituted overseas branches, composed of 10 or more educators. Branches have so begun in southern India and Lebanon. Groups in Iraq, Africa, and South America have indicated interest, Skokan says.
In monthly conference calls, the Advisory Committee stays abreast of planning for the International Forum, held in conjunction with ASEE's Annual Conference, and discusses new attractions. One idea now being considered is a workshop on virtual laboratories. Committee members also help to review forum papers and abstracts.
This is the first of a series of updates on the 13 committees named to advise ASEE's Board of Directors.
Board Statement on Immigration Order
On February 1, 2017, ASEE's Board of Directors issued the following statement on the Trump administration's order regarding immigration by nationals of seven countries:
The U.S. Presidential Executive Order on immigration enforcement, issued on Friday January 27, may have a significant potential impact on many ASEE institutional members, most notably colleges of engineering and engineering technology.
The majority of engineering graduate students are foreign born, as are a significant number of undergraduates and faculty. An executive order banning visa and green card* holders from seven countries may impact thousands of engineering and engineering technology students and faculty members from continuing their education and/or research in a timely and reasonable manner. And this does not address, of course, the personal hardship and anxiety they are facing.
A talented engineering workforce is needed to tackle the grand challenges of tomorrow. ASEE member institutions are greatly enriched by the talent, intelligence, work ethic, and diversity of thought that international faculty and students bring to their campuses. Many of these students stay in the U.S. after graduation and contribute to the economy, sometimes starting tech-based businesses or impacting entire industries.
Beyond any immediate negative impact, the creation of an atmosphere of uncertainty for international faculty and students may have a dampening impact on our nation's ability to attract the best talent to engineering.
While ASEE supports every effort to ensure security within our borders, we hope that such efforts will be carried out in such a way as to minimize disruption to those who teach, practice, and study engineering and engineering technology in the U.S.
*As of this writing, on February 1, it appears as though green card holders will be allowed to return to the United States.