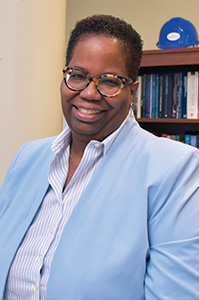 Letter from the President
What's in a Name?
To promote diversity, equity, and inclusion, let's use the terms our colleagues and graduates prefer to describe their professional status.
By Stephanie Adams
As a professor in the classroom, I always thought it was important to pronounce students' names correctly–correctly as in the way they would prefer that their names be pronounced. Not that I saw myself in a motherly role, but I just figured one's mother had a specific pronunciation in mind, and it was my job to master that pronunciation.
Now that I am out of the classroom and in an administrative role, I think it is equally important to address audiences by their preferred pronunciation. Take, for example, our engineering technology (ET) brethren. They prefer the term engineering professional rather than engineering technologist. The community tells me the latter term is offensive. From their perspective, there are no jobs called "engineering technologists." As a matter of fact, it seems that most four-year ET graduates are in occupations where they are referred to as engineers, and most two-year graduates are in jobs where they may be called engineering technicians.
While I read the difference, it doesn't always resonate with me as I am not a member of their community. But if an entire community asks to be addressed a certain way, then, just like correctly pronouncing students' names, I think we all should honor the request.
Similarly, there is another group within our membership that is concerned about the label often applied to describe their professional status. I'm referring to those hired to teach in our classrooms who aren't tenured or on the tenure track. They are most commonly referred to as non-tenure-track faculty, Their titles often include: instructor, lecturer, teaching professors/faculty, clinical faculty, or professors of practice. However, there is a movement toward using the title "professional-track faculty," thereby focusing on what they are rather than what they are not.
As an article in the October 2019 issue of Prism pointed out, "this contingency workforce, typically teaching full- and part-time on annual or multiyear contracts, has become the norm as campuses nationwide scramble to cut costs and serve ever-expanding student bodies." The article went on to cite a 2017 Government Accountability Office report that found the number of non-tenure-track, full-time positions had surged by nearly 110 percent between 1995 and 2011, compared with just 9.6 percent for tenure-track appointments. It further noted that "while the proportion of full-time, tenure-eligible faculty is higher at research and doctorate-granting institutions—totaling 47.8 percent of appointments in the most recent National Center for Education Statistics digest—part-time contractors still make up half of all faculty."
Some might ask, what does it matter what you call either group? Or why is this important? Or even, what difference does it make since it's just a label or a title? As an organization that prides itself on diversity, equity, and inclusion, what better way to show we mean it than to acknowledge that what you call any group is as important as pronouncing someone's name correctly. At the end of the day, what does it cost us to retrain our brains to embrace new nomenclature—particularly if it makes our colleagues and graduates feel more welcomed?
Stephanie G. Adams is President of ASEE.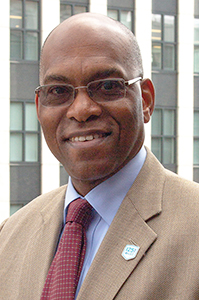 Norman's Notes
Workforce Summit, a Diversity Publication, and Collaboration Technology
ASEE Members,
I wish you all a happy and prosperous New Year! ASEE is committed to serving our members in new and innovative ways that provide you with even more reasons to be an enthusiastic member of ASEE. We have several upcoming activities that we hope you will see as contributing to this goal.
October 2020 Workforce Summit: The ASEE Corporate Member Council, in partnership with Automation Alley, is hosting the National Workforce Summit, October 7-9, 2020, at the Omni Shoreham Hotel in Washington, D.C. This national summit will bring together people from industry, academia, government, professional societies, and accreditation to focus on how to prepare graduates of engineering, engineering technology, and engineering technician programs for Industry 4.0 and beyond. It will conclude with recommendations for changes/improvements in curricula, work-based experiences, policies, and practices in the preparation of the technical and engineering workforce. Engineering and Engineering Technology faculty and administrators are invited to attend and bring at least one of your industry partners focused on these workforce issues. ASEE is seeking sponsorships for this event to cover meeting costs and the data science and other research needed to create the recommendations. Please contact Stephanie Harrington, director of membership marketing and development at ASEE (s.harrington@asee.org), or David Pistrui, ASEE Summit Committee program chair (pistruda@udmercy.edu), for additional information.
New ASEE Publication on Diversity in STEM: We have partnered with the National Science Foundation to produce a publication on the NSF GOLD program, which seeks to diversify the geosciences. The publication features five GOLD projects, with a deep look at two in particular. Lessons learned from these initiatives are applicable to engineering and all STEM disciplines.
ASEE Community Collaboration System: In response to member requests and comments, ASEE plans to roll out community engagement software that will enable members within a given community (such as divisions, sections, and self-defined interest groups) to initiate discussions and interact directly on a variety of topics through a new system in time for the 2020 Annual Conference and Exposition.
Community Interaction Website: ASEE is taking a deep look at our technology infrastructure and, by July 2021, will unveil our new systems. You will see a new interface when you register for events, renew your membership, or submit a paper. You also will navigate a new ASEE website and find your user experience to be much improved.
I hope your spring 2020 semesters are off to a great start, and I look forward to seeing you at an upcoming ASEE event.
Norman Fortenberry is the executive director of ASEE.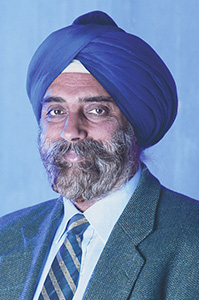 Board Profile
Teacher and Global Energizer
Had job prospects and salaries been less dismal when he completed his M.S. in applied sciences/electrical engineering in 1981, Pritpal "Pali" Singh probably would be working in the solar industry today. Instead, his adviser at the University of Delaware suggested an alternative: Stay on for a Ph.D. and continue researching thin-film solar cells. "He saw I'd make a great teacher," says a grateful Singh, a professor of electrical and computer engineering at Villanova University who joined the faculty after receiving his doctorate in 1984. He calls staying in academia "the best decision I ever made."
Raised in England, Singh developed an interest in weaning the world off fossil fuels even before the global oil crisis of the 1970s. While running a solar start-up in India for five years cured him of wanting to start a business, he has applied his entrepreneurial zeal to working with nonprofits and designing practical solar solutions for people in isolated, often impoverished areas of the world. "I saw a lot of opportunities in communities where they didn't have access" to such things as electricity and health care, he notes. Among his inventions (he holds seven U.S. patents) is a novel solar cell and a micropower supply for miniature devices. He has also designed a low-power suction pump for clearing newborns' nasal passages in rural clinics in the developing world.
Singh strives to involve students in both designing and implementing high-impact technologies. "They really understand the practical elements, like debugging software in the field," he explains. "There's no textbook with the answers." His students have worked, for instance, on a telemedicine project in Nicaragua, where community health workers measure vital signs of women during pregnancy and text that information to a computer server for review by health-care professionals—resulting in happy outcomes for more than 100 women with complications during pregnancy. In one village, a "solar suitcase" was deployed to charge the cellphone used to transmit the data. They also designed a cellphone and light charger for use in a remote region of Burundi, one of several African nations where Singh has delivered workshops and lectures in collaboration with UNICEF. This winter break, he led his senior design students to the Galapagos, where they implemented their project of upgrading the island of San Cristobal's intranet so that students and teachers from different schools could connect via videoconference.
Just as active in ASEE, Singh is a past chair of the Mid-Atlantic section, a former member of the board of the Electrical and Computer Engineering Department Heads Association (ECEDHA), and co-founder of the engineering chairs conclave at the Annual Conference. Though new to the Board, Singh has spotted an opportunity to spur greater participation in ASEE. He is championing a proposal to create a "senior grade" of membership—as IEEE does—to recognize the "significant contributions" of "those who have been engaged in the Society for five or six years" but fall short of the decade of active membership required to be nominated for one of a very limited number of Fellow-grade honors conferred annually.
Call for Board Candidates
The ASEE Nominating Committee, chaired by Immediate Past President Stephanie Farrell, requests member participation in nominating candidates for the 2021 ASEE Board election. Board positions to be nominated are: President-Elect; Vice President, External Relations; Vice President, Finance; and chairs of the Council of Sections for Zones II and IV.
All nominees must be individual members or institutional-member representatives of ASEE at the time of nomination and must maintain ASEE membership during their term of office. Nominating Committee members are not eligible for nomination.
Candidates for President-Elect and for Vice President, External Relations, must be active members who have served or are serving on the Board of Directors. Because ASEE is a Department of Defense contractor, candidates for President-Elect must currently be U.S. citizens and undergo a security clearance.
Candidates for Chair-Elect for Zone II and Zone IV will be selected by members of their respective sections, as the ASEE Constitution stipulates.
Each proposed candidate for a Society-wide office should submit a first-person biographical sketch of fewer than 400 words that documents career contributions, ASEE offices held, awards and recognitions received, and educational background. Include comments on leadership qualities, ability to collaborate with others to achieve objectives, and willingness to serve if elected. Self-nominations are accepted. For nominations for the office of President-Elect, please include a statement summarizing why you think your nominee is a good candidate for the position. A listing of members who meet constitutional eligibility requirements for the offices of President-Elect and Vice President, External Relations is available from the executive director's office at ASEE headquarters.
Nominations will be accepted electronically at s.nguyen-fawley@asee.org. Please include a subject line that begins with the words "2021 Nominations" so that it can be forwarded to the Nominating Committee. Please be assured that your nominations are confidential and will be seen only by the Assistant Board Secretary and members of the Nominating Committee. The deadline to submit nominations is July 1, 2020.

Nominations postmarked by July 1, 2020, will also be accepted by mail. Please mark the envelope CONFIDENTIAL and address it to Stephanie Farrell, Chair, ASEE Nominating Committee, ASEE, 1818 N Street, N.W., Suite 600, Washington, DC 20036.