Call for Board Candidates
The ASEE Nominating Committee, chaired by Immediate Past President Stephanie Farrell, requests member participation in nominating candidates for the 2021 ASEE Board election. Board positions to be nominated are: President-Elect; Vice President, External Relations; Vice President, Finance; and chairs of the Council of Sections for Zones II and IV.
All nominees must be individual members or institutional-member representatives of ASEE at the time of nomination and must maintain ASEE membership during their term of office. Nominating Committee members are not eligible for nomination.
Candidates for President-Elect, Vice President, External Relations, and Vice President, Finance, must be active members who have served or are serving on the Board of Directors. Because ASEE is a Department of Defense contractor, candidates for President-Elect must currently be U.S. citizens and undergo a security clearance.
Candidates for Chair-Elect for Zone II and Zone IV will be selected by members of their respective sections, as the ASEE Constitution stipulates.
Each proposed candidate for a Society-wide office should submit a first-person biographical sketch of fewer than 400 words that documents career contributions, ASEE offices held, awards and recognitions received, and educational background. Include comments on leadership qualities, ability to collaborate with others to achieve objectives, and willingness to serve if elected. Self-nominations are accepted. For nominations for the office of President-Elect, please include a statement summarizing why you think your nominee is a good candidate for the position. A listing of members who meet constitutional eligibility requirements for the offices of President-Elect, Vice President, External Relations, and Vice President, Finance, is available from the executive director's office at ASEE headquarters.
Nominations will be accepted electronically at s.nguyen-fawley@asee.org. Please include a subject line that begins with the words "2021 Nominations" so that it can be forwarded to the Nominating Committee. Please be assured that your nominations are confidential and will be seen only by the Assistant Board Secretary and members of the Nominating Committee. The deadline to submit nominations is July 1, 2020.
Nominations postmarked by July 1, 2020, will also be accepted by mail. Please mark the envelope CONFIDENTIAL and address it to Stephanie Farrell, Chair, ASEE Nominating Committee, ASEE, 1818 N Street, N.W., Suite 600, Washington, DC 20036.
ASEE Allies with Minority-Serving Computer Scientists
By Eric Wallace
Minority-serving Institutions (MSIs) are key to developing a more capable and diverse research workforce. MSIs are Historically Black Colleges and Universities (HBCUs), Hispanic-serving Institutions (HSIs), and institutions that serve Asian Americans and Native Americans. According to the 2019 National Academies of Sciences, Engineering, and Medicine report, Minority Serving Institutions: America's Underutilized Resources for Strengthening the STEM Workforce, "more undergraduate students (from all backgrounds) are enrolled in STEM fields at four-year MSIs than at four-year non-MSIs, and when taken together, Historically Black Colleges and Universities, Hispanic-serving Institutions, and Asian American and Native American Pacific Islander-serving Institutions produce one-fifth of the nation's STEM bachelor's degrees." MSIs host enormous untapped reservoirs of scientific and engineering talent, and it's important that the United States improves its ability to deploy it.
Supported by the National Science Foundation (NSF), ASEE convened a conference in early February 2020 on increasing participation of MSIs in NSF's Computer and Information Science and Engineering (CISE) programs. Eighty faculty members from HBCUs, HSIs, and Native-serving Institutions joined 15 senior leaders and program directors from NSF for two days of intensive problem solving, focusing on specific actions MSI faculty and NSF staff can take to strengthen the relationship between the nation's MSIs and NSF CISE. The goal of the conference was to lay the groundwork for collaboration that will lead to more numerous and competitive proposals from MSIs for CISE activities. The conference featured extensive and candid interactions between NSF program directors and representatives from a wide variety of MSIs. Conference attendees generated recommendations for the NSF in areas ranging from proposal review to building research capacity at institutions with very limited resources and how to support mentors and champions for underrepresented scientists and engineers. Conference attendees also had several opportunities to network and lay the foundations for future research collaboration. NSF staff took the opportunity to learn more about MSIs and the unique challenges they face. For instance, MSI faculty tend to have heavier teaching loads, and students are frequently first-generation college attendees who must balance work and family obligations while preparing for careers in science and engineering. One conference attendee summed up the event by saying, "The small group sessions helped [me] to feel heard by other institutions and NSF [and] to develop collaborations among us. The plenaries opened my eyes to possible funding opportunities."
Eric Wallace is a senior project manager for education and career development at ASEE.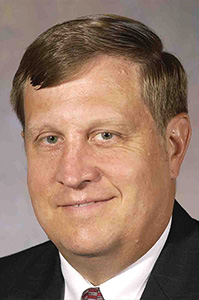 Board Profile
High Flyer, Committed Teacher
As an aeronautical engineer, Kenneth Van Treuren has flown a variety of aircraft, including fighter jets and KC-10 and KC-135 tankers, become a noted gas turbine and heat transfer expert, and experimented with ever-more quiet and efficient quadcopter drones. But teaching is what he enjoys most. His two-and-a-half decades in the classroom have earned him accolades from the U.S. Air Force Academy and Baylor University while proffering a stream of ideas and reflections on engineering education ranging from the practical—how-to's on active learning, for instance—to the philosophical, such as ways to help students build life skills and "find joy in their work."
Raised on a small New Jersey farm that his father, an airline pilot, managed in his time off, Van Treuren graduated in 1977 with distinction and a Guggenheim Fellowship from the U.S. Air Force Academy. After earning a master's degree in engineering in just 10 months at Princeton, studying hydrocarbon combustion, he became an Air Force pilot, learning to fly the military way: "sometimes dangerous, but fun," he says. He flew cargo and tanker missions in the Middle East and other regions before returning to USAFA to teach. The 1991 Gulf War could have sent Van Treuren back into the cockpit, but when it ended quickly, he seized the chance to pursue a doctoral degree.
Merton College, Oxford, founded in the 1260s, was a sharp departure from education as Van Treuren knew it. "I remember meeting with my professor for the first time. After 20 minutes, he said, 'There you go. If you have any questions, come see me.'" Van Treuren quickly adapted to the open-ended British tutorial system, plunged into a Rolls Royce-funded project to increase gas turbine performance, and earned a D.Phil. in three years. The experience was "amazing," he says.
Van Treuren continued his research on turbines and heat transfer after he resumed teaching at USAFA. Since joining Baylor's engineering school in 1998, he has spent summers in the USAFA Aeronautics Lab in Colorado Springs. Over time, his interest in turbine blades segued from jet engines to wind turbines and, most recently, to comparatively tiny quadcopters. Using a 3-D printer for each new iteration, he labors to make them much quieter—the better for military reconnaissance and for urban electric vertical takeoff and landing applications.
Van Treuren's ongoing research fit well with Baylor's bid to elevate its research profile and to attract more master's and doctoral students. But as associate dean for research and faculty development since 2007, he has sought to prevent the university's new research focus from diluting teaching quality—particularly among new hires with little or no teaching experience. In partnership with the Kern Engineering Entrepreneurial Network, he works to integrate the Baylor curriculum with entrepreneurial thinking and also leads monthly faculty seminars on best teaching practices. He is well-placed for this undertaking, having been an active ASEE member since 1996 and contributing at least one conference paper per year since 2000. Now Zone III chair with a seat on the Board of Directors, Van Treuren says he values the Society as a national focal point for engineering education.
As much as Baylor's teaching emphasis is a source of pride for Van Treuren, who is still a professor of mechanical engineering, its Baptist-inspired spiritual atmosphere is a source of comfort. Even though he sang in the Protestant choir at the iconic USAFA Chapel, he says it was Baylor that gave him "the opportunity to be who I was all the time, even in the classroom." He recalls that a strong faith helped sustain him during "pretty hairy" moments in flight, such as plugging the refueling boom from his tanker into another plane while speeding aloft at 400 miles per hour.