Click above for complete view.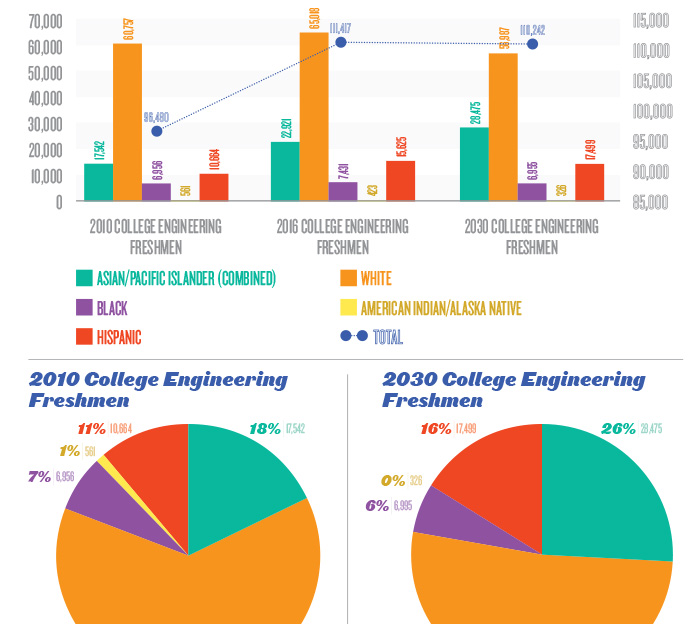 Doctorates & Research Spending
This month's databyte is the first in a series exploring undergraduate engineering demographic trends in the United States. It considers kindergarteners, the cohort of students who will graduate from high school in the year 2030. The data were drawn from ASEE's 2010 and 2016 Profiles of Engineering and Engineering Technology Colleges as well as from a 2016 study1 that projects race and ethnicity trends of future cohorts of high school graduates. Using ASEE Profiles data, we calculated the percentage of high school graduates by race and ethnicty who started in an engineering program the following year.
Based on demographic changes, we anticipate that, if the percentages of high-school graduates from different racial and ethnic groups who enroll in an engineering degree program the following year do not change from 2016 to 20302, Asian/Pacific Islanders and Hispanics will increase as a proportion of all engineering freshmen, while blacks and American Indian/Alaska Natives will slightly decrease. White freshmen engineering students will decrease by 12 percent. We project the sum of anticipated increases and decreases due to changing demographics will decrease enrollment of first-time full-time freshmen3 in engineering by 1 percent. However, that may be too optimistic. Our estimate assumes the same college-going rate from 2016 to 2030. But according to a recent article in The Atlantic4 the total percentage of high school graduates who immediately go to college in general has fallen since 2013 and might keep falling in the future.
1 "Knocking at the College Door: Projections of High School Graduates"—Graduate Projection; Western Interstate Commission on Higher Education, December 2016.
2 To test the stability of the percent of college going rates by race and ethnicity, we compared 2009/10 with 2015/2016 data and found little difference in the proportion of high school students enrolling in an engineering program as first-time full-time students. One small exception: Asians increased by 2 percent over expected growth.
3 Please refer to ASEE's Retention Survey white paper at: http://aeir.asee.org/wp-content/uploads/2017/07/2017-Engineering-by-the-Numbers-3.pdf for the way of estimating first-time full-time enrollment in engineering programs.
4 "Where Are All the High-School Grads Going?" Alia Wong, The Atlantic, January 11, 2016.
Compiled by Daodao Wang
Infographic by Francis Igot