Click above for complete view.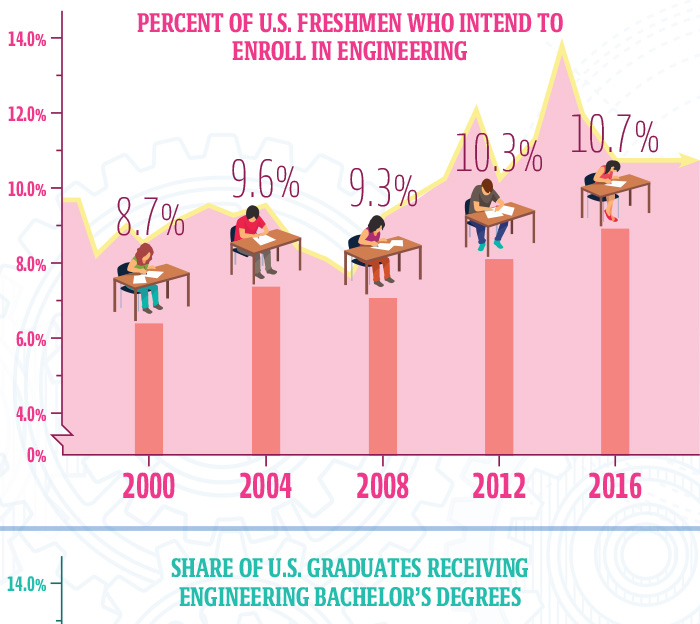 Early Interest in Engineering is Not Reflected in Degrees
The Great Recession (December 2007 to June 2009) increased public awareness of the importance of higher education and, in particular, of college majors with strong career prospects. This awareness can be seen in an increased interest in engineering among incoming college students. The share of U.S. freshmen intending to enroll in an engineering program rose from 7.5 percent in 2007 to 13.8 percent in 2014. As the recovery gained strength and more jobs became available across the workforce, this percentage dipped to 10.8 percent in 2016 but remained well above pre-recession levels. Increased interest in engineering degrees did not result in a similarly strong rise in the proportion of engineering graduates. In 2016, 5.2 percent of all bachelor's degrees awarded to U.S. students were in engineering—a slight increase (0.7 percentage points) over the 2007 proportion of 4.5 percent. The table below compares the percentage-point change from 2007 in students' intent and in share of engineering degrees awarded. The reason for the mismatch between intentions and degree completion may reflect a weakening of interest over time, students' difficulty in meeting the demands of engineering, or some combination.
Sources: National Center for Education Statistics and "The American Freshman: National Norms" survey from the Cooperative Institutional Research Program at UCLA's Higher Education Research Institute (HERI).