Click above for complete view.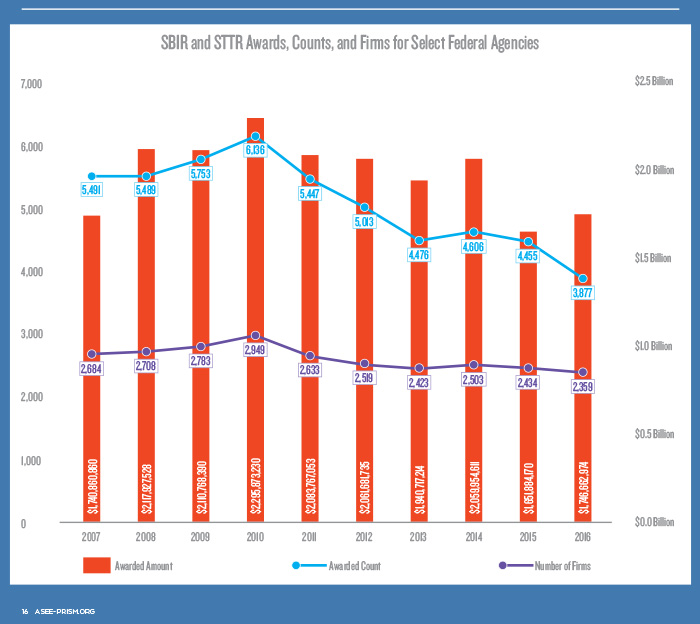 Lab to Market: Tracking SBIR/STTR Awards
The federal government has two principal mechanisms for helping scientists and engineers find a market for their laboratory inventions. The Small Business Innovation Research program provides grants that assist researchers in building viable enterprises around discoveries with commercial potential. The Small Business Technology Transfer program assists entrepreneurs in forming joint ventures with nonprofit research institutions. In recent years, several agencies have provided a pathway into SBIR/STTR programs through the Innovation Corps (I-Corps), which teaches researchers how to recognize the commercial prospects of their work and approach investors.
The graphics in these pages show a decade's worth of SBIR and STTR awards from the top funding agencies: the Department of Defense, Department of Health and Human Services, the National Aeronautics and Space Administration, and the National Science Foundation. Overall, the total annual amount awarded and the total number of grants given by these agencies have decreased. The states with the highest award amounts were California, Massachusetts, Virginia, Maryland, and New York.
(ASEE manages the ASEE/NSF Small Business Postdoctoral Research Diversity Fellowship Program, which matches NSF Phase II SBIR companies with postdoctoral scholars who are underrepresented in STEM. Readers can learn more at http://nsfsbir.asee.org. Director Damon Tull can be reached at nsfsbir@asee.org.)
Compiled by Austin Ryland
Infographic by Francis Igot