Click above for complete view.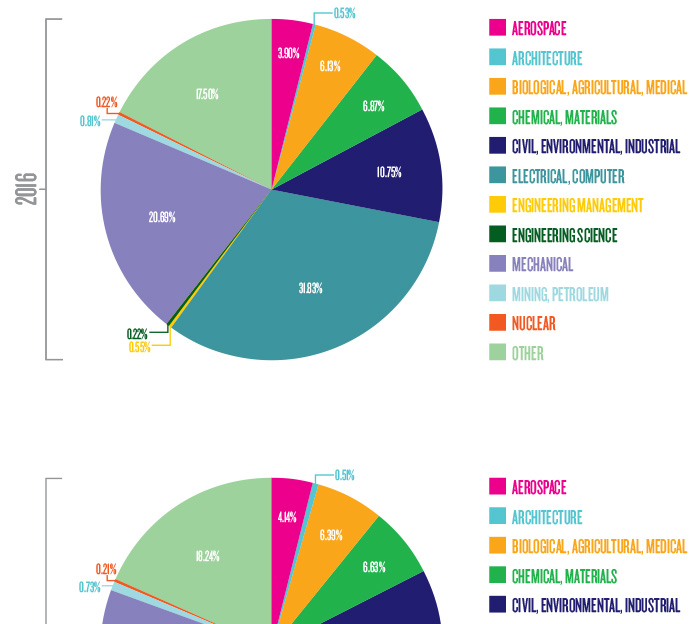 Choices of Major Unlikely to Change Much by 2028
Assuming that engineering students in different racial and ethnic groups choose their majors in future years the way they do now, the proportion of students in various disciplines is unlikely to change significantly in the coming decade. This databyte, the second in a series that explores future undergraduate engineering trends, draws on data from ASEE's 2016 Profiles survey and from a recent study that projects future cohorts of high school graduates (Projections of High School Graduates by the Western Interstate Commission for Higher Education—Graduate Projection, December 20161). To arrive at the projection shown in the accompanying graphics, we calculated the number and percentage of students entering different engineering disciplines during their freshman year in 2016 by race and ethnicity, and applied those percentages to projected 2027 high school graduates by race and ethnicity. The results show the percentages of freshman engineering students enrolling in different engineering disciplines in 2028. It's quite possible that new majors, such as data science, will emerge and be widely adopted by engineering schools. In that case, the proportions may shift.
1 "Knocking at the College Door: Projections of High School Graduates"—Graduate Projection; Western Interstate Commission on Higher Education, December 2016.
Complete Engineering Discipline Categories:
Aerospace
Architectural
Biological and Agricultural
Biomedical
Chemical
Civil
Civil/Environmental
Environmental
Industrial/Manufacturing/Systems
Computer
Computer Science (Inside Engineering)
Computer Science (Outside Engineering)
Electrical
Electrical/Computer
Engineering Management
Engr. Science and Engr. Physics
Mechanical
Metallurgical and Materials
Mining
Nuclear
Other
Petroleum
Compiled by Daodao Wang
Infographic by Francis Igot