Breakthroughs and trends in the world of technology.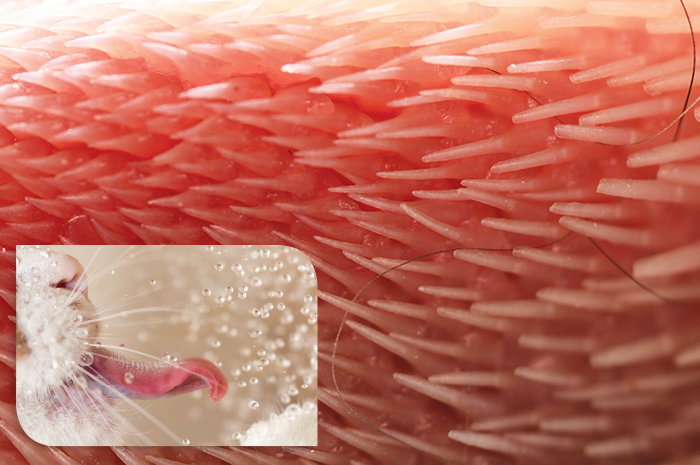 Feline Skills
Getting the Brush-Off
A cat's tongue is rough, like sandpaper, right? Well, no. Researchers led by Georgia Tech's Alexis Noel, a Ph.D. candidate, determined it's actually more like Velcro. Noel's team used macro- and high-speed videography equipment to capture a cat's tongue at work during grooming. From those images, they then made the first 3D print of a cat tongue at 400 percent scale. Turns out that a cat's tongue is coated in tiny, backward-facing, claw-shaped spikes made of keratin, the same stuff fingernails are made of, the Washington Post reports. They lie flat until the cat licks something. The front of each spike is curved and hook-like, and when it hits a tangle in the fur, it maintains contact and the tangle can slide off its top easily, Noel tells the Post. After the cat finishes grooming, the spikes return to their flattened position, which allows the collected fur to slide back into the cat's throat (forming the hairballs it will eventually cough up). The hairbrushes we humans use have straight spikes, so any collected hair forms as a mat that remains in the brush. Noel got the idea of studying cat tongues after watching her family cat, Murphy, get his tongue stuck in a blanket he was licking. He freed himself by pushing his tongue into the material. Noel's team is patenting its finding. It hopes it can be put to use to design a better type of hairbrush that's the cat's meow. – Thomas K. Grose
©Alexis Noel and David L. Hu/Georgia Tech, Thinkstock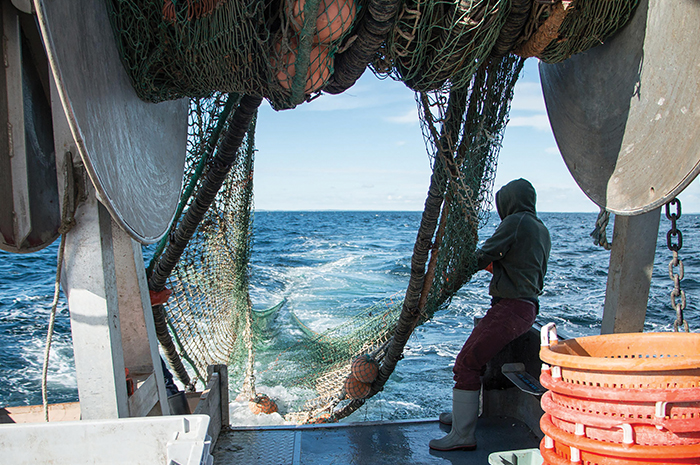 Fisheries
Going Topless
For around 400 years, the Gulf of Maine was a cod-fishing paradise, so plentiful was the tasty species popular with fish-lovers. But the number of cod of reproductive age has been dwindling, so New England regulators drastically cut the cod quota to 280 metric tons, down from 2014's 1,550 metric tons, to help keep cod from becoming fished out. Fishermen who hit their quota, even inadvertently, are done for the season. Which is why many fishermen have called it quits. But Steve Eayrs, a scientist at the Gulf of Maine Research Institute, who was hired in 2007 to develop environmentally friendly fishing gear, may have a solution. Working with Massachusetts fisherman Jim Ford, Eayrs has reconfigured the height of the cone-shaped, bottom-dragged net from 5 to 6 feet to just 2, and removed much of the top. The working idea came from knowing that abundant flatfish like dabs, flounder, and sole tend to swim close to the seabed, while cod typically remain in higher waters. In tests, the new net reduced the cod catch by around 45 percent but kept the flatfish catch intact. And there's an added benefit: Because it produces less drag, the net cuts fuel use by 7 percent. A new net can cost more than $10,000. So the GMRI has made three new nets available for fishermen to try out free of charge before they opt to buy one—a catch-free offer. – T.G.
©Gulf of Maine Research Institute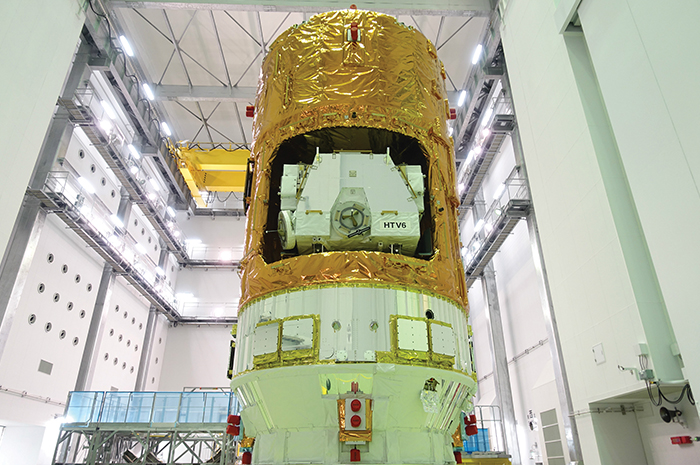 Space
Dirty Laundry
There's a lot of junk in space. It's estimated that 100 million pieces of debris orbit Earth, traveling at speeds up to 17,500 mph. It's a problem because it places satellites and the International Space Station (ISS) at risk of damage. To help collect and destroy some of that junk, Japan recently deployed an electrodynamic tether (EDT), which has been variously described as a space whip, junk catcher, and superlong clothes line. The EDT is a 2,300-foot-long cable made from thin wires of aluminum-coated steel woven together by Nitto Seimo, a fishing net maker that's been in business for 106 years. It's attached to a cargo ship, the Kounotori, that docked with the ISS last month. When the Kounotori heads back to Earth, it will deploy the tether. It's hoped that the EDT—which is attached to a 44-pound counterweight—will catch around 20,000 pieces of junk. The Kounotori was designed to burn up on reentry, and—poof!—the collected rubbish should disintegrate along with it. If it works, it'll be a novel and relatively inexpensive way to help clean up outer space. – T.G.
©JAXA, NASA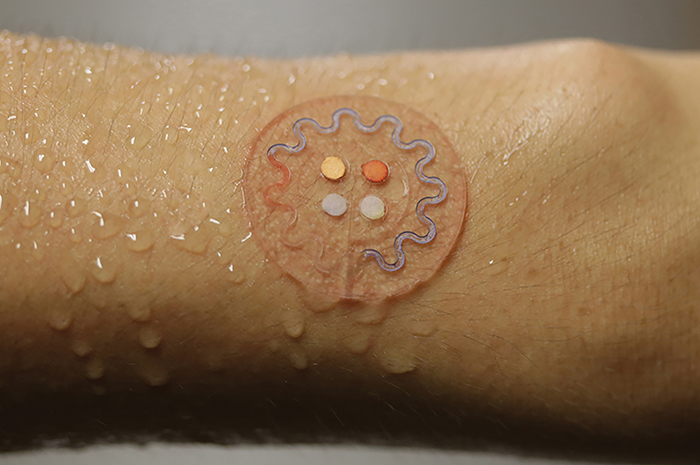 Medical Monitoring
Sweat It Out
"Sweat is a rich, chemical broth containing a number of important chemical compounds with physiological health information." So says John A. Rogers, a bioengineer at Northwestern University, whose team has developed a one-use, adhesive device that measures a person's sweat and can relay medical information to the user without need of electronics or batteries. The flexible, first of its kind "lab on the skin" could allow users to see how their bodies are responding to exercise—if they need to drink water or replenish electrolytes, or if they're having any medical problems. Rogers has pioneered the development of skin-like, stretchable electronics that move naturally with the skin. But this one is capable of collecting, storing, and analyzing sweat in real time. As a user exercises, sweat flows through microscopic channels in the patch into four different compartments. In each compartment, the sweat reacts with different chemicals that change colors in ways that relate to pH and concentrations of glucose, chloride, and lactate. To get a quick reading, exercisers need only hold their smartphones near the patch, which triggers an app that takes a photograph of the device, then analyzes the image to determine the concentration levels of the biomarkers. In tests on cyclists, Rogers's team determined that the patches remained in place, didn't leak, and provided accurate data. – T.G.
©John A. Rogers/Northwestern University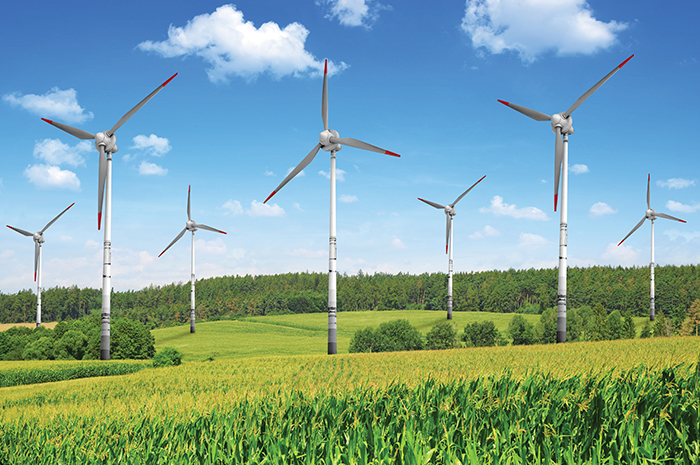 Wind Farms
Productive Turbulence
Wind turbines not only provide clean power but may also give some crops a boost—thanks to the air turbulence they create. Gene Takle, a professor of agronomy at Iowa State University, erected research towers on a 200-turbine wind farm and, between 2010 and 2013, collected data on wind speeds and directions, temperature, humidity, turbulence, gas content, and precipitation. The goal was to determine if the turbulence created when winds churn through the turbines affects ground conditions and crops. Bottom line: The data show the turbines have a measurable, positive effect on key growing condition variables, particularly for corn and soybeans. For instance, the turbulence makes ground temperatures about a half degree cooler during the day, but between half to a full degree warmer at night, so it produces a net warming effect. It also dries the crops and makes dew less likely to form, which may make it harder for molds and fungi to grow. And the changes in air pressure at ground levels appear to enrich the carbon dioxide in the atmosphere surrounding the plants, so they grow more efficiently. "On balance," Takle says, "it seems turbines have a small, positive impact on crops." – T.G.
©Thinkstock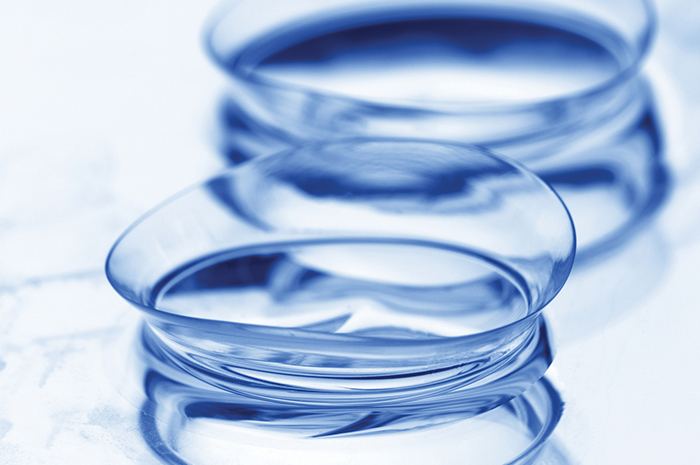 Biomedical Engineering
Sweet Sight
Pricking a finger to check blood-sugar levels could be a thing of the past for Type 1 diabetics if a group of former science and engineering students at Canada's University of Waterloo has its way. Harry Gandhi and his team at Medella Health, a medical tech start-up formed in 2013, have created a prototype for a contact lens with a tiny biosensor that will continuously measure glucose concentrations in the fluid around the eye. The sensor, which is made from unique nanostructures, transmits data to a small device mounted on the patient's collar or behind the ear. The information then gets relayed to a smartphone app that stores and analyzes the data in real time. The lens would not affect a person's vision and could also work with prescriptions. Gandhi says that the device will allow users to take action quickly if they notice their glucose level spiking or dropping, while also enabling them to be more aware of trends in their glucose levels and to change their habits accordingly. The team hopes to have a fully functional lens ready for human testing by April 2018. – Pierre Home-Douglas
©Thinkstock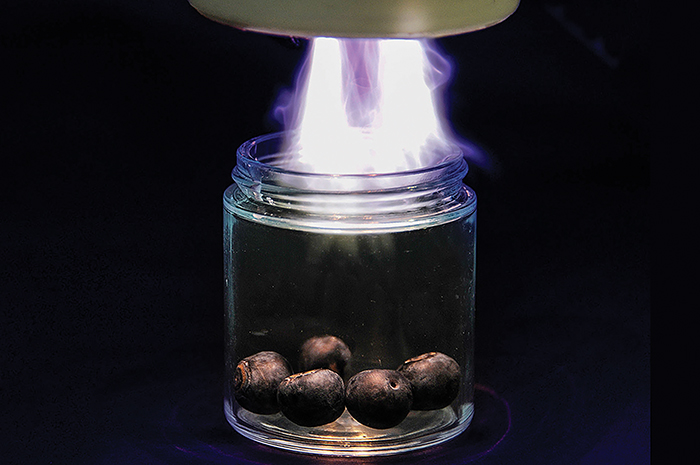 Food Safety
Purple Haze
Blueberries, yum. Who doesn't like them generously sprinkled on cereal, baked into muffins, or just eaten by the handful? Moreover, they're crammed with antioxidants and plenty of vitamins, especially Vitamin C. But raw blueberries also provide a welcoming home to the human norovirus, which can cause foodborne illnesses. Processors regularly run tests on rinse water and strive to keep equipment clean to keep the virus in check, or use chemical washes. But none of those methods is wholly effective. Now, U.S. Department of Agriculture researchers have discovered a new way to make blueberries safer to eat: blasting them with a purple-colored plasma, a gas of ions made from oxygen and nitrogen (also called air), and electricity. The purple haze can kill 99.9 percent of viruses tested. (The team used noninfectious viruses similar to the toxic kind for safety reasons.) And if cool air is included in the mix, the hot plasma doesn't cook the fruit, keeping its taste and texture intact. Scaling up the technology may be tough, however. For one thing, it's not clear how the plasma works, and eventually tests using actual noroviruses will be necessary. Meanwhile, also on the food front, Americans are drinking less milk, which is very nutritious, too. How come? Perhaps, says a Virginia Tech food science and technology professor, because the flavor of milk stored in clear plastic jugs can be off-putting. That's because the fluorescent lights used to light displays can, within two hours, oxidize the milk's riboflavin, making moo juice taste a bit stale. But increasingly stores are changing to LED lights in displays to save on energy costs—a move that could also have the serendipitous effect of making milk taste fresher. Why? Because, Susan Duncan's research has revealed, LED lighting doesn't mess with milk's riboflavin. – T.G.
©Joseph Sites/USDA ARS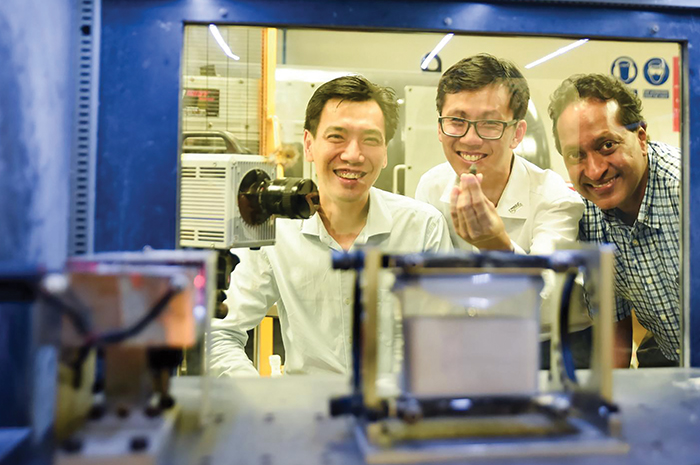 Materials
Beach Ballistics
Militaries have long used sandbags as fortifications, but until recently there's never been much research into understanding how well sand resists impacts. A team of civil and environmental engineers at the National University of Singapore has taken a close look at the ability of sand to withstand ballistic impacts and has determined that it's actually a super material that does a better job of fending off bullets than does steel. When projectiles are fired into a block of sand, the sand absorbs 85 percent of the energy exerted against it. Moreover, the resistance displayed by the sand actually improves if the velocity of the projectile fired at it increases. The ability of steel plates to absorb energy decreases dramatically if the speed of a projectile increases. The NUS team hopes its findings can lead to partly replacing steel in the construction of armor defense systems with common silica sand, which is cheap, clean, and lightweight. Sand might also complement steel to bolster critical infrastructure and buildings. Looks as if castles made of sand might be stronger than we thought. – T.G.
©National University of Singapore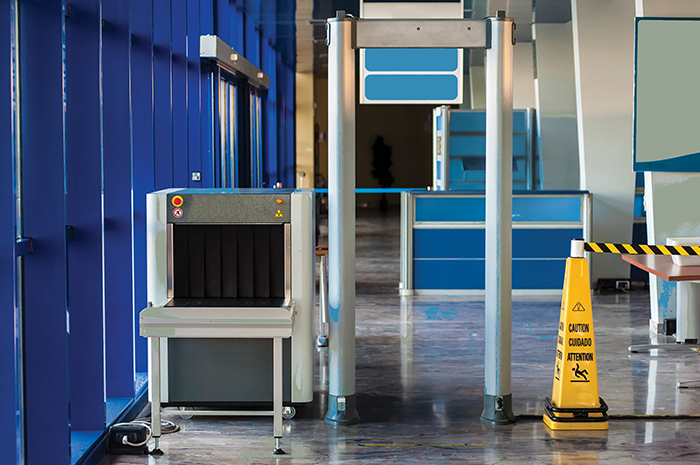 Import Screening
Shipshape
The American company Rapiscan makes a huge X-ray machine that can take images of what's inside each of the more than 8,000 shipping containers passing daily along a track at Holland's Port of Rotterdam at speeds of just over 9 mph. Trouble is, the humans employed to read the scans and look for suspect items, particularly weapons, aren't nearly as fast as the machines. So only a small number of the X-rays get a close look. To remedy that problem, Rapiscan contracted with University College London computer scientist Lewis Griffin to come up with a computerized device that's fast enough to read each scan, according to the Economist. First tests of Griffin's machine-learning device indicate it can examine an X-ray in 3.5 seconds—much quicker than the 10 minutes it takes a human operator. Rapiscan gave Griffin hundreds of thousands of scans thought to have no concealed weapons. His team then took X-ray images of weapons and peppered them into the Rapiscan images. His system found 90 percent of the concealed items, the magazine says, with few false positives: Only one in every 200 readings erroneously detected something suspicious. Griffin will next test his system on actual containers, some with hidden weapons inside, the Economist says. Griffin is confident of success, telling the magazine he's convinced that container scanning will eventually become fully automated. Of course, humans will still be needed to carry out the physical inspections of containers flagged by robotic scanners. For now. – T.G.
©Thinkstock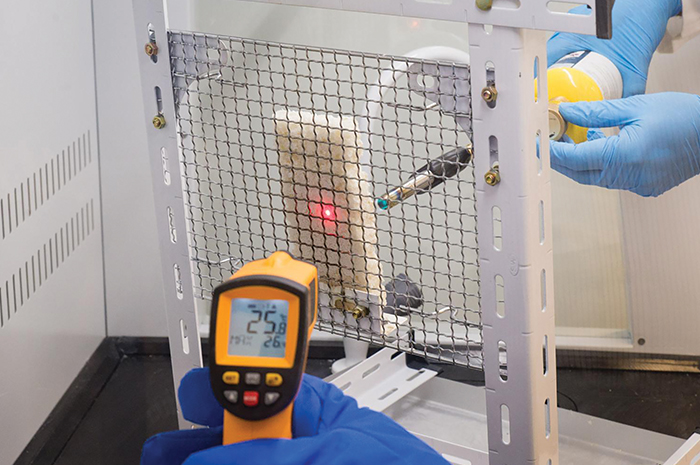 Insulation
Foam with a Future
Aerogel is a silica-based material that was invented in 1931. It contains microscopic pores and is 99 percent air, so it's very lightweight. But it's also very brittle. So it was lightweight in another sense, too: No one had much use for it. Until now. Researchers at Singapore's Nanyang Technological University have tweaked aerogel and turned it into a super-performing insulating foam they call AeroSil. Additives the team mixed into the foam, including carbon nanotubes, have created a material that insulates against heat 2.6 times as well as current insulation materials. And compared with typical soundproofing materials, it is 30 percent more effective. It's also highly heat resistant and water repellent. Additionally, AeroSil is a very green material. Production of current foams can require the use of acidic and alkaline solvents and can generate gases, including ammonia and carbon monoxide. AeroSil's production uses water and generates no gases. Moreover, it's such an effective insulating material, it could help reduce energy use. Oh, and it's also cheap to make and is thinner than conventional insulating materials, so it should cut construction costs. The university has licensed the technology to a Singapore manufacturer with a seemingly incongruous name, Bronx Creative & Design Center, which plans to start production of standard-size sheets and panels early this year, targeting the automotive, construction, and oil and gas industries. This lightweight material could have a heavyweight future. – T.G.
©Nanyang Technological University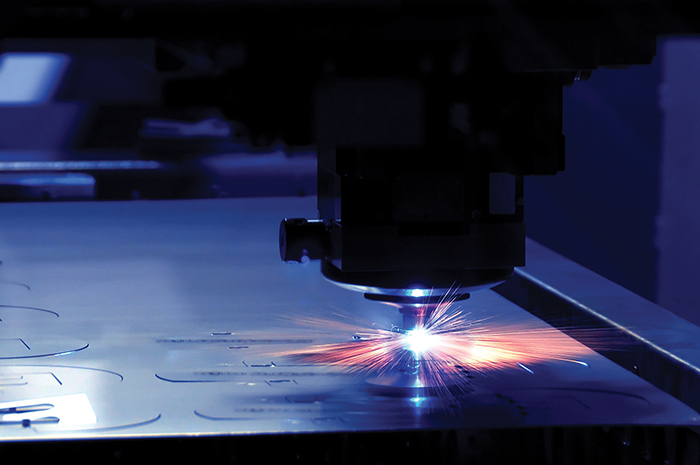 Structural Engineering
Through Thick and Thin
Steel parts are typically heat-treated to harden them. Traditionally, this was done by heating them to high temperatures—from 1,472ºF to 1,832ºF—and then rapidly cooling them. But that method, while it hardens the steel, can also make a part more brittle and slightly distort it. So, over the past 16 years, industry has moved to using lasers to harden steel. The laser process hardens only the surface of the part, leaving the steel less brittle and not misshapen. But laser hardening has a drawback, too. It sweeps at a constant bandwidth, so the hardened zone of a part has a uniform thickness. Recently, researchers at Spain's University of the Basque Country came up with a laser method that uses scanning optics to make the technology more flexible, so that the thickness of the hardened zone can be varied to better suit how the part will be used. A galvanometric scanner moves the laser beam at high speeds, sweeping the surface of the part line by line so that the depth of the hardening can be varied by a computer program. One researcher likened the current laser method to painting a wall with a roller, while this method uses a marker. Tests carried out with local companies showed the process is viable. But the team admits that more work needs to be done before the technique is industry-ready. For example, because the laser is fast-moving and sweeps along a pinpoint line, it's a complex process that has so far proven difficult to control. – T.G.
©Thinkstock
Robotics
Upward Bound
A new robotic jumping champion has been created by engineers at the University of California, Berkeley. Salto (which is short for the much more tongue-twisting "saltatorial locomotion on terrain obstacles") can jump five times within four seconds to reach a combined height of 8.56 meters, or 27.9 feet. Salto's builders first devised a metric to look for the animal kingdom's best jumper, which would serve as their source of inspiration. They came up with vertical agility, which is the height a creature can reach in a single leap times the frequency with which that jump can be made. For instance, a bullfrog's vertical agility is 1.71 meters per second. The top performer, however, is the galago, a primate native to Africa, which has a vertical agility of 2.24 meters per second. So the galago became the roboticists' benchmark. And so far, Salto has achieved 78 percent of a galago's vertical agility with a score of 1.75 meters per second. Galagos use power modulation, which means they store energy in their tendons when they're in a crouch position so they can hit heights not achievable by muscle strength alone. Salto relies on an inside motor that drives a spring which is loaded by a leg mechanism that mimics the crouch used by a galago. So Salto doesn't need to wind up before a jump, and can jump again immediately after making a leap. Why make such vertically agile robots? They will be more adept at making their way across rubble in search and rescue missions. – T.G.
©Steph McNally/University of California, Berkeley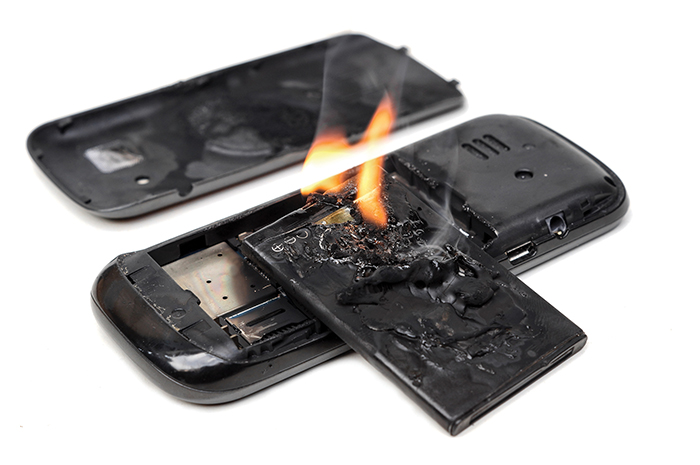 Batteries
Origami Power
Battery technology, which our current mobile devices depend on, hasn't advanced much in 150 years. The last big leap in rechargeable batteries was the lithium-ion battery developed by Sony 25 years ago. And while they're pretty efficient, they're also prone to catching fire. That's because they're filled with liquid electrolytes that can combust if there's a short circuit. So, as the New York Times reports, for the past decade industrial and academic researchers have made a big effort to develop a solid lithium-ion battery that works at room temperature. One Massachusetts company, Ionic Materials—founded by Mike Zimmerman, a Tufts University mechanical engineering professor—may be on the cusp of success. He tells the paper he's likely to have one ready for commercial use within two years. As Zimmerman is prone to prove by demonstration, you can safely drive a nail through a prototype of his solid polymer lithium metal battery—something that would probably cause a regular lithium-ion battery to burst into flames. But maybe soon we'll be less reliant on batteries anyway. Michigan State University researchers have created a nanogenerator that could make batteries for some uses completely unnecessary. Their invention can harvest enough energy from human movement to power many small devices. For example, they've used it to power touchscreens and a bank of 20 LED lights. It could, they say, be used to draw enough energy from everyday human movement to keep a smartphone charged for a week. Based on a silicone wafer and built with inexpensive, environmentally friendly materials, the nanogenerator is as thin as a piece of paper. Moreover, the more it's folded into smaller shapes, the more powerful it becomes. – T.G.
©Thinkstock