Breakthroughs and trends in the world of technology.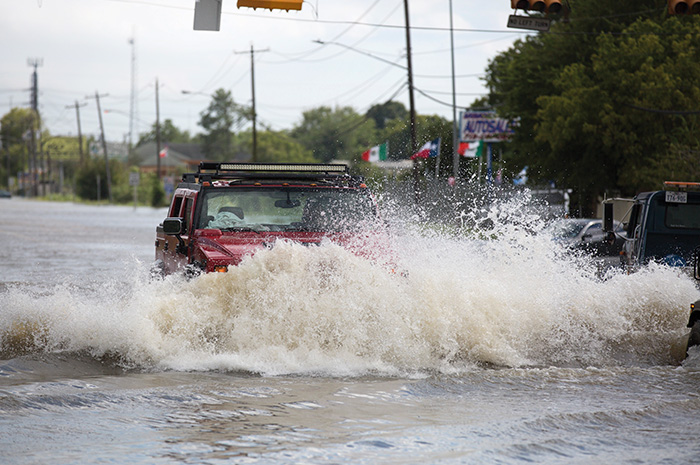 Climate Research
Connecting the Dots
While scientists have long maintained that climate change makes extreme weather more likely, they hesitated to attribute specific events to the trend—that is, until Hurricane Harvey. In December, the American Geophysical Union reported on two studies showing that "human-induced climate change increased the amount and intensity" of the record rainfall that flooded Houston in August. One study, shared by recent Rice University civil engineering Ph.D. Antonia Sebastian, now at Delft University of Technology, concluded that "global warming made the precipitation about 15 percent more intense," and three times more likely. A second study found that climate change had likely increased Harvey's rainfall by 19 percent. Meanwhile, researchers from Dartmouth College, the University of Maine at Orono, and the University of New Hampshire found that snowfall in Alaska's Denali National Park (formerly Mount McKinley) "has increased dramatically during the era of human-driven global warming," according to the Washington Post. – Mark Matthews
 ©Glenn Fawcett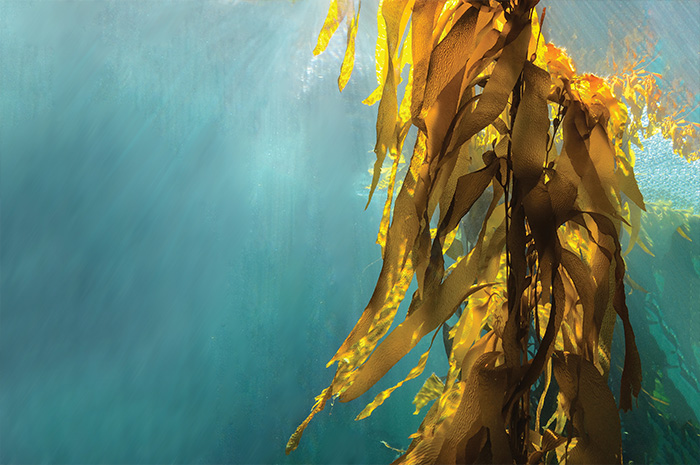 Skin Protection
Seaweed Salve
Health officials regularly urge us to wear sunscreen and protect our skin from aging, burns, and, potentially, cancer. But the synthetic chemicals used to filter out dangerous ultraviolet radiation can wreak havoc on marine life. European Union and United Nations scientists say that half of 16 commonly used chemicals can be toxic to coral, fish, and microorganisms. Oxybenzone, for instance, has been found to be particularly damaging to coral, even in tiny amounts. The ocean may provide a solution, however. Researchers at King's College London have found that palythine, a compound that can be extracted from seaweed, appears to be a powerful UV filter that's also completely harmless to marine biosystems. Palythine is a mycosporine-like amino acid, a class of molecules that absorb UV radiation. The King's College team tested the chemical on human skin cells in the lab and found that even in low concentrations it absorbed harmful rays and protected the cells. Indeed, it's so powerful an antioxidant that, unlike synthetic filters, it combats sun-induced oxidative stress, which is linked to a host of ailments, including cancer, diabetes, and cardiovascular disease. The team now must prove its sunblock works just as well outside the lab—a good excuse to head for the shore this summer. – Thomas K. Grose
 ©Thinkstock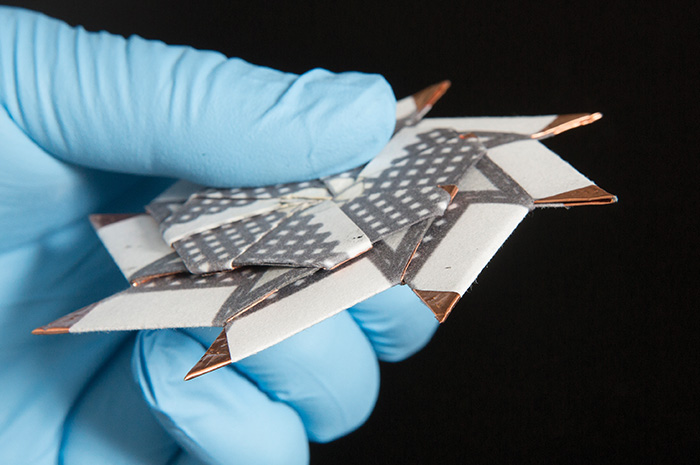 Energy Storage
Spit Power
Batteries are big. Tesla, the electric-car and energy company, built and began running the world's largest battery at a wind farm in South Australia. The area gets 40 percent of its electricity from wind, but the intermittent nature of production means frequent blackouts. Tesla's lithium-ion battery stores 129 megawatts of power for use when winds die down or demand peaks, and it can hold enough juice to power 30,000 homes. Tesla chief Elon Musk made good on a promise to erect the $50 million energy bank within 100 days or give it to the state for free. The battery went live on December 1 just ahead of the Australian summer, when energy demand soars, giving a real-world test of its capabilities. At the smaller end of the battery spectrum, a computer scientist at Binghamton University has developed a one-use paper battery that's activated by spit. The microbial fuel cell uses exoelectrogens—microorganisms that can send electrons to an electrode—and can power an LED light for 20 minutes. The batteries are freeze-dried to give them long life; spit rehydrates and fuels the exoelectrogens. Seokheun Choi, an assistant professor, developed the battery as a cheap, clean power source—it contains no environmentally toxic chemicals—for point-of-care biosensors in poorer regions. These next-generation sensors will also be paper-based and disposable and will require only tens of microwatts of power for a few minutes—an amount the saliva-activated batteries can easily deliver. – T. G. 
 ©Seokheun "Sean" Choi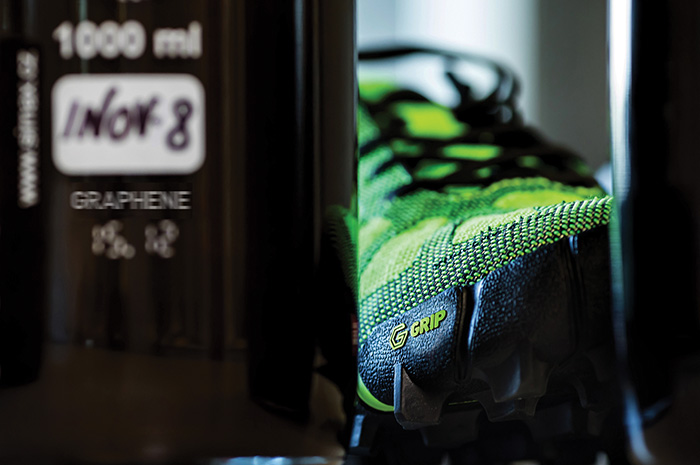 Materials
Fashion Template
Running shoes are typically made from plastics, rubber, and leather. Now one British manufacturer wants to add graphene—the lightest yet strongest material known—to the mix. The two-dimensional, single layer of carbon atoms was first isolated by physicists at the University of Manchester in 2004. Now the school's National Graphene Institute has partnered with manufacturer inov-8 to make a line of running shoes. Inov-8's G-Series shoes have graphene-infused rubber soles that provide an excellent grip on even the wettest trails, the company says, and are also 50 percent stronger and more flexible than regular ones and should better withstand wear and tear. They'll likely sell for around $190. Meanwhile, Stanford University materials engineer Yi Cui has come up with a reversible fabric that can either keep you very warm or quite cool, depending on which side you wear next to your skin. Around 40 percent of home energy is used for heating and cooling, so clothes that can help keep the thermostat higher in summer and lower in winter could save money. The new material is based on one Cui unveiled last year, fabricated from polyethylene and containing nanosize pores to let heat escape, Discover reports. It enabled human skin to cool by 4° F, which is better than cotton. Now Cui has taken two layers of coating—one made from copper, the other from carbon—and embedded them within that material. Wear the fabric facing one way and it has a cooling effect. Turn it inside out and voilà, it will keep you nice and toasty. – T. G. 
 ©inov-8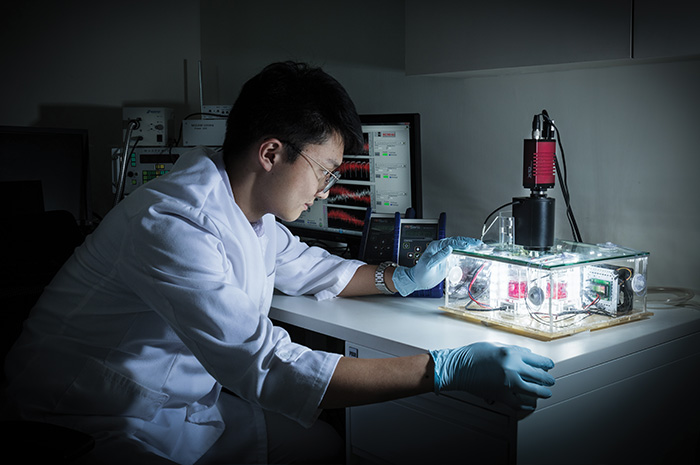 Drug Discovery
Fashion Template
Organoids are miniature organs grown from stem cells into 3-D structures, often with amazing complexity, according to Science. In the past 10 years, researchers have found new ways to create a range of mini-body parts, including hearts, livers, pancreases, and kidneys. The rationale is to enable pharmaceutical researchers to find out early on if a new drug compound is toxic to human organs—which is not always clear from animal testing. That would reduce the 10 years and hundreds of millions of dollars it takes to bring a new drug to market. Canadian broadcaster CBC recently profiled Toronto start-up Novoheart, whose "heart in a jar" beats and has a hollow chamber that can be measured to determine blood pressure. Eugene Lee, a Novoheart bioengineer, explained that construction of the mini-heart begins with blood cells genetically engineered into stem cells and then manipulated into heart cells. Millions are placed into a mold, where eventually they grow into a jelly-like mass of tissue in the shape of the mold. The CBC also talked to Milica Radisic, a chemical engineer at the University of Toronto, whose start-up, TARA Biosystems, has created a beating heart on a chip for drug testing. Radisic said that pharmaceutical companies were initially skeptical, but no longer. "One large pharma company may have one, maybe two drugs approved a year," she says, noting organoid technology could greatly increase that output. – T. G. 
 ©NVH Media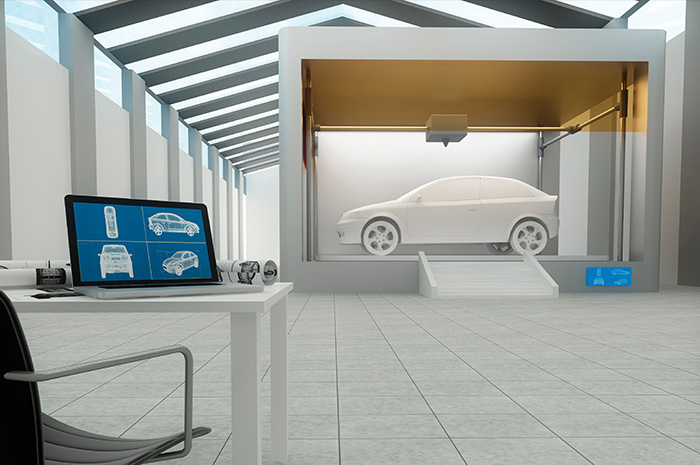 Advanced Manufacturing
Clear for Takeoff
The 3-D printing of metals is progressing rapidly. General Electric, for example, now uses the process to make fuel nozzles that are 40 percent lighter and 60 percent cheaper for one of its aircraft engines. Manufacturing objects one super-thin layer at a time has allowed GE to replace 900 components with just 16 reconfigured printed ones. One drawback: The printers typically rely on metal powders as their "ink," rendering the finished components susceptible to defects and thus unreliable for heavy-duty parts. But researchers at Britain's University of Birmingham, working with colleagues at Stockholm University and Zhejiang University, have found a way to optimize the manufacturing process and produce metals that are ductile yet retain their strength. The method uses ultrafast cooling, which results in a non-equilibrium state that permits a sub-micro-size dislocation network of microstructures, improving the alloys' mechanical properties. The team—which used a popular stainless steel for its research—says the finding should open the door to 3-D printing of heavy-duty parts for the aerospace and automotive industries. – T. G. 
 ©NVH Media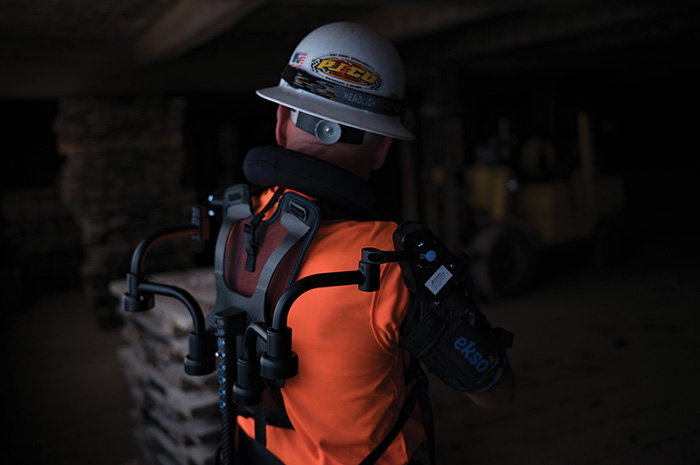 Assistive Technology
Carry On
Exoskeletons, a popular feature of many sci-fi films, have attracted plenty of interest in real-world engineering labs and are starting to make their way into the market. California start-up Ekso Bionics makes exoskeletons for both medical and industrial purposes, for instance, but is best known for piloting its EksoVest at several Ford Motor Company plants in Michigan. The mechanical vest, which Ford now plans to introduce in its European and South American plants, allows users to lift 5 to 15 pound items more easily. Ekso says the average autoworker raises his or her arms 4,600 times a day—about a million times a year—and the 9-pound vest, which costs around $6,500, can help reduce fatigue and injuries. Meanwhile, Bloomberg news service reports that another West Coast start-up, Superflex, is developing a lightweight exo-suit for people with mobility challenges and the elderly. Launched by Rich Mahoney, a former robotics chief at Silicon Valley research firm SRI International, Superflex recently raised $9.6 million from investors to fine-tune its unitard—whose battery-operated actuators work in sync with a wearer's muscles to make movements easier. Bloomberg says the initial target is aging populations in Japan and other developed countries. – T. G. 
 ©NVH Media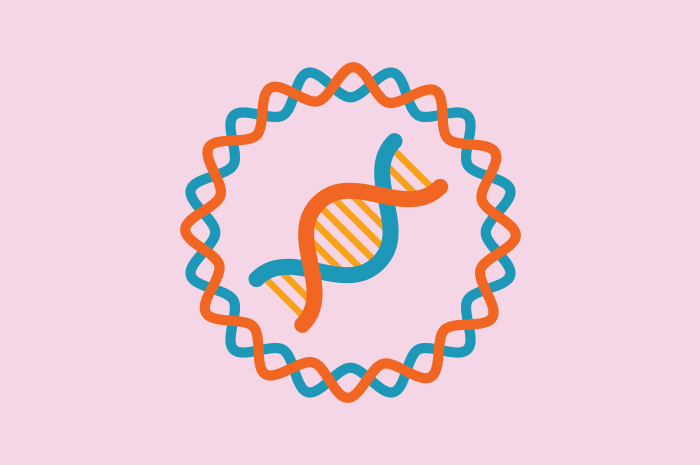 Genetic Engineering
Inside Information
The fledgling field of gene therapy—using snipping tools to replace rogue genes with healthy copies in people with incurable hereditary diseases—just took a major leap forward. In the past, genes had to be edited in the lab and then returned to patients' bodies. But this past November, the Associated Press reported, doctors in Oakland, Calif., edited a gene inside the body of Brian Madeux, a 44-year-old chef from Phoenix who suffers from a rare metabolic genetic disorder called Hunter syndrome. Because he lacks a gene that makes an enzyme needed to break down certain sugars, his body accumulates toxins that can cause many dangerous ailments, affecting mental development and physical abilities. Editing the genes internally should make the therapy more precise, but it's a risky venture. There's no guarantee the editing won't make mistakes or a way to make corrections if it does. Madeux should know sometime this month if the treatment worked. Meanwhile Science reports that researchers in Germany's Technical University of Munich, Harvard, and Caltech have used origami techniques and Lego bricklike assembly methods to fabricate DNA into 3-D shapes as disparate as doughnuts, dodecahedrons, and Teddy bears. The technique could be used create novel electronic devices and systems to detect and monitor diseases. – T. G. 
 ©Thinkstock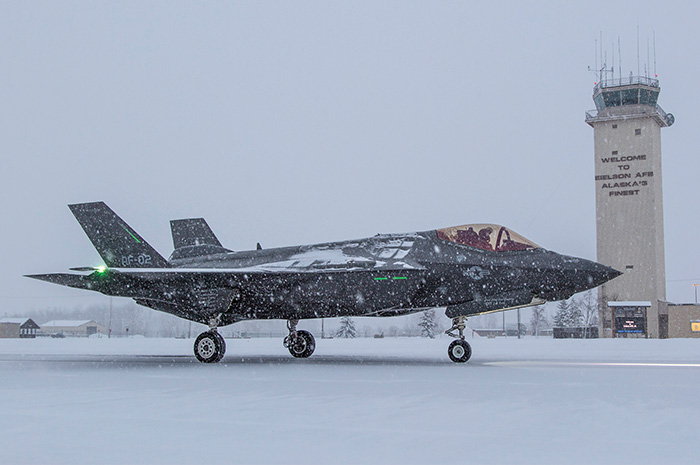 Optics
Light-Saber Rattling
The benefits of laser weapons are manifold, reports the Washington Post. They're relatively cheap, as fast as light, never run out of ammo, and can confine damage to a specific area. But they're also affected by such environmental factors as dust and humidity, making it hard to develop them outside the lab. Nonetheless, the Pentagon recently gave Lockheed Martin a $26 million contract to design a laser weapon that can fit on a jet fighter—a challenge that includes making the weapon compact and able to withstand turbulence and G-loads. A few years ago, a jet-fighter laser weapon was considered sci-fi, but Lockheed thinks recent progress in laser research makes it doable. Lasers, especially the latest superpowerful petawatt versions, also have applications in medicine, information technologies, manufacturing, and science—with potentially profound economic benefits. However, a new National Academies study says the United States is largely sidelined in the $7.5 trillion laser market it pioneered last century, thanks to a lack of government and corporate investment. Around 80 percent to 90 percent of the petawatt lasers—which shoot 1 million billion watts of energy in pulses lasting a mere trillionth of a second—are all located outside the United States, mostly in Europe and Asia. And European researchers are now racing to create exawatt lasers that are 1,000 times more powerful than petawatt models and could be used for cancer treatments and ultraprecise manufacturing. – T. G. 
 ©2017 Darin Russell-Lockheed Martin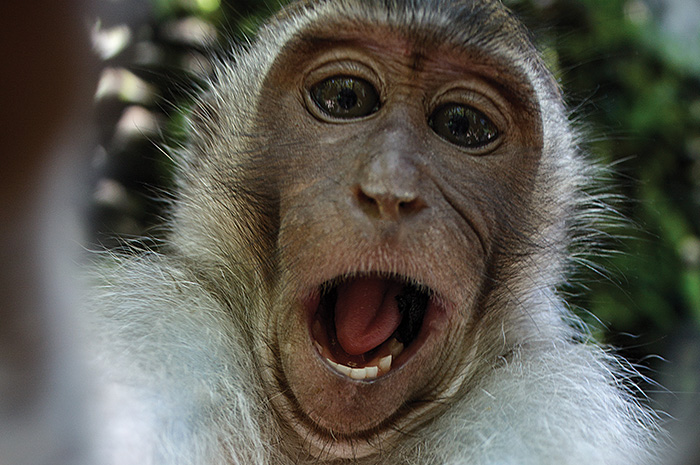 Neuroscience
Monkey See, Monkey Move
When a stroke or other condition damages part of the brain, movement often is impaired. That's because many areas of the brain must share and process information to walk or use one's arms, and the damaged tissue acts like a roadblock. But now an interdisciplinary research team at the University of Rochester has used micro-electrical stimulation in primate brains to detour around those neurological dead ends and keep information flowing to the premotor cortex, which controls movement. The research, led by neuroscience postdoc Kevin Mazurek, mixes neuroscience with electrical engineering and bioengineering. His team trained two rhesus monkeys to play a game involving a sphere-shaped knob, a cylindrical knob, and a handle; guided by lights, the monkeys were rewarded when they grabbed the correct object. Each had 16 electrodes connected to their premotor cortex, which emitted short pulses of electricity when the lights came on. As the lights were dimmed and eventually extinguished after several rounds of play, the signals from the electrodes alone were enough to guide the monkeys to grab the correct object. The finding raises hope that complex arrays of up to 1,000 electrodes could be implanted into the premotor cortexes of people suffering from neurological disorders, improving their movement and quality of life. – T. G. 
 ©Thinkstock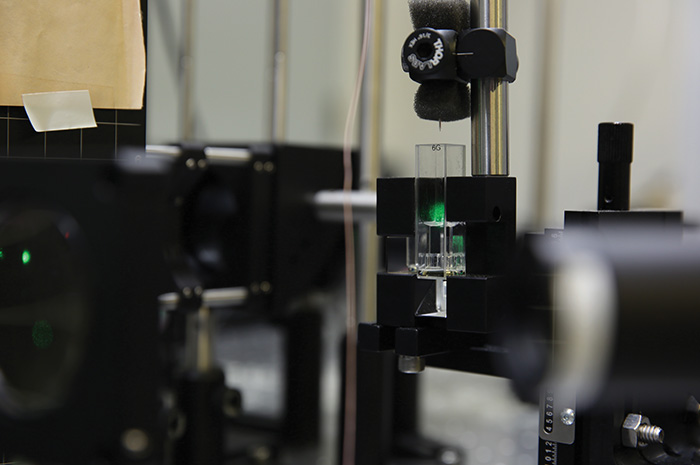 3-D Printing
Flash of Inspiration
For private companies like Blue Origin and SpaceX, launching a rocket costs a cool $100 million. Aerospace engineers Tim Ellis and Jordan Noone say their start-up, Relativity Space, can do the job for just $10 million. According to Bloomberg news service, Ellis, who worked at Blue Origin, and former SpaceEx engineer Noone realized that 80 percent to 90 percent of the cost was manpower. Their big idea is to construct rockets using custom-built mammoth 3-D printers with 18-foot-tall, laser-studded robotic arms. The plan has hooked $10 million from investors, Bloomberg says. Last June, Relativity Space successfully test-fired a printed engine and now plans to print a 90-foot-tall, 7-foot-wide rocket to fly in 2021. Despite reducing costs and manufacturing time from several months to one, 3-D printing remains a fairly slow process, with each piece taking hours or even days to build. But researchers at the government's Lawrence Livermore Laboratory have come up with a novel way to print objects in seconds using laser-generated, hologram-like 3-D images flashed into a photosensitive resin. They call it "volumetric" 3-D printing. The process works like this: Fill a vat with resin, then aim three overlapping laser beams that define the object's geometry from three directions, creating a 3-D image of the object suspended in the resin. The light is more intense where the beams intersect, and 10 seconds is enough to cure the part. The remaining resin is then drained, leaving the part behind. The team says this cheap, flexible, and versatile method could open up new research areas in additive manufacturing. – T. G. 
 ©Kate Hunt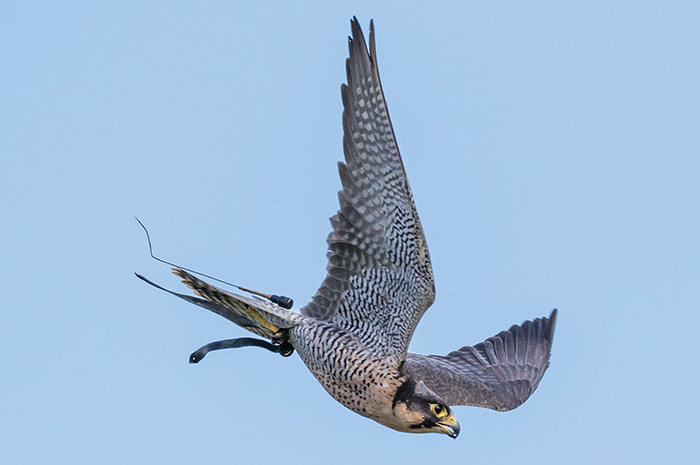 Air Defense
Peregrinations
Ever wonder how engineers get visually guided missiles to shoot down incoming projectiles? Instead of calculating the speeds and directions of both missiles, which would require complex data-crunching, the guided missiles rely on proportional navigation—tracking the rotation of their line of sight to the target. It turns out peregrine falcons use a version of proportional navigation to snatch moving prey even as they're diving at speeds in excess of 200 mph. Investigators at the University of Oxford learned the secrets of falcon attacks by attaching small cameras and GPS units to eight birds and tracking them during 61 flights. For 26 of those flights, the falcons attacked a birdlike lure tossed by the falconer. For the other 35, the birds went after a spinning lure dragged behind a drone. Computer modeling and analysis of collected data led to the upending of a previous theory that falcons, whose eyes are on the sides of their head, use sharp sideways vision to dive and attack with precision. The Oxford team hopes its research will lead to developing a proportional-navigation guidance system that's optimized for lower speeds and could be used in visually guided drones to protect airspace from rogue drones. – T. G. 
 ©Thinkstock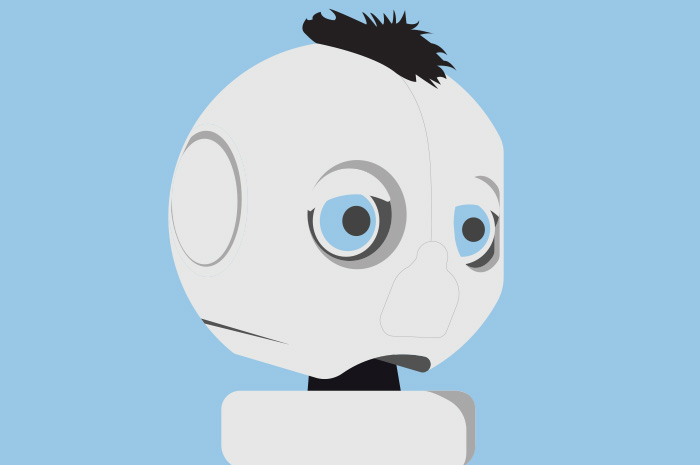 `
Learning Technologies
Show of Hands
Babies develop speech and language skills early on from interacting with parents and other family members. That's also true for deaf infants, who eventually must learn signing skills. But life and busy schedules can preoccupy mom and dad. So researchers at Gallaudet University, a private college for the deaf and hard-of-hearing, along with colleagues at three other schools, have developed a teaching platform that uses robotics, clever algorithms, and neurology to give deaf babies early clues on how to sign, Wired magazine reports. The system uses a Mohawk-coiffed robotic head with big blue eyes that occasionally glances over to a computer screen—a cue for the infant to do so as well. On the screen is a human avatar that signs a nursery rhyme, which the baby then tries to mimic. Heralded as the first time humans and a robot have communicated using only facial cues, the system includes a thermal camera that looks for temperature changes in a baby's face that are linked to heightened awareness, Wired explains. It also uses face-tracking software. Combined, the two technologies can determine not only the best time for the robot to glance at the avatar but also if the infant is truly engaged. Wired says babies seem to enjoy the game, noting that even hearing children try to sign back to the avatar. – T. G. 
 ©Miguel Ventura