Breakthroughs and trends in the world of technology.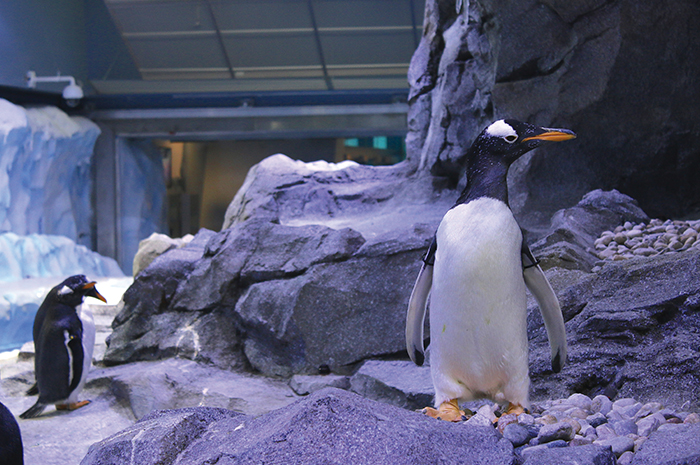 Structural Engineering
Cool Pool
Can't visit Antarctica to watch penguins frolic? The Detroit Zoo has you covered—literally. Attracting record zoo attendance following its opening last April, the Polk Penguin Conservation Center features a 326,000-gallon pool laced with swimming channels up to 25 feet deep, underwater acrylic-topped tunnels and viewing galleries, indoor snow system, and an immersive "4D entry experience" that replicates a sea voyage and includes blasts of polar air and sea mist. The $29.5 million project, said to be the largest penguin conservation, research, and education facility in the nation, involved an extensive team of engineers and designers who studied swimming behavior and icebergs to mimic the birds' natural habitat, right down to hand-sculpted concrete rocks that warm in the sun. Laser mapping was used to model the award-winning penguinarium's icelike exterior, which is held up by sloping columns. Inside, advanced energy-saving systems chill the penguins' air to 37 degrees while keeping visitors cozy at 70. Engineers need not visit Detroit to draw inspiration from penguins. Researchers at the University of Hull in Great Britain are developing tools to test the organization of safety-critical software code in self-driving cars based on birds' ability to sustain large colonies by cooperatively hunting for fish. – Mary Lord
©Detroit Zoo/Jennie Miller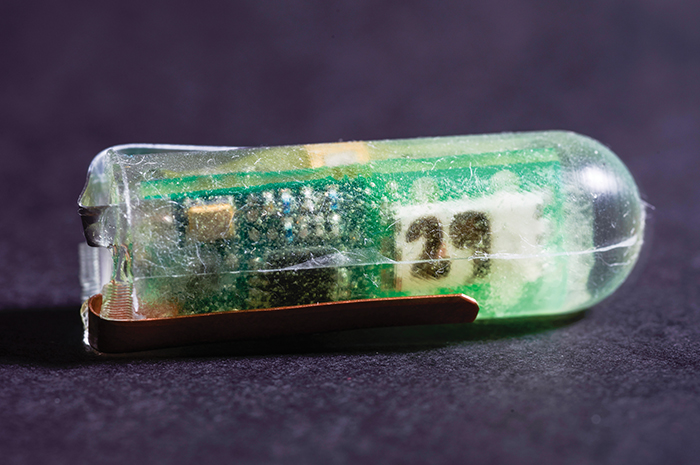 Biomedical Engineering
Citrus Solution
Robert Langer, an MIT professor of chemical engineering and a pioneering bioengineer, has been working with Giovanni Traverso, a gastroenterologist and bioengineer at Boston's Brigham and Women's Hospital, to develop small, ingestible devices that could be used to monitor physiological conditions, including heart and breathing rates and temperature, or to deliver drugs. But their small batteries eventually lose capacity and could pose a health risk. Drawing inspiration from that science-class mainstay, the lemon battery—two electrodes, typically a copper penny and a galvanized nail, stuck in either end—the researchers enlisted the help of several electrical engineers to attach zinc and copper electrodes to the surface of their devices. Ions emitted by the zinc react with stomach acid to power the voltaic circuit, which generates enough electricity to run a small temperature sensor and transmitter. In tests using pigs, the method produced enough energy to power a sensor and transmit data to a base station two meters away. The prototype is 40 millimeters long and 12 mm in diameter, but Langer and Traverso are convinced they can engineer it down to one-third those dimensions—basically, bite-size. – Thomas K. Grose
©MIT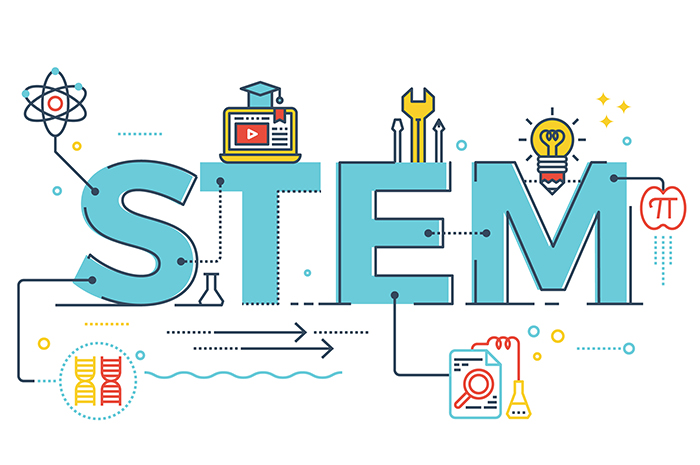 PreK-12 Education
Mind the Gap
Great Britain's controversial exit from the European Union could curb an unusual import: high school STEM teachers. Faced with the nation's worst shortage of educators since the mid-1970s, the Conservative government quietly solicited bids from recruitment agencies to hire math and physics teachers from Germany, the Czech Republic, Poland, and the United States. The Daily Telegraph, BBC, and other news outlets got wind of the plan, however, noting that the contract, worth up to £300,000 ($240,000), ran counter to the perceived public desire to reduce immigration that prompted the pullout. The law of supply and demand may trump politics: A recent report by an education think tank found that in the 2015-16 school year, only 51 percent of physics teachers had a relevant degree and that just 746 physics graduates went into teaching—fewer than three-quarters of the government's target. The shortage hits disadvantaged students hardest because high-demand teachers can avoid taking jobs at challenging schools. – T.G.
©Thinkstock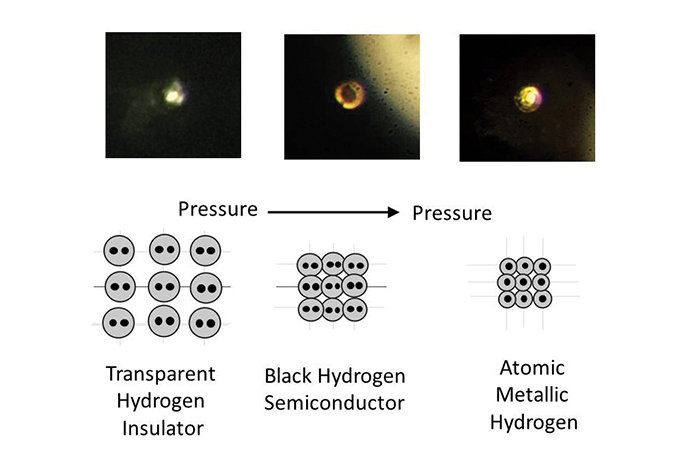 Materials Science
Rare Stuff
More than 80 years ago, two physicists predicted that if hydrogen could be squeezed with enough pressure, it would turn into a super metal: atomic metallic hydrogen. Now in a recent Science paper, two Harvard researchers—Isaac Silvera, a professor of natural sciences, and his postdoctoral fellow, Ranga Dias—claim to have created this liquid metal by squashing a tiny bit of hydrogen between two ultra-thin sheets of diamond. If they're correct, they'll have created the rarest material on Earth, and one that theoretically could be used as a room-temperature superconductor. As The New York Times reports, the Harvard researchers put a dab of hydrogen between two diamond tips cooled to -433 degrees Fahrenheit, then submitted it to 72 million pounds per square inch of pressure, producing a "shiny, lustrous" substance. "This is the Holy Grail of high-pressure physics," Silvera told the Harvard Gazette. However, the Times notes that some researchers remain unconvinced, pointing out that Silvera and Dias did not conduct tests to prove that the material could conduct electricity like metal. Eugene Gregoryanz, a University of Edinburgh physicist, asked why they haven't attempted to duplicate the experiment. If the creation is truly atomic metallic hydrogen and is as stable as predicted, its uses could include wires to conduct electricity with less energy loss, improving the efficiency of electric cars and other devices, as well as more robust energy storage, the Gazette notes. Meanwhile, Silvera vows to soon submit the sample to additional tests to prove its authenticity. – T.G.
©R. Dias and I.F. Silvera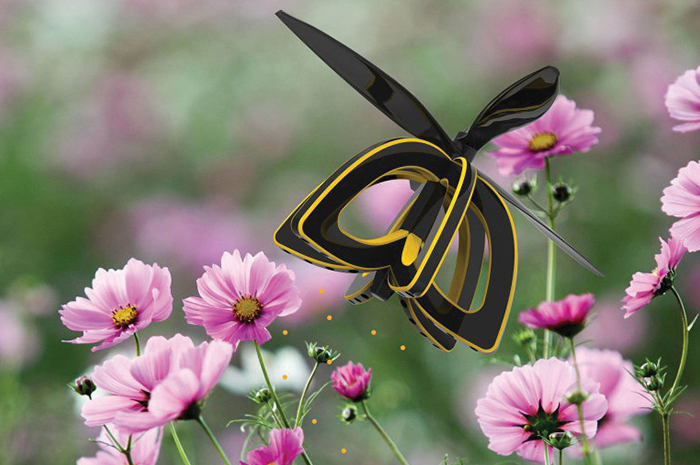 Robotics
Buzzy Bodies
Some fruits, such as tomatoes, self-pollinate. But three-quarters of all crops, including almonds, apples, lemons and squash, require birds and insects—particularly bees—to spread pollen from one flower to another. Such cross-pollination increases genetic diversity. Thus, for many farmers, the mysterious collapse of bee colonies nationwide is a big problem. Eijiro Miyako, an engineer at Japan's National Institute of Advanced Industrial Science and Technology, has generated a lot of buzz lately for developing a robotic worker bee. At four centimeters (roughly 1.6 inches) across, his mechanical pollinator is much chunkier than even a fat bumble bee. But a test of its body's gel-coated horsehairs found it could pick up and release pollen between Japanese lilies like its real counterpart. The Economist reports that Miyako has yet to confirm that the pollination produces seeds, but he envisions his remote-controlled drones, outfitted with computer vision to recognize flowers on their own, working alongside real bees. One skeptic tells New Scientist that economics may work against the technology, however. For example, he notes, almond groves can stretch for miles, with each tree carrying 50,000 flowers, "so the scale on which you would have to operate your robotic pollinators is mind-boggling." – T.G.
©Savannah School of Art and Design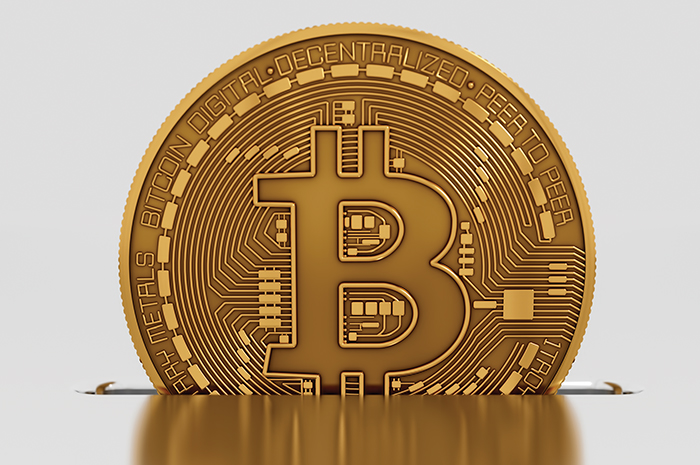 E-Commerce
Hush Money
For years, Bitcoin was thought to be an entirely anonymous way to exchange money, which explains why some users were criminals. In reality, the system records every transaction in a public "blockchain" ledger that anyone can look at and learn a user's entire financial history. Now researchers at North Carolina State, Boston, and George Mason universities have created TumbleBit, a computer protocol that runs atop of Bitcoin which they say could provide the same privacy protections as credit card and bank transfers. Instead of Party A paying Party B, a group of several different Party As pay an intermediary, an anonymous payment hub called a tumbler, which routes the payments to several Party Bs. To ensure that an outside observer could not compromise the tumbler, the team took a three-phased approach. First, Parties A tell the tumbler they want to make payments and Parties B say they're ready to be paid—which occurs in the public blockchain, or ledger book. Then, cryptographic tools are applied, allowing the tumbler to make the transactions without knowing which parties are involved. All transactions are recorded in the public blockchain. "We approached it from an engineering perspective," says researcher Sharon Goldberg, an associate professor of computer science at BU. Applications could include significantly improving security in the expanding field of cryptocurrency, as well as in banking and law enforcement. – M.L.
©Thinkstock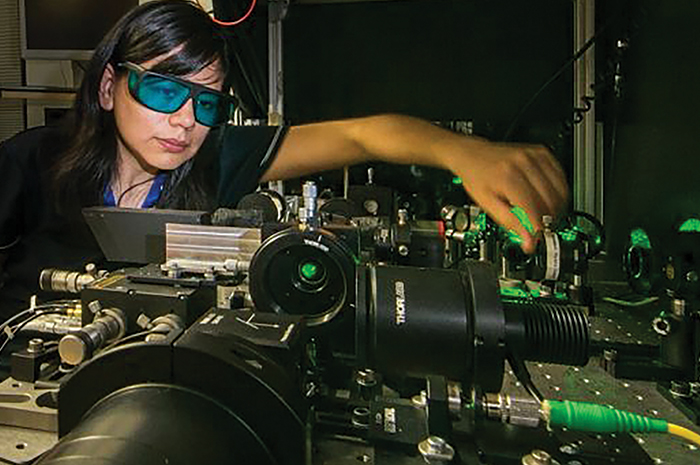 Virtual Reality
Night Sight
Seeing in the dark is about to get easier. Night-vision, or infrared, goggles have been in use for 80 years, typically by the military and people observing the nocturnal behavior of wild creatures. The gadgets are cumbersome, however. Now a team led by Dragomir Neshev, a professor in the Nonlinear Physics Center at the Australian National University's Research School of Physics and Engineering in Canberra, has developed a spray that transforms regular eyeglasses into night-vision specs. The university is exploring commercial ventures with several companies and expecting the invention to be widely available within five years. The breakthrough, which relies on semiconductive nanocrystals 500 times thinner than a human hair, builds on 15 years of research and represents "a milestone in nanophotonics," says Neshev's colleague, Mohsen Rahmani. Along with lightweight, dark-piercing glasses, the technology also could be used in bank notes to thwart counterfeiters and in holographic medical imaging. – Chris Pritchard
©Australian National University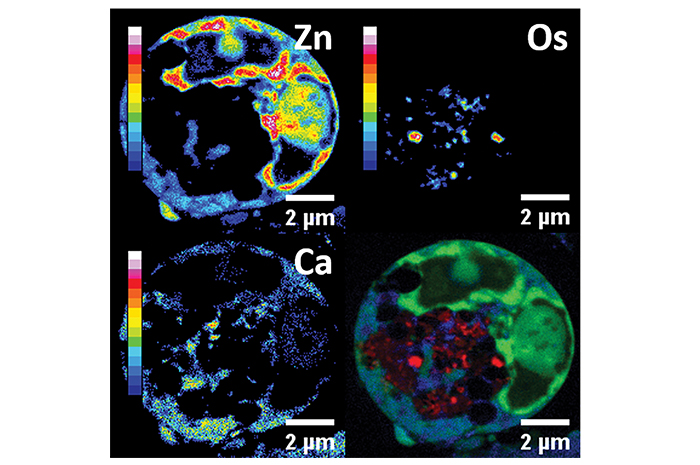 Cancer Treatment
Cell Zapper
Most chemotherapy drugs are platinum-based and not only costly but are also now more than 40 years old. So researchers are looking at other precious metals to treat cancer. Investigators at Britain's University of Warwick recently found a new organo-metal compound, Organo-Osmium FY26, which destroys cancer cells from the inside, finding and attacking their weakest point—a first in cancer treatments. Using the European Radiation Facility, the team watched the effects of Organo-Osmium FY26 on ovarian cancer cells by detecting the emissions of X-ray fluorescent light. Mutations and errors in the DNA of the mitochondria of cancer cells are weak spots, so they're susceptible to attack. The FY26 seems to coordinate with calcium, a natural element in cells, to zap those weak areas. The main chemo drug now, cisplatin, also damages healthy cells. But FY26 mainly attacks cancerous ones, so there should be fewer side effects. Another benefit: Osmium costs just one-third the price of platinum. The researchers say the compound should also work on other types cancer. – T.G.
©University of Warwick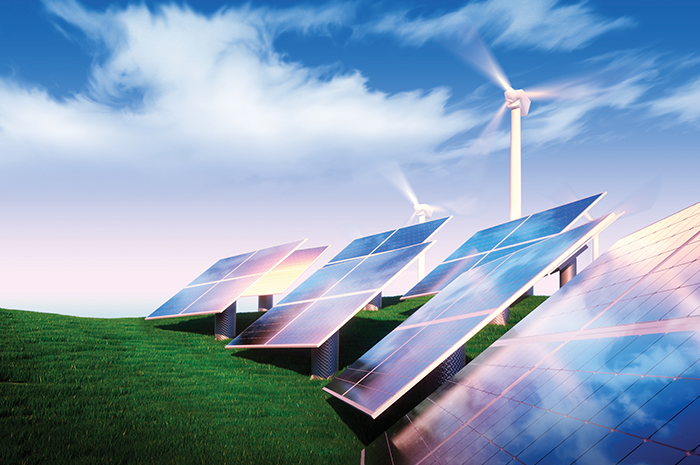 Renewable Energy
Big Oil Blues
The fall in global oil prices may please American drivers and resurrect sales of gas-hungry SUVs, but for Saudi Arabia, home to one of the world's largest oil reserves, the economic impact is dire. Two years of budget deficits and growing domestic energy needs has sent the kingdom's royal family looking for ways to diversify beyond petroleum, Bloomberg reports. The amount of peak-time power Saudi Arabia needed jumped by 10 percent last year. "If domestic use continues like this, eventually the Saudis won't have spare oil to export,'' one economist tells the news service. Looking to generate more power from renewable sources, the country plans to invest $30 billion to $50 billion to build solar and wind plants in its sprawling northwestern desert to produce nearly 10 gigawatts energy by 2023—the equivalent of burning 80,000 barrels of oil a day. That output could be quadrupled if natural-gas projects slated for later in the decade go forward. The first tenders will be awarded in September for 700 megawatts of power. Because unlike oil reserves, the sunlight that blasts Saudi Arabia's desert is limitless. – T.G.
©Thinkstock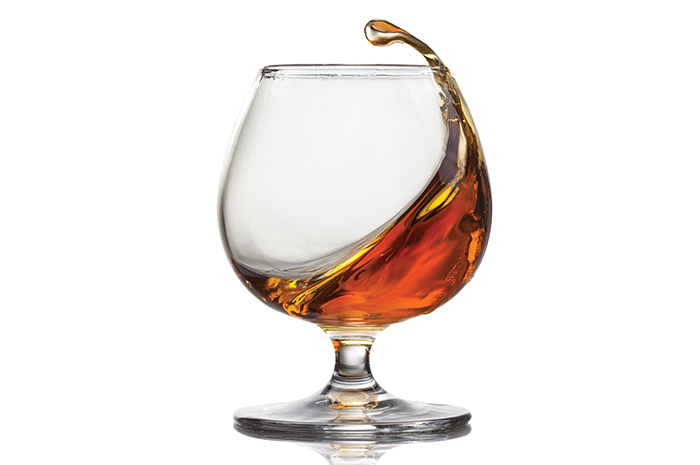 Distilled Spirits
Good as Old
Brandy gets much of its distinctive color, aroma, and flavor from spending years—at least two and often more—fermenting in in oak casks, where bioactive compounds in the wood, or congeners, are slowly released into the alcohol. But now, according to Discovery, Spanish researchers have found a way to speed the aging process to a mere three days using ultrasound. They fed the liquor into tubes containing oak chips, then zapped it with ultrasound for three days. They also varied the process, changing things like the amount of chips, strength of the alcohol, temperature, and aeration. The best result came from brandy that was 65 percent alcohol poured through a lot of wood chips at room temperature and only lightly aerated. Why does the method work? The ultrasound creates cavitation in the wood, small bubbles that tear at the wood's tissues when they explode, releasing the bioactive compounds. The researchers—and a panel of experts who tasted the results—acknowledge that the ultrasound brandy isn't quite on par with the real deal, but it's close. "They tasted surprisingly well," one researcher told Discovery, praising the "good fruity and sweet flavors" and "high aromatic intensity." European Union regulations won't allow sales of this knockoff, because the legal definition of brandy includes years of maturation in oak. But producers may want to use the ultrasound method to rapid prototype changes to traditional aging processes before committing to them—testing new types of barrels, for instance, or cherry instead of oak casks. Meanwhile, the Spanish team now plans to see if ultrasound can work to speed the aging of wine. Cheers. – T.G.
©Thinkstock
Space Exploration
Venus Rising
Missions to our nearest neighbor in the solar system are exceedingly rare. There have been only four, and all were conducted in the early- to mid-1980s by the Soviet Union. Why has Venus gotten the cold shoulder? Extreme heat: Surface temperatures reach 878 degrees Fahrenheit, far hotter than the 250 degrees a normal silicon chip can handle. The Russians got around the problem by housing their probes' electronics in hermetically sealed chambers that were cooled to 14 degrees. But all that extra equipment adds weight and drives up costs while leaving less room for other scientific instruments. The Soviets' Venera 13, which landed on Venus in 1981, lasted a mere 127 minutes before it went kaput—and it's the record holder. But now scientists at NASA's Glenn Research Center in Ohio have devised a ceramic-packaged chip that uses silicon carbide (SiC), a semiconductor that can handle high voltages and temperatures, for its transistors. They've also built connection wires from SiC. To test the new electronics, NASA built the Glenn Extreme Environments Rig, a chamber that replicates Venusian temperatures and pressure. The chips were still working after 521 hours (nearly 22 days), increasing the likelihood that one of several possible missions to Venus now under consideration will take place. – T.G.
©NASA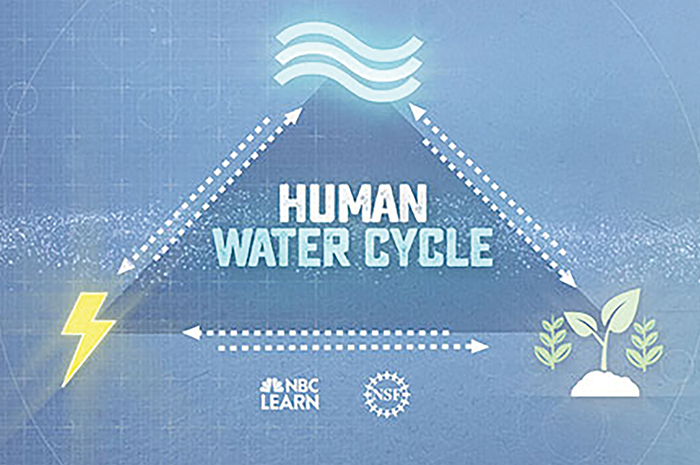 Green Design
Drain Brains
A team led by University of California, Berkeley, architect Maria Paz Gutierrez is working on a device that could help homeowners in drought-prone areas curb water use while also heating their homes for less money. The focus is on the hundreds of gallons of graywater that the typical family generates daily from baths, kitchen sinks, and washing machines. Paz Gutierrez, an assistant professor, is working with Slav Hermanowicz, a professor of environmental engineering, and Luke Lee, a bioengineering professor, on a system that would collect and clean graywater. The concept features a building-mounted solar array coupled with a filtration system that uses a photocatalytic disinfection process. Within the photovoltaic panels are glass surfaces coated with gold nanoparticles that react to the sun's UV light to kill microbes. Though not potable, the treated water would be perfectly safe for washing clothes and flushing toilets. The heated water also could be recirculated to warm the building. Homeowners would save on utility costs while cities would benefit because there would be less water to treat. Paz Gutierrez hopes that a commercial version of the system will be ready within 10 years. – T.G.
©NSF, NBC Learn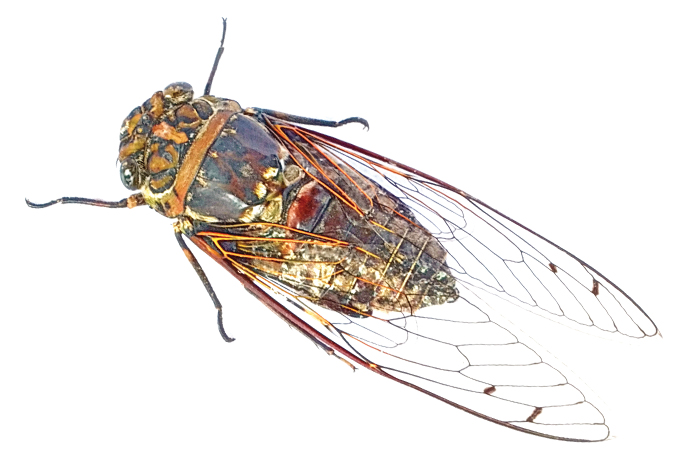 Nanotechnology
Safer Implants
The most common complication following orthopedic implant surgery is bacterial infection. When it occurs, the only treatment is surgical removal of the implant and infected tissue, and a lengthy course of antibiotics. Researchers in India, however, have come up with a nanoscale treatment of titanium—the metal of choice for implants—that turns the normally shiny, silver-colored metal black, but also makes it much more resistant to bacteria. Inspired by the surface structure of cicada wings, which kill bacteria on contact, investigators at the Indian Institute for Sciences in Bangalore used a chlorine-based, reactive-ion etching process that creates nanopillars on the surface of the metal. These nanopillars mechanically stretch and rupture bacterial membranes, which is similar to the way the insect wings kill bacteria. In tests, the black titanium killed 92 to 98 percent of two types of bacteria within four hours, and 22 percent of another type, S. aureus. But the kill rate for S. aureus jumped to 75 percent within 24 hours. Next, the team wants to conduct animal trials. If the treatment works, it could also eventually be used on dental implants and cardiovascular stents.- T.G.
©Thinkstock