Breakthroughs and trends in the world of technology.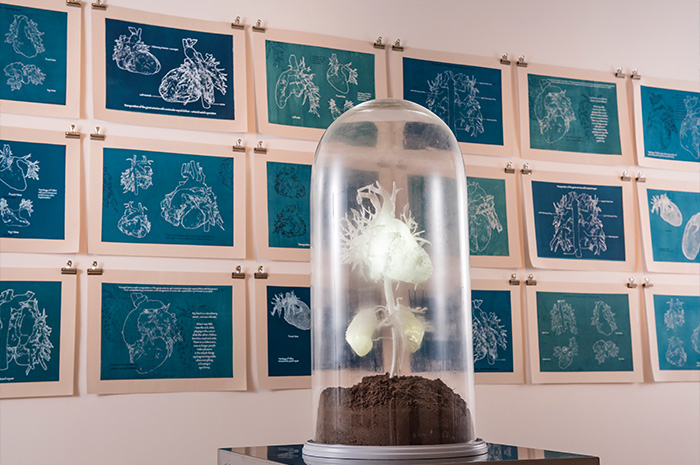 Biomedical Engineering
Pulling at Heartstrings
What is the heart? Is it "the pump, the engine room, of our bodies," as bioengineer Giovanni Biglino writes? Is it a living organism in its own right, or the seed that sprouts a trunk, a limb, a tree? Is it an organ powered by words, stories, thoughts, love? Or a purely medical necessity wrapped in jargon, flawed but resilient? These and many more musings are at the center of "The Heart of the Matter," a project created by Biglino, a senior lecturer at Bristol University, and artist Sofie Layton, based on workshops in England with patients at the Great Ormond Street Hospital for Children in London, the Bristol Heart Institute, and Freeman Hospital in Newcastle. The pair encouraged cardiac patients to tell their stories of broken hearts—physical and metaphorical—and then turned some of them into engineering-inspired works of art. The exhibit, on display at Copeland Gallery in London from November 1 to November 11, features pieces such as The Bud by Layton, a branching, tree-like 3-D printed model of the cardiac system "growing" from dirt in a bell jar. Another, Flow, is an animation that uses medical imaging, cardiac tests, and scans depicting arterial blood flowing within the heart. "It looks at the vortexes, patterns, and rhythms that are within the heart," Layton says in a video appearing on the exhibit website. Those patterns transform into the rhythm and flow of life. "You're looking at the world within the heart." – Jennifer Pocock
 ©Sofie Layton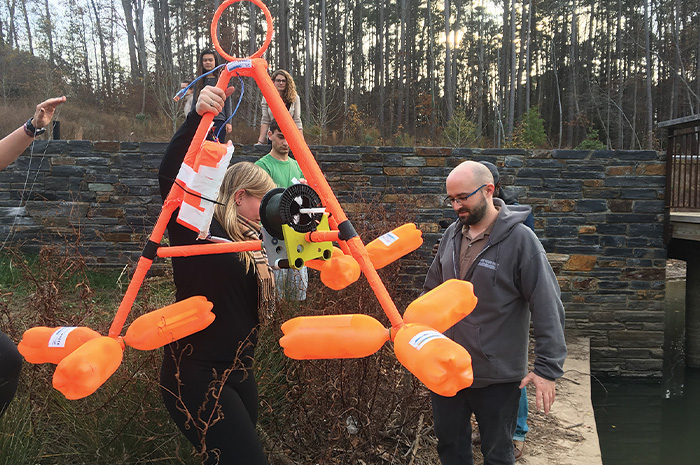 Ocean Engineering
Charter 'Bots
The original Star Trek TV show famously called space the "final frontier," but that's not entirely accurate. Only about 5 percent of the ocean floor has been mapped. In fact, we have a better understanding of the surfaces of the moon and Mars. In 2015, the Shell Ocean Discovery XPRIZE competition was launched to spur the development of robots that could handle crushing pressures and autonomously chart the seabed. More than 30 teams from around the world submitted proposals, with 25 selected to compete in the first round last year. A second round in September pared the number of contenders from 10 to eight. Next month, roughly 17 miles off the coast of Greece, each of those finalists will have just 24 hours to map some 250 square kilometers of seabed at depths of 4,000 meters—an area more than double the size of Paris and twice as deep as the Grand Canyon. Two American teams made the finals: Duke University's Blue Devil Ocean Engineering, which developed heavy-lifting drones that deploy and retrieve groups of sonar-equipped sensors, and Texas A&M Ocean Engineering, whose entry is a torpedo-like autonomous robot. Other finalists hail from the United Kingdom, Japan, Portugal, and Switzerland. The winning team will pocket $4 million, with the runner-up taking home $1 million. – Thomas K. Grose
 ©Martin Brook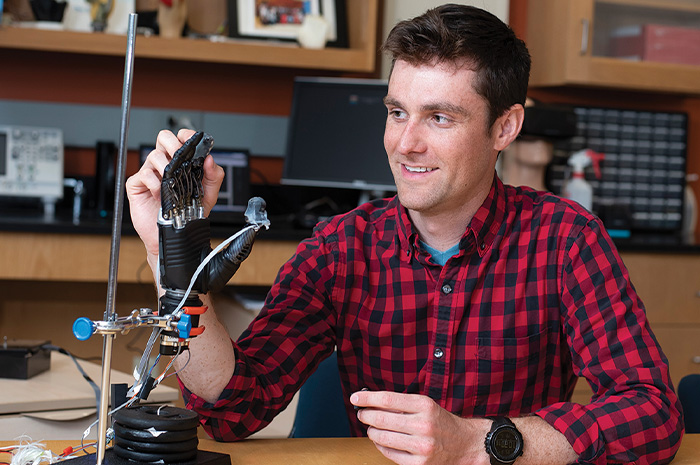 Assistive Technologies
Soft Touch
Prosthetic hands are increasingly capable of moving with the dexterity of real ones. One key missing element, however, has been an ability to sense and send tactile feedback to the user. But a team of engineers at Johns Hopkins University may have solved the problem. It has developed an electronic skin made from fiber and rubber and covered in sensors that can re-create a sense of touch, including pain, and then relay those impulses back to the wearer's peripheral nerves. Human skin relies on a complex network of receptors. The e-dermis is a "neuromorphic model" of the touch and pain receptors in the human nervous system. The output is sent to the wearer via a noninvasive method called transcutaneous electrical nerve stimulation. The electronic skin covers only the fingertips, so it could be used to retrofit prosthetic hands already on the market. It could also have other uses, such as giving robots a more humanlike sense of touch and improving the gloves and space suits that astronauts wear. The e-skin has one limitation: It was designed to detect only curves (for touch and shape perception) and sharpness (for pain perception), so it is not sensitive to temperature. The team plans to continue development. – T. G.
 ©Larry Canner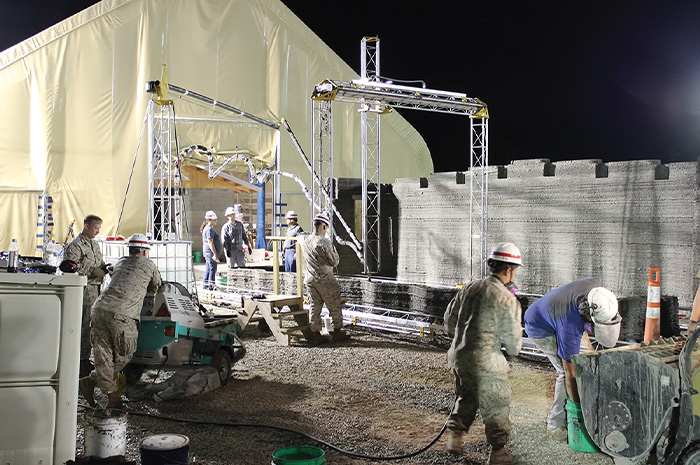 Advancing Technologies
Presto! Living Quarters
The 3-D printing industry is thinking big—as in buildings. Three years ago, a Chinese manufacturer erected a five-story building using 3-D-printed parts, and earlier this year, engineers at Eindhoven University of Technology in the Netherlands used additive manufacturing to produce a reinforced, prestressed concrete footbridge. But now the U.S. Marine Corps has taken the 3-D printing of buildings to a new level. In a first, the Marine Corps Systems Command in August used a giant printer to construct a 495-square-foot barracks, on-site and all at once, at a research center in Champaign, Ill., in just 40 hours. Four people had to supervise the effort and keep the printer filled with concrete "ink." To appreciate the speed of construction, consider this: It would take 10 Marines five days to build a barracks of similar size using wood. The MCSC is confident it can reduce construction time down to a day, once a robot can be used to handle the mixing and pumping. – T. G.
 ©Marine Corps Systems Command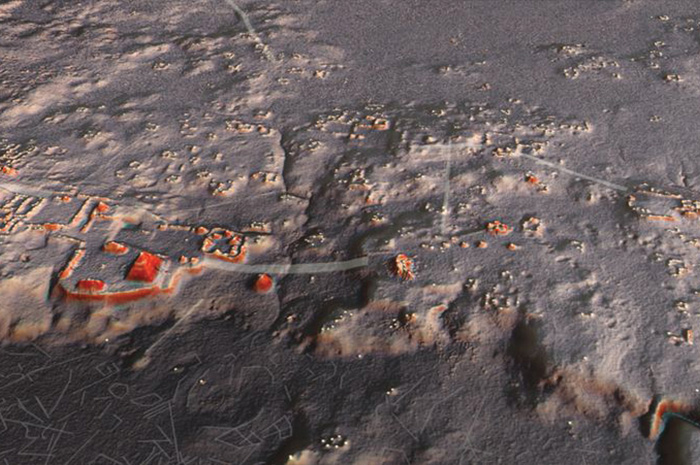 Archaeology
Maya Metropolis
Lidar is a detection technology that uses laser pulses to "see" hidden structures, including long-overgrown ancient Maya ruins. In 2016, a team led by Juan Fernández-Díaz, a senior researcher at the National Center for Airborne Laser Mapping at the University of Houston, flew low over 36,700 square miles of Guatemalan jungle, bouncing 15 laser pulses per square meter. The results, recently published in Science, were stunning. The project's scans revealed 61,480 structures, including 60 miles of causeways, roads, and canals that connected cities, large farms, housing, and defensive fortifications, the Washington Post reports. Extrapolating from the data, researchers estimate the area at one time was home to up to 2.7 million Maya structures that would have supported 7 million to 11 million people during the Classic Period, roughly the years 650 to 800. As Newsweek reports, the data upends old assumptions that the Maya civilization was a collection of small city-states, and supports the growing conclusion that the Maya lowlands were a network of densely populated, highly integrated cities. – T. G.
 ©L. Auld-Thomas and M. A. CanutoMarine Corps Systems Command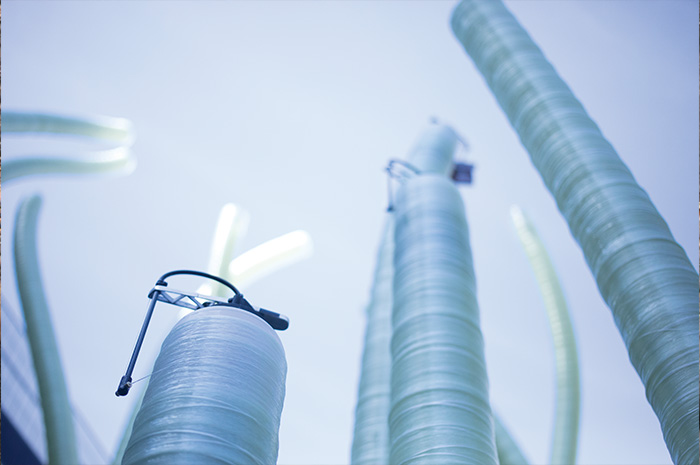 Advanced Manufacturing
Robotic Duet
Researchers at Singapore's Nanyang Technological University have made two 3-D printers that work together to print building components. Not only does the technology reduce the amount of time it takes to create a concrete structure, but it also can handle designs impossible to cast conventionally. Buildings from 3-D printers are currently limited in size because the printer must be larger than the structure. The Nanyang twin printers overcome this barrier by working in tandem; they just need room to move. The computer-design program assigns a specific part of the printing to each robot, then uses an algorithm to ensure that the robots' arms don't smack into one another. Meanwhile, MIT roboticists have invented a printer inspired by silkworms that spins a single strand of resin-coated material into cocoonlike fiberglass structures. A rotating arm atop each prototype robotic printer spins the thread around an inflatable balloon encasing the printer, while ultraviolet light hardens the resin and glues the strands together. Once a tube forms, the balloon deflates and the robot shrugs off the finished product before starting another one. Currently, the cocoon-spinning 'bots can build only predesigned structures, but upcoming versions will use cameras, lasers, and sensors to make customized structures for specific sites. – T. G.
 ©The Mediated Matter Group, MIT Media Lab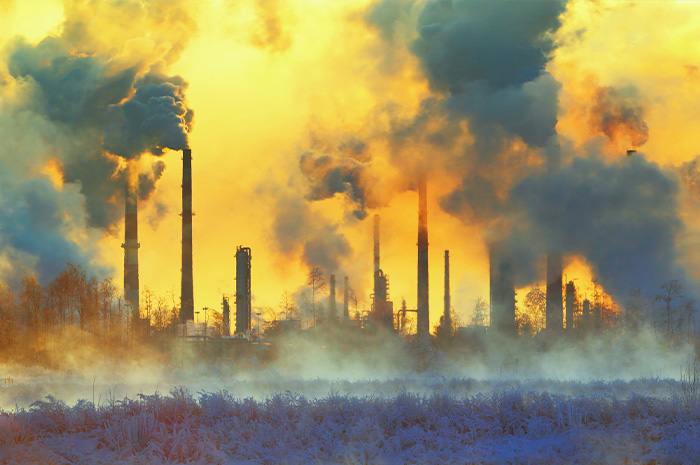 Environmental Engineering
Global Cooling
In 2015, a National Academies panel warned that attempts to reverse global warming by reflecting sunlight posed the risk of "unanticipated, unmanageable, and regrettable consequences." Nonetheless, it recommended a "suitably designed and governed research program." Three years later, finding that federal research agencies still have "no detailed research agenda," the Academies have decided to produce one. "We are running out of time to mitigate catastrophic climate change," says Marcia McNutt, president of the National Academy of Sciences (NAS). The new study is being funded initially by private foundations and a NAS bequest, not the U.S. government. The effort coincides with a report by the Intergovernmental Panel on Climate Change (IPCC) that dire effects of climate change will start to pummel the Earth sooner than previously thought—as early as 22 years from now—if greenhouse gas emissions continue unabated. Left unchecked, emissions will heat the environment as much as 2.7ºF (1.5ºC) above preindustrial levels, on average, by 2040. Noting that global warming already has had an impact, the IPCC panel says an increase above 2.7ºF could have long-lasting or irreversible consequences. Past studies indicated that severe damage wouldn't occur until average temperatures hit 3.6ºF (2ºC) above preindustrial levels. – T. G.
 ©Standford Medicine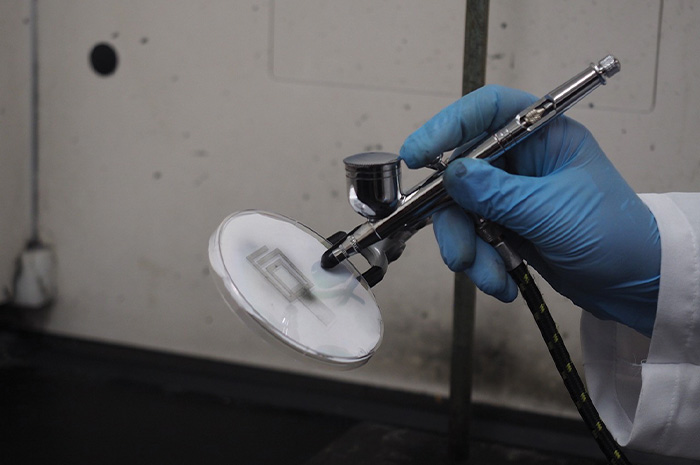 Nano Electronics
Misty Materials
Engineers at Drexel University have invented a nano-size spray-on antenna that works as well as those fashioned from gold and copper. Unlike metal antennas, however, this version will work on flexible materials like fabric, which could speed the advance of smart wearables. To make their liquid antennas, researchers created a "paint" by dissolving MXene—a titanium carbide material developed at the university—in water. A 10-nanometer coating of MXene paint is sufficient for transmitting and directing radio waves, and it's also optically transparent. Meanwhile, chemical engineers at MIT have constructed nano-size chemical sensors that can be applied as an aerosol mist and used to detect gas leaks, pollution, and contaminants. Each sensor is a polymer chip only 1 micrometer thick and 100 micrometers across—roughly the width of a human hair—coated with atomically thin semiconducting materials to create a circuit. The coating also includes a photodiode that converts light into electric current and a chemical detector composed of a 2-D material that conducts electricity when it comes in contact with a specific chemical. Once sprayed onto a surface, the chips are hooked to electrodes to see how easily a current flows through the detector. Future versions will emit light signals when they make contact with target particles. – T. G.
 ©A.J. Drexel Nanomaterials Institute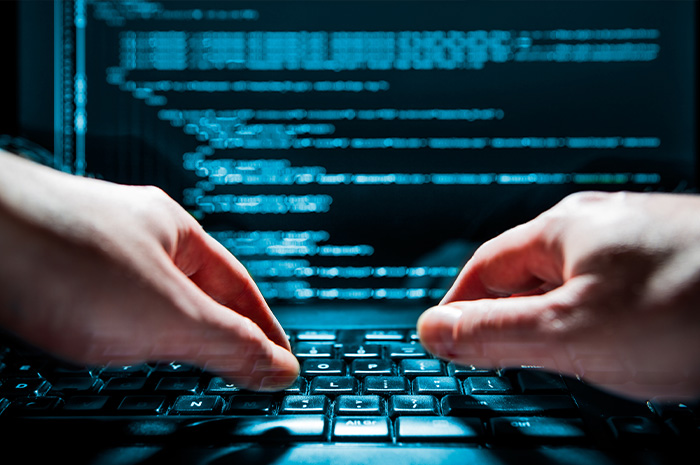 Digital Forensics
Lingering Mystery
During the presidential election, did the Trump Organization and Russia's Alfa Bank communicate via a secret computer link? That's what articles in the New York Times and Slate suggested back on October 31, 2016. Donald Trump's presidential campaign dismissed any connection, and in the ensuing months, some experts poured cold water on the notion. The issue faded until last month, when a lengthy New Yorker story resurrected it. The magazine talked to the team of prominent computer scientists who first discovered that the bank's server pinged Trump's e-mail server many thousands of times during key points in the campaign. The team, led by a scientist given the cover name Max, is highly respected for its work policing the Internet to thwart hackers and malware. The team concluded, after analyzing data collected from the Domain Name System (described as a global phone book for the Internet), that it was a covert communications channel. The team's work provided the basis for the Times and Slate articles. The New Yorker also talked to many other computer scientists, among them Jean Camp, of Indiana University; Steven Bellovin, of Columbia University; Richard Clayton, of the University of Cambridge; and Matt Blaze, of the University of Pennsylvania. Several have vetted Max's team's work and found it persuasive. One called it "an ad-hoc system to communicate." Another said there may be an innocuous explanation for the pinging—"and it's also possible that space aliens did this." Given the limits of this kind of data, the article cautions it's hard to go beyond speculation, but also quotes an expert as saying that while there's insufficient evidence to prosecute, "we have enough to ask for a search warrant." – T. G.
 ©Thinkstock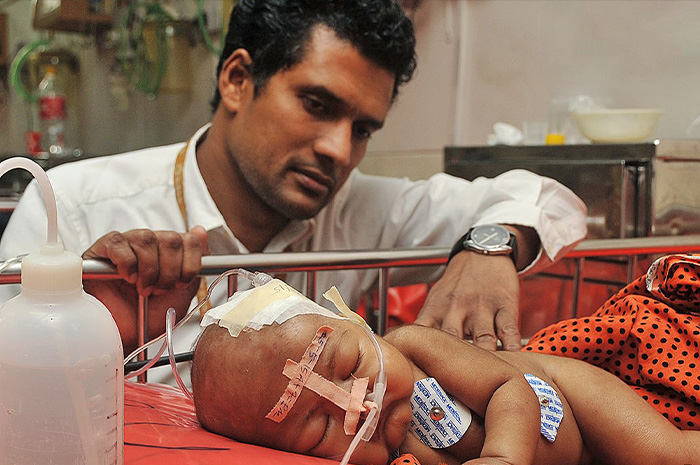 Biomedical Innovation
Saving Babies on a Budget
Pneumonia is the No. 1 killer of infants, causing 16 percent of infant deaths worldwide. The rate is much higher in some countries; Bangladesh's, for example, is 28 percent. In developed countries, sick infants are placed on expensive ventilators, the Economist reports, while hospitals in poorer countries use a bargain version that delivers low-flow oxygen but doesn't reduce the effort needed to breathe. Mohamad Chisti, a pediatrician at the Dhaka Hospital of the International Center for Diarrhoeal Disease Research, saw a device called a bubble-CPAP that's used in Australia to help premature babies breathe. Its design includes a breathing tube whose tip is immersed in water. When the infant exhales, the breath produces bubbles that cause pressure to shoot back into the lungs, facilitating breathing. But a bubble-CPAP costs a prohibitive $6,000. So Chisti invented a knockoff that uses a plastic bottle filled with water, tubing, and an oxygen supply. Cost of materials: about $1.25. His hospital now routinely uses the budget bubble-CPAP, and infant pneumonia deaths there have fallen by 75 percent. In 2013, the Economist notes, the hospital spent $30,000 on oxygen supplies; last year it spent $6,000. Chisti next plans to do trials in Ethiopia. If that goes well, it's likely his budget ventilator could quickly become standard equipment worldwide. – T. G.
 ©Rabiul Islam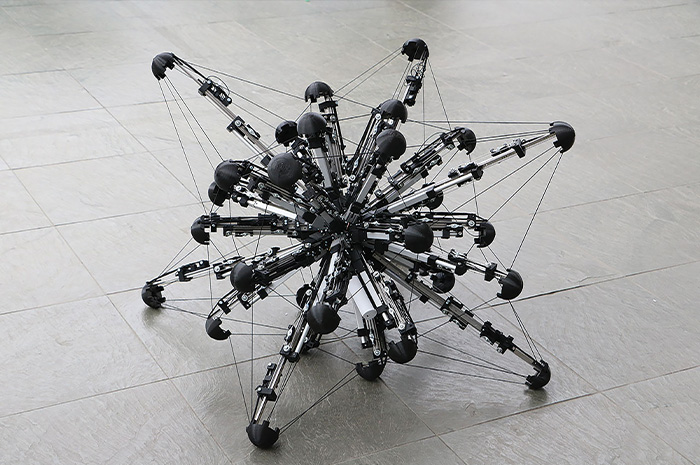 Robotics
On a Roll
When robots are designed to move in any direction, no legs work well—but 32 legs are better, or so Mochibot can attest. The spiky, omnidirectional creation from Japan's Keio University and the University of Tokyo has 32 individually actuated telescoping legs and also can deform, according to IEEE Spectrum. To roll, Mochibot retracts its legs in the direction it wants to head while extending the legs on its other side. It stops by lying flat. The 10-kilogram prototype has a maximum diameter of around a meter and minimum diameter of half a meter. NASA has been working on a soft "tensegrity" robot whose rod-and-cable construction mimics the way human joints adjust and distribute tension to move fluidly. Its motions are so complicated, however, that complex algorithms are needed to choreograph them, the magazine points out. By contrast, Mochibot can move evenly and without pause in any direction, just by morphing its shape. The inventors also say their design is better at dealing with unstable terrain, like sand and gravel, giving Mochibot a leg up for use in disaster areas or planetary exploration. – T. G.
 ©Hiroki Nozaki & Yusei Kujirai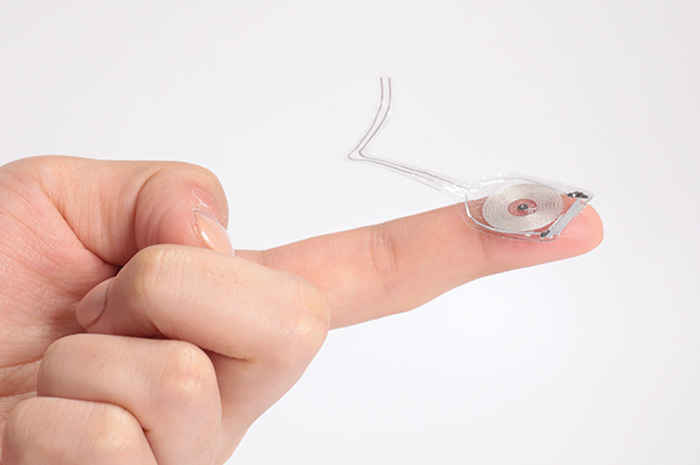 Implants
Nerve Verve
When patients undergo surgery for nerve damage, doctors typically use electrical stimulation during the procedure to help boost recovery. But while surgeons suspected that postoperative stimulation would further improve recovery times, they had no way of administering the jolts. Now researchers have come up with a therapy called "bioresorbable electronic medicine" that can provide direct electrical stimulation to a wounded nerve for up to two weeks after surgery. Engineers and materials scientists at Northwestern University, working with neurosurgeons at Washington University, developed a dime-size device as thin as a sheet of paper that can be wrapped around the injured nerve and deliver electrical pulses at selected points for many days before harmlessly melting away into the body. This pinpoint treatment greatly reduces the potential for side effects or other risks associated with conventional implants. The researchers studied the device in rats with injured sciatic nerves, which control the hamstring and muscles of the lower legs and feet. Some rats received an hour of stimulation per day for one, three, or six days, while other got none at all. Over the next 10 weeks, the researchers found that even a little electrical stimulation helped, but more days resulted in swifter, fuller recovery of nerve signaling and muscle strength. – T. G.
 ©John Rogers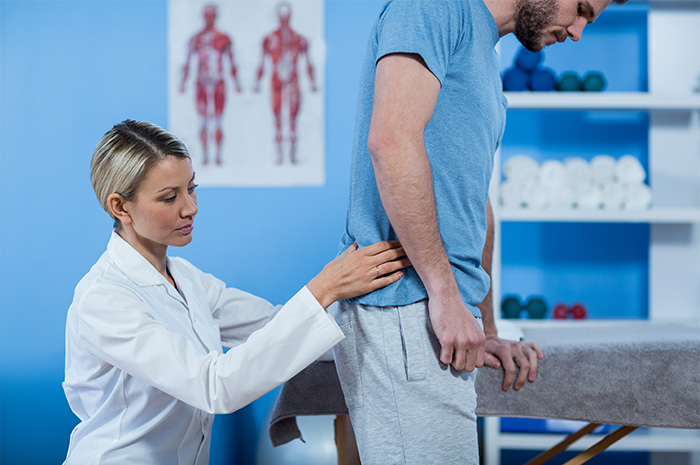 Rehabilitative Therapy
Gait Keepers
In 2011, researchers at the University of Louisville's Spinal Cord Research Center tried a unique therapy on a paralyzed patient. They implanted a medical device used to manage chronic pain into his back to stimulate his spinal cord. After many physical therapy sessions, the patient recovered some motor functions. Three years later, he and three other patients regained some voluntary movement of their legs. Building on those advances, the Louisville team recently reported a huge breakthrough: Two of four patients who underwent the therapy this year could walk on their own, while the other two could stand and take several limited steps. The Mayo Clinic reported a patient who was able to walk with assistance after receiving similar therapy. Since the implants are positioned well below the injured spinal cords, researchers say it's not a case of regrowing a severed connection, the Washington Post reports. Instead, the results suggest that damaged spines, like damaged brains, can with training relearn some functions using other areas. The two studies should give new hope to the 175,000 Americans who suffer spinal injuries each year and lead to more studies involving larger numbers of patients worldwide. The researchers, who are not engineers and relied on an off-the-shelf stimulator, expect that more studies will drive demand for better devices specifically designed by engineers to help paralyzed individuals walk again. – T. G.
 ©Thinkstock