Breakthroughs and trends in the world of technology.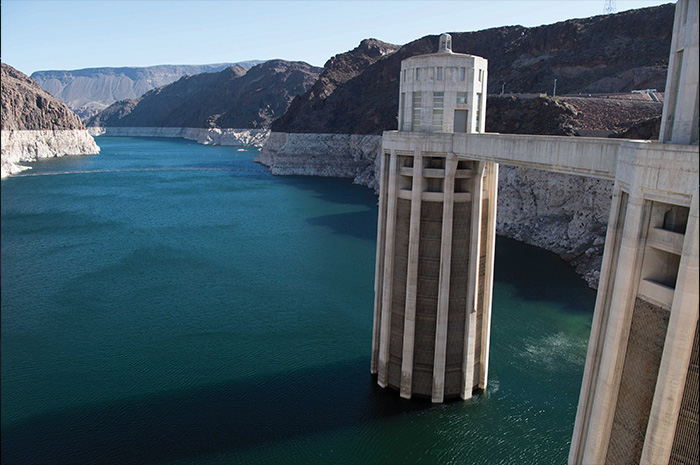 Energy Storage
All Pumped Up
Hoover Dam, an 83-year-old civil engineering marvel at the border of Arizona and Nevada, generates 4 billion kilowatt-hours of hydroelectric power a year from Lake Mead. But it could produce a lot more. A $3 billion cutting-edge upgrade proposed by the Los Angeles Department of Water and Power calls for building a wind- and solar-powered pump station 20 miles downstream from the dam that would capture Colorado River water and send it back up to Lake Mead. Refilling the lake would optimize energy generation, which currently hovers around 20 percent of capacity. Theoretically, this loop would manage electric output during peak demand and allow it to conserve potential energy, turning it into a giant water-powered battery. Project planners will have to navigate choppy waters to meet their 2028 completion target, however. Besides the question of sharing electricity and water among states, engineers must try to minimize the impact on downstream wildlife and consider recreational water-users' needs. But dam, what an idea! – Jennifer Pocock
 ©Alex Stephens/Bureau of Reclamation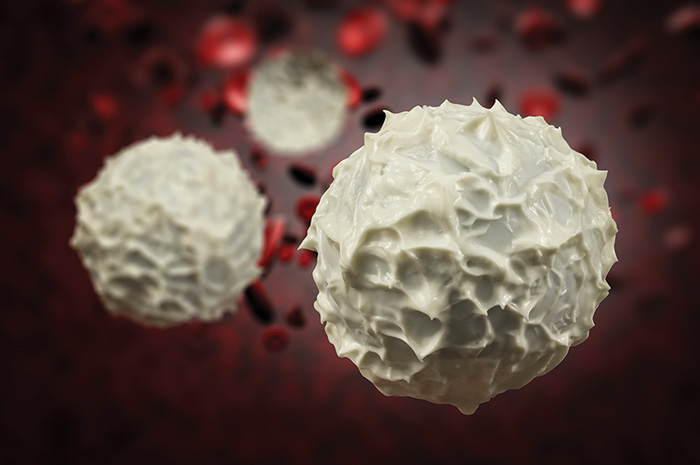 Biomedical Devices
Bloodless Battles
Noninvasive diagnostic tools that can detect disease early could help save lives and dollars. Research funded by the National Institute of Biomedical Imaging and Bioengineering has come up with two promising devices. Carlos Castro-Gonzalez, a postdoc in MIT's Research Laboratory of Electronics, led a team that's invented a video-based home monitor that requires no needle sticks and lets chemotherapy patients quickly determine if their count of white blood cells has fallen to a dangerous level. Cancer treatments can decrease production of the cells, leading to 110,000 possibly fatal secondary infections annually. Detecting a fall-off in early stages could cut the number of infections in half. The device takes video of blood pulsing through small capillaries at the base of the fingernail. The white cells appear transparent under a blue light, and the device counts the gaps. Meanwhile, Irene Georgakoudi, a Tufts University professor of biomedical engineering, led a team that uses an imaging technique called two-photon excited fluorescence (TPEF) microscopy that monitors two key molecules that handle several metabolic functions. Some conditions, including obesity and cancers, begin with subtle changes in cellular metabolism. TPEF imaging illuminates changes in fluorescent signals that can indicate unhealthy cells. In experiments on live, cultured cells, the Tufts team demonstrated that TPEF imaging may prove to be a quick way to identify unhealthy cells and predict diseases early. – Thomas K. Grose
 ©Thinkstock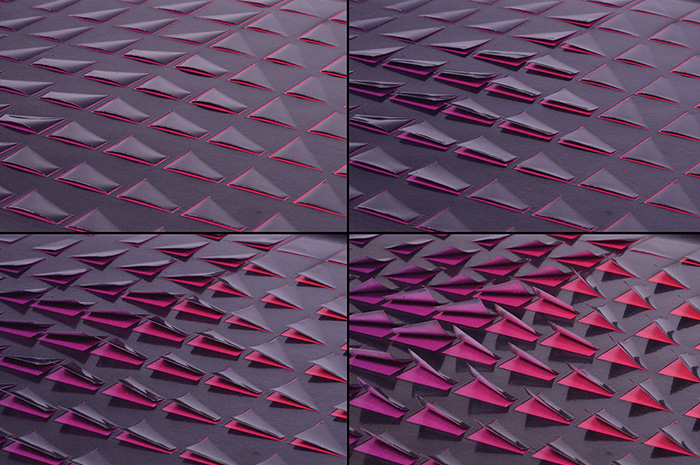 Materials Science
Reactive Fabric
Someday, our homes and offices will be furnished with a new generation of composite materials that shape-shift to meet our needs. Researchers at MIT's Self-assembly Lab, working with Michigan furniture company Steelcase and materials manufacturer Designtex, have developed what they call an "active textile" that "senses and responds to changes in the environment." A large working prototype of their composite textile is currently on display at the Cooper Hewitt Smithsonian Design Museum in New York. The prototype, according to Popular Science, resembles a Japanese room divider made from a fabric peppered with V-shaped slits. When light shines on it from behind, the heat causes the strips of material to curl and fold on their own without any robotic mechanisms. The idea is that a window shade made in this fashion could close when hot sunshine pours through and open when it's cloudy. The material actually comprises six layers, including a polyester fabric, an aluminum screen, and adhesives. According to the magazine, the main surface layers take advantage of the fact that every material reacts differently to heat. By combining two materials with different properties, the designers were able to come up with a textile that could respond to changes in temperature in a consistent manner. – T. G.
 ©Self Assembly Lab, MIT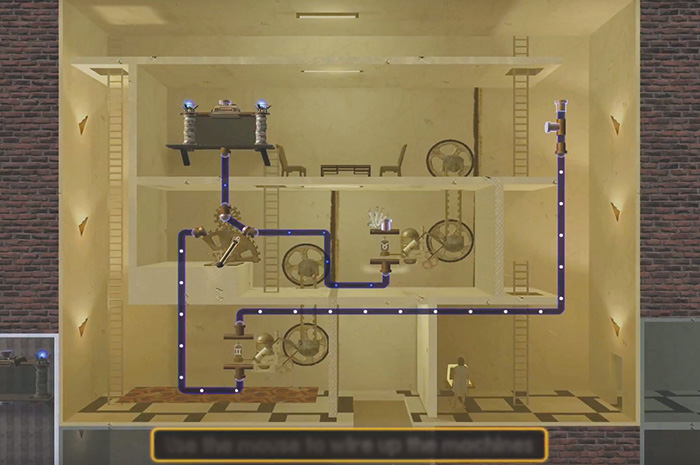 Electrical Engineering
Circuitous Learning
From a very early age, kids start dropping things. As a result, they develop a fairly good notion of how gravity works—making it relatively easy to grasp the equations involved when studying Newton's laws. Electricity, however, is invisible and abstract, so most children have no clue about how it works. To help teens learn the basics, the University of Cambridge has developed a free video game with puzzles that teach the mathematics underpinning electricity. "It allows players to visualize the underlying concepts and the relationships between them," explains game designer Diarmid Campbell, a senior teaching associate in Cambridge's department of engineering. The game, Wired, helps players gain a deeper understanding of circuits, logic switches, voltage, current, and resistance by virtually wiring circuits to solve problems. Campbell, who spent nearly 20 years designing games for PCs, Xbox, and PlayStation, plans to deliver Wired through gaming websites, "so it needs to be at least as fun as other video games," he says. Albeit, with a lower body count than Call of Duty. – T. G.
 ©Diarmid Campbell/ University of Cambridge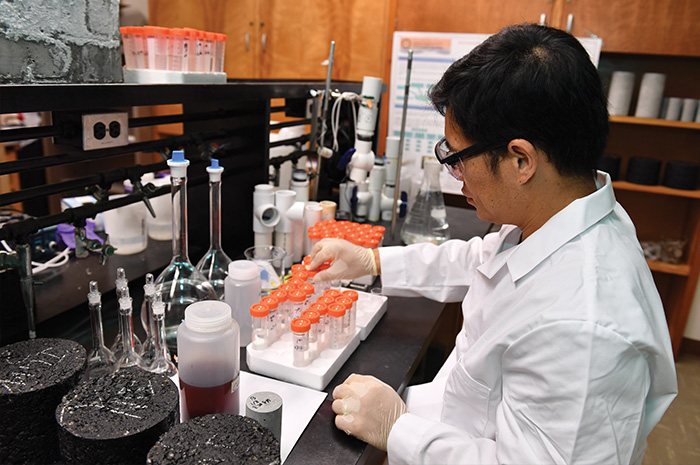 Civil Engineering
Coal-Based Construction
Concrete, the world's most popular building material, is made by mixing cement with sand and gravel. Its production contributes between 5 percent and 8 percent of greenhouse gas emissions worldwide, because cement production requires vast amounts of energy. Xianming Shi, an associate professor of civil and environmental engineering at Washington State University—with his graduate student Gang Xu—has developed a durable concrete that uses fly ash as a binder instead of cement. Fly ash is the waste byproduct of burning coal dust, most of which ends up in landfills where it can leach into the environment. Previous efforts to use fly ash in concrete also required intense heat to strengthen the material, but Shi's method needs none whatsoever. Instead, he and Xu added graphene oxide, a new nanomaterial, to the mix. It manipulates how the fly ash reacts to water and transforms it into a material that is stronger than cement. The concrete has been tested on campus under a variety of loads and temperatures to demonstrate its strength and behavior. Next, Shi and Xu, who will commercialize the material, plan to build some structures as proof of concept. If they find a market, it could help ease two big environmental problems. – T. G.
 ©Washington State University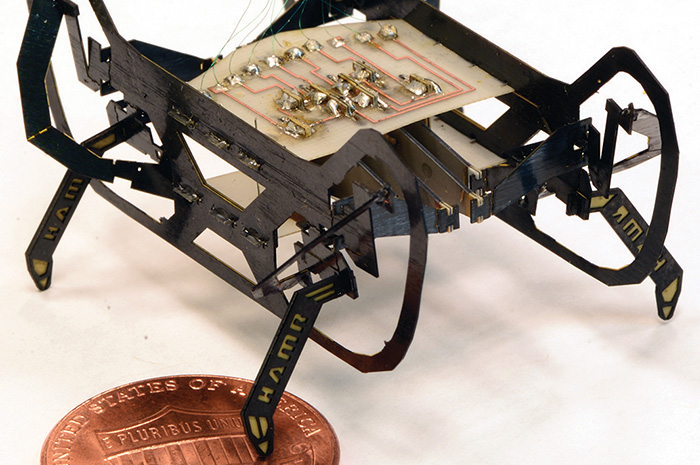 Robotics
Teeny Titans
Downsizing is a big trend in robotics. At July's Farnborough International Airshow, James Kell, a technology specialist at Rolls-Royce, said that the jet engine manufacturer is working with Harvard University and England's University of Nottingham to develop tiny robots that mimic cockroaches. Their purpose: Crawl around aircraft engines to spot problems and make repairs. Kell says that gangs of tiny roach 'bots could dispatch in minutes inspections that now take humans hours and involve removing the engine. Harvard has developed roach-inspired 'bots for eight years and is now working to shrink them and add cameras. Meanwhile, the Defense Advanced Research Projects Agency (DARPA) is asking engineers to submit insect-size robots for the Short-Range Independent Microrobotic Platforms (SHRIMP) program, a mini-Olympics that includes events like rock climbing and a biathlon. Another competition will test each system to determine how high and far the little robots can jump, how much they can lift, how far they can toss objects, and how they fare in a tug-of-war. Tiny robots could have an advantage in search-and-rescue efforts following disasters or inspecting hazardous environments. – T. G.
 ©Harvard Microbiotics Lab/Harvard University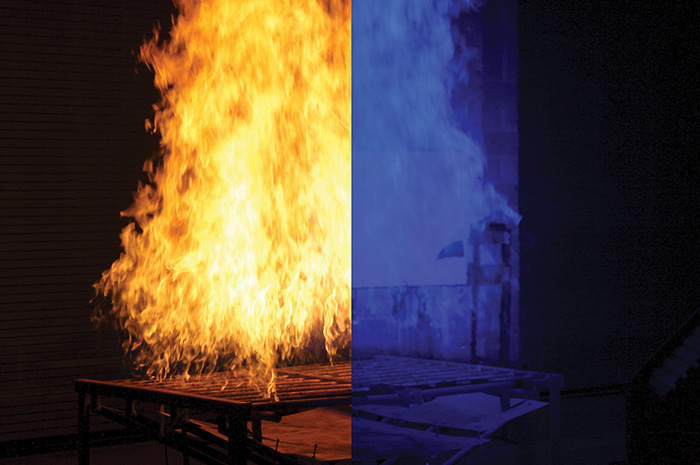 Safety Testing
Hot Stuff
To monitor objects as they deform under the effects of strain or heat, researchers at the National Institute of Standards and Technology (NIST) use an optical-analysis method called digital image correlation (DIC) that compares successive images as materials undergo testing. By measuring pixels between images, they can detect the microscopic beginnings of failure—necessary information when writing standards. To develop fire-resistance standards, however, scientists must set various materials alight, and flames dancing between the camera and sample make it impossible to get useful images. Even natural gas fires that reduce soot and smoke still produce intense light and heat that distort the images. So NIST scientists took a cue from glass and steel manufacturers who use blue-light lasers to monitor red-hot and glowing materials during production. By using cheap blue-light-emitting LEDs and placing an optical filter in front of the camera, the team was able to reduce the observed intensity of the flames 10,000 times and churn out highly detailed images. – T. G.
 ©National Fire Research Laboratory/NIST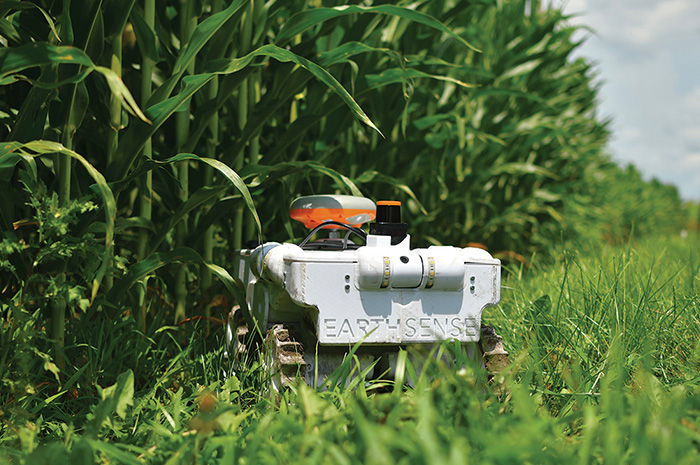 Sustainable Energy
Watcher in the Rye
To feed the world's growing population, researchers are hunting for new plant-breeding methods to greatly increase yields. They also must find ways to strengthen crops against severe weather and climate change. That means measuring and comparing thousands of varieties over hundreds of acres for such key traits as plant emergence and height. Currently, those field measurements are done by hand—a time-consuming process that's often inaccurate and, because human teams can measure only a fraction of any field, inadequate. Designing robots that can navigate tight rows of crops has proved difficult, as has collecting clean data. However, agricultural and biological engineers at the University of Illinois may have solved the problem with TerraSentia, a 13-inch-wide, 24-pound autonomous robot outfitted with a large array of sensors and programmed with a deep-learning algorithm that lets it capture information from each plant, top to bottom. The Illinois team has created a start-up, EarthSense, to commercialize the robot. TerraSentia, the company says, can collect data on traits ranging from plant health to stress response, and researchers now are working to teach it to measure early vigor and biomass, and to detect and identify diseases. The first 30 robots already have been leased to "early adopters" for the "deeply discounted" price of $4,999. For next year's growing season, EarthSense plans to reengineer its business model along with TerraSentia, charging separately for hardware and its bespoke analytics service. – T. G.
 ©EarthSense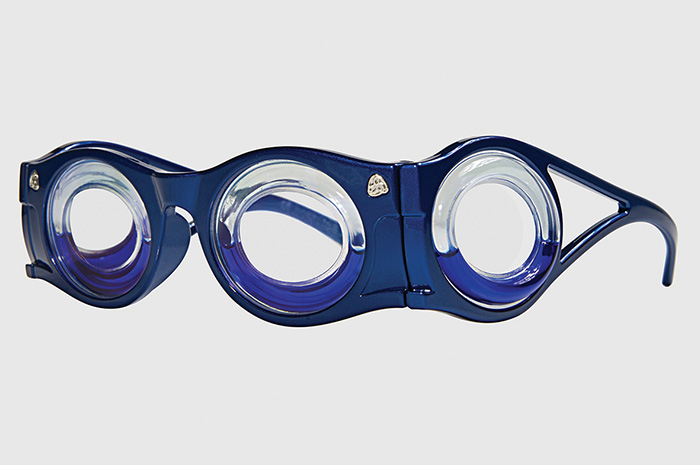 Optical Engineering
Trompe L'Oeil
Approximately one third of us are prone to motion sickness when we travel. Its symptoms, which include nausea, dizziness, sweating, and vomiting, are caused by signals to the brain from your inner ear that conflict with what your eyes see. Now a French start-up, Boarding Glasses, is selling a set of specs that feature four lenses—two you see through and two others along each side. Encasing each lens is a ring filled with a blue fluid that moves with the vehicle's motion, creating an artificial horizon. Wear them for 10 to 12 minutes, and you're cured for the rest of your journey. Inventor and company cofounder Hubert Jeannin is an engineer who worked in optics. He patented the invention in 2004, testing the prototypes with the French Navy, according to Smithsonian magazine. Skeptic Thomas Stoffregan, a professor of kinesiology at the University of Minnesota, says artificial horizon cures go back to the 1970s, and none worked. Jeannin insists that his version is unique because the extra two lenses create artificial horizons for peripheral vision. But see for yourself: The company is taking preorders for December shipment, but the price is a dizzying $80 per pair. – T. G.
 ©Boarding Ring
Historic Preservation
Monumental Task
The Taj Mahal is one of the seven Wonders of the World. But decades of pollution from nearby factories and household diesel and kerosene generators have turned its gleaming marble facade into a corroded, dingy disaster. "A hopeless cause," India's Supreme Court declared in July, blasting the central and state governments' foot-dragging in a suit over caring for the iconic 16th-century mausoleum. The judges suggested the Taj either be shut down or demolished. Local officials say the Indian Institute of Technology in Kanpur is doing an assessment of air pollution levels that should be ready by November. But the court notes that the problem has persisted for too long with no serious remedies being offered, and it plans to hear the case on a daily basis. Perhaps the wheels of justice will grind out a way not only to save the Taj from the wrecking ball but also to restore and protect it. Meanwhile, a painstaking, years-long effort to scrub the marble with mud baths continues. – T. G.
 ©Thinkstock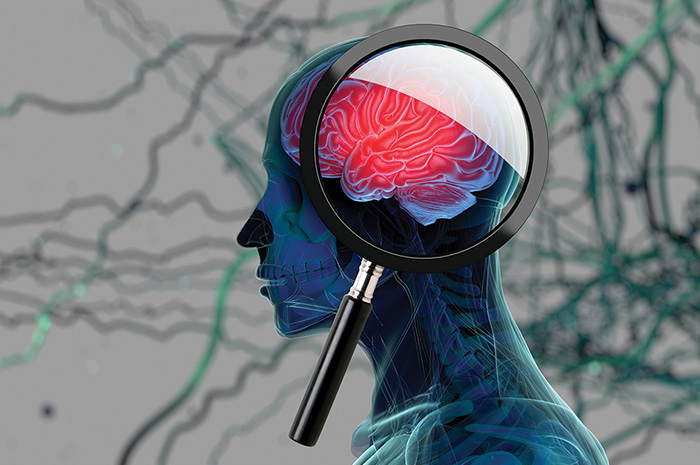 Alzheimer's Research
Light Up
Along with memory loss, people with dementia can suffer from agitation, anxiety, depression, and insomnia. The U.S. Food and Drug Administration hasn't approved any drugs to treat these non-cognitive symptoms, so any treatment must be prescribed "off label." That can be a problem, since the FDA has found that use of psychotropic medications by elderly patients with dementia was associated with increased mortality. But research presented this summer at the Alzheimer's Association International Conference in Chicago showed two promising therapies, according to Science. A clinical trial designed by researchers at the University of Toronto found that Nabilone, a synthetic cannabinoid, could relieve significantly the symptoms of agitation in people with Alzheimer's. In another study, researchers at Rensselaer Polytechnic Institute in New York examined whether the constant, dim lighting in many nursing homes contributed to insomnia and other disruptive sleep patterns. In two experiments involving 10 facilities in three states, they provided dozens of patients with special lighting—including lighting tables in common areas and installing small room lamps—and also changed the duration of light experienced during waking hours. Early results indicate that more, brighter lighting could reduce sleep disturbances as well as depression and agitation. – T. G.
 ©Thinkstock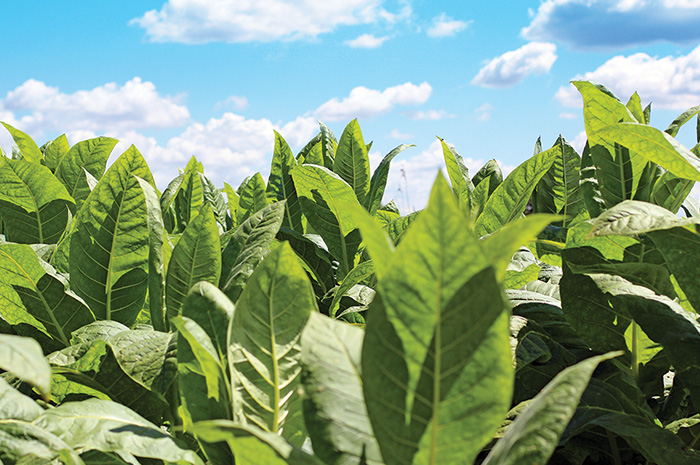 Indoor Air Quality
Green Screens
Houseplants have been enhancing interior decors for centuries. Now, researchers at the University of Tennessee, Knoxville, report in Science magazine that in the future, we may use "living walls" not only to beautify our homes, but also to help guard against harmful airborne gases and pathogens, including radon, molds, and viruses. Using synthetic biology, the paper says, it's possible to engineer "smart" houseplants that act as biomonitors. "They can do a lot more than just sit there and look pretty. They could alert us to the presence of hazards in our environment," lead author Neal Stewart, a professor of plant sciences, tells the publication Laboratory Equipment. The technology will likely evolve from what's already happening on farms. Scientists have modified tobacco plants, for example, to produce extra amounts of an orange fluorescent protein when they encounter disease-causing bacteria. Farmers wearing light-filtering goggles can see which plants glow orange under a green light. First-generation smart houseplants also would likely require being illuminated—with ultraviolet light—to reveal pollutants. But Stewart's team says eventually plants will be engineered to produce signals visible to the naked eye. Another benefit: Indoor walls of shrubbery require no painting, just occasional pruning. – T. G.
 ©Thinkstock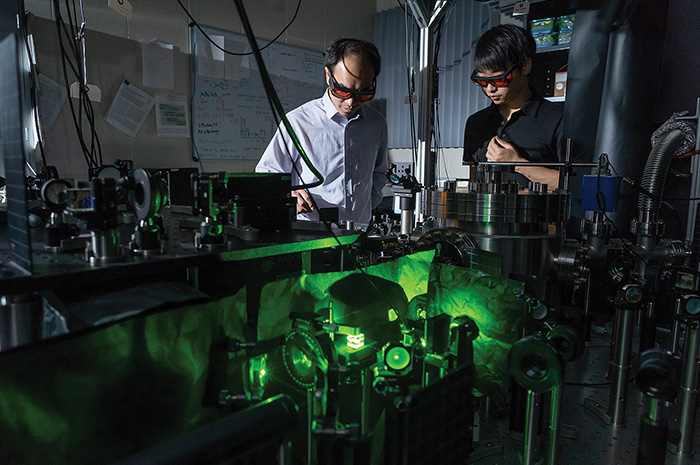 Quantum Mechanics
Spin Cycle
Purdue University recently scored a new honor: home of the world's fastest man-made rotor. How fast? At 60 billion revolutions per minute, the device is more than 100,000 times faster than a dentist's drill. A team led by Tongcang Li synthesized the tiny, dumbbell-shaped object from silica and levitated it in a high vacuum using a laser. The laser can beam in either a straight line or in a circle. When the light is linear, the dumbbell vibrates; when it's circular, the dumbbell spins. Li, who is an assistant professor of physics and astronomy, and electrical and computer engineering, says that by observing a dumbbell spinning superfast, his team hopes to learn more about vacuum friction and gravity—two key areas of modern physics. As the device becomes more advanced, it can be used to study quantum mechanics and the properties of vacuums. – T. G.
 ©Purdue University/Vincent Walter