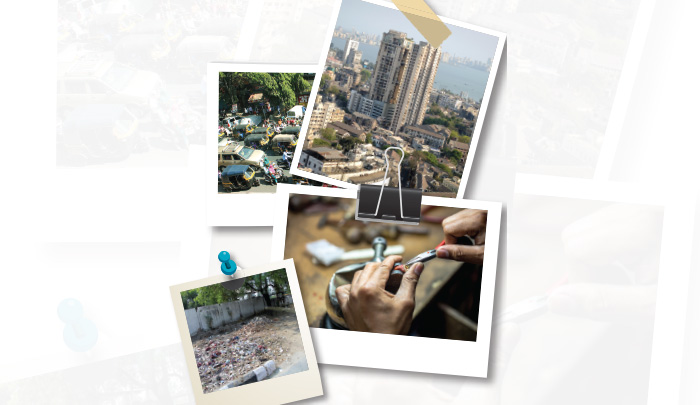 Ethics Education through Pictures
'Photoelicitation' yields rich student responses to dilemmas with no right answers.
By Catherine Berdanier, Xiaofeng Tang, and Monica Cox

Ethics education is often decontextualized in undergraduate or graduate studies. Students are assessed using multiple-choice platforms that ask them to choose the "right" solution to an ethical situation. This approach to ethics education is both inauthentic, because real dilemmas have no "right" solution, and one that often focuses on individual ethics, rather than how engineering decisions might affect an ecosystem of visible and invisible stakeholders.
We conducted a qualitative study of the ethical reasoning of doctoral materials science engineering students after they participated in a two-week trip to India. The students were members of a National Science Foundation-funded Integrative Graduate Education and Research Traineeship (IGERT) whose research interests centered on sustainable electronics. The purpose of the international experience was to tour companies, factories, nongovernmental organizations, and other institutions that affect or are affected by the electronics supply chain. For the doctoral students, who develop electronics technologies in their laboratories in the United States, the experience was enlightening. Seeing who makes electronics, where, and under what conditions required the doctoral students to reconsider the motivation for their research as well as their technical decisions.
To investigate ethical reasoning, we employed "photoelicitation," a method borrowed from sociology and psychology. As part of an interview protocol, we showed participants photographs that had been taken during the trip, asking them to reflect on the images and what they represented. Participants were also prompted to reflect on whether they would have seen each photograph as "positive" or "negative" before the trip, and how that compared with how they saw it afterward. The photographs represented a variety of ethical dilemmas, including issues related to manufacturing safety practices and safety culture and gender parity across cultural boundaries. They also dealt with issues of "sustainability," since the definition of sustainability is itself culturally dependent.
The data collected through interviews showed rich ethical reasoning on the part of the students, who demonstrated that they had become much more aware of the often invisible stakeholders affected by engineering decisions. This reasoning is especially relevant in industries such as electronics, where products are manufactured in other countries that have different safety cultures or definitions of sustainability. Our participants showed deeply contextualized and nuanced views of these themes in the context of electronics manufacturing in India.
The depth of ethical reasoning demonstrated by the participants in this study points to the importance of teaching ethics through "messy" dilemmas and authentic situations. The doctoral student participants quickly recognized that they would soon become the thought leaders who will design the electronics of the future. As one participant deftly noted, the question in engineering technological advances might become "not can we do it, but should we do it?"
It is idealistic to recommend that all engineering students be funded to travel abroad to experience authentic engineering dilemmas as a way to facilitate engineering ethical reasoning. However, our findings indicate that instructors should not shy away from presenting difficult ethics-oriented situations to engineering students, even if there is not a clear-cut, "right" solution. Real-world or authentic engineering activities that students undertake such as internships, co-ops, or research experiences all have embedded ethical components and can serve as departure points for discussion. Individual ethical choices should be discussed, as well as the role of engineers in a world where all technical engineering decisions have rippling social, economic, and environmental consequences.
Further, we see an excellent opportunity for engineering instructors to include photoelicitation methods in ethics instruction within the engineering classroom. Case studies can be augmented to include multimedia components such as photographs, newspaper articles, scholarly publications, and interviews with multiple stakeholders for students to build their ethical understanding using "evidence" about the issue at hand. This multidimensional technique for teaching engineering ethics brings to life issues that might seem one-dimensional when written as traditional case studies. In addition, using a portfolio of testimonies or evidence about a particular ethical situation can highlight for students the fact that many of the stakeholders affected by a particular engineering decision or practice may be unseen and live thousands of miles from where the original engineering decision is made.
Catherine Berdanier is an assistant teaching professor in the Department of Mechanical and Nuclear Engineering at Penn State University; Xiaofeng Tang is an assistant professor of practice and Monica Cox is a professor and chair of the Department of Engineering Education at Ohio State University. This article is excerpted from "Ethics and Sustainability in Global Contexts: Studying Engineering Student Perspectives Through Photoelicitation" in the April 2018 issue of the Journal of Engineering Education.