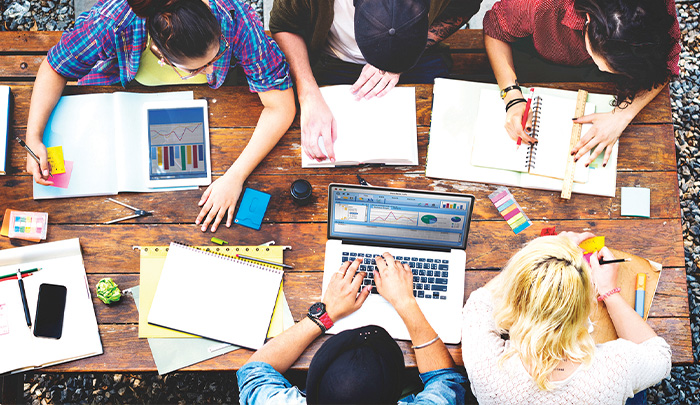 Student Collaboration Stimulates Learning
Sharing bits of knowledge and ideas allows conceptual understanding to grow.
By Ying Cao and Milo Koretsky

Engineering educators and industry partners generally agree that it is important to develop students' conceptual understanding to prepare them for engineering practice. We are interested in studying how a set of interactive virtual laboratories (IVL), two-dimensional computer simulations we have developed, helps develop conceptual understanding of thermodynamics. However, to do so, we needed to change how we approached conceptual understanding—from solely assessing if an answer was right or wrong to examining how students interacted and assembled their ideas in answering. Our study reports on this shift in perspective and what it enabled us to learn about the IVLs.
Recent engineering education research has applied a misconception perspective to conceptual understanding. It asserts that conceptual knowledge is an abstract entity that students acquire, and their answers are either correct or wrong. This valuable perspective has allowed engineering educators to show how the use of clickers and active learning pedagogies can improve conceptual understanding. However, when applied to student learning in the IVLs, we found that the misconception perspective did not sufficiently allow us to progress on design of the tool or the learning environment.
We developed an alternative construct, shared resources. It draws from the work of learning scientists, such as Andy diSessa and David Hammer, who describe knowledge as emerging from the organization of small pieces of primitive ideas that students bring to bear on a situation and serve as cognitive resources. Learning involves activating and assembling resources to make sense of a phenomenon. We identify shared resources as those activated by different students working together and which contribute to collective group understanding. Features of technology can stimulate students to activate more or different resources relevant to the topic of interest, and group interactions provide opportunities for activating, coordinating, and sharing resources. While the empirical study precipitated our conceptualization of the shared-resources construct, it is consistent with what we have observed in other collaborative learning environments.
We used the construct of shared resources to analyze 187 junior engineering students' written responses to three conceptual questions as they completed the Thermodynamic Work IVL in a studio (collaborative group work) setting. We found that almost everyone demonstrated productive ideas, but they all also revealed opportunities to learn more. Moment-by-moment interactions of four of these students were captured by video and audio recordings to show the conditions during which resources were shared.
Shared resources give credit to students' prior ideas rather than identifying deficiencies and criticizing them. Thus, we could recognize productive ideas in students' evolving understanding of thermodynamic work and elaborate on the interwoven cognitive and social aspects of learning. Instructors adopting this perspective would look for practices that lead to students sharing resources during collaborative activities; for example, making student thinking visible, noticing and re-voicing student ideas, and facilitating group interactions to include all students.
The construct of shared resources also fundamentally shifts the ways we approach the design and implementation of technology-based learning environments. Instructors should consider how technology is deployed to position students to share resources. We argue that attributing student learning or their misconceptions to features of a simulation tool leads educators to place too much reliance on the technology itself. Rather than rush to address unsatisfactory learning gains by investing in the costly development of more effective technologies, we recognize a class environment in which an existing technology can be leveraged to become more effective. The social structure of groups in the studio setting was critical to allowing individual students to share their activated resources. In other words, we shift the perspective from one where learning occurs through the technology to one where the technology is a useful epistemic tool in a collaborative learning environment.
Ying Cao is an assistant professor in the School of Education and Child Development and director of the Innovation and Teaching Center at Drury University. Milo Koretsky is a professor of chemical engineering at Oregon State University. This article is adapted from "Shared Resources: Engineering Students' Emerging Group Understanding of Thermodynamic Work," in a forthcoming issue of the Journal of Engineering Education.