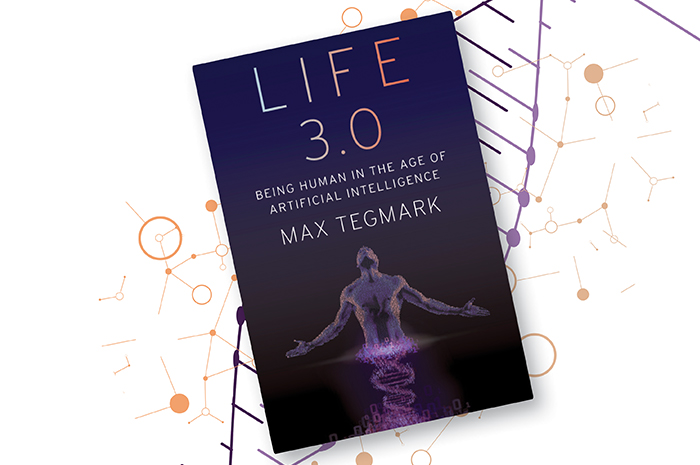 Killer App?
An MIT cosmologist urges readers to ponder and prepare for a future when robots may outsmart us at everything.
Life 3.0: Being Human in the Age of Artificial Intelligence
By Max Tegmark.
Knopf. 2017. 384 pages.
When Saudi Arabia recently "granted citizenship" to a Hanson Robotics humanoid named Sophia, the reception was anything but warm. Journalists zeroed in on the social robot's verbal swipes at entrepreneur Elon Musk, known for his cautions about unrestrained artificial intelligence, and quoted its intention to "destroy humans." Activists wondered how Sophia could appear in public without a head scarf, a liberty not accorded to Saudi women. What next—would "she" be allowed to drive?
The entire episode could be dismissed as clever marketing for the Future Investment Initiative conference being held in Riyadh in October. Yet beyond the tittering and twittering, which soon faded, more serious considerations remain involving the future of artificial intelligence—most notably human interactions with, control of, and ethical responsibilities for such technology. All are core concerns of Max Tegmark's new book, Life 3.0: Being Human in the Age of Artificial Intelligence.
A professor of physics at the Massachusetts Institute of Technology, the author also is cofounder of the Future of Life Institute, which states its mission as catalyzing and supporting initiatives to safeguard life, particularly in relationship with new technologies. In this book, Tegmark urges humans to start grappling seriously with issues surrounding AI. When, how, and to what extent truly "intelligent" machines will develop is still up for debate. But that should not stop us from addressing the complexities now, he argues, suggesting readers work to define the future they want—not just the future they fear.
Myriad science fiction narratives have depicted a world in which robots become highly automated and sophisticated, easing human existence. That already is happening, and at increasingly accelerated speeds. But what are the outer reaches of such developments, as well as the ramifications and dangers? What challenge, resistance, and even rebellion might humans face from their creations—and at what point might they lose mastery altogether?
As might be expected from an academic specializing in cosmology, Tegmark probes deep questions of existence, asking what constitutes intelligence, memory, learning, and consciousness. The book discusses probable developments, such as Chapter 3's near-term look at "Breakthroughs, Bugs, Laws, Weapons, and Jobs." Chapters 5 and 6 examine long-term predictions for "The Next 10,000 years" and "The Next Billion Years and Beyond." Along the way, the author offers scenarios of human-robot relations from Libertarian Utopia, in which "humans, cyborgs, uploads, and superintelligences coexist peacefully," to Enslaved God, in which AI is "confined by humans who use it to produce unimaginable technology and wealth." There's also the Zookeeper scenario, wherein an omnipotent AI dominates yet allows a few humans to remain in a diminished, controlled, and disgruntled state, "like zoo animals." Ultimately, Tegmark asks: What kind of future do readers prefer—and how do they intend to achieve it?
Already, there is little consensus about the role of technology should play in our lives and the extent to which we should embrace it. Indeed, the author points out that those he has polled tend to disagree with his scenarios. Moreover, as Saudi Arabia's playful bestowing of "citizenship" on a robot attests, AI advances raise the prospect of one day granting intelligent machines autonomy—and legal rights. Earlier this year, the European Union ruled that humans will be held responsible for the actions of their robots. The move was only one part of a series of regulatory and policy initiatives regarding AI.
Scientists and science fiction fans alike have long debated "the convergence," when humans become closely linked to, if not one with, their machines. Increasing technological capabilities and the rapid rate of upgrades suggest that this future may be neither fantastical nor too distant. Like Elon Musk, Ray Kurzweil, and other AI pioneers, Tegmark advocates thinking ahead to help prevent dystopia. Life 3.0 offers guidelines, options, and an invitation to prepare for what lies ahead. It is an involving discussion and well worth the read.
Review by Robin Tatu
Robin Tatu is Prism's senior editorial consultant.
Image Courtesy of Amazon/Thinkstock