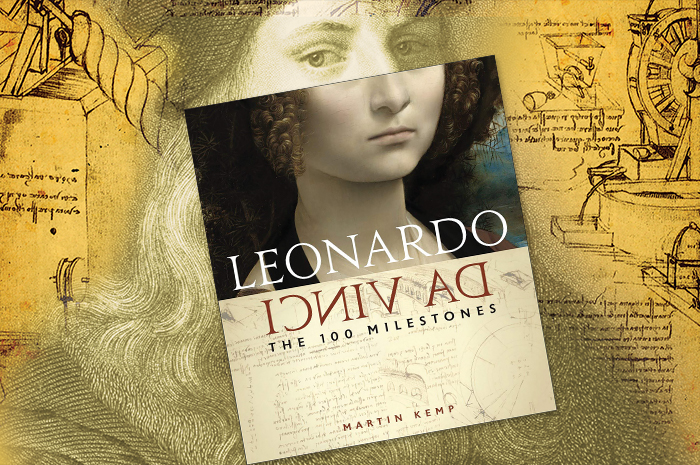 Portrait of a Timeless Genius
A noted art historian creates a visually stunning commemorative of da Vinci's artistic and engineering masterpieces.
Review by Robin Tatu
Leonardo: The 100 Milestones
By Martin J. Kemp.
Sterling, 2019. 224 pages.
Though he died five centuries ago in May 1519, Italian Renaissance master Leonardo da Vinci remains a remarkably enduring source of inspiration and awe. Thus, it seems only fitting that museums and other institutions would mark the 500th anniversary of his death last year with a flurry of special exhibits, lectures, broadcasts, and other commemorations. Oxford University art historian and da Vinci expert Martin Kemp's contribution to the quincentennial celebration comes in the form of two very engaging volumes about the polymath's works. Leonardo by Leonardo examines the artist's 27 extant paintings with commentary gleaned from his extensive notebooks. Leonardo: The 100 Milestones focuses on the entire oeuvre of his creativity, including sketches, engineering designs, anatomical studies, geometric configurations, and mathematical doodles.
Whittling down the artist's vast output to just 100 works, Kemp arranges them in a rough chronological order to highlight "milestone" developments of Leonardo's interests and skill over the span of his lifetime. Works are also grouped thematically, so that The Last Supper is accompanied by two sketches for this famous painting, one a close study of a face, the other a rough depiction of the entire layout focusing on its geometric angles. Kemp's accompanying essay on the painting's history and composition adds depth to our viewing. We learn, for example, that Leonardo's "contemplative pace" of painting and "tendency to change his mind during the course of execution" led him to dislike painting frescoes, which requires speed. For the refectory mural in the Santa Maria delle Grazie convent in Milan, he experimented with his paint materials, combining plaster with an egg binding, which, Kemp notes, "must have been sensational" at the outset. However, in the Milanese damp, the paint soon deteriorated badly, spurring successive restorations over the centuries—the most recent of which was completed in 1999.
Unlike recent biographies, 100 Milestones provides only brief commentary on Leonardo's life, guiding readers instead to focus on the works and the narrative they relate. The pleasure for many Prism readers may come in encountering less frequently presented works such as milestone No. 46, Centralized Temple, Design for a Small Dome, and a Lifting Machine. Though never brought into full realization as a building, the perfectly balanced, modular, octagonal design of this technical drawing had "massive impact" on successive architects, notes Kemp, including the builders of the Vatican's St. Peter's Basilica. Other notable works include Design for a Giant Crossbow (No. 49); Four Mortars Firing over a Castellated Wall (No. 65); and, of course, the iconic Design for the Wing of the Flying Machine (No. 52). Kemp's accompanying essay shows a replica of this enormous winged contraption, built in 2002 by the English maker of historic aircraft, SkySport Engineering, using only materials available during the artist's life.
The collection includes several of Leonardo's detailed anatomical studies, an interest that engrossed him and strongly informed his paintings. Particularly during the artist's later years, he researched human muscles, brain, and organs, often making connections in his drawings to the functions of animals, plants, and forces of nature. Throughout, Kemp comments on Leonardo's fascination with helix shapes, suggesting that every painting features "some aspect of helical form, whether hair, drapery, the growth of plants, or the motion of water itself." Milestone 95, Studies of a Fetus in the Womb and of the Placenta, the author observes, is a work that stands "at the formal and emotional climax of a series of drawings of human reproduction."
Bearing the size and heft of a coffee table art book, 100 Milestones features rich reproductions that give readers a sense of the complexities of the originals along with Leonardo's pioneering use of color, shading, and precise detail. This visually stunning book also illuminates the deep connections between art and science, design and innovation, and observation and imagination. The result is an enjoyable tribute to a timeless genius that should appeal to engineers, engineering faculty, and engineering students of any discipline.
Robin Tatu is Prism's book editor.
© Amazon