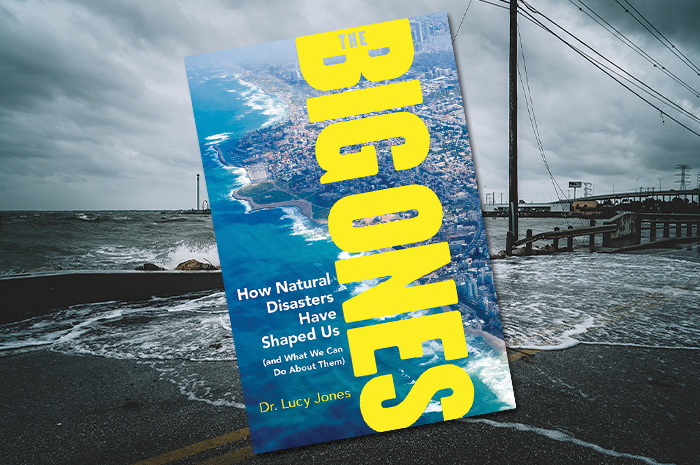 Fault Lines
A seismologist draws on history to make a case for resilient design over the usual scapegoating and chaos.
Review by Robin Tatu
The Big Ones: How Natural Disasters Have Shaped Us (and What We Can Do About Them)
By Lucy Jones
Doubleday 2018, 242 pages.
As a Los Angeles-based seismologist for the United States Geological Survey, Lucy Jones reports that the people who call or write her office the most are members of the public convinced that USGS has information about the precise timing of the next major earthquake—but refuses to share it. "I know you can't tell me," one woman writes, "but will you tell me when your children go to visit out-of-town relatives?" Other regular contact comes from those who believe they're empowered to make the prediction through numerology, dowsing, or the frequency of their headaches.
The Big Ones weaves together a complex discussion of disasters and humans' relationships to them. Arranged in chronological order, each chapter features a particular disaster—the eruption of Mount Vesuvius that wiped out Pompeii in A.D. 79, the 1755 Lisbon earthquake, and the 1861 floods of Southern California. Curiously, even native Californians have largely forgotten these devastating floods, although they caused the death of 1 percent of the population, bankrupted the state, and immersed the Central Valley in depths of up to 30 feet. One reason for such amnesia, Jones posits, is that people fear flooding less than earthquakes and other hazards "because of the familiarity of its sources….Rain is so familiar as to feel benign," and you can see it coming. Much more terrifying are hazards that are "erratic, invisible, a sudden disruption to the earth."
Some sections of the book explore the science of hazard zones, both natural and engineered: plate tectonics and subduction zones, the mechanics of levees, and the use of carbon dating in the field of paleoseismology. Other sections probe the role of public policy and local government, including which communities worked quickly to rebuild and recover (Lisbon) versus which ones suffered, stumbled, and even collapsed through a series of compounding mistakes (Mississippi, 1927), infrastructure failure (Fukushima, 2011), and social chaos.
A long history of superstition and fear has informed human beliefs about, and response to, earthquakes and volcanoes, often expressed through religious or ethnic scapegoating. Voltaire's Candide describes with biting satire the execution of some three dozen Protestants just after the Lisbon quake. "The sages of that country could think of no means more effectual to prevent utter ruin than to give the people a beautiful auto-da-fé," he writes. Similarly, after the magnitude 7 earthquakes that shook Tokyo and Yokohama in 1923, prompting massive fires and the collapse of government, widespread rumors fueled attacks on Koreans living in the region. Within four days, 6,000 people had been tortured and killed. Chapter Nine, "A Study in Failure," reminds us that scapegoating is not a relic of the past. Here the author examines how racial hysteria increased the suffering of African-American residents of New Orleans following Hurricane Katrina—from false reports of wide-spread looting to attacks by vigilantes blockading unflooded neighborhoods and unjustified police killings. "The tendency, conscious or not, to impute blame to those suffering is a response to natural disaster so common as to feel inevitable," write Jones, who urges readers to recognize and resist it.
While the book provides ample detail and perspective, Jones wants not just to inform but to galvanize action. "Many of the impacts of natural disasters can be reduced or eliminated through better design of the human systems that interact with the physical," she stresses. The closing chapter, "Resilience by Design," offers as a model the system adopted by San Francisco in 2014 to help reduce the city's risk in the event of earthquake. She notes the many coalitions that had to be formed, compromises made, data collected, and projects undertaken. "It didn't solve everything, but it was easily the biggest step ever taken in California towards seismic safety."
Other cities and states can—and should—work with engineers to safeguard new structures and retrofit older ones, protect water sources and power plants, and install, maintain, and improve warning systems and emergency response plans. Above all, Jones asserts, we need to pull together to resist our deep-seated fears and tendency to seek blame. "Natural disasters strike us down together," she concludes, "and it is together that we will get back on our feet."
Robin Tatu is Prism's book editor.
Image Courtesy of Amazon/Getty Images