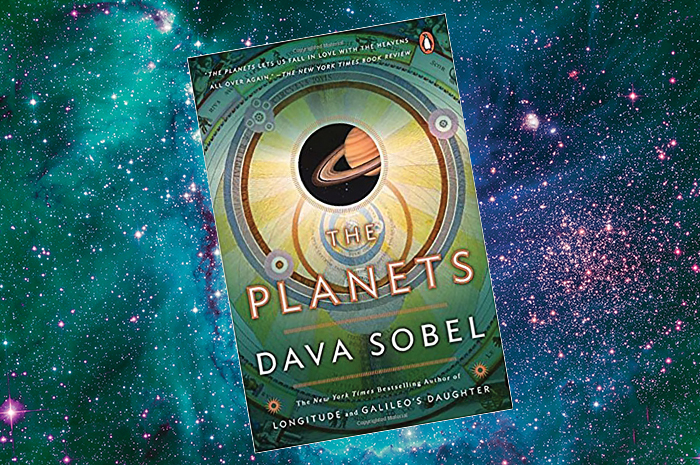 Worlds of Wonder
Once deemed 'frothy,' a science writer's probe of the solar system remains lyrical and compelling.
The Planets
By Dava Sobel.
Viking Press, 2005. 270 pages.
This August, as millions of Americans were settling into their best eclipse-viewing position—or frantically seeking that last set of special glasses—author Dava Sobel was in Jackson Hole, Wyo., readying for her ninth opportunity to "stand once again under the shadow of the moon." The first time she experienced a total solar eclipse, Sobel wrote recently, "I felt I had witnessed a miracle."
Sobel, a former New York Times science correspondent, has built a reputation for engaging biographies. Longitude, Galileo's Daughter, A More Perfect Heaven, and most recently, The Glass Universe, all profile individuals dedicated to tracking, measuring, and analyzing the universe. Her 2005 publication, The Planets, took a different tack, focusing on the solar system's nine traditional planets and the sun. Yet it, too, displays the complexity we have come to expect from this acclaimed author, who weaves strands of history, mythology, music, current exploration, and personal anecdote into her science narratives. At the time of publication, this approach flummoxed some reviewers, who deemed the book "frothy." For readers who appreciate solid information infused with both whimsy and contemplation, The Planets proves compelling even a decade later.
At the core of each chapter is an individual "character study" of one member of the solar system—its composition of gases, dust, or ice compounds; relative position and orbit; history of discovery and exploration; and significance in human awareness. We read of Venus's orbital phases, for example, and of its close proximity to Earth, which produces its luminous appearance. We learn of NASA's Magellan spacecraft explorations, which in the 1990s first revealed "hundreds of thousands of small Venusian volcanoes." While images were transmitted in black and white, and each planet's true colors remain difficult to depict, NASA specialists selected a "fire-and-brimstone palette" to improve the resolution—and convey Venus's fiery temperatures. We also discover that Venus was gendered female early on. She was Ishtar, Anahita, Aphrodite, and only later, the Roman Venus, credited by Pliny for "spreading a vital dew to excite the sexuality of earthly creatures." This chapter is interspersed with admiring stanzas from Tennyson, Blake, and other poets, including C.S. Lewis, who wrote that the planet's "breath's sweetness/Bewitch[es] the worlds."
This mix of information enlivens The Planets, as does Sobel's inquiry into curious aspects of planetary lore. The chapter on Saturn explores centuries-old attempts, beginning with Pythagoras, to identify the divine ordering of the cosmos and "music of the spheres." Amateur astronomer Percival Lowell's efforts to locate Martian-built canals on Mars led to his nervous collapse—but also to the discovery of Pluto, at his observatory. Enthralling details of the blistering heat, clouds, and hydrogen, helium, argon, krypton, and xenon gases fill the chapter on Jupiter, the giant planet with "no solid surface, no terrain of any kind."
Sobel clearly enjoys experimenting with the narrative form. Earth's chapter is in present tense, as if to lend immediacy to Ptolemy's work poring over astronomical charts in Alexandria, Egypt. The Mars chapter, "Sci-Fi," is presented as a first-person narrative by Allan Hills 84001, a meteor fragment from the Red Planet discovered in Antarctica in 1984 that was thought to reveal traces of biological life from 16 million years ago. "Night Air" reproduces a letter in which noted comet discoverer Caroline Herschel recounts her brother William's 1781 discovery of Uranus and her nephew's work tracking Neptune. While detailing the painstaking computational work of astronomers, Caroline notably says nothing of her many years working alongside her male relatives.
The human connection plays a key role in Sobel's account, which opens with her childhood memory of building a shoebox diorama of the solar system populated with marbles, Ping-Pong balls, and "pink rubber Spaldeens." She closes with an anecdote from 2004 of two planetary scientists affixing an old red tether ball with poster-board rings as they celebrate their success in bringing the Cassini spacecraft into Saturn's orbit. Throughout these pages, beyond the rich details and data, the author reminds us of the planets' tremendous personal allure as "stalwarts of centuries of popular culture and the inspiration for much high-minded human endeavor."
Review by Robin Tatu
Robin Tatu is Prism's senior editorial consultant.
Image Courtesy of Amazon/Thinkstock