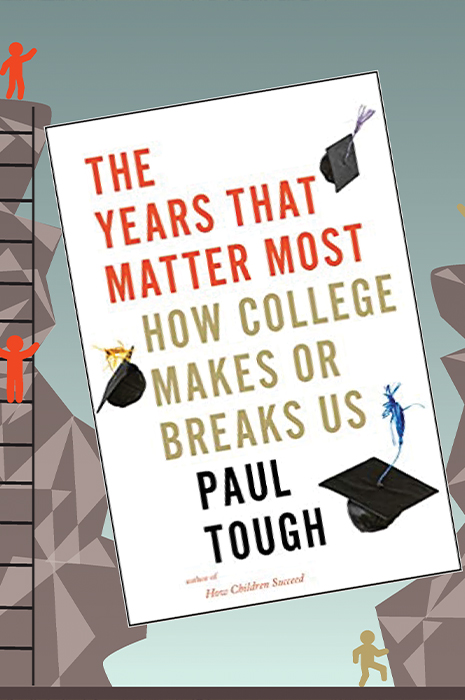 Engines of Inequity
As tuition costs soar, the value of American higher education increasingly accrues to the privileged.
Review by Robin Tatu
The Years That Matter Most: How College Makes or Breaks Us
By Paul Tough.
Hougton Mifflin Harcourt, 2019.
The United States has long been hailed as the country where, with enough hard work and study, anyone can rise from humble origins to the pinnacle of success. This ideal, personified by Abraham Lincoln and Andrew Carnegie, still inspires the young and hopeful. Yet today, upward mobility has become increasingly elusive, particularly during the past few decades.
Divisions of class and wealth are becoming entrenched nationwide, argues best-selling education writer Paul Tough, and nowhere is this more apparent than on the traditionally level fields of college. Today, attendance at the highest ranked institutions almost ensures future financial success for students from all economic backgrounds. A 2017 study by economist Raj Chetty, then of Stanford University, and colleagues at Brown, Harvard, and Berkeley, revealed that wealthy kids who attend "Ivy Plus" schools increase their odds of reaching the top income quintile as adults by a factor of four, while poor kids increase their odds a staggering 14-fold. For low-income students, an Ivy League education can be "truly life-changing." Yet Chetty's study also revealed that two thirds of undergraduates at elite colleges came from affluent homes, while fewer than 4 percent grew up poor. Although the 2019 admissions bribery scandal exposed the corruption of individual families and university officials, the larger truth is that today, wealth confers placement at top universities—and thus higher future earnings and a hardening of class lines.
In its persuasive examination of how college admissions has become rigged in favor of the wealthy, The Years That Matter Most gives particular attention to standardized testing. For Tough, the SATs are an integral part of admission scandals, since rich families can invest in private schools, tutors, and rigorous prep courses. If all else fails, there are well-placed phone calls and the "legacy" advantage. The author recognizes challenges faced by admissions offices but suggests that the core mandate is to admit more rich kids because they "help with your budget. They help with your donors. And they help with your U.S. News rankings," which in turn helps attract the next round of affluent applicants.
While attempts are made to expand socioeconomic diversity at colleges, Tough believes that most steer wrong by focusing on entrance tests. The College Board's free online prep course was originally developed by Khan Academy to help students who can't afford private coaching. According to 2017 data gleaned from the Official SAT Practice Course, however, it was reaching a mere fraction of its intended audience. "Students in the top income quartile used the site for more time than students in the bottom income quartile," reports Tough. "Boys used it longer than girls. Whites used it longer than Latinos." As it turned out, the course served to widen existing gaps, "allowing students who were already testing well to increase their advantage over the rest of the pack."
Tough anchors his complex narrative with profiles of individual students he has tracked for years as they navigated AP courses, applications, and adjustment to college life. We learn, for example, how Kiki Gilbert, a young black woman raised in poverty by a single mother, fought to gain entry into high school honors courses because her background—which included homelessness and attending a dozen schools in seven states by age 17—challenged her teachers' concept of a high-achieving student. She found "bliss" at Princeton's Leadership Enterprise for a Diverse America program in the summer of her junior year in high school, where she met smart, ambitious kids like herself who had "fought through poverty and racial injustice" to reach "the most exclusive level of American higher education." After enrolling in Princeton as a freshman, however, Gilbert was dismayed to find that "most of the black kids here aren't poor."
Tough finds much to admire in the handful of campuses—many of them state institutions and community colleges—bucking the trend with efforts to recruit and retain low-income undergraduates. DePaul University offers one model—in no longer requiring SAT scores. The policy change, in place since 2011, was an intentional move to help get the country's largest Catholic school closer to its original mission of educating high-performing, needy students and first-generation college goers. Tough also highlights individual educators who provide substantive student support. Among the exemplars is mathematician Uri Treisman, at the University of Texas–Austin. He has spent his career working to make the study of math and science accessible, focusing particularly on underserved populations. What emerges from his profile is the importance of one-to-one mentoring, active peer groups, and repeated affirmation that you belong here, you will succeed, and you can do the hard work of a calculus class.
Tough closes with an impassioned appeal to address the inequities of American higher education. "Our collective public education benefits us all," he declares.
Robin Tatu is Prism's book editor.
© Amazon