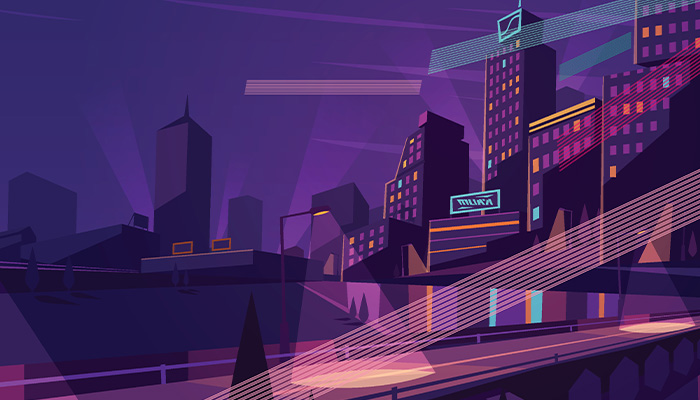 A statewide commitment to expand the engineering and computer science talent pool helped woo Amazon to Northern Virginia. Will the pipeline flow both ways?
By Mary Lord, Jennifer Pocock, and Mark Matthews
When people discuss what Amazon's second headquarters will mean for Northern Virginia, they speak of big numbers. There is the tech giant's promise of $2.5 billion in investment and 25,000 jobs, a $1 billion Virginia Tech Innovation Campus in the works, George Mason University's planned $250 million School of Computing, and a branch of the University of Virginia's $120 million School of Data Science. Together, these ventures aim to turn a Washington, D.C., suburb historically reliant on federal employment and defense contracts into a vibrant, high-tech mecca rich with entrepreneurs and start-ups.
For game-changing impact, however, someone like Luis Hernandez may be the more important gauge. The son of El Salvadoran immigrants and father of three felt an itch to return to school after working in restaurants, roofing, and property management. After completing his first semester studying data-center operations at Northern Virginia Community College, he now, at the age of 27, has a high-tech toehold: an internship with Equinix, whose growing chain of data centers is a direct-connect partner of Amazon Web Services, the company's database storage and cloud computing arm.
NOVA, as the school Hernandez attends is known, may be a dark-horse institution in the region's transformation. But the two-year public college, one of the country's largest, plays an outsize role in the race to broaden participation and address a critical shortage of tech talent. Though the deficit affects businesses nationwide, the situation is particularly acute in Virginia, where economic planners estimate that 10 percent of all IT positions—about 30,000 jobs—go unfilled. That compares with a 6 percent gap between demand and supply in California, Massachusetts, and New York.
Redefining Relationships
Amazon's arrival presents educators with similarly exciting opportunities "to do something different" and "think about pathways more broadly," says Julia Ross, Virginia Tech's engineering dean. That includes collaborating more closely with industry to design flexible certificate and master's degree programs for working professionals that actually provide the knowledge and skills needed to advance or switch careers. Ross believes that the university's long-planned expansion—which calls for enrolling 2,000 more engineering and computer science students and adding 140 new faculty in Blacksburg, while tripling the size of its Northern Virginia footprint and hiring 40 new faculty for the Innovation Campus—will not only provide a competitive advantage when recruiting faculty but also facilitate scholarship and advocacy at the "intersection of engineering and policy."
Meanwhile, a trailblazing program launched by NOVA last October in partnership with George Mason University could prove a model for increasing inclusion and equity in engineering, technology, and computer science. ADVANCE removes barriers that have long frustrated community college students seeking affordable routes to a bachelor's degree: inadequate guidance on choosing a major and course requirements, credits wasted because they don't count toward the degree, and the need to spend extra time and money catching up. Instead, students have dedicated advisers and "success coaches" throughout their academic journey, a coordinated curriculum so that credits convey between institutions, and guaranteed admission to GMU for qualified NOVA students. "The goal is to have a seamless transfer," says GMU's engineering dean, Kenneth Ball, who predicts ADVANCE "will have a huge impact on diversity" in engineering and computer science. The first cohort of 129 ADVANCE students will start to graduate in 2022, just in time to seize early opportunities in the Amazon era. A number of them currently are pursuing computer science, a path stressed by the state. "We are working on a cloud [computing] pathway that maps perfectly with George Mason," says Chad Knights, provost of information and engineering technologies at NOVA. The college shares a similarly mapped program with George Washington University as well, but "we don't have a fancy name for it yet."
Virginia evidently made a convincing case that it could supply talent, graduate education for working professionals, and skills upgrades. Northern Virginia's large and expanding pool of engineering and computer science graduates, academic experts, and research labs, in addition to the state's long-range commitment to education, ultimately outweighed the hefty tax incentives dangled by some other HQ2 finalists. But given Amazon's stake in the capital region, it's a wonder that other jurisdictions were even in the running. Founder and CEO Jeff Bezos owns the Washington Post. His company won a $600 million cloud-computing contract from the CIA in 2013, is competing against Microsoft for a new Pentagon contract worth $10 billion, and is likely to seek a share of a new intelligence cloud-computing project—dubbed C2E—that could be worth tens of billions of dollars, according to the Washington Post. HQ2's benefits will reach beyond Virginia, argues Darryll Pines, engineering dean at the University of Maryland–College Park. "There's a huge pool of talent in the DMV (District of Columbia, Maryland, and Virginia) region that Amazon will want to tap into," he says. Devdas Shetty, engineering dean at the University of the District of Columbia, believes his school's new emphasis on cloud computing and big data should prepare students for jobs at Amazon as well as other tech firms. "What I suspect is, starting next year, students will get more internships with them," he says.
Amazon's ties with academia defy simple definition. It's at once a marketer, employer, donor (see sidebar), research sponsor, and talent scout. Hiring criteria defy description as well. "The company is interested inherently in 'Is there a better mousetrap to build?' The hiring we will do here will be to build better mousetraps," Steve Hartell, Amazon's director for U.S. public policy, told a February forum.
AWS Educate, part of Amazon's high-earning cloud-computing business ($25.7 billion in 2018), sells an array of classroom and lab tools to universities. NOVA, for example, draws heavily from and is helping to shape Amazon's cloud computing curriculum. The firm encourages tomorrow's technology developers with contests like the Picking Challenge and follow-on Amazon Robotics Challenge. AWS Research Initiatives, meanwhile, works with the National Science Foundation and National Institutes of Health to sponsor computer, engineering, biomedical, and information science research. The company also sponsors faculty members through Amazon Research Awards (ARA). "I expect we will collaborate with them on research over time," says Deborah Crawford, George Mason's vice president for research.
Fairer Algorithms and Privacy Protection
Virginia Tech's Bert Huang thought his research topic would grab the attention of ARA judges, and he was right, winning an award of about $66,000. His project, Measuring and Mitigating Intersectional Unfairness of Recommendation Engines, investigates ways that Web recommendation engines may skew their suggestions based on a user's race, age, gender, or economic status. "Algorithms don't know we're not supposed to do that," says Huang, an assistant professor of computer science. Widely used by Amazon and others to market books, movies, and other products based on perceived customer desires, such recommendation algorithms could draw on flawed, discriminatory historical data to influence a range of decisions, such as how harsh a criminal penalty to impose or whether a female student should major in STEM. Huang's team aims to build fairness into recommendations. "We want to make sure the algorithm will consider multiple dimensions" of a person's identity, he says.
Amazon also could benefit from a special niche carved out by U.Va.'s new School of Data Science, argues Philip Bourne, director of the existing Institute of Data Science and the new school's interim dean. Among some 130 similar programs nationwide, "what distinguishes us," he says, "is the notion of responsible data science—data science for the public good." Funded by a $120 million gift from hedge-fund founder Jaffray Woodriff, a U.Va. alumnus, the school will draw heavily on partnerships with experts in behavioral sciences and the humanities in building ethical approaches to data collection and use. As Facebook and other big tech firms face a firestorm over exploiting users' data, "it's clear companies want this," he says—"any company grappling with the implications of data algorithm bias [and its] potential to backfire."
Such initiatives didn't sprout overnight. Three years before Amazon launched its HQ2 search, Virginia Tech began developing a vision for sustained, dramatic transformation focused on large increases in computer science and engineering enrollment and faculty along with building a new tech-focused campus for graduate education and entrepreneurship in northern Virginia. Thus, when state economic planners held what one participant called a "very messy" conference call with dozens of Virginia higher-education leaders to discuss how their schools might contribute to the commonwealth's—and Amazon's—tech talent pipeline, the Blacksburg land-grant institution was ready. Plans had already advanced for the Innovation Campus, a million-square-foot graduate education facility with research labs, a start-up incubator, housing, and retail. Virginia then pledged $250 million—a quarter of the funds to build it. "This is actually well aligned with us," says Luke Lester, professor and chair of electrical and computer engineering at Virginia Tech. "What Amazon did was give us the incentive to double what we're doing" to produce more engineers.
Close behind is George Mason, the state's largest public university, where enrollment in engineering has almost doubled—to just shy of 8,000—since Ball became dean in 2012. Much of the growth has been in computer-related fields, including information and data science and cybersecurity. Besides the planned School of Computing, half of which will be funded by the state and half through fundraising, GMU will create an Institute for Digital InnovAtion (IDIA), which Crawford sees as "an ecosystem to help young companies make it," combining research, graduate training, and technology transfer.
Both Virginia Tech's and George Mason's plans mesh with Virginia's vision for higher education, which calls for an increase in undergraduate enrollment statewide and a focus on preparing more residents for the tech economy. They also fit a new reality that computing is part of every engineering discipline and of other fields besides. "It's all about convergence," Ball says, and preparing students for "a digitized, data-driven economy." As a large, consumer-oriented IT company, Amazon also will "have a catalytic effect" in helping to steer the region's economy away from overly heavy dependence on the federal government, says Crawford.
Along with opportunities for "new and innovative" partnerships with industry, particularly the many defense contractors that cluster near the Pentagon, Virginia Tech's engineering dean Ross says the new campus's proximity to Washington's power corridors will allow academics to more easily shape the regulatory environment in which their breakthrough technologies will operate. "It's a real opportunity for us," Ross says. "There's a lot of policy that doesn't exist yet" in fields like autonomous systems, in which Virginia Tech is actively engaged, operating a drone flight research center for the Federal Aviation Administration.
Indeed, research and development on drones is one field where Amazon—a company built on speedy delivery—has an obvious interest, say engineering educators. No single school has a monopoly on the technology, and progress has been rapid. At around midnight on April 18, a drone carried a donor kidney 2.6 miles in 10 minutes across Baltimore to the University of Maryland Medical Center, where surgeons successfully transplanted it into a patient with renal failure. The flight relied on algorithms provided by the university's aerospace engineering department, Pines notes.
Public policy is an area where Howard University anticipates deep involvement. "We want to play a significant role in addressing questions pertaining to how we embrace technology," says Moses Garuba, associate dean for academic affairs at Howard University's College of Engineering and Architecture. Howard is among the founding members, along with Carnegie Mellon, Georgia Tech, MIT, and Stanford, of the new Public Interest Technology University Network, an initiative of the liberal-leaning New America Foundation. The school has adopted a wait-and-see attitude toward Amazon and can probably afford to, given its flourishing relationship with Google. Launched in 2017 at Google's Silicon Valley headquarters, Howard West is now a full academic-year program, renamed Tech Exchange, with 65 students and five faculty members from Howard and 10 other minority-serving institutions.
Like local residents who worry about Amazon's effect on housing prices and traffic, Virginia's institutions must grapple with the headaches that accompany growth. One faculty skeptic, speaking anonymously, is wary of too close an association with a corporate behemoth and wonders if faculty members will be consulted in what he says has been a top-down, consultant-driven planning process. Virginia Tech's Ross acknowledges the "heavy lift" to ramp up on a now accelerated timeline while still adhering to the rigorous process for approving new programs that ensures a rich educational experience for students. GMU's Ball, meanwhile, faces the quotidian challenge of finding room for his burgeoning faculty and student body. "Physical resources are going to be strained," he says. "It takes a lot of flexibility, a lot of planning, a lot of better space utilization."
Change will be a challenge for the whole region as Amazon settles in. But Hernandez, reflecting on his new career path as he trains to run one of proliferating local data centers, recalls his time as a roofer. "My boss told me that I probably didn't want to do this the rest of my life, and I thought, you know what? He's right."
Mary Lord is deputy editor, Jennifer Pocock is associate editor, and Mark Matthews is editor of Prism.
Design by Francis Igot
Dear Jeff, Can You Spare a Couple of Million?
In Seattle, Amazon is a GENEROUS benefactor, but picky about hiring.
By Margaret Loftus
When the University of Washington's School of Computer Science and Engineering needed money to lure two rising East Coast stars in the machine-learning world, they knew just whom to contact. "I sent Jeff an e-mail asking if Amazon could help," says Ed Lazowska, a computing science professor who holds the Bill & Melinda Gates Chair. "Within 24 hours, we had a commitment for two $1 million Amazon-endowed professorships in machine learning."
It didn't hurt that Amazon CEO Jeff Bezos had recently been on campus explaining to Lazowska and his colleagues why he considered machine learning the key to the future. The faculty coup "transformed us into a power in machine learning," Lazowska says. The endowment exemplifies the strong relationship the online retail giant has with the academic community in its hometown, particularly in computer science and engineering.
As the region's leading research institution, UW has reaped the lion's share of Amazon's attention. Earlier this year, the school opened a second computer science building that includes the 240–seat Amazon Auditorium, named in recognition of a $10 million gift from the company. But the company is generous to smaller programs as well. Seattle University expects to receive a $3 million gift to support its Center for Science and Innovation, slated to open in 2021. The new center will help to increase the number of computer science and engineering students the university graduates, currently 400 per year.
"[Amazon] still has a start-up mentality," says Michael Quinn, the dean of the College of Science and Engineering at Seattle University. "They're very focused on growing fast, so that affects the way we engage with them. They're laser-focused on how we can help them."
Still, there's by no means a direct pipeline to Amazon from Seattle-area universities, says Gail Cornelius, who's helmed UW's College of Engineering career center since its founding in 2015. "It's very difficult to get in," she says, pointing out that local grads are still up against those from elite programs around the country. For instance, Amazon has hired only 124 students fresh out of UW with bachelor's-degrees in the past five years. And out of the 1,100 engineering students that will graduate this year, Cornelius says, "I wouldn't bank on more than 40 going to Amazon."
But the job market is bolstered by all manner of start-ups spawned by the presence of Amazon and Microsoft. "Even though most of our students do not work at Microsoft and Amazon right after graduation, preparing for interviews at these two giants still prepares our students well for interviewing and securing jobs at the numerous other companies in town," says Melani Plett, director of engineering and computer science at Seattle Pacific University.
Amazon plays host to myriad networking events that bring together job seekers and the industry. For instance, it hosts UW computer science alumni mixers and recently helped the local chapter of AnitaB.org, which supports women in high tech, to put on Hopperx1, a two-day conference. "Networking is a huge factor in getting tech jobs," says Roshanak Roshandel, chair of the computer science department at Seattle University. "Amazon does a good job of fostering relationships and making themselves available for these kinds of events, which is critical for the tech community and culture."
It also fosters cross-fertilization. Some 25 Amazon employees are currently enrolled in UW's professional computer science master's program and one of the school's top robotics faculty members, Sidd Srinivasa, is on a partial leave of absence for the next few years as he runs the company's 700–person fulfillment center robotics group. "Amazon afforded him the opportunity to see what decades of research in robotics could do in the real world in an exceptionally challenging environment—an opportunity he could never have as a 'pure' faculty member, building robots in a lab and publishing papers," says Lasowska.
Roshandel, too, has been working at Amazon. On sabbatical since October, she joined the Amazon Scholars program, which hires academics from around the world on a temporary basis to focus on large-scale technical challenges at the company. "It's been an amazing opportunity from a professional development point of view," she says. She plans to transition back to academia this fall. "Amazon has done a lot of good things for the community," Roshandel says. "And from the point of view of a computer science professor, it has definitely enriched my students' experiences."
Margaret Loftus, a freelance writer based in Charleston, S.C., is a frequent Prism contributor.