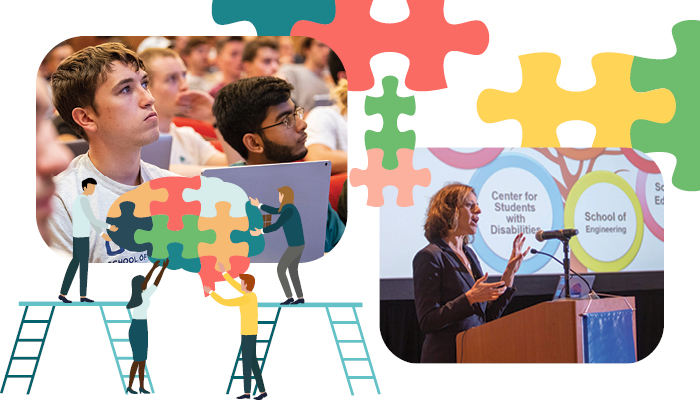 A group of visionary engineering educators aims to cultivate the creative potential of students with autism and other "neurodivergent" learners.
By Mary Lord
Even by the pandemic's topsy-turvy rules of engagement, the revamped engineering program that the University of Connecticut rolled out this fall marked a stunning departure from tradition. In addition to participating in the usual introductory sessions, a cohort of freshmen—some in masks—gathered online for Neurodiversity 101, a new module on the wide variation in how our brains work embedded in their one-credit first-year experience course. Its goal: create a more welcoming environment for learners whose attention disorders, anxiety, or other conditions could spark leaps of imagination and innovation. "The world needs all kinds of minds," explained research assistant Caressa Wakeman, an environmental engineering Ph.D. student, illustrating her point with examples of neurodivergent Nobel scientists, breakthrough engineering academics, and social justice activists. To further foster belonging and success, she shared her own lifelong academic challenges along with information about campus support services. "If you work hard and can learn, anyone can be an engineer," Wakeman assured them.
Imagine if the physical act of taking notes drained your brain's ability to concentrate in class. Suppose you had to spend four times as long on reading assignments as your peers because words seemed to swim on the page—or you struggled with social anxieties and sensory overload that made team projects terrifying. Would you last in engineering?
That's no idle question. According to the National Center for Education Statistics, nearly 1 in 5 U.S. undergraduates (19.4 percent) has a learning or other disability. Attention deficit hyperactivity disorder (ADHD) was the "main impairment" reported by 21.8 percent of students, with another 35 percent dealing with depression, dyslexia, and emotional or psychiatric conditions. Even as campuses ramp up accommodations, however, this population remains surprisingly absent from efforts to improve diversity, equity, and inclusion in engineering education.
Just how many neurodivergent undergraduates might benefit from retooled curricula and pedagogy remains to be seen, but these students' underrepresentation is striking. ADHD, for instance, has been shown to correlate with creativity, inventiveness, and risk taking—potential assets in engineering. Yet a literature survey by UConn researchers found that just 3 percent of college students with ADHD study engineering. And while 34 percent of those on the autism spectrum majored in a STEM-related field, only 5 percent were studying engineering. Whether fewer engineering majors face learning differences or, as research suggests, they are simply less likely than their peers in other disciplines to seek help, the result is an underserved group of creative problem solvers that is hiding in plain sight.
New Frontier
A pioneering cadre of engineering educators is working to shift the deficit-based paradigm at their institutions and nurture these invisible talents. Their model: adapting architecture's Universal Design principles—think sidewalk curb ramps that benefit both wheelchair and stroller users—to make courses more accessible. Some faculty are providing students on the autism spectrum who might shut down in a noisy classroom a separate space to work. Others are videotaping lectures replete with the instructor's notes so students with dysgraphia (difficulty writing or putting thoughts on paper) can focus on content. Even small adjustments, such as letting students snap and send photos of homework, can boost on-time submissions, particularly from those who struggle with organization and deadlines.
One of the nation's most ambitious initiatives—dubbed INCLUDE—is unfolding at UConn. Fueled by a $2 million Revolutionizing Engineering Departments (RED) award from the National Science Foundation, the five-year extreme makeover aims to transform the civil and environmental engineering undergraduate experience, from admission to advising to job search, and create a campus-wide ecosystem that "supports diverse learning styles and cultivates the potential of neurodivergent students to contribute to innovations in engineering." The blueprint includes developing research experiences for these traditionally marginalized undergraduates; overhauling fluid mechanics and other foundational courses to provide oral, visual, and other options for students to demonstrate knowledge; training faculty in new pedagogies; and creating a "radically inclusive" department for others to emulate. Plans also call for personalizing career services to help neurodivergent graduates transition to the workplace and educating employers on how to adjust their hiring process for talented candidates who, for example, have autism spectrum disorder and avoid eye contact during job interviews.
"I saw right away that this was a new frontier," says principal investigator Maria Chrysochoou, head of the civil and environmental engineering department, which is spearheading the initiative. She predicts that INCLUDE "will change the trajectories of a whole new group of students" and ultimately will compel the entire campus to "move away from this idea of disability and labeling and talk more about diversity of strengths."
UConn isn't starting from scratch. INCLUDE builds upon groundbreaking research by Arash Esmaili Zaghi, an associate professor of civil and environmental engineering and NSF CAREER grant recipient who began exploring the connection between ADHD, creativity, and engineering after being diagnosed with the condition soon after joining the faculty (Prism, March 2015). When the RED grant opportunity arose last year, UConn's civil and environmental engineering faculty were already planning to apply Zaghi's lens to recraft the curriculum around active learning and inclusive practices. After getting input from a variety of stakeholders, including the provost, student advisers, and neurodivergent students themselves, Chrysochoou realized RED was an opportunity to "help our institution but also the profession as a whole." That UConn's newly installed president was an engineer and champion of "life-transformative education" only added to the school-wide synergy.
Grassroots Movement
At other institutions, neurodiversity efforts have spread more organically and often reflect the effort of individual instructors working without funding in teaching-focused schools. Sheila Ross, associate professor and electrical engineering program director at Milwaukee School of Engineering, embraced Universal Design for Learning (UDL) to make courses accessible to all learners. "I see a lot of my own struggles" in students, she explains, noting she "probably would have been diagnosed" with a learning difference and received special education services had she attended elementary school in the 2000s.
It took earning a graduate certificate from Landmark College, a bachelor's degree-granting institution in Vermont for students with learning differences, autism, and attention issues, for Ross to understand how engineering best practices often pose huge hurdles to neurodivergent students. Teamwork, for instance, is difficult for someone with a social impairment. So is turning in assignments in courses like circuits for those with mild to moderate dysgraphia. "Just the writing and paper part gets in the way of learning," says Ross, who applied such insights and UDL principles to overhaul her pedagogy and curricula.
Consider her circuits courses, which have been redesigned to have "less overhead"—or cognitive load—for students whose brains spend a lot of energy on note taking or other "product-processing" rather than knowledge-processing tasks. With three clicks of the computer, Ross now records a screen capture for every class, including whatever she has written on the electronic whiteboard plus photos of student board work, and posts it online for easy review. The assistance is particularly helpful when teaching complex coding sequences with multiple steps and windows. Ross also offers the option of submitting photos of completed assignments. "When students are given more ways to turn in homework, more turn it in," she says. Instructors can benefit from the changes, too. Ross notes that the photos are easier for her to correct.
Small changes can make a big difference. To reduce test anxiety, for instance, Ross uses the same font on both the practice and actual exam and asks similar first questions to "activate [student] confidence in their knowledge" moving forward. She also instills self-awareness along with college-navigation skills, starting with giving first-year students a quick assessment of their strengths, weakness, and interests and then issuing each a passport, with stamps earned for meeting professors, learning where the tech support center is, and finding their advisers. This orientation occurs during the first week of school, "so we're not sacrificing the hard stuff," says Ross with a laugh.
While learning improvements have been hard to quantify, Ross finds students in her C programming class are more engaged, focused, and knowledgeable about what the program is doing beyond merely learning to write it. Students also are less stressed, she reports, because they can review the lecture if mystified. Ross, whose UDL trainings have drawn 40 faculty and staff members representing every engineering department, recently started a multidepartment, university-wide working group to explore how other faculty can apply her framework to their situations. "We teach best when we can offer multiple experiences and paths to that knowledge," concludes Ross. "It's keeping the student in mind."
Fresh Perspectives
Despite some initial inertia, UConn's strengths-based approach is generating similar enthusiasm. Because special education has touched so many people and families, "it doesn't take a lot to convince faculty that this is worthwhile," contends department chair Chrysochoou. Already, the initiative's novel collaborations, which involve neurodivergent students as advisers as well as researchers, have led to more inclusive practice. "Our actions are actually starting to make changes in our culture and values within our group," attests INCLUDE project manager Connie Syharat, a research assistant in the civil and environmental engineering department whose team is orchestrating the rollout. "I'm super excited." She notes the empowering "common language," with its emphasis on cognitive diversity as an asset and an intentionally broad definition of neurodiversity that encompasses differences in sociability, mood, and other mental functions, that the team has begun using when discussing the new inclusion framework. She also points to the three redesigned sophomore and junior mechanics courses (statics, materials, and fluids)—dubbed I-Courses, for INCLUDE—being piloted this fall.
Developed by a working group that included neurodivergent students plus experts from UConn's Center for Excellence in Teaching and Learning dynamics and education school, I-Courses cover the same material and use the same rubrics, but students can choose multiple options for demonstrating knowledge, such as oral rather than written exams, depending on their learning preferences. "It's not lowering standards," stresses Chrysochoou. "It's [examining] what are the creative things we can do to take students at different starting points and help them reach those high standards."
Angela Lanning, an NSF graduate research fellowship recipient who is pursuing a Ph.D. in civil and environmental engineering, is among the neurodivergent students whose insights have informed the INCLUDE working group. Having thrived in the inclusive environment of Zaghi's lab, she felt confident about discussing the barriers that timed tests pose—and the stigma that learners like her with ADHD experience when peers and faculty make comments suggesting they're "just getting off easy" by receiving accommodations. "I have to remind faculty that maybe timed tests are better measures of speed than what we know," says Lanning, who used to get so focused on one part of a problem that she couldn't finish the rest. Her insider's perspective also pays dividends in the classroom, where she employs multiple methods to teach concepts she struggled with as an undergraduate, such as interpreting cross-sectional schematics of an I beam.
"That students have unique gifts to bring to the table is so empowering," underscores Syharat. Ideally, she adds, self-awareness will prompt undergraduates to ask: "How can I use this knowledge to make good choices in classes to optimize learning?"
To foster that growth mindset, this fall's first-year introductory course included a basic overview of neurodiversity and the kinds of difficulties that visual, auditory, or other nontraditional learners encounter in traditional, text-heavy lecture courses. Graduate assistant Wakeman reinforced the message by sharing her own struggles (time, focus), strengths (problem solving), and strategies as a neurodiverse engineering student before delivering a brief rundown of UConn's mental health and academic support services, including where to go to get in-class notetakers or other accommodations. A snap poll showed the lesson sinking in as the percentage of respondents who would "need a little help" navigating those services ticked upward. Ultimately, only 8 percent declared they'd have "no problem."
Just how much neurodivergent students suffer—and crave a supportive community—became clear in several poignant exchanges during the kickoff virtual lecture of UConn's first-ever neurodiversity discussion series in October. Canadian Shawn Smith, founder and CEO of Don't dis-my-ability Consultation Services (http://ddmacs.ca) and an internationally recognized trailblazer in the emerging neurodiversity field, shared uplifting lessons and study hacks from his roller-coaster academic odyssey as a visual and kinesthetic learner who was diagnosed with ADHD only at age 30. In the chat box and onscreen, students poured their hearts out. One vented frustration at having to sit for long stretches, attending one Zoom lesson after the next, which is not how he learns. "It's almost like torture," he declared. Another, her voice shaking with emotion, wished her parents were there to hear Smith's description of what it's like to have ADHD, because she had never been able to convey how her brain learns—or turns off. A chat post summed up the general sentiment: "This helped open my eyes to know I'm not alone."
Few exemplify the power of UConn's new model better than INCLUDE graduate assistant Wakeman, who nearly abandoned engineering this past summer after one year of Ph.D. studies. A Connecticut-born, first-generation college student raised in Puerto Rico, she excelled academically despite trouble concentrating and a chaotic family life with parents who battled severe mental-health issues. "School was always my way out and my way to have a future," she recalls. Undeterred by low SAT scores and struggles with self-esteem, anxiety, and chronic health issues, Wakeman powered through community college and in 2014 was accepted to UConn's engineering school. She took 5.5 years to earn her bachelor's degree because reading consumed so much time. Soon after starting on her Ph.D. last year, she found conscientiousness goes only so far in conducting lab research. Ultimately diagnosed with ADHD, an overwhelmed and distracted Wakeman saw her grades slip and project deadlines slide to the point where she was gently but firmly pointed toward the exit. Since she had already been hired as a summer research assistant, however, she got a brief reprieve. Her fortuitous assignment: Project INCLUDE.
"It was a miracle," reflects Wakeman, who uses the word "healing" to describe her involvement. She raised points that working-group members had never thought of, and they increasingly asked her to weigh in on proposals and contribute ideas. A discussion on instituting an oral final exam option, for example, prompted her to share how written exams used to trigger "mini panic attacks." Springing a verbal option at the end of the course, she cautioned, would only exacerbate performance anxieties. The resolution: offer oral assessments from the start and record a mock session with the TA to help neurodivergent students prepare. Wakeman's insights and research proved so valuable that, at summer's end, she was invited to stay and resume her Ph.D. studies. "I feel like I've found my niche and that I've come alive," she says. "Everyone has something to offer."
Mary Lord is Prism's deputy editor.
Design by Nicola Nittoli

Study Hacks for Neurodivergent Learners
Shawn Smith, founder and CEO of Don't dis-my-ability Consultation Services  (http://ddmacs.ca), is an internationally recognized trailblazer in the emerging field of neurodiversity who struggled throughout school. Diagnosed with ADHD at age 30 and prescribed medication, he finished top of his class at the University of New Brunswick, where he earned a master's in education psychology counseling. Today, Smith—who kicked off the University of Connecticut engineering school's neurodiversity lecture series in October—uses his experience to inspire and help others with learning challenges find their unique gifts. He assembled for Prism a sample of hacks:
Contextual Learning
"Whenever I find a topic or subject boring, I try to find a way to make it more personal so that it will naturally become more interesting," says Smith, a kinesthetic and visual learner who looks for explainer videos for concepts he finds hard to grasp or learn.
Reading
Read the summary first, then go back and read parts you didn't understand, Smith suggests.
He looks for movies rather than books whenever possible.
Writing
Smith uses mind mapping software that allows him to create a visual representation of his ideas or the steps needed to complete a project or task.
Note-Taking
Brain work faster than you can take notes? Upload a video to YouTube and it will transcribe it for you: https://youtu.be/wc7thbDYolA.
Workspace
Neurodiverse people thrive on structure, consistency, and routine.
Create an environment conducive to productivity
Smith knows he is less productive when there are more distractions. He needs a quiet place with very few stimuli to maintain high levels of productivity.
Cluttered space = cluttered mind
Smith cleans and organizes his workspace before he buckles down to work.
Productivity
Because of how his thought process works, Smith gets "bored and then resentful" doing one task at a time, so he gives himself permission to move from one project to another, which helps him maintain productivity. His mantra: "Choose to do something and feel good about it rather than choosing to do nothing and feeling bad about it."
Make a Checklist Prioritizing Work
Smith bases his on deadlines and personal importance.
Chunk tasks so they don't seem overwhelming.
Color-code your calendar and notifications.
Use dual computer monitors to cycle through windows and projects more easily.
Turn Time Management Into a Game
Set a timer to see how much work you can get done in a fixed amount of time.
Have more than one project ready to work on.
Use the timer to toggle between projects.