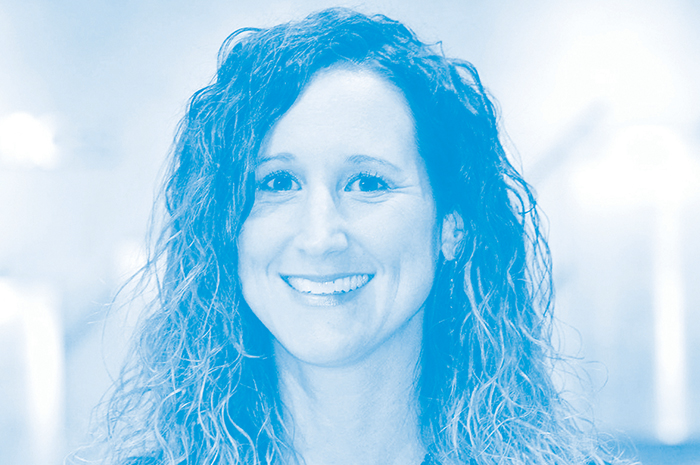 Guardian Angel
A one-on-one connection helps Native American students beat the odds.
By Mark Matthews
Leon had as much potential as any of the eight Native American students enrolled in a prestigious Research Experiences for Undergraduates (REU) program at the University of Arizona, but alcohol abuse was wrecking his chance to complete the 10-week course. His adviser, Allison Huff-Lohmeier, could have let him drop out when he left campus partway through, intending to quit. Instead, she contacted him, persuaded him to return and meet in her office, and, with his girlfriend's help, got him to join a 12-step support group.
Huff-Lohmeier won't claim credit for Leon's completing the REU program, returning to his tribal college, and subsequently winning acceptance to a NASA work-study experience. "He got himself back. Nobody's a miracle worker here," she says. Leon also had a "fantastic faculty mentor" who simplified his research on plant pathogens so he could finish in time. Still, Huff-Lohmeier's kind of one-on-one connection often is what students—particularly those from poor backgrounds and troubled home lives, who have little exposure to college—need to fulfill their potential, she says.
Such attention too often is the exception at major universities. "We're missing opportunities to deal with students on a personal level," Huff-Lohmeier argues. "We assume they're here and they'll make it." Research institutions, she underscores, "operate on successes. When things don't work that easily, when there are complex issues that they're not culturally ready to deal with—that's where we need people."
Support is especially crucial for Native Americans, who trail other underrepresented minorities in STEM education and account for less than 0.2 percent of engineering doctorates. Only 42 percent pursue any form of higher education, and of those, just 13 percent attain a bachelor's degree or higher.
Personalized help is possible at Arizona in part because it hosts the Center for Integrated Access Networks (CIAN), a National Science Foundation Engineering Research Center, of which Huff-Lohmeier is education director. All ERCs are expected to have a strong educational and outreach component, and Huff-Lohmeier and colleague Robert Norwood obtained an additional $291,000 NSF grant in 2014 to launch the REU. The ERC also runs a Research Experience for Teachers program targeting Native Americans.
Raised in the Panama Canal Zone, Huff-Lohmeier, who retains Panamanian citizenship, earned a degree in psychology from the University of West Florida and a master's in instructional psychology and technology from the University of Oklahoma. She held several jobs in higher education in the United States, South Korea, Panama, and Peru, and worked in addiction treatment and with abused children before joining Arizona's College of Optical Sciences in 2007 as an industry-student liaison. Besides advising, she now teaches graduate students in technical communication.
Raising three boys as a single working mom while completing a doctorate in health education (at A.T. Still University) might drain someone else's patience with hapless students. For Huff-Lohmeier, it establishes common ground. "I went through a lot of crap too," she told Leon at one point. She strives for "a balance of compassion and reality," warning him during a walk across campus, "The way you're going now, you'll have to leave the program."
Matter-of-fact comments from reservation school students visiting campus drove home the reality of young Native American lives. "My dad's in prison—he beat my mom," a young girl said. Another said her family had no food. "These kids are dealing with stuff I've never had to think about," Huff-Lohmeier says.
Arizona, the lead institution of the 10-university CIAN ERC consortium, chose to focus its outreach on Native Americans. That has allowed faculty to forge connections with some of the students' 10 different tribes and give Native Americans a stronger voice on campus—a foundation that should enable the school to sustain these efforts after the 10-year ERC grant expires next summer, says Huff-Lohmeier.
REU students participate in various STEM disciplines, including hydrology, chemistry, and environmental sciences, geared to community needs. One student studied the impact on the Navajo Nation of the 2015 Gold King Mine spill in Colorado, collecting data for determining contamination levels and cleanup options. There's individual impact, too. All but two of the 23 students who completed the program as of last summer continued in college. Three earned an associate's degree and went on to pursue a B.S. Of the seven graduates who earned bachelor's degrees, five have been accepted to graduate school, one is in the process of applying, and one found a STEM position in industry. In addition, one student has been awarded a patent while another presented at a national conference.
Huff-Lohmeier, who stays in touch with past students via e-mail and Facebook, can't tell yet whether Leon—now a new father—will fulfill his ambition to become an engineer. Whatever his direction, she's confident he has the grit to succeed.
Mark Matthews is editor of Prism.