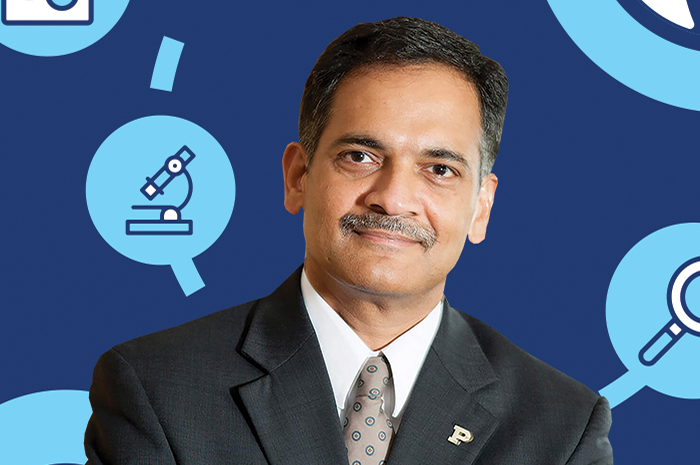 Science Diplomat
An engineer tapped for the National Science Board says Washington will heed expert advice—if delivered the right way.
By Mark Matthews
As a Jefferson Science Fellow in Hillary Clinton's State Department, Suresh Garimella took a deep dive into the tension between energy security and clean energy, and between the world's need to address climate change and developing nations' demand for electricity to power economic growth. He found no simple remedy, telling an audience of U.S. and foreign officials in 2011 that "for all the complicated issues you deal with, I think this is among the most complicated." Instead, he put forward promising options, drawing in part on his own research on heat transfer and thermal energy storage at Purdue University. Wind power holds immense potential for the United States, for instance. Rising hot air in a solar updraft tower can drive generators to produce electricity. And one square kilometer of the Sahara devoted to solar collection could power all of Europe and desalinate "a humungous amount of water."
If such a nuanced approach to energy put Garimella at odds with the Trump administration's full-throated support for fossil fuels and disregard of climate change, his research leadership and prolific publication record evidently tipped the scales in his favor. Last month, the president named Garimella to a six-year term as one of five new members of the National Science Board, which oversees the National Science Foundation and advises Congress and the White House.
The diplomatic chops Garimella acquired in Foggy Bottom may serve the board well in dealing with a volatile White House and politically divided Congress. The Jefferson fellowship, he says, was "truly transformative in cultivating and reinforcing a much wider worldview." It placed him in "interagency settings around major and diverse world events," such as the Arab Spring and Fukushima earthquake, and let him witness the "interplay between science and technology, economic ramifications, national interest, and politics." He joined a U.S.-Russia working group and became a delegate to the International Energy Agency and a senior fellow in the Energy and Climate Partnership of the Americas. He says that "recommendations from scientists and technologists, if communicated in ways that are cognizant of the recipients' context, are indeed welcome and can be influential in policymaking."
A mechanical engineer with degrees from the hyper-selective Indian Institute of Technology–Madras, Ohio State University, and the University of California–Berkeley, Garimella has garnered numerous awards for research, technology innovation, and teaching, and last year became a Fellow of the National Academy of Inventors. Moving from the University of Wisconsin–Milwaukee to Purdue in 1999, he eventually combined research, teaching, and mentoring with management. He founded the Cooling Technologies Research Center, cited by NSF as "one of the strongest in the Industry/University Cooperative Research Center Program," and then became an associate vice president and Purdue's chief global affairs officer.
In 2014, he was named executive vice president for research and partnerships, overseeing a $660 million university-wide research enterprise, including business-academic partnerships at Purdue's Discovery Park. He takes pride in a $250 million, five-year investment in the life sciences that has led to "significantly increased funding from the National Institutes of Health." Early this year, Garimella was one of four finalists for the presidency of the University of Central Florida. The job went to UCF Provost Dale Whittaker.
Garimella joined the Science Board with NSF in budgetary limbo, facing a government shutdown in December, as President Trump and Congress wrangled over a border wall, and a White House demand for spending cuts in fiscal year 2020. Congress may restore the money but will need to reach a bipartisan budget deal to avoid the return of mandatory cuts under the 2009 Budget Control Act.
Far from slashing spending, Garimella says, "the U.S. must double down on its commitment to research and development." He also shares the NSB's concern that a heavy-handed Washington reaction to foreign spying and intellectual property theft—particularly by China—could chill international research collaboration. Already, new enrollment of international students at U.S. universities has fallen and the United States has tightened visa restrictions on Chinese graduate students in high-tech fields. Garimella, whose university is among the most globally oriented in the United States, is a champion of international academic cooperation. He has led joint efforts with India and Colombia and counts alumni of his research group at several top Chinese universities. "I hope," he says, "that as the nation navigates complex waters, we do not lose sight of the benefits of fundamental research and of open exchange of ideas, while simultaneously protecting our national security interests."
Mark Matthews is editor of Prism.
© Purdue University/Getty Images