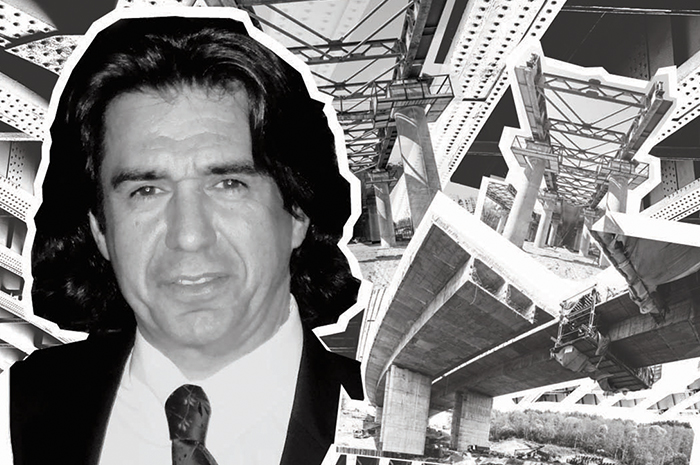 The New ABCs of Bridges
A civil engineer gains recognition for faster, safer, and more durable construction techniques.
By Mark Matthews
You're headed for a family vacation, the kids are cranky, and your fuel gauge is in the danger zone. "Bridge closed," reads the sign ahead, sending you on a detour that, in parts of rural America, could mean an added 40 minutes and an empty tank.
Atorod Azizinamini wants to make such episodes a quaint memory, along with repair-related rush-hour tie-ups and construction-zone accidents. He's an expert on accelerated bridge construction (ABC), which allows components and even whole bridges to be built in a factory and then transported for final assembly at a bridge site. Work that used to re-route traffic for months can be completed in a weekend or less, saving time for travelers and commuters and avoiding bad-weather delays.
Azizinamini directs the Accelerated Bridge Construction University Transportation Center at Florida International University, where he chairs the Civil and Environmental Engineering Department. His invention of the five-step ABC technique called the Folder Steel Plate Girder system, which completes factory fabrication of short spans in four to six weeks and on-site assembly in a matter of days, earned him a 2015 Champion of Change in Transportation award from the White House.
Attention to the center's work, which already has a following among bridge professionals and state transportation departments around the country through its monthly webinars, is likely to increase in coming years. States have stepped up borrowing for public works projects, and President-elect Donald Trump has called for a $1 trillion public-private plan to "transform America's crumbling infrastructure into a golden opportunity for accelerated economic growth."
While modes of transit are changing, the U.S. Department of Transportation expects motor vehicle travel to increase, particularly in metropolitan areas, as the nation's population and economy grow. This will put more stress on the nation's 600,000 bridges, a fourth of which should be repaired or replaced, Azizinamini says. With technology that already exists or is being developed, retrofits and replacements promise to be not only quicker than in the past but also safer, longer lasting and, in many cases, even cheaper, he contends.
"Construction zones are magnets for accidents," he says, as vehicles maneuver around repair crews. ABC will sharply reduce such risks. Durability will improve as a result of recent strides in ultra-high-performance concrete (UHPC), made with low-water cement, granular aggregate, and short steel fibers, which allow less moisture penetration. The material is proving to be more durable than previous kinds of concrete. Most old bridges can be retrofitted by attaching a prefabricated UHPC component, Azizinamini says.
ABC allows bridge parts to be built in an enclosed environment, improving quality control and eliminating bad-weather delays. "In most cases the cost is a bit lower," Azizinamini says, because the relatively brief on-site assembly requires fewer inspections and less of a project manager's time.
FIU's center recently won a five-year, $7.5 million grant from the U.S. Department of Transportation for research on "improving the durability and extending the life of transportation infrastructure." It's a topic Azizinamini knows well, having co-authored a 614-page National Academies' report, Design Guide for Bridges for Service Life, published in 2014. FIU will partner with Iowa State University, the University of Nevada, Reno, the University of Oklahoma, and the University of Washington on new technology, workforce development, and technology transfer. "We'll be looking at new bridge systems not only for urban but for rural areas and high-speed rails," he says. "We want to make bridges last longer, so we don't sacrifice service life for speed of construction."
With colleagues in Germany, Azizinamini is now developing magnetic methods to detect corrosion of steel within concrete structures, allowing more rapid bridge inspections.
Azizinamini's preoccupation with bridges took hold after he joined the University of Nebraska as an assistant professor in 1989. "I got very good support from the Nebraska Department of Roads. Even though it's a small state, they're very progressive and thinking ahead." Since coming to FIU in 2011, he has found the Florida Department of Transportation supportive as well. Iranian-born, Azizinamini arrived in the United States after high school, earning a bachelor's in civil engineering from the University of Oklahoma and a master's and Ph.D. from the University of South Carolina. Over the years, he has concentrated variously on structures in earthquake-prone regions, high rises, steel, and concrete, as well as teaching. As an FIU department chair, he's not required to, but Azizinamini says, "The best time of the week is when I teach." He engages undergraduates "in every research project."
Mark Matthews editor of Prism.