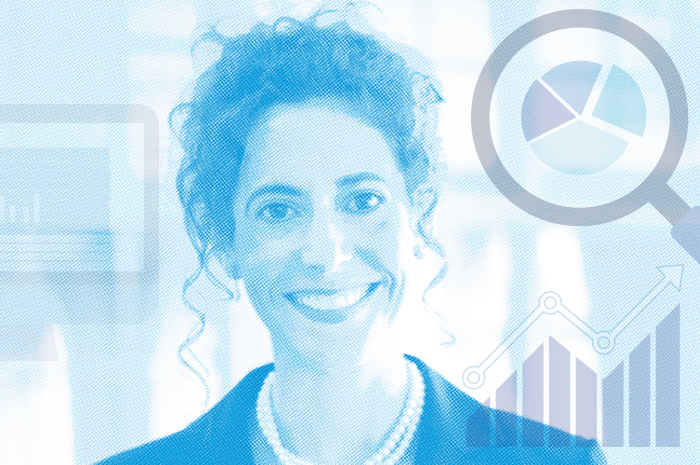 Organized Chaos
From the classroom to research on emergency response to guiding grad students, a systems engineer finds imaginative ways to make things work.
By Jennifer Pocock
Laura Albert lives to make sense from madness. An assistant professor of industrial and systems engineering at the University of Wisconsin, Madison, she applies her skills in various ways, but is best known as a teacher for her creative use of technology—especially social media.
Albert is an avid blogger, in addition to using Twitter and YouTube to inform her classes. Her "Punk Rock Operations Research" blog is a popular tool for keeping her students up-to-date on her latest research. "Social media provides an opportunity to introduce real applications to students that are not as straightforward as textbook examples, which helps them to understand how and when methods can be used," she says.
The "punk" aspect of industrial engineering publishing comes from its usefulness in promoting social awareness. "You're trying to make a positive change in the world through industrial and systems engineering, and punk rock is great," she says. One of her favorite bands, The Clash, was a vehicle for social awareness. Albert tries to take that same attitude in her blog and teaching. No matter what, she says, "I'm trying to be an ambassador for my discipline."
Albert won the school's Harvey Spangler Award for Technology-enhanced Teaching in early 2017 for her use of sports bracketeering to engage students in data-driven engineering. Sports, she says, are a great way to connect with students who haven't taken a lot of statistics or aren't very excited about math. She gets students to try to predict wins and losses across seasons.
"It's been a great vehicle for making students understand really what we're trying to do when we're designing systems. We're trying to get some really good decisions about designing the system. In a data-driven way, we want them to draw conclusions and design the system with, sometimes, very little data." Football, for instance, has a short season, so there's relatively little data to work with. While her international students may not be football fans, "everyone can relate to wins and losses and team match-ups, whether or not you follow the sport."
Last year, Albert developed a sports analytics class, which includes building predictive systems for many different types of sports—including curling. "We like curling in Madison, so I thought it was worth doing," she says. "The rules in curling are a little bit strange, so there's this incentive to have a counter-intuitive strategy for the end-game."
Albert calls herself a late bloomer in engineering—especially in her systems engineering specialty. "I lacked a lot of confidence in my ability with technical subjects when I was younger," she says. Though she was strong in chemistry and physics in high school and participated on a JETS (junior engineering technical society) competition team, she started college as a history major.
She eventually obtained her B.S. and M.S. degrees in general engineering from the University of Illinois at Urbana-Champaign, but didn't find her way to specializing in industrial and systems engineering until applying for her Ph.D. "It took me a long time," she says. "I'm sometimes amazed that I ended up in such a perfect place for me."
Beginning her Ph.D. studies in September of 2001, she started collaborating on aviation security with a colleague who had ties to the Federal Aviation Administration. Following the September 11 attacks, "we were talking to people who were very favorable to math modeling and coming up with a systems approach" to security screenings, she says. "We were trying to manage limited resources in the systems." Much of her work involved identifying passengers who might be threats. "We designed the systems to work ahead of time—even though you're screening passengers in real time, you ultimately have to design the protocols before the passengers show up."
Her research since graduation has shifted to fire and emergency medical services planning. She designs systems to help allocate EMS resources when people call 911. "What happens is that many EMS areas have very few vehicles and resources and they can get overwhelmed very easily," she says. "Things become more complicated when you have many different types of vehicles: paramedics, EMTs, fire engines, SUVs (which can't take people to hospitals). We focus on getting that right mix."
She applies similar schematics to guiding graduate students in her new role as the assistant dean of graduate affairs. "This role did not exist before me, and that was part of the appeal," she says. "As the first one, I get to design it, and I like designing systems—that's basically what I do!" Albert represents the interests of her college's 1,400 grad students, setting up mentorship and professional development programs, dealing with student grievances, and creating a graduate student advisory committee, among other duties.
"I'm very passionate about doing research with graduate students," she says. "It's really the best part of the job for me. After me, the next generation is going to have to run things!" Her students' success will be the ultimate proof that her systems work.
Jennifer Pocock is associate editor of Prism.