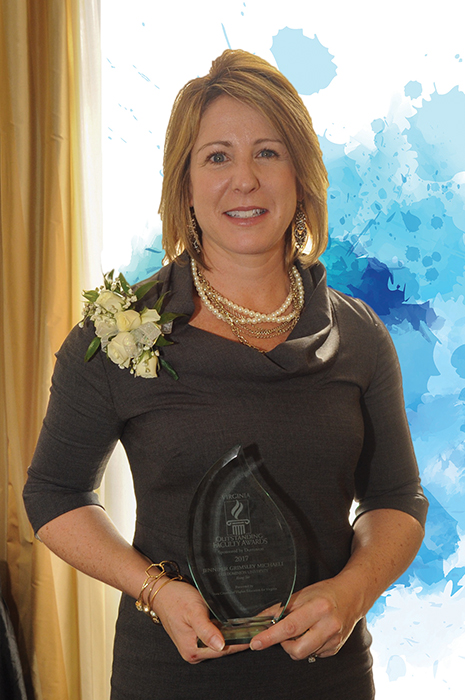 Ocean of Opportunity
A shipbuilders' descendant opens students' eyes to the wide scope of possibilities in naval engineering and engineering technology.
By Jennifer Pocock
Jennifer Michaeli has sea water in her blood. A fourth-generation boat builder, whose forebears left England's shipyards to set up shop in Newport News, Va., she grew up "hearing about projects in the yard and culture in the yard" while sailing with her father and brother on boats they hand-crafted from wood.
Recruited by the Webb Institute in Glen Cove, N.Y., she earned a B.Sc. in naval architecture and marine engineering and began her career as a Navy civilian engineer, focusing mostly on small, high-performance military vessels. "I've traveled the world and worked with U.S. forces and foreign military forces," she says, rattling off the broad scope of projects that she has been part of—submarines, aircraft carriers, and ship repair, to name just a few.
"There's certain [engineering] principles that apply to everything, like stability, ship resistance, and ship structures," she says. A person who goes into shipbuilding must be able to work on everything from lightweight metal composites to water jet propulsions and lightweight engines.
In 2012, with an M.Sc. from the Massachusetts Institute of Technology and a Ph.D. from Old Dominion University (ODU), Michaeli joined ODU's faculty as an assistant professor of engineering technology. She became director of the school's Naval Engineering and Marine Sciences Institute (NEMSI) in 2014.
Sharing experience as broad and deep as the seas she helps navigate, she wants students to recognize the scope of projects available to them, from lab research and yacht design to ferries, unmanned deep ocean exploration, and nuclear submarine propulsion technology.
"We try to plant the seeds in them as freshmen that no matter what they're interested in—structural, mechanical, electrical, civil engineering—there's all of these exciting emerging technologies and career opportunities available," Michaeli says.
These opportunities only come with experience, however. "Internships are critical," she says. "If they have not completed at least two professional internships by the time they graduate, it is going to be hard to be competitive." She wants her students to dip their toes in jobs with government, private industry, and design-and-build fabrication facilities "so you get that feedback from the work-board of just how challenging it can be to build something from design."
"Even if you imagine that your ideal job is to sit at a computer for the rest of your life, you really owe it to yourself to get out there into some kind of production environment—even for a couple of months as an intern. It's just invaluable, and you'll look back on that time and say, 'Wow, I can't believe I did that.'"
Teaching in the engineering technology program, most of which is distance learning, draws students from many different backgrounds. In addition to traditional students who came straight from high school, many of Michaeli's students are military veterans; others are students who work in the nearby shipyards by day in non-engineering capacities and catch up with her lectures at night. "I'll have students who can see the same issue through three different lenses and they get to share that with the other students who may not have had much work experience at all."
Michaeli recently won a SCHEV (State Council for Higher Education in Virginia) Outstanding Faculty Rising Star Award, an honor given to Virginia educators who "exemplify the highest standards of teaching, research and service." She hopes that the award will draw recognition and support for ODU's "shared vision to establish a vibrant hub for marine-centric research and higher education right here in Hampton Roads."
Her new course on digital building techniques will cater to a "tech-savvy young workforce" familiar with advanced manufacturing. "[The course is] really exciting because it's using the PLM [product lifecycle management] software, which is readily adopted into the automotive and aerospace industry, and slowly migrating into the marine industry," Michaeli says. "We're the first university to offer a course like this."
Students "are asking questions like, 'How can you use augmented reality or virtual reality coupled with 3D models to advance the production efficiency in the soft phase of manufacturing and repair?'" she says. "It's really an exciting time!"
Jennifer Pocock is associate editor of Prism.