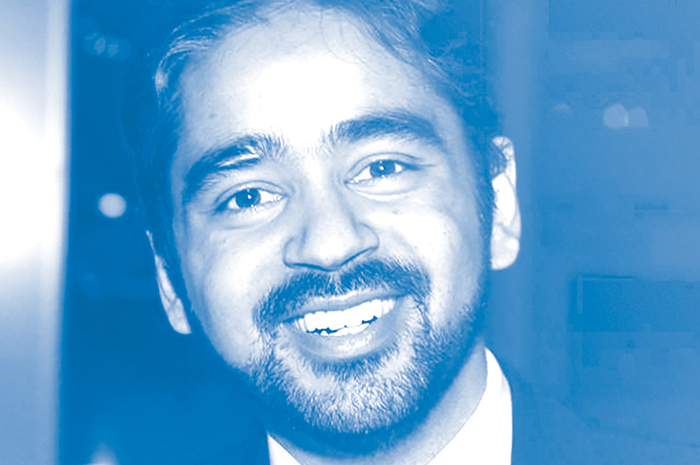 Reality Check
A Boston University biomedical engineer guides diverse groups of students in addressing urgent health problems in the developing world.
By Mary Lord
Growing up in Islamabad, Pakistan, in the 1980s, Muhammad Zaman used to accompany his widowed mother on treks across town to pick up prescriptions at a pharmacy she trusted, bypassing their neighborhood druggist. It didn't strike him as odd until he got a scholarship to attend a small college in Arkansas and saw Americans patronizing their local drugstores. Zaman, who went on to earn a Ph.D. in chemistry from the University of Chicago, discovered just how well-placed his mom's mistrust had been in December 2011, when a thousand heart patients flooded hospitals across Lahore, bleeding from the nose, mouth, and gut while their white blood cell and platelet counts plunged. More than 200 died. The culprit: tainted medicine supplied by one of the country's leading cardiology institutes.
Zaman, now 39 and a Howard Hughes Medical Institute Professor of biomedical engineering and international health at Boston University, sought a proactive response. Securing funding from the U.S. Agency for International Development, he began developing an inexpensive prototype kit to detect the fake and substandard drugs that compose as much as 30 percent of medicines sold in parts of Africa, Latin America, and Asia. The resulting lab-in-a-suitcase, PharmaChk, contains everything from tiny test tubes to fluorescent probes and a microfluidics chip needed to analyze the composition of drugs in about 15 minutes. Named one of Scientific American's 10 "World Changing Ideas" in 2013, the lightweight kit requires little training and is designed for use anywhere in the supply chain, from manufacturing plant to clinic—even the corner pharmacy. With backing from the Saving Lives at Birth coalition, which includes the Bill and Melinda Gates Foundation, probes have been developed for antimalarial drugs and antibiotics and investigations are currently focused on tests for drugs that treat tuberculosis and postpartum uterine hemorrhage.
PharmaChk exemplifies Zaman's vision for "real-time engineering," devices that aren't just cheap and durable but "Ghana-ready," taking a community's economics, politics, and culture into account. "This is the changing face of education and the changing face of engineering," says Zaman—or at least it should be. In a 2015 Huffington Post column he complained that "our inability to make students aware of the real world, beyond the sanitized labs and high-end hospitals, is robbing them of the opportunities to shape the world." Zaman makes his students visit Africa "to learn with local people and get a better understanding of the problem." That includes studying Swahili. Class projects also can get real:In one, students designed and built crutches from local resources, then advocated with local policymakers to approve their manufacture. Even when designing something as seemingly universal as an inhaler, Zaman cautions, "what works in Brazil may not work in rural Mississippi."
Zaman—sometimes likened to Harvard's charismatic physician and global health activist Paul Farmer—is a man on a mission, having decided to switch from chemistry to pursue biomedical engineering and public health. "Maybe it was the early stages of midlife crisis," he now jokes. When Boston University, with medical and public health schools, offered him a position in 2009, Zaman—an outstanding educator on a sure academic career path in cancer research at a flagship state institution—leaped at it. Equally pivotal was a visit to Zambia, where he witnessed such sobering examples of "low resource" health care as having a mere handful of technicians in the whole country who could repair and maintain medical equipment.
Along with improving PharmaChk, he and his team at the Lab for Engineering Education and Development have several other research projects underway, including a solar-powered pulse oximeter to measure blood-oxygen levels and a machine for treating childhood pneumonia—the primary killer of youngsters under 5 worldwide. In addition, Zaman is helping to establish biomedical engineering departments at universities in several African countries, and investigates the systems biology of cancer in his Laboratory for Molecular and Cellular Dynamics. "Engineering is inherently one of the most inclusive disciplines," he says, proudly noting that his program is nearly 70 percent female and culturally diverse.
Lately Zaman, who became "very moved" by the recent Syrian refugee crisis, has been pondering ways to generate "robust and quality solutions" for fragile migratory populations. This past July, he helped organize a humanitarian engineering program at the American University of Beirut on health solutions during conflicts. He's also examining the role of biomedical engineering in natural disasters. His boots-on-the-ground prescription already seems to have had a tonic effect on one population: students. Zaman finds they "step up to the plate and hold themselves to much higher standards, because they understand the consequences. Their decisions have real impact."
Mary Lord is deputy editor of Prism.