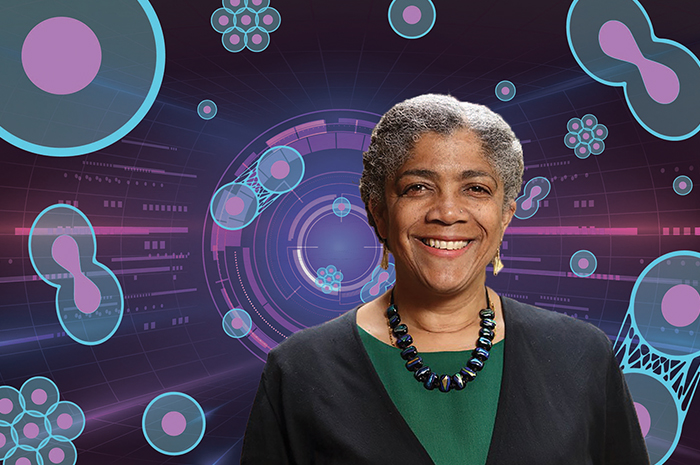 A Deeply Human Look at Technology
Informed by tragedy, an ethicist examines the implications of miracle innovations.
By Jennifer Pocock
Rosalyn Berne is no stranger to complicated ethical conundrums. As director of the National Academy of Engineering's Center for Engineering Ethics and Society (CEES), she must tackle some of the foremost problems plaguing the field. And she brings firsthand experience with painfully difficult choices.
Berne, who is on leave from the University of Virginia, where she is an associate professor in the department of engineering and society, was a teacher and school admissions director before her career took an abrupt turn with the loss of her newborn daughter, Zoe. Late in pregnancy, Berne had an intuition that something was wrong and asked her doctor to perform a scan. It showed that Zoe's brain had never formed. "Over the next few weeks, I tried to arrange to have her organs donated. It became a much more complicated process than I thought"—fraught with legal and ethical dilemmas.
"Even without a brain, Zoe remained alive in my womb until her birth due to the umbilical cord's connection to me," Berne says. "But it was largely due to the efforts of biomedical and mechanical engineering that she was kept alive after birth." When brain scanning technology came into widespread use, the legal definition of life changed from evidence of heart and lung function to brain-wave function. Zoe's brainstem still emitted activity—roughly equal to that of an ant—so she had to be kept artificially alive until that function stopped before she was legally declared dead and her organs could be donated.
In the end, Berne was able to donate Zoe's corneas, but it took a personal toll. "Even though it seems like the right thing to do—to remove the organs of an imminently dying infant so that another could live—the ethical problem is that there was no benefit to Zoe, only harm in disregarding her personhood," she says. "At the time, I just wanted to bring some good from a tragedy. Now, in retrospect, I wish I'd just held her in my arms until she took her last breath."
This experience drove Berne back to the University of Virginia—where she had earned bachelor's and master's degrees in speech communication—to pursue a doctorate in bioethics. "I literally just wanted to learn," says Berne, who, besides Zoe, has a son and daughter. She focused on the contemporary role and ethical dimensions of technology in reproduction, and was hired in 1999 to teach engineering ethics at UVA.
Berne loves using stories to teach. One of her most popular classes is built around science fiction and new reproductive technologies. "When I started, The Matrix was really popular," she says. "Something about it was speaking to them. It was a way in to talk about their experience as engineers." So she brought it into the classroom. Berne is a prolific writer herself, with two nonfiction books on nano- and biotechnology as well as a science fiction novel on reproductive technology and free agency.
These days, however, Berne is tackling the plastics problem as director of CEES. She admits that plastic was one of the greatest engineering achievements of the 20th century. Yet its low cost, light weight, and durability—qualities that keep shipping costs low, food fresh, and medical devices sterile—also make it too easy to discard. Nano- and micro- plastics can be found everywhere, including in mother's milk. The petroleum-based material's indefinite lifespan puts it "on the order of a Frankenstein creation," she says.
After joining CEES in May 2018, Berne spent "the better part of my first year" on the topic. Scientists worldwide have acknowledged the problem and are reacting, she says, but "while that's commendable, one risk of doing so without attention to ethics is the application of a 'technological fix' addressing the manifestations of the problem without attending to its root cause." She wants to make sure that today's solution won't lead to tomorrow's disaster. CEES is developing new curricula, as well as ethical guidelines for future manufacture and use of plastics.
Looking beyond technological fixes is part of the mission of CEES, founded in 2007, which serves as a nerve center, convener, and repository of information on the social responsibilities of engineering. Other topics Berne wants CEES to explore are ethical implications of digitization, AI and machine learning, humanoid robotics, and genetic engineering. The center will hold a workshop in October entitled "Working Ethics Into the Conversation: Introducing STEM Faculty to Teaching Ethics."
CEES offers a national platform for the stories Berne thinks must be told.
Jennifer Pocock is associate editor of Prism.
© National Academy of Engineering's Center for Engineering Ethics and Society (CEES)/Toni Rigolosi