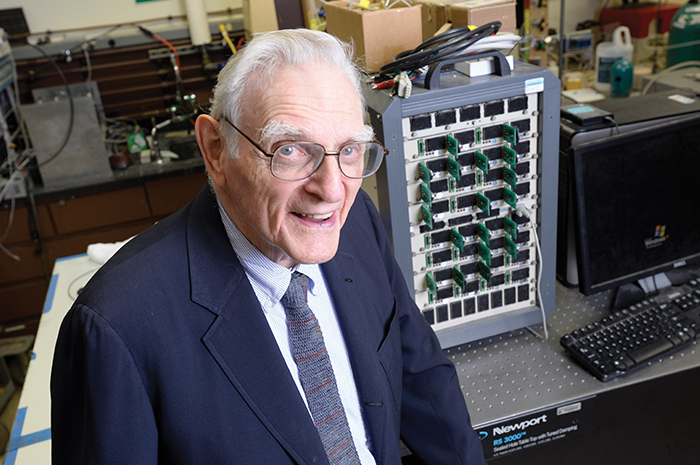 Ageless Energizer
A battery pioneer sees 'lots of development' ahead on a successor to his lithium-ion innovation.
By Jennifer Pocock
At 94, John B. Goodenough is a living legend in the worlds of physics and energy materials engineering. The recipient of the 2011 National Medal of Science and the National Academy of Engineering's Draper Prize in 2014, he has reinvented his career multiple times on the backs of world-changing inventions. Best known as the father of the lithium-ion battery, Goodenough recently helped pioneer a new glass-based solid-state battery that could upend his previous innovation.
Born in 1922 in Jena, Germany, the University of Texas, Austin professor is nonetheless an "11th-generation American." His father was a professor of religious history at Yale University, but "the Germans were better at the Caesarean section at the time," he said, so his mother left the country to have him. At 12 years old, Goodenough won a scholarship to Groton, the prestigious boarding school in Massachusetts. It wasn't easy for him, he says, because he suffered from dyslexia, which at the time was not recognized as an ailment and therefore not treated. "I muddled my way through and covered it up," he says, acknowledging the disability as one reason he was attracted to numbers.
While majoring in math at Yale, Goodenough discovered a passion for religious philosophy. He put aside pursuing it scholastically, however, following the Japanese attack on Pearl Harbor. Instead, he hurried to finish his degree in three years and volunteer for the Army. "When I enlisted, my math professor told me not to go into the Marines like my friends," he says. "He said that the Army needed meteorologists." Throughout the war, Goodenough was a weatherman, in charge of predicting wind speeds and storms to help airplanes fly—in radio silence—across the Atlantic. "Back then, they were all propeller planes. They couldn't fly above the weather like we do now. They just had to go through it," he says. "I got through the war without taking a shot or being shot at."
Goodenough always knew that he wanted to go back for a graduate degree, which he did upon returning from the war. He earned a Ph.D. in physics from the University of Chicago in 1952, after which he went to MIT's Lincoln Laboratory, where he helped work on some of the first RAM memory systems. These were eventually adopted into the military and the first air traffic control systems. During this time, he formulated what became known as the Goodenough-Kanamori rule, which works on the magnetic spin-spin superexchange of atoms.
He completed his work on RAM systems in 1957, but continued working on the fundamental properties of transition-metal oxides until 1972. Goodenough spent years working with chemists to bring together physics and chemistry. "Eventually, there was an energy crisis," he says, which is how he became interested in batteries. In 1976, he became a professor of inorganic chemistry at Oxford, where he began the work on discharged batteries. He co-fabricated the now ubiquitous lithium ion battery "somewhere around 1980," he says.
He was at Oxford for 10 years, but when it came time to retire, he was offered a position at the University of Texas, Austin, where he holds the Virginia H. Cockrell Centennial Chair in Engineering. "You can't spend just a decade at Oxford and do nothing else," he says, admitting that he's never really wanted to retire.
Although Goodenough stopped teaching in 2013 at age 90, he still supervises a research group. Two years ago, his colleague Helena Braga "came to me with a glass," he says. That glass, which is not flammable, forms the basis of a new solid-state battery that looks as if it could surpass the lithium ion battery that he spent so long perfecting.
"Lithium ion batteries have a safety issue," he says. The lithium battery uses a carbon anode that, if charged too rapidly, is plated by lithium metal that forms dendrites. These tiny metal shards grow across a flammable liquid electrolyte to the cathode and create an internal short-circuit that heats the cell and ignites the electrolyte. The Braga glass is not flammable because lithium metal bonds strongly to it and is plated dendrite-free. Because of that, the battery cell can be charged rapidly and safely, providing a low-cost battery with a long life cycle and a high energy density. It's still in development, but Goodenough hopes that he and his team will soon get investors who want to help adapt it to large cell batteries (say, for electric cars) or small cell batteries (for phones).
Until then, he hasn't yet worked himself out of a job. "There is still lots of development to do. My colleagues want me to work until I'm 104, whether I actually make that or not," he says, with a chuckle.
Jennifer Pocock is associate editor of Prism.