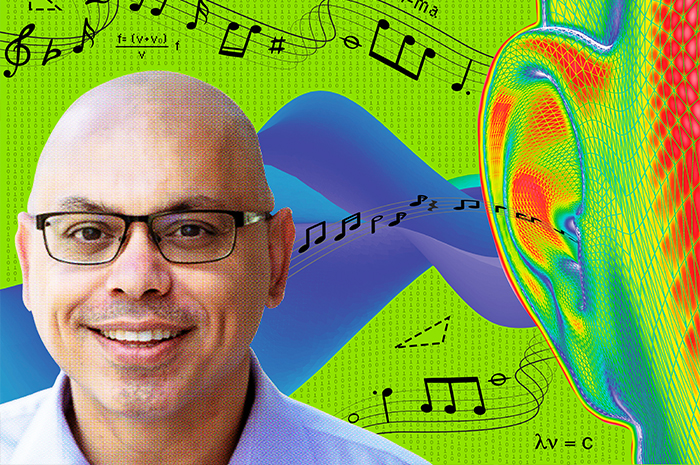 Sound Sleuth
A mechanical engineer and musician ponders why some people can instantly play a tune by ear.
By Mary Lord
In an era that prizes specialists, Pradeep Sharma retains the boundless curiosity and broad portfolio of a Renaissance man. At the University of Houston, where he is a professor and chair of mechanical engineering, his research group uses computational and theoretical approaches to understand physical phenomena in fields as disparate as nanostructures and biology. One recent paper, for example, examined the soft-matter mechanics underpinning the infrared vision of pit vipers. "Old scientists didn't hold themselves to artificial boundaries," explains Sharma, who as a young teen devoured books on Leonardo da Vinci and other early innovators. "They called themselves natural philosophers and worked on anything they wanted."
Sharma's own wide-ranging work, which draws on applied mathematics and quantum simulations, has earned broad recognition, including a Fulbright Fellowship and the Society of Engineering Science's 2019 James R. Rice Medal, honoring mid-career researchers. Still, one problem has perplexed him for years: Why can some people with no formal musical training, like his wife, reproduce a melody they just heard while he cannot—despite a decade of voice lessons and studying piano? Part of the difference is brain-based, Sharma acknowledges. But he believes there may be "something structurally different" in the ear, such as the geometry of the hair cells that translate sound waves into electrical signals for the brain to decipher, or even the electrical activity around the cells, that enables his spouse and others to hear music better. "I am looking for a physics-based explanation."
The question was intriguing enough to earn a prestigious Guggenheim Fellowship for Sharma this past spring—the only recipient in the engineering category—allowing him to finally launch his investigation. First steps call for making a model "to see if my hypothesis is even reasonable," he says. If his theory is correct, he plans to seek "big money" to cover the equipment and expertise necessary to conduct more extensive research with human subjects.
Little in Sharma's upbringing pointed toward a career in engineering education. The son of an Indian diplomat, he recalls immersing himself in advanced college math and physics textbooks from the "great library" of the British middle school he attended in Mexico. Star Trek, The Six Million Dollar Man, and other American science fiction shows inspired an interest in science. Reading about pathbreakers like Einstein drove his desire to become a scientist.
Instead, Sharma followed his father's wishes and pursued engineering as the more promising route to job security. He went on to earn a Ph.D. in mechanical engineering from the University of Maryland–College Park in 2000, then spent three years working on nanotechnology, photonics, and materials science as a research scientist for General Electric before joining the University of Houston mechanical engineering faculty in 2004. "I ended up where I wanted to be," observes Sharma, noting that his research on materials, whether human cells or aircraft wings, involves physics problems. "If you're good at math and basic physics," he concludes, "you can pretty much get into any area you want."
The interdisciplinary synergies can prove powerful. As Sharma puts it: "I'm a better engineer because I like physics, and I'm a better physicist because I have training in engineering." His biggest impediment: learning the specialized lingo—"the folklore, if you will"—that various experts bring to each project. "You can, in a very agile manner, move into many areas," says Sharma, "but you have to invest time to learn the specific jargon."
Though his research is rewarding, Sharma calls working with students "the part I enjoy most." He worries about the engineering education pipeline and does all he can to encourage more of them—particularly domestic students—to go to graduate school and become academics. The Ph.D. slog, with $2,000 monthly stipends, can't compete with the $110,000 salaries that mechanical engineering graduates typically command, however. Nor does today's generation have the Sputnik-era inspiration or government subsidies that propelled many older U.S. engineering educators into graduate school.
Even if Sharma fails to definitively determine why some people have an ear for music, his Guggenheim project has started on a high note. Colleagues voice encouragement. His research team is excited, too. "I'll have to appear on Dancing With the Stars," says Sharma with a laugh. No matter what, he promises, "we will have some good papers." Every academic knows that score.
Mary Lord is Prism's deputy editor.
©University of Houston, Getty Images, and Alexander Da Silva