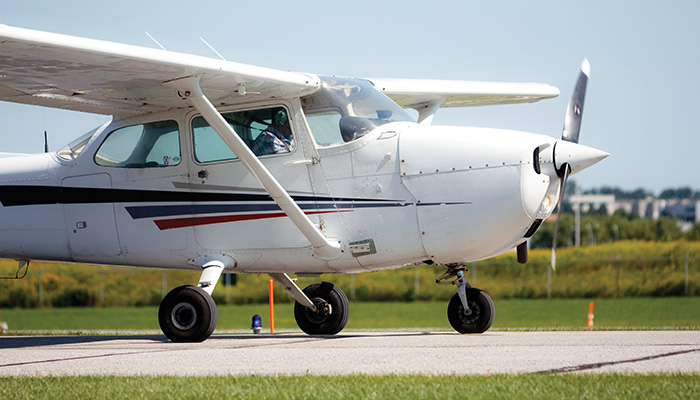 How an old-line maker of aircraft engines defied the rust belt curse.
WILLIAMSPORT, Pennsylvania – A gambler surveying American manufacturers would say the deck was stacked against a company with a product line dating from 1929. Add to this the firm's highly unionized workforce, at a time when others are looking abroad for cheap labor; a recent history of litigation; plus a clientele vulnerable to economic swings, and the odds favoring Lycoming Engines all but disappear.
Yet Lycoming, which builds piston engines for general aviation, is doing just fine. Through adoption of lean manufacturing, in-house fabrication of components, and close employee involvement in quality and efficiency, its factory in the central Pennsylvania hills has emerged stronger from years of turbulence. And now, the company's legacy product is providing leverage for a leap into an expanding market for unmanned aerial systems (UAS).
While robotics, 3-D printing, and other advanced techniques are often cited as the future of U.S. manufacturing, Lycoming shows how more conventional methods – when combined with imaginative engineering, workforce development, and a nimble response to customer demands – can keep an aging company competitive.
Established in 1845 as the Demorest Manufacturing Company, the factory that became Lycoming grew at first building sewing machines, bicycles, and typewriters. An early developer of internal combustion engines, it supplied the long-ago automotive icons Cord, Dusenberg, and Auburn. Lycoming, the name it took from the surrounding county, added aircraft engines in the late 1920s, about the time Charles Lindbergh's solo flight across the Atlantic captured the nation's – and industry's -imagination. The company emerged from World War II as the dominant producer of piston aviation engines in the world, according to a Bloomsburg University case study, and went on to supply the U.S. military during the Korean and Vietnam conflicts.
Acquired in 1985 by Textron, a major military and aerospace contractor, Lycoming soon went through a rough period. Like many other U.S. manufacturers, it was hit hard by big changes to its core market. Sales of piston-powered aircraft plummeted from some 17,000 units in 1978 to 621 in 1994. A rebound to 2,755 aircraft in 2006 was grounded by the financial crisis, with sales falling to just 889 units in 2010. (Sales hit 1,129 aircraft in 2014.)
Demand is so volatile because much of the market depends on recreational aircraft, and spending for recreation falls in a recession, explains Guido J. Defever, an MIT-trained engineer who oversees research, development, and engineering at Lycoming as vice president. The market also is in decline because there are fewer pilots, he notes.
Soaring liability costs sent the company into a spiral as trial lawyers targeted general aviation. Some estimates put the cost of liability insurance to a manufacturer as high as $100,000 a plane by 1988. A 1994 change in the law eased the pressure, but 11 years later, liability costs were still eating up 10 percent of gross earnings.
Labor Strife and Litigation
Not all the challenges were external. Responding to the industry downturn, Lycoming decided in 1994 to subcontract much of its component production and lay off as many as half of the employees represented by the United Auto Workers. Years of bitter labor strife followed, with a long strike in 1997, replacement of workers, litigation finally decided by the U.S. Supreme Court, and a nine-year contract negotiation. The shift to external suppliers backfired. Defective crankshafts provided by a Texas company between 1997 and 2002 caused widespread problems, including several crashes, bringing bad publicity, hefty warranty costs, and a long product liability trial.
Lycoming hit its nadir in 2002, when operating losses reached $40 million for the year. "It was just a nasty situation," says Christian Grandzol, a Bloomsburg University business professor who co-authored the case study. The flood of red ink persuaded Textron to begin a top-to-bottom revamp of quality and restore meaning to the injunction in an old black-and-white company photo: "Build every engine as though you were going to fly it yourself." New managers introduced lean manufacturing techniques, which stress avoiding waste of materials, time, and inventory by attending to quality at every stage, rather than in a final inspection. Recognizing that full employee participation was necessary to make it work, they picked union leaders to be trained first in the new system. Union workers began to attend weekly meetings of the plant's senior leadership team.
Lycoming's shift to lean manufacturing and kaizen, the Japanese-inspired system of continuous improvement based on such principles as individual responsibility for resolving anomalies, led to extensive restructuring of production, says Tom Conway, vice president for manufacturing operations. Workstations were redesigned for better flow, and the manufacturing footprint was reduced. The company trimmed inventory and relocated it near the assembly line. Workers participate in monthly kaizen meetings focused on improving different parts of the production process and contribute to a weekly production review.
Greg Gdula typifies an attention to detail that's become the new normal at the factory. A longtime Lycoming worker, he helps to run a manufacturing cell where four high-tech machine tools turn blank pistons into gleaming, precisely grooved products, which are then tested in batches under an ultraviolet light after coating with fluorescent. Describing his work to a visitor, Gdula points out a tiny fleck of green hiding inside a piston, highlighting a defect that must be removed by hand.
In-Sourcing
Having been burned by the outsourced crankshafts, Lycoming brought work back to improve quality. It moved piston manufacture and other operations back in house. The change underscored what managers were telling workers: that lean manufacturing was a way to grow the business, and bringing in work to improve quality and cut costs was part of that understanding. The message seems to resonate: Grandzol recently visited Lycoming with students from Bloomsburg and talked to workers on the production line: "Every single one said, 'I do this for my customer,''' Grandzol reports. "It's really powerful."
The single-minded pursuit of efficiency won Lycoming the 2010 Shingo Prize for Operational Excellence, named for Shigeo Shingo, a Japanese engineer who pioneered lean manufacturing and worked extensively with Toyota. Conway says that the cultural transformation continues to drive employee engagement and innovation: "They really take pride in the fact that these things fly, and people's lives are at stake if something goes wrong."'
Every completed engine undergoes extensive testing in one of 16 test cells at the plant. Bob Dukeheart supervises the test section, but individual test cell mechanics sign off on each before it goes out the door. Lycoming also relies on them for process improvements: Dukeheart points to a collection of "bulletproof" awards on the wall of the control room, each representing an improvement that definitively fixes a production problem.
The intensive focus on lean manufacturing has paid off on the bottom line. "We've reduced our cost base on the same revenue by close to 30 percent," says Michael Kraft, the general manager. A 2009 press release by parent-company Textron claimed that on-time deliveries of engines had gone from 44 percent to 98 percent.
A New Market
Having put its manufacturing house in order, Lycoming finds its engine-building skills suddenly in demand outside civil aviation – in UAS (drone aircraft). A number of the military's unmanned systems, including the Army's Improved Gray Eagle, are powered by piston aircraft. When Aerosonde, another Textron division, approached Lycoming to take over production of a tiny, multi-fuel engine for its MK 4.7G, the Williamsport plant was ready. A small UAS used extensively in Afghanistan and elsewhere, the MK 4.7G is equipped with a single-cylinder, air-cooled, direct-injected, spark-ignited engine that displaces just five cubic inches, features electronic controls, and can run on virtually any fuel, including the JP8 kerosene-based jet fuel that is a military standard. Lycoming used its supply chain and in-house engineering to upgrade quality. "We have a very reliable and successful system now," says Defever, the engineering vice president.
While their essential mechanisms are familiar, the challenge of developing new products for unmanned systems is forcing Lycoming to acquire more expertise. The company has increased its engineering staff to 60, up 30 percent from five years ago, in addition to hiring specialized contractors. One example of an upgraded engine is the TEO-540 iE2, which powers the long-endurance Northrop Grumman Firebird and a version of the high-performance Lancair Evolution kit aircraft. (The Firebird is an OPV, or optionally piloted vehicle, although it is often used in the unmanned configuration.) It's based on Lycoming's venerable 540 series of six-cylinder, air-cooled, horizontally opposed engines, but represents a quantum leap in engine control, from legacy mechanical systems to modern electronic controls. Computer control of the engine permits a combination of three controls, for propeller, fuel mixture, and throttle, into a single control, or lever. The computer adjusts other parameters for changing flight conditions. "Constantly adjusting engine performance from the time you take off till the time you land should provide significant fuel savings," Defever explains, adding that computer control also will prevent any engine damage that could be caused by pilot error in adjusting the fuel mixture. Lycoming is in the final stages of obtaining FAA type certification for a twin-turbo version of the iE2 engine, which Defever says is now the company's "flagship model." The engine also is being tested in a development prototype of the Tecnam P2012, a twin-engine 11-passenger aircraft.
In another drone venture, Lycoming is building a diesel engine for the General Atomics Improved Gray Eagle, the most widely used unmanned surveillance platform. The company took over a modified Fiat diesel and further reworked it to take out weight. The 360-pound, 200-horsepower engine, designated the DEL-120, is in limited production.
Lycoming's recent success means it's on the lookout for top talent. "We are a small enough engineering team, where engineering counts for a lot, so we are looking for the best and the brightest," Defever says. Several good engineering schools – Penn State, Lehigh, Pitt – draw students from central Pennsylvania who are happy to return to the area. The company worries less about attracting engineers than about replacing experienced craft employees who are nearing retirement, or the skilled configuration management staff. Lycoming must rely on programs such as the Pennsylvania College of Technology in Williamsport to train engineering technicians who can run the complex CNC tools that have improved production. The company has long been home to aviation enthusiasts, and its recruiters have a secret weapon to attract and keep them. Its Quarter-to-Two Flying Club has a Cessna 172 and Piper Archer that are available to any plant employee or retiree who pays a nominal membership fee. Both are powered by Lycoming engines.
By Mark Bocchetti
Freelance writer Mark Bocchetti is a retired foreign service officer specializing in economics.
Image courtesy of Thinkstock.