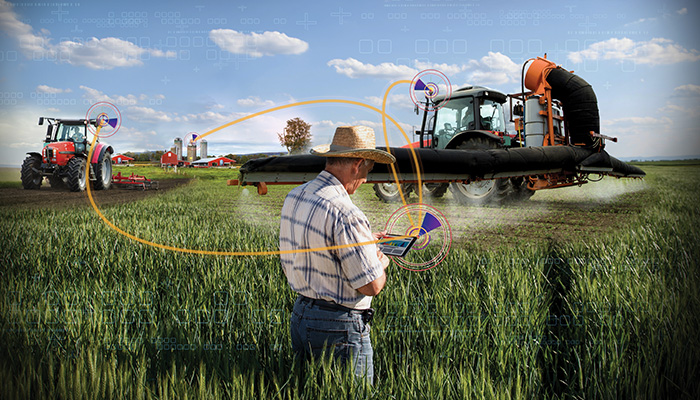 Advances in precision agriculture hasten a future of farms without farmers.
Florida's $9 billion citrus industry is under attack from a disease that has no cure. Citrus greening is a bacterial infection spread by tiny insects called psyllids that destroys trees within a few years and renders their fruit green, misshapen, and bitter. So far, the disease is estimated to have cost Florida growers $3.7 billion. Infected trees drop their fruit early, so farmers regularly send teams through groves to look for large numbers of fruit on the ground — early detection of the disease can give them time to harvest nearby healthy fruit before it's infected. But that's a costly and labor-intensive operation. So Wonsuk "Daniel" Lee, a professor of biological engineering who heads the Precision Agriculture Lab at the University of Florida, has developed a truck-mounted machine-vision device that can count dropped fruit in all types of light with 88 percent accuracy. The technology, he says, could speed up efforts to detect signs of citrus greening and make it less costly.
Lee is among the scores of academics — including engineers and computer scientists —on the leading edge of a burgeoning area of research that is bringing recent advances in high tech to the world's farmers to make them more efficient.
The business community tends to call it agtech, although researchers prefer to call it precision agriculture. Whatever name it goes by, the goal is the same: using technology to enable farmers to deploy more exacting — usually smaller — amounts of chemicals, seeds, and water and yet increase yields while lessening the often harsh environmental effects of farming. A 2014 report by the Kauffman Foundation claimed that agtech "has the potential to completely reshape global agriculture, dramatically increasing the productivity of the agriculture system while reducing the environmental and social costs."
Silicon Valley investors have taken note. They're on track to plow $4.2 billion into agtech start-ups this year, up from $2.36 billion in 2014. Why is agtech suddenly hot? Basically, thanks to the growing availability and falling costs of a panoply of technologies, including mobile, wireless telecoms; sensors; cloud storage of massive data sets; superfast, powerful computers capable of running complex algorithms that chomp through data to find useful, actionable information; drones; satellite guidance and mapping; robotics; and 3-D cameras.
Needed: A Doubling of Crops in 35 Years
Technology has long driven agricultural progress. Mechanization and internal-combustion motors powered farming out of the horse-and-wagon era in the early 20th century. Since the green revolution of the 1960s, farming yields have tripled, even though the amount of land under cultivation grew by just 12 percent. But the abundance took its toll on the environment, dousing fields with huge amounts of nitrogen-based fertilizers, herbicides, and pesticides, and requiring heavy irrigation. Globally, agriculture accounts for 30 percent of greenhouse gas emissions and 70 percent of freshwater withdrawals. And now that the Earth's population is on track to grow from 7.3 billion to nearly 10 billion by 2050, the green revolution methods are no longer sustainable. So new technologies are needed to double crop production over the next 35 years to ensure that there's enough safe and nutritious food to feed a rapidly crowding planet. And it has to be done with fewer chemicals and less water. "Agtech is going to be a key component to the solution," says Rajiv Khosla, a professor of precision agriculture at Colorado State University.
Increasingly, agtech advances are allowing researchers to find new ways to make farming cheaper, easier, and more productive. Take Tom Duckett, a professor of computer science at Britain's University of Lincoln, who is leading an effort to develop a robotic broccoli harvester. He's working on a one-year grant to see if his team can get a 3-D camera system to not only identify which plants are broccoli but also determine if the head is large enough for harvesting and where best to chop the plant — and it all has to happen in various types of light and with leaves sometimes in the way. "We have to see if we can decipher the size of a broccoli head from a lot of noisy information." says Buckett. If successful, he and his team will tackle building the robot that will do the work. Factory robots work with uniform-size parts, he says. "But with broccoli plants, there is a huge amount of natural variation, so that's a technical challenge." Still, he sounds confident: "It's all becoming feasible now. Five years ago, we could not have done this."
In the United States, a recent survey of farmers in 33 states co-authored by Purdue University researchers found that 89 percent were already making some use of GPS-guided, auto-piloted tractors and harvesters. Self-driving tractors — a human is on board for safety purposes — plow, seed, or harvest rows with sub-inch precision, avoiding the overlaps that human drivers create to ensure they don't miss any patches. The farm vehicles carry arrays of sensors that stream real-time data to onboard computers that map the fields. And automated sprayers apply chemicals and seeds with surgical precision. "The average person would be blown away by the amount of data already collected by farms," says Lance Donny, CEO of OnFarm, a data-management software company based in Fresno, California. The large commercial farms he mainly works with typically have around 200 sensors monitoring everything from soil and leaf moisture to soil nutrients and the health of equipment. A typical large farm today, he says, produces 7,000 data points daily, and within a few years that will easily grow to 30,000.
Sensing 2.0
"But it's still early days, and the opportunities are endless right now for agtech," Donny says. Sensors can always be improved and made more robust — life on a farm in all kinds of weather can take its toll. There's a need for better telemetry. Robots and unmanned aerial vehicles (UAVs), or drones, are seen as essential to agtech, as is making greater use of big data. Decision-management information that could be gleaned from cloud-stored data sets includes more accurate weather forecasts, matching crops to fields, predicting water usage, and optimal tractor speeds for different crops and terrains.
Potentially blockbuster research under way includes a new breed of sensors that can read and measure plant fluorescence in broad daylight. Most current farm sensors read light that's reflected off leaves, which can tell a farmer how much nitrogen a plant has absorbed. There's much more information to be gleaned from fluorescence, says Colorado State's Khosla. It can tell vineyard owners how much sugar is in grapes, so they can harvest them at peak times. It also can register nitrogen uptake in corn much earlier than reflected light — early enough to correct fertilizer levels and keep yields intact. "We are on the cusp of sensing 2.0," he says. One of his students found she was able to detect insect larvae from fluorescence two days before they became visible to the naked eye.
Ibrahim Volkan Isler, an associate professor of computer science at the University of Minnesota, works with both land-based and aerial robots. He's developing machine-vision drones that can count apples on trees to calculate harvests, or do nitrogen mapping of fields. He's also used drones to collaborate with and guide robotic rovers on the ground. Data from the two vehicles can also be complementary, he says. "Using images from the sky with ground-based measurements can result in more precise measurements." Robots in factories have long been commonplace, he says, but they typically do one thing over and over in a structured environment. Farm robots work in an unstructured environment, he says, and that's a challenge. "For me, agriculture is the future, the next great step for robots."
Given the kinds of technologies that are being pressed into action on farms, there's a great need for engineering and computer science research. Khosla would like to see more cross-disciplinary pairing of engineers and computer scientists with agronomists and soil scientists, much in the manner that engineers work closely with biologists on bioengineering projects and with medical doctors on biomedical engineering. Partly in response to that need, the National Science Foundation has launched Innovations at the Nexus of Food, Energy, and Water Systems, budgeted for $75 million in FY 2016. JoAnn Lighty, NSF division director for chemical, bioengineering, environmental and transport systems, says the agency wants to fund research that looks at food, energy, and water as integrated systems. Part of that would be creating models that explore the interrelationships of the three — management of data that include plants and weather, for example. It would also include devising solutions that make more efficient use of water and chemicals.
But most federal funding for precision farming research comes from the U.S. Department of Agriculture. And those amounts are not enough, Khosla argues. "Funding is very, very hard. This is something that researchers at major land-grant universities are not happy about." And although venture capitalists are pouring billions into start-ups, the agricultural industry does very little funding of academic research, he says. That's been Lee's experience. The images from his computer-vision device to track dropped citrus fruit are currently processed afterward in the lab. It could be made to work in real time, he says, but he has not been able to find the funding necessary to take it to the next step. "It's difficult to find private sponsors; they want quick returns."
The agtech holy grail is taking future farmers almost entirely out of the fields. "Will farms be fully autonomous, where farmers sit in an office pushing buttons and watching monitors while robots do all the work?" Lee asks. "Well, that's the ultimate goal. It's not going to happen in the near future. But eventually, yes." In other words, Green Acres meets The Jetsons.
By Thomas K. Grose
Thomas K. Grose is Prism's chief correspondent, based in the United Kingdom.
Design by Nicola Nittoli
Images courtesy of Thinkstock