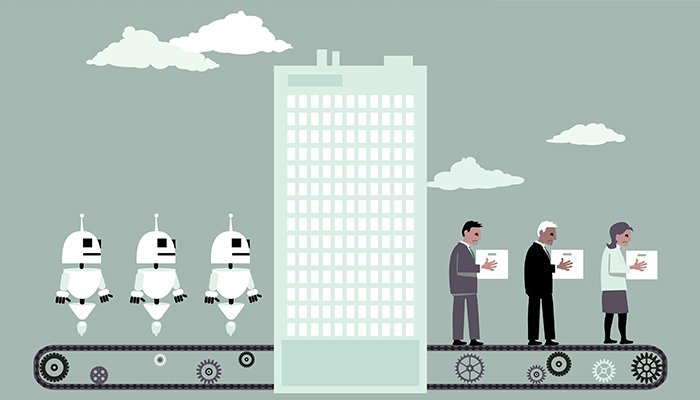 With artificial intelligence putting automation on steroids, more job-market disruption lies ahead. What's the role of educators?
Tomaso Poggio, the physicist who directs MIT's Center for Brains, Minds, and Machines, has for the past few years been building computational models of human brains to better understand human intelligence—ultimately down to the level of the circuitry of each neuron. The overarching purpose of this complex reverse-engineering is to mimic our brains in artificial intelligence (AI) technologies—particularly machine learning, which enables machines to learn on their own when they encounter new information. The goal of research like his is to build machines that are as smart as humans. Poggio believes this feat will be achieved in about 50 years, and he's not altogether thrilled at the prospect. "The point is," he says, "society will replace people with machines, and I am worried about the loss of jobs. It is happening now and will continue to happen at a faster pace. In the next 10 years, I think AI will crush more jobs than it creates."
Poggio's concern reflects the conundrum presented by research on the next generation of industrial technology: While the resulting innovations will bring prosperity in the long run, in the short term they'll bring layoffs. Such fears are supported by evidence. While free trade critics blame globalization for a collapse of America's manufacturing workforce, research shows otherwise. A recent Ball State University study determined that 85 percent of manufacturing job losses were caused by technology, while just 13 percent were lost to trade. But AI, robots, and machine-learning technologies are already moving well beyond the factory floor. Britain's Oxford Martin School predicted in a 2013 study that 47 percent of all U.S. employment is at risk from automation within the next two decades. More recent research by McKinsey & Co. reached similar findings: 45 percent of activities people are paid to perform could be soon be automated. McKinsey's analysts say that, for now, fewer than 5 percent of occupations will likely cease to exist altogether, but some 60 percent of occupations could see a third or more of their activities automated.
Who is at Risk?
"The distinction is not blue- or white-collar jobs, but routine and non-routine jobs. Routine jobs are being automated, both skilled and non-skilled," says Naren Ramakrishnan, a professor of engineering who directs the Discovery Analytics Center at Virginia Tech. Most safe jobs will reside at the extreme ends of the workforce continuum. Engineers, scientists, CEOs, creative types and people with the tech savvy to work with thinking machines will do fine at the top end, where wages are good. Unskilled workers in non-routine jobs will accumulate at the lower end, where wages are, well, lower—think gardeners and healthcare workers. Many middle-income occupations could shrink, including paralegals, telemarketers, and cashiers, as could even such higher-paying positions as lawyers and pilots. Self-driving vehicles will eventually replace many cab, bus, and truck drivers.
History Favors Optimism
Overall, economists say the job losses are worth the pain caused by automation. A white paper released by the Obama White House in December noted that "AI-driven automation will continue to create wealth and expand the American economy in coming years," while adding that "aggressive policy action will be needed to help Americans who are disadvantaged by these changes."
Robots alone are on the way to becoming a $100 billion to $200 billion industry, says Justin Rose, a partner and economist at Boston Consulting Group. These technologies are global forces, he says, "and if the U.S. does not make use of every tool available to be competitive, other countries will." The Harvard Business Review recently reported that China is on a tear to increase its ratio of robots from 36 to 100 per 10,000 manufacturing workers within three years.
Historically, fears about new technologies destroying jobs have proved overblown. While some jobs evaporate, many more are created. Technologies boost productivity and efficiency, which lowers the price of goods and services while raising people's spending power and leisure time. That in turn creates demand for other goods and services, generating new jobs that aren't automated.
"Innovation and technology create many, many more jobs than they destroy," says Howie Choset, a professor of robotics at Carnegie Mellon University and a co-founder of Medrobotics, which produces robots to handle minimally invasive surgeries for routine procedures. Ramakrishnan, at Virginia Tech, adds: "Automation creates new opportunities, often in ways that are difficult to predict." He points to Amazon's automation of shipping operations, which brought down costs and increased demand to such an extent that the company plans to hire 100,000 new workers from engineers to package handlers in the next 18 months. "There will also be jobs that don't exist today," he adds. He predicts, for example, that humans will likely be needed to manage traffic command and control systems once fleets of autonomous cars hit the roads.
But many economists, including Lawrence Summers, the former Treasury secretary, think history may not repeat itself this time. Martin Ford, a futurist at the University of California, Los Angeles business school who wrote Rise of the Robots, says that in the past, new technologies tended to hit one industry at a time, allowing workers to jump from one unskilled job to another. But all industries are computerized now, so more workers will have to make the arduous leap to skilled, tech-heavy jobs.
Multiple Career Shifts
What is becoming clear is that automation will bring more job-market turbulence, winners, and losers. "We are at an inflection point. Our society needs to learn to cope with more and more disruption in traditional jobs," says Boston Consulting's Rose. The future of work will require a lot of job-hopping and retraining, says Choset, who argues that "we are going to have to learn how to handle having a number of jobs over the course of our careers."
Daniel Bliss, an associate professor of electrical and computer engineering at Arizona State University, whose sensors, communication, and signal processing research is helping to propel autonomous car development, contends "we are not doing enough to help the losers." As a result of rapidly increasing computation speed, "humans cannot keep up with the transition," he says.
"We are not ready as a society to cope with automation at the rate at which it's changing. There is also an underestimation of how fluid things are." For instance, Bliss notes, 10 or 15 years ago the job of website developer did not exist, and now is a well-paying career. "But it won't exist in 20 years. Entire careers will pop up, then go away," he predicts, adding that there are no mechanisms to let workers realign themselves to another career every decade. "How do we take 18 months off every 10 years to re-learn?"
The Obama White House report and economists such as Rose point to an expanded role for educational institutions in providing the new, needed skills. The United States currently spends just 0.1 percent of GDP on retraining, an anemic amount compared with most other developed countries. Rose says "we need a new hybrid" education system that teaches students who receive vocational training about their need to be flexible and recognize they may have to retrain every few years.
Lately, the need for retraining and new training at the post-high-school level has drawn increased attention. The National Science Board (NSB) recently heard a presentation entitled "Blue Collar STEM," a name given to "the technical skills and infrastructure required for workers with less than a four-year degree to contribute to and take full advantage of today's economy." Delivered by NSB member Victor McCrary, a chemist and engineer who is vice president for research and economic development at Morgan State University, it cited estimates of 6 million to 13 million workers already in what some call the "hidden" STEM workforce.
In February, the Association of Public and Land-grant Universities (APLU) joined forces with the National Center for Manufacturing Sciences and Lightweight Innovations for Tomorrow (LIFT), a public-private enterprise in Detroit that works to develop and deploy advanced lightweight metal manufacturing technologies, to create a six-member team of academic researchers charged with finding ways for colleges to change their curricula to better keep up with rapid innovations in manufacturing. "The idea is to get ahead of the curve of emerging technologies before they're fully deployed," says James Woodell, an APLU vice president.
The new work world is also starting to reshape the content of undergraduate degrees. For instance, because of the growing "datafication" of all fields, Ramakrishnan says, he's helped Virginia Tech introduce a data component to a range of subjects—from history to mechanical engineering—to help students learn to how to put to use growing volumes of data in their chosen careers.
Since mid-career retraining requires time and money, some see a universal basic income as a way to provide a financial cushion to those who seek to gain new skills. Bliss initially thought it was a "silly idea," but now says that if it allows more people to retrain and re-enter the labor force, it may be worth trying, "because people want to work." But at some future point, work itself may no longer be an option. "There is every reason to believe," Bliss says, "that machines will eventually do all the things humans now do. There are no barriers to machine intelligence."
How we deal with that, Poggio says, will be "a question of social engineering and politics," not science and technology. Is he right, or should engineers have a role in planning a work-free tomorrow?
By Thomas K. Grose
Thomas K. Grose is Prism's chief correspondent, based in the United Kingdom.
Design by Michelle Bersabal