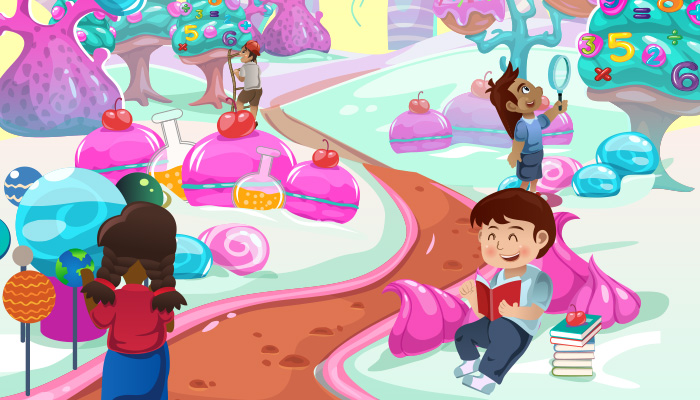 Looking for a way to motivate and engage students? Research confirms that candy is dandy.
It's standing room only, and a crush has formed at the door as David Saftner launches his presentation with a pop quiz about Ohio. With the zest of a game show host, he challenges the crowd to identify which "essential items," from lightbulbs to pop-top cans to Milky Way bars, were invented there, tossing out puns along with packs of Lifesavers and other treats for nailing the answers. Trivia night at some Buckeye bar, perhaps? Try ASEE's Annual Conference in Columbus this past June and a session entitled "Let's Get Pumped: Innovative Approaches for Better Student Engagement," which featured a serious study by Saftner and two other engineering educators of whether candy was a motivator or distraction to learning.
Their hands-down conclusion: "Students like candy in the classroom," sums up Saftner, department head and associate professor of civil engineering at the University of Minnesota, Duluth. In fact, he and coauthors Tonya Lynn Nilsson, a senior lecturer in civil engineering at Santa Clara University, and Camilla Saviz, professor and chair of civil engineering at the University of the Pacific, couldn't find a single undergraduate among the 96 surveyed in four diverse universities who found sweets distracting. While one felt candy was "unprofessional," all were neutral to positive about its use. "Engineering classes are typically grueling and not fun experiences," a student explained. "Having candy lightens the mood and makes dealing with difficult material easier to bear." Students and faculty also noticed that candy encouraged typically silent students to ask questions and participate. Some respondents feared the survey might signal an administrative move to scuttle the Skittles. As one demanded: "Who's bashing candy?"
Such findings are far from frivolous. As the researchers observe, social media, cellphones, Candy Crush, exam worries, and a host of other distractions compete for students' attention and thus "can pose significant challenges for instructors." Active learning methods, such as directed questions and responses, help the class maintain focus. Apparently, so do humor and engagement—as this study quantifies.
Chewing on the Idea
The Candy Land research project was motivated by a desire to help young faculty try unconventional but effective teaching techniques without fear of seeming silly, explains Nilsson. All three engineering educators had learned and refined their sugar-enhanced, instructor-directed questioning strategies at the ExCEEd Worksop, an intense, six-day practicum for faculty put on by the American Society of Civil Engineers each year. Saviz remembers Stephen Ressler, the recently retired chair of civil and mechanical engineering at the U.S. Military Academy and an ASEE Fellow, demonstrating the technique by handing out Starbursts for "startling bursts of insight" and Fig Newton cookies for challenging problems that require deep thought. Back on campus, however, "we were getting weird looks for doing this," recalls Saftner, a student of Ressler's at West Point, who sees candy as a great way to build rapport and give positive feedback.
While there's robust evidence on the benefits of engaging students, "there's not a lot on specific tools of the trade," notes Nilsson. The researchers wondered: Is "having fun" relevant to learning engineering? Can humor or candy spur deeper thinking? Or will students view the practice as unprofessional or distracting and take the class—or professor—less seriously? Will colleagues frown on the use of candy in the classroom? By addressing these important questions, the researchers sought to provide ammunition for junior faculty to quell derision and promote teaching practices they've found both effective and enjoyable.
"Each of us has a strong emphasis on professionalism in the classroom, but professionalism doesn't mean dry or rigid," says Nilsson. "I set high standards for my students, and this is a way to lighten the load and convey a sense of fun about what engineers do and how much we enjoy what we do." Saftner concurs: "I don't view my job as a slog." Rigor is important, he underscores, but "there's no reason to go into the classroom and be dour or authoritarian."
Ressler agrees. "Candy is just one of many tools to break down barriers and establish that questions are fun," he says. "It's a way of reinforcing a pedagogy of engagement."
Instructors can boost engagement without candy, of course. But there are "selfish reasons" for embracing its use. "I feed off their energy," says Nilsson, noting how the job becomes more enjoyable when you're not the only one in the room who is excited or you're not engaging just the "spring butt" students. "And they come to class!" Time flies when Saftner gets on a (Tootsie) roll. Students wonder, "Wow, class is over already?"
As with any teaching tool, effectiveness depends on appropriate use. The Candy Land study offers practical tips—and punny examples. Some notable takeaways:
DON'T . . .
Overdo it. "Never use candy as a routine tool," warns Ressler. "It will get overdone pretty quickly." The researchers caution against walking around the classroom like a talk show host, lavishing gum drops for "easy answers" or trivial comments. "You don't want to break up the flow" of discussion, says Saviz, who warns that students will reject trophies for participation. "It's like bringing cookies to the department meeting," adds Nilsson. "If all you're doing is bringing cookies, it wears thin pretty quickly." Beware, too, of students dawdling over problems or asking a lot of questions to keep the Gushers flowing.
Dish out candy randomly. "You have to have a plan," says Ressler, who establishes the rules—such as giving advanced students a chance to shine by requiring a raised hand to win a "Newton question"—along with the Q&A format from day one. "The technique has to be tied to the pedagogy."
Insult people. Resist the urge to dispense Dum Dum lollipops, even to make a self-deprecating joke. Avoid making puns about sex, religion, or politics. And never eat the candy yourself—unless you also boost your exercise regimen.
Fret over candy type. Students often are more excited about the recognition than the reward. West Point's Ressler, for example, discovered his students gave away or left Fig Newtons on their desks after class—though they fought with gusto to win them. Some candy is seasonal; Saviz, for example, could only find mini PayDay bars at Halloween.
DO . . .
Dispense sweets "as part of a larger rapport-building exercise," recommends Saftner. And start recognizing students early, promising "fame and fortune" to those who help hand out syllabi during the first class, for example. Try making an intentional mistake on the board and giving someone who spots it a pack of Lifesavers. (The little ones work best, so stock up at Halloween).
Recognize students individually and for shared effort. Distribute one piece per team member. Thank students by name or add a "well done" for helping. "This is a generation so fearful of being wrong," notes Nilsson, that such personalized recognition can encourage speaking up in class. Also look for opportunities to distribute the wealth, particularly among quiet students, or as a reward when a typically noncompliant student answers a question.
Indulge in wordplay. Sharp answer? Hand out Smarties. Periodically, distribute in sets of two or three that the winner can share to become a "hero" among peers. (Starbursts are particularly effective for this.) Nilsson's favorite reward is a Hershey's "Nugget of knowledge." Other examples include Gummy bears (beary good job), Grapeheads (grape answer), Almond Joy (we need some joy today), Raisinettes or raisins (raisin' the bar), and Jolly Ranchers (jolly good answer).
Use candy to demonstrate engineering principles. Twizzlers licorice offer a great way to show tension, compression, torsion, and column buckling based on material and geometric properties, while marshmallows illustrate Poisson's Ratio. M&M's versus Whoppers can demonstrate soil packing and pore spaces. Have extra on hand, in case the candy breaks or gets gobbled before the demonstration. Better yet, give out two pieces of licorice, one to explore column-buckling shapes, the other to eat.
Heed possible dietary constraints. Some students may be allergic to nuts or chocolate. Vegetarians may object to the presence of animal-based gelatin. Consider other types of treats, such as rulers or stickers.
Manage supplies—and budgets. Candy can get stale and melt. Store it in an airtight container, and check supplies periodically. Use individually wrapped or packaged candy or cookies, not loose—and take it to class in a resealable bag, lunchbox, or other container to avoid spills. How to pay for all those 100 Grand Bars? Saftner's soil mechanics course has a lab fee that covers $50 per semester of "consumables"—which is "money well spent," he says. It's part of a schoolwide initiative to increase active learning.
Above all, urge the Candy Land authors, be yourself and have fun in class. Rather than trying to copy another professor or put on a dog and pony show, which will ring hollow, find a style that work for you. "I'm terrible at puns," confesses Nilsson, who sticks to the handful she can pull off. The students groan but appreciate the effort, she says. By contrast, Saviz "cannot tell a joke. It comes across as flat," and she constantly forgets the punchline or starts laughing. "But puns are supereasy." Ultimately, every groaner and blackboard mistake establishes the instructor's humanity—and builds a sense of trust in the classroom. Saviz, who teaches a course in water resources that can be "very dry," says that donning the professor's hat can be uncomfortable. "My goal is to be more interesting than this," she says, and holds up a smartphone. Her students are surely grapeful.
By Mary Lord
Mary Lord is deputy editor of Prism.
Design by Nicola Nittoli