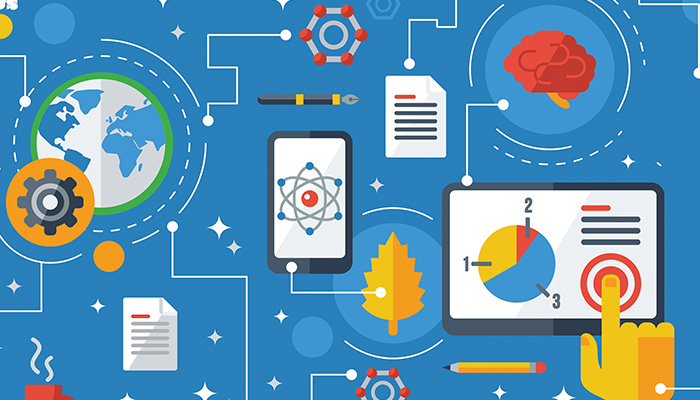 Courses in financial planning, job-search strategies, and other life skills help ease the transition from campus to profession.
As an industrial engineering major at the University of Illinois, Chicago, Ashley Pimentel knew her postgraduation job prospects were promising. But how to find the right job? Not so much. "It's really difficult because you don't know what kind of jobs you're qualified for," she says.
That changed soon after she started to take Life After University, a final semester career and life-skills course developed and taught by Houshang Darabi, a UIC associate professor of industrial engineering and computer science. Among other things, Pimentel learned the nuances that can make all the difference in a job search, such as keywords for specific mechanical engineering abilities sought by employers. The knowledge ultimately helped her land a position at machining manufacturer Microlution in Chicago, where she now works as a process engineer.
UIC's three-year-old class is one of several professional development initiatives cropping up at engineering schools across the country. These programs, which range from workshops to credit-bearing coursework on everything from résumé writing to decision making to financial planning, provide guidance to ease the transition from campus to workplace. And instead of the typical 11th-hour career center visit, the coaching begins well before job panic sets in during senior year.
Nuts and Bolts
While skills taught in the classroom help students become competent engineers, they don't necessarily equip them for careers, says Sheri Sheppard, a Stanford University mechanical engineering professor and principal investigator on a National Science Foundation grant that's examining how engineering students perceive their professional options. "[Career] questions are not addressed systematically through faculty," she notes. "One would hope they would get answers through career development centers, but that's not always the case."
Given engineering's 95-plus percent job placement rate, why do undergraduates even need career advice? "There's a tremendous difference between getting a job and pursuing a career," explains Frank Falcone, director of Villanova University College of Engineering's new Career Compass, a multipronged professional development program that spans all four undergraduate years. And as engineering endeavors to become more multidisciplinary, interpersonal skills are more important than ever. By weaving career coaching into the standard curriculum, Falcone says, "We're not just building an engineer; we're creating a professional person."
Faced with multiple job offers, most graduates default to the one that pays the most. In Life After University, UIC's Darabi urges students to instead reflect on what they want out of a career and set goals accordingly, rather than leap to the highest bidder. "We tell them what they need before they graduate, from the first day of their job," he says. "Sometimes it takes five years for them to figure out they have to have a plan and they've already missed out on opportunities."
At their most basic, these programs aim to teach students the nuts and bolts of job hunting in the digital era. "In some ways, the Internet gives you access to people and connections in a way that didn't exist before," Sheppard says. "But how do you really use those tools?" In a workshop at James Madison University in Harrisonburg, Va., panels of students sought to answer that question recently by sharing advice on the effective use of LinkedIn. The effort is part of the school's new Engineering Career Clinic. The engineering department now is considering turning the workshops into a series geared toward each year of undergraduate studies.
In the first module of his weekly UIC course, which the mechanical and industrial engineering department recently decided to require of all seniors, Darabi and his teaching assistants work with students to develop their résumés and cover letters. They also coach them on interviewing techniques, elevator pitches, networking, and how best to leverage sites like LinkedIn. Students must apply to a minimum of 10 jobs per week. To understand the skills and qualifications sought for mechanical and industrial engineers, Darabi and his team used data analytics to mine job postings so majors could be sure to acquire those talents and traits. The course also hones such practical techniques as looking for keywords specific to majors and creating an Excel cheat sheet that lists the technical skills learned in each engineering course for easy reference in job interviews. Students are required to participate in mock interviews, which are recorded and critiqued, as well as track their job-hunt results every week until they receive an offer. There's also a decision-making tool on how to weigh multiple job offers using such factors as location and work-life balance, and a lecture that covers negotiation, with up-to-date salary offers and placement statistics for each major.
Mind the Gap
Driving much of these efforts is the increasing premium that employers place on critical thinking, communication, leadership, and other professional skills. Technical proficiency—the focus of most coursework—is a given. So is the ability to apply it across multiple fields. The result: a growing gap between industry's perceived needs and what academia delivers. For example, a survey cited in a 2016 National Academies workshop on developing a STEM workforce strategy found that 96 percent of educators believed they were graduating workplace-ready students, but only 11 percent of U.S. employers found that was the case.
That disconnect was the impetus behind Villanova's new Career Compass, which starts on Day 1 and runs through graduation. The program has four modules—learning about the engineering profession, setting the stage for personal success, postgraduation planning, and communication in the 21st century—delivered through a variety of formats. These include online videos and quizzes, professional events, and in-person workshops with topics ranging from team dynamics to ethical behavior.
Starting in sophomore year, students are paired with alumni mentors whom they're required to e-mail at least three times per semester, with the aim of fostering long-lasting professional relationships. Though the program is only in its second year, sophomore computer engineering major Jared Rymsza says that "it's certainly started me thinking about my career path a lot earlier than expected." His mentor, who works in video gaming, has been particularly helpful in evaluating his options down the road, he adds, and "definitely opened my eyes when choosing classes."
For Rymsza and his peers, career pathways are no longer as clear cut as in previous generations, when earning an engineering degree meant "you'd spend the next 50 years doing engineering," notes Villanova's Falcone. "These days, it's less about designing than it is about leading, managing, creating, and innovating." That's largely due to automation. As a civil engineer, for instance, Falcone once worked on a nuclear power plant design team. "We designed every floor slab," he recalls. But now, "the computer does all that."
Another difference is that few companies have the budget or bandwidth to train new grads and expect recruits to surge out of the starting gate. To front-load training, the Engineering and Construction Contracting Association, an industry group, is working with Villanova and other schools to develop project management coursework, which will make up the fourth-year Career Compass unit. "By going through this adjunct curriculum, students start zeroing in on what they like to do earlier rather than find out once they hit the working world," says ECC advisory board member Steve Cabano, CEO of management consulting firm Pathfinder.
Many of these programs also are recognizing the role that personal finance can play in career trajectories. At Rose-Hulman Institute of Technology in Terre Haute, Ind., for instance, the alumni relations office organizes a workshop each spring on personal finance, covering topics such as moving to a new community, buying a car, and buying a house versus renting. Stanford now offers all undergraduates a workshop called Designing Your Life, which prompts them to consider their personal priorities beyond graduation—from whether to own a pet to what constitutes a meaningful life.
The financial component is "very important from Day 1," UIC's Darabi says, lamenting how even after several years many graduates "cannot buy a house because loans are disabling them." Indeed, those with student loans carry an average debt of $30,100, according to Ohio State University's latest Collegiate Financial Wellness Study. The same survey, administered in 2017 to more than 270,000 undergraduates on 90 campuses, found many stressed over finances. Darabi's course features panels of industry professionals speaking on the importance of financial planning, as well as a software interface designed to map out the effects of various decisions and life events, such as losing a job.
Ultimately, Darabi asks students to fill out an Excel spreadsheet that itemizes every postgraduation expense—including loans, housing costs, insurance, and retirement contributions—and come up with a three-year budget plan. His point: A $60,000 salary doesn't stretch as far as some undergraduates assume. The spreadsheet is particularly important for those from low-income families. "The main goal here is to try to push these families into the middle class, and that's not going to happen unless we teach these students about financial planning," says Darabi, who also stresses saving early and investing boldly. "If you don't, you lose that window."
As for impact, Darabi's analysis revealed that many more students who took his course had at least one job offer immediately upon finishing the semester compared with those who did not. Twice as many (54 percent) were participating in mentoring programs at work, and nearly 4 in 5 had continued their education and obtained a certificate, versus 29 percent for non-course-takers. Course completers also were far more apt to have updated their résumés and to be following their long-range financial plans.
Darabi's UIC colleagues are impressed. More than a few asked for his spreadsheet after he presented his financial module at a faculty retreat. Pimentel recalls that some of her classmates "didn't want to face reality," but she thought the course "was the best thing in the world because it's exactly what you need to do when you get out of school." She's now in the process of buying a condo—a position she would never have been in without Life After University.
By Margaret Loftus
Freelance writer Margaret Loftus, based in Charleston, S.C., is a frequent contributor to Prism.
Design by Nicola Nittoli