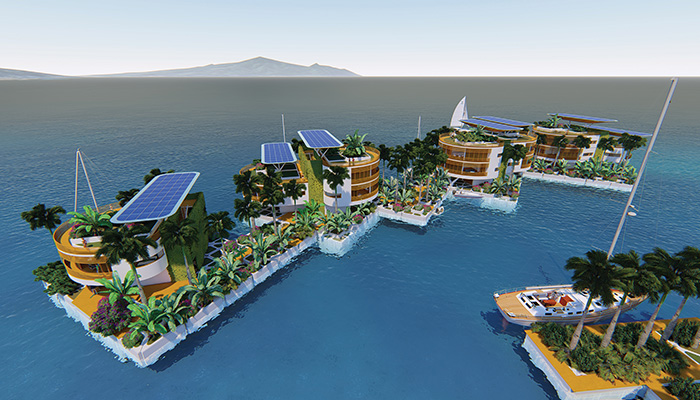 A floating utopia (engineering details still to come) promises relief from climate change and ineffective government.
Papeete, Tahiti —With its erstwhile support from a Silicon Valley billionaire, crowdfunding campaign, and YouTube channel, the $60 million plan to float a settlement in a turquoise lagoon here puts out a postmillennial, high-tech vibe. Yet even as it adds "aquapreneur" to the start-up lexicon, the Floating Island Project invokes a history of breakaway waterborne societies stretching back to ancient Greece and the rise of Venice: It aims to be the first step in a worldwide creation of autonomous, sustainable, human habitats on the sea.
That audacious vision—a bring-your-own-land retort to central governments—has gelled into a design for 12 connected platforms south of this tropical French Polynesian capital, mentioned in works by Robert Louis Stevenson and Crosby, Stills & Nash, and in the classic surfer film The Endless Summer. Approved by the French Polynesian government as a special economic zone, it anticipates opening with up to 300 residents in 2020.
Floating infrastructure isn't new. There are floating runways, beaches, bridges, roads, cruise ship piers, fish farms, and solar farms. But a floating community of homes, labs, and small companies is unprecedented, says Marc Collins, a former French Polynesia tourism minister. He is now managing director of Blue Frontiers, the Singapore-based start-up that is developing the project. "It's massive on the engineering side. No one has ever put together anything like this before," he says. Whether Blue Frontiers is up to the challenge—even if it can raise the money needed—is still a big question mark. Apart from architectural renderings, much of what the floating islands entail from a technical standpoint remains a work in progress.
'This Isn't a Dream'
Besides its utopian appeal as a self-governing entity, the floating island project presents itself as an environmental safety valve. As rising sea levels eat away at coastlines and urban quarters become cramped, finding living space in the 70 percent of Earth covered by water is a solution whose time has come, the project's supporters say. "We must create space at sea," Wang Chien Ming, a structural and civil engineer at University of Queensland in Australia, told a conference of sea-steading enthusiasts here last May: "This isn't a dream; it can be a reality. I believe all of us will embrace floating structures eventually."
Sea-steading began drawing wide attention in 2008, when PayPal cofounder Peter Thiel put up $1.7 million to help launch the California-based Seasteading Institute and promote development of civilizations on oceans. The big idea: to create more "conscious" and "balanced" settlements at sea where humans can peacefully coexist with the environment and each other. Thiel, an outspoken libertarian who backed Donald Trump for the presidency, is known for risky investments that in some cases—Facebook, Airbnb, SpaceX, and Lyft, among them—have succeeded spectacularly. In a 2009 article in a Cato Institute publication, Thiel wrote of sea-steading, "the technology involved is more tentative than the Internet, but much more realistic than space travel. We may have reached the stage at which it is economically feasible, or where it soon will be feasible."
The institute failed to make headway with a 2010 San Francisco Bay prototype, and Thiel appears to have soured on the floating islands idea. "They're not quite feasible from an engineering perspective," Thiel told New York Times columnist Maureen Dowd last year. "That's still very far in the future." The institute pushed forward, however, and picked up momentum under a new president, Joe Quirk. With institute cofounder Patri Friedman, a former Google computer engineer, Quirk wrote Seasteading: How Floating Nations Will Restore the Environment, Enrich the Poor, Cure the Sick, and Liberate Humanity From Politicians. In a video on the origins of the Floating Island Project, Quirk cited antecedents among the thousand islands of ancient Greece, each with its own political system, and Venice, "a startup society, founded on the water, which was among the kingless self-governing city-states that kicked off the Italian Renaissance."
The institute considered French Polynesia ideal not only for its climate and protective reefs but for its many metropolitan attributes, including infrastructure, institutions, qualified professionals, and Internet connectivity. Pacific island leaders have been among the most vociferous in warning of the impact of climate change. The islands of French Polynesia are already feeling the effects of changing precipitation patterns, intensification of storms, and ocean acidification. Their coral reefs, among the most studied in the world, are at risk of bleaching due to rising concentrations of carbon dioxide in the atmosphere. Blue Frontiers says its project offers hope to those whose land is lost to rising seas.
The French Polynesian government stipulated that the new SeaZone be environmentally friendly and economically beneficial to the region. One other caveat: No French Polynesian tax revenue would be used to fund the project. The government signed off on impact studies late last year.
'Start Small and Grow'
"Our project tries to be very pragmatic. The reality is start small and grow organically," says another Blue Frontiers managing director, Randy Hencken. He envisions a time when artificial islands will support population centers like San Francisco, Seattle, and Amsterdam. "We don't have to invent anything that hasn't been invented before. We just have to integrate in ways that haven't been integrated before. Look at the cellphone 20 years ago. Only the wealthy had these big clunky machines. Now, everyone in Africa has a little cellphone for pennies. It's doable."
The island prototype is shaped like a traditional fishhook in homage to Polynesian culture. The largest platforms would measure 25 by 25 square meters with the entire surface area comprising roughly 7,500 square meters (about 81,000 square feet). The design is the work of Netherlands-based architect Bart Roeffen, a co-founder of Blue21, which specializes in floating structures and developments. One of Roeffen's driving considerations: that the island not disrupt the mana or "spirit" of its surroundings. "The project should be a recognizable entity but at the same time blend in with the beautiful surroundings," he says.
Blue Frontiers hasn't selected an engineering firm yet, and its promotional materials offer little in the way of specifications. Egor Ryjikov, listed as vice president for engineering, provides no educational qualifications on his LinkedIn page. However, the firm has enlisted François Briant, a French-trained engineer and architect based in French Polynesia, as an adviser. He is influenced by biomimicry—deriving innovative solutions by studying how systems work in nature. "Our goal is to optimize space using nature as an inspiration to reduce shapes and also to combine many nature-inspired functions as they most of the time provide very efficient results combined with aesthetics and beauty," he says. Briant has designed windows that capture and direct air flows for optimum cooling and humidity levels, essentially creating natural ventilation. "Our design," he adds, "will be delivering these functions with expected lower operational costs, including energy consumption and maintenance."
The design calls for the basic structure beneath the island platforms to be built with concrete formulated to last centuries in the seawater, reinforced either by marine-grade stainless steel or a composite. Roman concrete, Roeffen says, is "an inspiration for us and many engineers today. Volcanic deposits that the Romans used were found to help increase the durability of the concrete. And there's another benefit," he adds. "It could substantially reduce the amount of conventional cement in the concrete mix. It is certainly something we are looking into since the islands of French Polynesia originated from volcanic activity."
The design also addresses fundamentals like waste, electricity, heating and cooling, and water. Solar power will serve a wide variety of purposes, including lighting, refrigeration, washing, food prep, wastewater purification, and pumping, according to the plan. Aesthetically pleasing green roofs, prominent in the design, will contribute to the water treatment cycle and also absorb human waste nutrients. Additionally, the floating island will be monitored around the clock for any environmental impacts with the use of remotely operated underwater drones and sensors.
Merging Disciplines
Claire Weisz, a cofounder of WXY Architecture in New York and co-editor of Blue Dunes: Climate Change by Design, is not involved in Blue Frontiers but sounds encouraged by the concept. She says projects like this one present engineers and other professionals with the opportunity to redefine what they do and how they do it.
"In our contemporary culture, we're looking for one-size-fits-all, a single solution. We have to change that mind-set," she observes. "We need to start thinking about moving from a world where scientists are in one box, architects are in another box, and engineers are in still another box, to a world where we are breaking down those walls and we are able to work collaboratively with each other and each other's tools. There are opportunities here to adapt and create."
Ocean engineer Philip Orton, a research professor at Stevens Institute of Technology's Davidson Laboratory in Hoboken, N.J., who is also not involved with Blue Frontiers, is intrigued but skeptical. He says that people have long wanted to survive on the ocean but that there have always been barriers—maintenance, power, and food production chief among them.
"This has the potential to further all that," says Orton, but he wonders about the scientific and engineering qualifications of the team.
"It's all hidden under the hood right now. If I was an investor, I'd go in with a great deal of skepticism. There's no government funding, so there's no paper trail of reports. Peer-reviewed reports, like it or not, are a strong basis for science," Orton says. "It's a cool visionary idea but I don't feel like they're solving the problem. Creating something that will be a boutique small-scale solution doesn't really help. If you don't have a business model able to handle millions of people, then you're just sort of creating vacation homes for the wealthy."
Hencken begs to differ. The 100 people from 17 countries who attended a sea-steading conference in Tahiti last May didn't come for a hyped-up idea, he asserts. "Will we get it perfect in the first round? We'll certainly try," says Hencken. And with French Polynesia threatened by loss of up to 30 percent of its land in extreme climate-change scenarios, he says Blue Frontiers has a mandate. "When you want to do something audacious like this, it requires persistence, perseverance, and passion. If we're successful, financially viable, and environmentally sustainable, that will attract people. We will go from 200 to 1,000 to 10,000 people. They will come."
Next Steps
After a New York Times report on Blue Frontiers last November, Hencken got a slew of e-mail from people interested in becoming the island's first inhabitants: a chef, an anthropologist, a hydrologist, a plumber, a marine biologist, and a documentarian, among others.
A lot is still unclear—like how much it will cost to live on the island or what the selection process for residents will even look like. Blue Frontiers says it wants to attract a wide range of people including researchers, students, couples, young professionals, business owners, and families. The design calls for apartments, bungalows, and private villas as well as research facilities, communal space, a high-end restaurant, 30-room lodge, beach, and areas for food production.
Hencken says Blue Frontiers has held town hall meetings and set up a local Facebook page. "We are all about transparency. Our project hinges on having good relationships with locals," he insists. Coming soon: a list of organizations that will partner with Blue Frontiers.
Based on details provided by Blue Frontiers so far, some Papeete locals are apprehensive. One is Manava Dupre, an archaeology-trained eco-tour guide, who worries that the floating island will be elitist and possibly corrupt. "Question everything," he advises. "For someone who can't afford a bag of rice, is that a good thing? No. This isn't for the people of French Polynesia; it's for them." Gerald Mingo, an entertainment producer here, says, "We French Polynesians are used to hearing people talking, talking, talking—and nothing ever happens. I've seen their nice architectural drawings but that's not enough. It's still too much of a mystery."
Mingo worries about the project's impact on what is still a tropical haven. "This is like Hawaii was 100 years ago and we want to keep it that way," he says. His comment leads back to the question posed by sea-steaders: Where can you go if paradise is lost?
By Ellen Uzelac
Ellen Uzelac is a Maryland-based travel writer and former correspondent for the Baltimore Sun.
Design by Nicola Nittoli