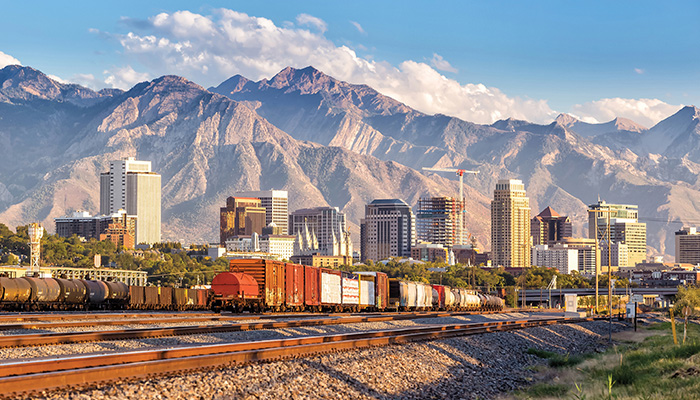 ASEE's 125th Annual Conference and Exposition, beckons explorers of all stripes with spectacular scenery, soaring spires, cool cuisine, and friendly people.
The first surprise that greets visitors to downtown Salt Lake City is the prodigious width of its thoroughfares and distance between intersections. Each block measures 10 square acres—the largest of any American city—so "just up the road" can mean a 20-minute walk. That's because Utah's capital originally was plotted in 1847 to accommodate homesteading Mormon families on farms of sufficient size. Founder Brigham Young, who led the settlers through the desert to escape persecution and served as the second president of the Church of Jesus Christ of Latter-day Saints (LDS Church) as well as the territory's first governor, famously designed the streets so drivers could turn around their oxen carts "without resorting to profanity."
Though cars have replaced covered wagons, the city remains surprisingly easy to navigate thanks to its well-regarded public transportation system. Equally remarkable is the abundance of fascinating things to see and do—from history to hiking to home brew—in this center of Mormon faith and culture. Blocks once devoted to single-family farms now brim with pioneering restaurants, subterranean speakeasies, a vibrant music and arts scene, and unique museums, such as the Family History Library, the world's largest genealogical repository, with staffers ready to help trace your roots. The city also has grown more diverse: Fewer than half the residents belong to the LDS Church, and there are sizable communities of transplants from Latin America, Bosnia, Sri Lanka, and the Pacific island nations of Tonga and Samoa.
All maintain SLC's proud tradition of welcoming visitors to the "Crossroads of the West" with smiles as wide as its streets.
Heart of Town
Temple Square, home of the Mormon Tabernacle and headquarters of the Church of Latter-day Saints, forms Salt Lake City's geographical core—literally. All streets reference their distance from the fountain-filled gardens and soaring spires that occupy the center of the grid. Thus, the first street south of the square is 100 South, three blocks east of the square is 300 East, and so forth. "They wanted you to know just how far you were from God at any given point," jokes Laura Podratz, an adjunct professor of geography and geology at Westminster College and Salt Lake Community College. "But seriously, I identify with the beehive sentiment they have here. There really is a sense of industriousness and cohesive teamwork that I relate to, even though I'm not religious."
A stroll around the picturesque grounds makes for a memorable excursion any time of the day or night. For the full Temple Square experience, catch a rehearsal or performance of the world-famous Mormon Tabernacle Choir. The choir holds an open practice on Thursdays from 7:30 p.m. to 9:30 p.m., and fans can stop in and listen for any length of time. (During the summer, rehearsals move from the Tabernacle to the Conference Center.) Sunday performances also are open to the public.
Campus Buzz
Reminders of Utah's nickname—the Beehive State—crop up on virtually every corner. Highway signs are shaped like hives, and there are beehive shapes in the sidewalks. At day's end, the Beerhive Pub (128 S Main St.) will welcome you for a drink.
That buzz of enterprise—the University of Utah was ranked No. 1 for entrepreneurship programs last year—appeals to many engineers, especially those at the U, as the state's flagship institution is known locally. The College of Engineering is known as much for the diversity of its programs as for its notable contributions to the field. Edwin Catmull, Pixar's founder, honed his graphics chops in the U's computer science labs. The world's first implanted artificial heart was invented there, as were the Frisbees that students toss around the quad between classes. The university also boasts the country's only chemical engineering maker space, an 840-square-foot chemistry lab that also contains machining tools and an electrical and sensor bench. The lab recently made up 150 sensors that it will distribute across the city to create an urban air-quality heat map.
Another signature space is the new Lassonde Entrepreneur Institute dorm. While hosted by the business school, the living-learning community is open to students from all disciplines, including engineering and fine arts. The first floor is a massive maker space, complete with tool vending machines, business development advisers, and legal services offices. All other floors are living spaces where entrepreneurial-minded students can crash after a day of brainstorming start-up ideas.
The campus also houses several exceptional museums. At the Natural History Museum of Utah, a state-university partnership, visitors walk over, under, and through fully completed dinosaur skeletons in dynamic poses. The researchers also are on display, viewable in their labs as they meticulously separate soil from fossils. There's more to experience than old bones, however. This summer, the museum will feature an exhibit on the living machines that are animals, explaining how crocodile jaws work, for example, and how a giraffe's heart can pump blood to great heights. Engineers interested in biomimicry will not want to miss this!
Right next door is the Red Butte Garden and Arboretum, perfect for a stroll. Among the artistic and winding paths are the unexpectedly beautiful and hardy plants and animals that call the inhospitable desert home. Most startling (and for some, frightening) is the children's garden riddled with snakes, where kids can frolic in water fountains that erupt from the mouths of six rattlesnakes and play hide-and-seek through the fanged mouth and gullet of a giant topiary serpent. Signs warn that visitors may encounter real snakes, too, and what to do if they spot one. (Hint: Don't pick it up.)
Science as Art
Off campus, the Leonardo is an absolute must for anyone with a thirst for adventure and innovation. A hands-on tribute to the quintessential Renaissance man, the museum is tremendous fun for kids and adults alike. There are sections devoted to painting and digital art, scientific inquiry, and building. Vats of Legos await eager fingers, right next to a mini "Tech Takeapart" space with its own in-house engineer named Bruce. Visitors can bring in defunct machines to deconstruct, and "Bruce will tell you what you are looking at and [point out] ways to make it better," says Adam Cameron, a 19-year-old educator in the engineering lab. Beyond hosting interactive exhibits, the museum is stunning visually. The ceiling features an immersive 3-D structure called the Hylozoic Veil by architect and artist Philip Beesley. A play on the interaction of life and technology, its floating, glassy, featherlike components are moved and weighted by ozone-trapping oils in flasks—a visual ode to biology and geometry, Venus flytrap and robot, art and science.
Call of the Wild
With the Wasatch Range just up the road, and biking, hiking, and canyoneering just minutes from downtown, Salt Lake City is a hub of the Great Outdoors. While most of ASEE's Annual Conference and Exposition will take place in the Salt Palace Convention Center, there is ample opportunity to connect with nature, particularly if you plan to arrive early or stay afterwards. Some of the country's most iconic national parks—Yellowstone, Zion, and Bryce Canyon, with its oddly eroded pillars of rock called hoodoos—lie less than a five hours' drive north.
The Bonneville Salt Flats, the stunning remnants of ancient Lake Bonneville, are a 90-minute drive to the west on Interstate 80. The salted desert stretches for miles in every direction, a warm field of perpetual winter created by a crust of white crystals. The Bureau of Land Management has designated the fragile flats an "Area of Critical Environmental Concern," so visitors should stick to main roads.
Closer to the city, Stansbury Island is a 30-minute drive and offers camping, hiking, mountain biking, and dark-sky stargazing. There are two areas with petroglyphs that some believe were made by ancestors of the Goshute people. The stone carvings require a hike and the bugs can get bad in summer—but visitors swear the peek into the past is worth it.
Can't head for the wilderness? Catch an outdoor concert at Gallivan Center, two blocks east of the Salt Palace. On Monday, the Utah Symphony serenades the public with "Symphony Under the Stars." Tuesday is Big Band Dance Night; if you haven't walked too many miles in between conference sessions, put your dancing shoes on for some swing. Wednesday nights feature Salt City Sounds—usually a local rock or rap band.
Just one mile from the Convention Center, City Creek Canyon trail provides the perfect place to catch a breath of fresh air between conference sessions. Three of its five miles of trails follow City Creek itself. One path eventually leads to a wilderness sanctuary in the north corner of Memory Grove Park, which features a meditation temple and memorials to Utahans who lost their lives to war. The state capitol building, with its sweeping views, is a quick, but steep, climb from the park.
The capitol building itself is the recent beneficiary of a great feat of engineering: retrofitting it with seismic shock absorbers. "Geologists think that a major earthquake is overdue in Salt Lake City," explains Westminster College's Podratz, and the building sits almost directly on the Wasatch Fault. The state worked with local firms in 2004 to help retrofit the capitol in preparation for a magnitude-7.3 earthquake. The $260 million renovation, the first of its kind, entailed removing and replacing the capitol's entire foundation and installing a base isolation system. "When I toured the project, saw its scale, and learned of its cost, I asked whether it would have been less trouble and expense to knock it down and rebuild it from scratch," says Richard Brown, dean of the University of Utah's College of Engineering. But it turned out that many components of the historic structure could not be recreated today; for example, the 24 monolithic, Ionic-style marble columns that line the interior were turned from solid marble using tools that no longer exist. "They eventually tracked down the original lathe used to carve the columns, but it was rusted out somewhere in Georgia." Brown adds.
Getting Around
Because of the city's wide-open spaces, it can be deceptively hard to walk everywhere. If you do, you'll be treated to scenic views—and definitely make your step count for the day! Otherwise, consider renting a car, especially if you wish to make the trek to Park City—or any of the other Utah ski resorts that offer summer entertainment, such as wildflower hikes, scenic chair lift rides, and zip-lining.
Within Salt Lake itself, the TRAX light-rail system is the easiest way to get around, and there also are plenty of bus lines. Most of the downtown area is blocked into a fare-free zone, so conference-goers can hop on and off at leisure. For the more fitness-minded, the GREENbike SLC bike-share system lets you pedal throughout the city for $5 per day.
Eat, Drink, and Be Merry
SLC is a foodie paradise, full of tempting fare that is fresh, local, and often unique.
Eva's Bakery should be the first stop for those who need a kick of sugar to jump-start their morning. The pastries at this traditional French boulangerie are to die for, particularly its specialty, the kouign-amann (pronounced QUEEN-ah-mahn). These caramelized vanilla bean croissants take a full day to make, and that is reflected in the taste.
If you're near the University of Utah, start your day at Eggs in the City. The stick-to-your-ribs menu features flavorful cinnamon roll pancakes and orders of huevos rancheros bigger than your head.
The Red Iguana is Mexican food like you've never tasted before—more Aztec than Tex-Mex. Their specialty is moles of all different types. While chocolate mole is the best-known and most traditional type, the Red Iguana chefs' creativity also extends to red, green, and yellow moles based in chili and pumpkin seeds, poblanos, and golden raisins, respectively. One notable special: a strawberry mole that tastes sweet, savory, and spicy.
"I was surprised when a friend from Austin, Texas, said that he comes to Salt Lake City when he wanted great Mexican food," says engineering dean Brown. "The Red Iguana is definitely a dive, but it's the best Mexican food you can find." Expect a long line out the door, but the wait is worth it—so much so, a second restaurant, the Red Iguana 2, opened a few blocks away with the same menu. Or, sample a fast-food version at the Taste of the Red Iguana in the City Creek Center food court across from the Salt Palace.
For a high-end meal, head to Valter's Osteria, an authentic Italian restaurant that transports you to Valter Nassi's family kitchen in Tuscany. The setting is white linens with fresh flowers and glistening stemware, but the vibe is far from snooty. "We put together color, taste, and quality. It is beautiful," says Nassi, who has been cooking in SLC for 20 years and welcomes you like family.
Squatter's Pub is an iconic SLC staple. While its beers are bottled and sold throughout the state, they are best tasted in-house with a giant pile of messy wings or the pub's signature black-and-bleu burger. Built in 1989, Squatter's is older than many of its customers and a hub of urban social life. "I recommend the Hop Rising ale because hops are very in right now," says Jessica Means, a bartender there for 15 years. "But I also think everyone should try the Immigration Amber. It was the first brew we made in 1989."
For culinary (and environmental) adventure, explore the Rest. The quirky upscale speakeasy is hidden beneath Bodega, a tiny dive bar that caters to a "primarily younger crowd," says owner Sara Lund, 35. There they offer shots and Tecate beer for $2. Bodega has a pinball machine and a few tables, but really, "the design was a glorified waiting room for the Rest." Indeed, the entrance to the secret speakeasy is a nondescript door in the middle of the room with a flickering neon sign that reads "The Restroom"—but "room" is burned out. Inside, the decor turns decidedly…odd. Outfitted like an eccentric rich uncle's library, full of mounted wild game, oil paintings, and carved wooden sculptures, the Rest offers creative craft cocktails and an ever changing menu that is never online. One season, the food might follow a Southern Contemporary American theme; the next, it could be Scandinavian fare. No matter what, Lund hopes her diners will find the experience surprising—and emerge with a story.
Stores Galore
Whether your tastes run to high fashion or frippery, Salt Lake City's shops have you covered. Directly across from the Salt Palace, the upscale City Creek Center features luxury brands including Tiffany & Co. and Porsche Design. The mall's most interesting attraction, however, is the water. A stream flows through it, with City Creek trout that the public can feed on Saturdays. There is also a dancing fountain that spouts in time to music and lights, making the mall a fun destination for sightseers as well as shoppers.
If swank is not your speed, try the shops and art galleries along East Broadway. Jitterbug Antiques & Toys has been in business for more than 30 years. This family business was started when Dee Jackmon's wife forced him to get rid of the thousands of antiques that cluttered their home. The tiny shop bursts at the seams with airplanes and action figures, old-time cameras, and kites. A jumbled tool section at the back has levers and pulleys and oddments for measuring wagon wheels. For such a small store, it's easy to get lost!
Just around the corner from Jitterbug is Ken Sanders Rare Books, a giant maze of used and antique tomes interspersed with couches and art. The side of the building encourages passersby to "come in and remember what a book smells like." It's the perfect place to sit down and find a lost world.
For works by local artisans and a bit of history, head to Trolley Square, another landmark Salt Lake shopping center. Housed in the historic trolley barns that served as the city's base of transportation operations from 1872, when mules pulled the streetcars, until 1956, the space is part retail, part architectural marvel. At the Machine Age, you'll find steampunk lamps fashioned from antique typewriters and clocks, while Cosset Bath and Body folds local natural materials into pampering soaps and bath bombs. Round out your spree with a hot cup of locally roasted Joe at Coffee Connection.
All of it will provide the buzz you need to feel right at home in the Beehive State.
By Jennifer Pocock
Jennifer Pocock is associate editor of Prism.
Design by Francis Igot