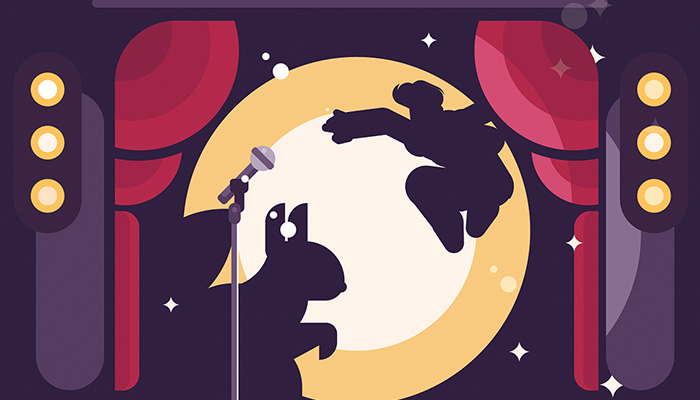 Improv classes teach engineering students to think on the fly while sharpening professional skills.
Jacob Hullings went on a safari recently. Instead of tracking lions or zebras, however, he and his companions were spotting giant squirrels and other oversize versions of backyard wildlife. The imaginary jeep outing—part of an improvisational theater exercise aimed at instilling the importance of mindfulness, flexibility, and teamwork—was hardly what he expected when he enrolled at Northwestern University's McCormick School of Engineering and Applied Science three years ago. Nonetheless, "it changed my day-to-day life," reports Hullings, who is double majoring in mechanical engineering and manufacturing and design. "It inspired me to take myself a little less seriously and to be OK with doing things for the sake of enjoying my time at school." Case in point: indulging his abiding interest in art by taking an Intro to Sculpture course just for fun—something he'd never let himself make the time to do.
Across the country, a growing number of engineering students are undergoing similar shifts in outlook. Fueled by employer demand for more well-grounded graduates, schools have turned to theater classes, one-off workshops, and for-credit electives to help hone communication and other professional skills. Carnegie Mellon University biomedical students, for example, have received lessons in creativity from Pittsburgh's popular Steel City Improv troupe. At the University of Wisconsin–Madison, Professor Anne Lynn Gillian-Daniel offers a half-credit, improv-based course for graduate students in science and engineering as well as workshops across departments. "Engineering is about solving problems. As our students go into the world, they need to have influence over decision makers. Improv theater applies to both," says Ed Scheinerman, a professor of applied mathematics and statistics and vice dean for graduate education at Johns Hopkins University's Whiting School of Engineering, who spearheaded an improv class specifically for STEM students. "In improv, students need to get up and speak and listen and interact with other people in high-pressure situations, and they only have a few seconds to make their point. I see it as a way to boost their self-confidence and communication skills and, quite frankly, have some fun in the classroom."
'Just Show Up'
Short for improvisational theater, improv is a form of live performance in which participants spontaneously make up the material—story line, characters, and dialogue—and feed off one another, often starting from a prompt by the instructor. Performers are guided by a series of principles. Key among them: the "yes, and" formula, meaning participants must accept what a colleague has stated and expound on it, however implausible—such as Hullings describing giant squirrels in the safari skit. It's up to the rest of the troupe to acknowledge the contributions and build the scene from there.
Rookies aren't expected to jump in the deep end right away. In Northwestern's Engineering Improv, the elective class that Hullings took, students build up to performing by doing exercises such as writing and playing games based on the maxims outlined in Patricia Ryan Madson's 2005 book, Improv Wisdom. Guidance includes "just show up," "pay attention," and "don't prepare." Students rarely take long to become comfortable in the spotlight. Guided by instructor Byron Stewart, a professional theater actor, they take turns performing in scenes such as the safari skit with these principles in mind. For example, "don't prepare" is about being flexible, says Stewart, "So often, we plan ahead, so we're not able to be in the moment." When a group comes together, people rarely pay attention during the introductions because they're thinking about what they're going to say about themselves, which defeats the whole point. "The idea is to just listen and trust the fact that when it's your turn, you're going to remember your name. Improv is all about that," Stewart explains. "Of course, you need to prepare in certain situations, but it's the whole idea of flexibility that crosses over [into engineering], being comfortable with your plan not working."
While spontaneity and free association aren't qualities generally associated with aspiring engineers, Joseph Holtgrieve, the professor and assistant dean at Northwestern who conceived of Engineering Improv, says that's precisely the point. "If you've been celebrated for [analytical] achievements and skills, it can create a bias; it can drown out those other skills," he says. "There's value in cultivating the whole brain—you need to make space for those other skills." Holtgrieve admits that some performers aren't ready for prime time, but "even if students aren't skillful at it, they enjoy it."
Hullings was drawn to the class as an opportunity to break his intense curriculum and "take something less engineer-y." He was intimidated at first, but the warm-up exercises made him feel less self-conscious. Stewart told Hulling's class that improv was less about being funny than about making the acting believable. "It was important to use your senses," explains Hullings. "We talked very little about actual comedy." Among his major takeaways were Improv Wisdom's maxims "just show up" and "start anywhere," which provided insight on how he typically approaches a problem or project. "Even if things seem tough or overwhelming, often times just making an effort to start addressing a problem can make it seem more manageable and less stressful," says Hullings, who acknowledges struggling with perfectionism. "Not everything we produce for classes, or projects, or work is going to be our highest caliber work, but that doesn't mean it isn't valuable," he says. "This shift in expectations allows me to be less stressed and to take risks without being afraid of less than perfect results."
At Hopkins, Scheinerman was inspired to offer an improv class in the department after watching his son become emboldened through involvement in theater. "I saw what a dramatic difference it made for him," he recounts. "I credit his theater experience in helping him grow."
Confidence Booster
Scheinerman's class, Improvisation for Scientists and Engineers, which launched last year, is part of an effort by the school to help STEM majors translate their findings to colleagues and nonscientists. That doesn't typically come easy for engineers, who often lack the training to develop such fluency, notes Julie Reiser, a senior lecturer who directs the marketing and communication program at Hopkins's Center for Leadership Education. "They really want to know how to communicate better because they often haven't had the opportunity in high school, and they've got a very rigid curriculum" in college, she says. "They've got these fine minds that they self-censor a lot of time. Improv is a way to help them jump in and stop worrying so much."
Moreover, STEM students tend to be risk-averse. Improv allows them to take a flier in a safe place. "They can get a little bit embarrassed and have everyone crack up," Scheinerman says. "We're not trying to develop actors; it's really about communication development and self-confidence." Undergraduate education is more than acquiring knowledge, he adds. "It's where we convert adolescents into adults. They'll use this class more than some obscure fact they learned in thermodynamics."
So far, the response has been overwhelmingly positive. "Once they drink the Kool-Aid, they love it," Reiser says. The main takeaway for Grace Goulson, a junior in civil engineering at Northwestern who took Holtgrieve's class, was a boost in confidence. She says she learned to trust herself and not overthink things. "It was fun to be performing and letting go emotionally," she explains. "I've never looked forward to a class as much as I did with improv," says Goulson, adding that it "boosted my confidence as an engineer." It also inspired her to take the next course in the sequence, which focuses on creative expression.
Share the Spotlight
While a big part of these classes is meant to foster poise and communications skills, Holtgrieve says improv is also about instilling mindfulness and trust in others. In an opinion piece he wrote for Inside Higher Education earlier this year, he recounts when Northwestern alumnus and comedian Stephen Colbert spoke about improv in a commencement address. "He said one of the first rules is that you're not the most important person in the scene. Everyone else is… He explained that your job is to pay attention and serve other people in the scene." The speech—particularly its powerful theme of reciprocity—inspired Holtgrieve and became the germ of his course.
Stephanie Pulford, associate director of instructional research and development at the University of California, Davis's Center for Educational Effectiveness, agrees there's more to improv than building confidence and communication skills. "It's something deeper than that. It's a way to practice certain cognitive functions that help you communicate," she explains. "You have to affirm what the person who spoke before you said and move forward, and that's a skill we rarely scaffold."
Hullings came to embrace this aspect of the exercises. "The whole class is framed with the perspective that in order to be good at improv you have to be careful with your attention," he explains. Cultivating mindfulness and teamwork has had a positive impact on his other coursework. "Whenever you are solving a problem in engineering, there's a lot that can change without notice, and you have to be ready to adapt to that," Hullings notes. He points to a recent design project that involved developing a marine-research tool for Chicago's Shedd Aquarium. The timetable for delivering a prototype was compressed from four weeks to two when the research ship's departure date was moved up, forcing him and his teammates to regroup and adapt quickly. "At that point we had to reevaluate what was possible to deliver to our client. We very quickly divided up responsibilities and worked incredibly hard for those two weeks. It ended up also being an effective exercise in trusting one another to each accomplish pretty critical tasks and then bringing them back together before the deadline," he says. "Instead of letting it defeat us, we had to go with it. You have to keep moving forward and accept and do what you can with where you are."
Different Strokes?
Of course, the students who are singing improv's praises are those who signed up for the class. The engineering students who could benefit the most may be the least likely to register for a workshop, much less a full course. Case in point: Johns Hopkins offers the same improv course to its business entrepreneur majors—which fills up quickly—whereas Improvisation for Scientists and Engineers, not so much.
Nonetheless, Reiser is hopeful. "The best way to get scientists and engineers to embrace improv would be to have strong, empirical data that demonstrate certain outcomes that are important to them," she says. "If we can show them that improv can help them to land a better job fresh out of undergrad, to feel more confident and be more effective while presenting at conferences, and to make more natural connections with colleagues that lead to better collaboration in the lab, then they'll happily embrace it."
Scheinerman adds that the skills gained from improv will prove even more valuable in the future, when artificial intelligence takes over analytical tasks and people skills, such as judgment and an ability to communicate, will be at a premium. "We think a lot about what our students should know analytically, but we don't think about what they know about being influential and making connections," he says. And hey, it's a jungle out there!
By Margaret Loftus
Margaret Loftus is a freelance writer and frequent Prism contributor based in Charleston, S.C.
Design by Miguel Ventura