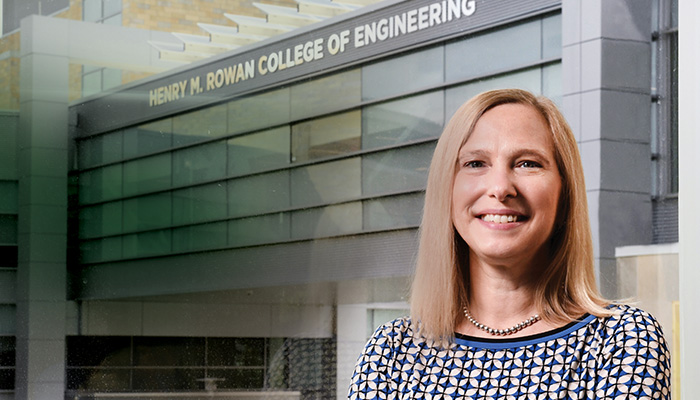 ASEE's President enlivens classes and promotes diversity by reflecting society in all its dimensions.
Stephanie Farrell can find teaching ideas just about anywhere—even on the slopes of Mount Kilimanjaro. Climbing Africa's highest peak in 2010 with her husband and a couple of friends, she realized that the effects of altitude on her body, including shortness of breath, could be explained according to chemical engineering principles. "I was climbing with other chemical engineers, so we started talking about the mass balances around our lungs and how oxygen was going in and how much carbon dioxide was going out and how the atmospheric pressure was changing and the fact that tea was boiling at a lower temperature." Back at Rowan University, "I developed a whole bunch of problems for my chemical engineering class that fall."
Imaginative projects that reinforce science learning have long been a hallmark of Farrell's teaching, research, and contributions to ASEE, whose members elected her as their 2018-2019 President. Her students have, among other things, learned how to fabricate precisely measured drug tablets, compared the life cycle of biodiesel and fossil fuels, reverse-engineered the process for making beer, worked in teams to improve solid-waste management on campus, and studied the abnormalities of sickle cells.
"With Stephanie, it seems that everything that happens in life has the potential to be an engineering problem you can give students or a laboratory experiment they can run," says Richard Felder, professor emeritus of chemical engineering at North Carolina State University and an eminent figure in engineering education. "The degree to which she can pull it off and make anything into an engineering exercise just dazzles me."
Student-Centered Learning
Farrell, 54, a professor and founding chair of Rowan's department of experiential education, says student-centered learning experiences will not only create more successful engineers but also attract a more diverse group. "We haven't created a workforce that reflects the society we serve," she says. In recent years, she has devoted considerable time to diversity, using her skills to develop "safe zone" workshops that promote welcoming environments for engineering students who are gay, lesbian, bisexual, transgender, and queer/questioning. (LGBTQ).
Raised in Chatham, N.J., Farrell grew up an only child in a household steeped in love of the arts. Her father had a graduate degree in music theory from the University of Pennsylvania, and her mother had attended the American Academy of Dramatic Arts in New York. When she entered Penn, Farrell seriously contemplated majoring in both chemical engineering and some branch of the humanities. But getting picked for a NCAA Division I swim team narrowed her options. "I just made a practical decision," she explains. "Spending five hours a day in the pool meant that I wouldn't have the time for a dual major, so I chose to focus on studying chemical engineering."
While at Penn, Farrell became interested in biological applications of chemical engineering. She spent a year after graduation working with the World Health Organization to develop a needleless injector for measles vaccine. "That was my first exposure to an application of chemical engineering that really focused on biomedical applications, something that would have the potential to help people directly, and that really appealed to me." She worked under Benjamin Rubin, who in 1965 had invented a disposable two-pronged needle for injecting smallpox vaccine that is credited with helping to save more than 100 million lives.
Fermenting Beer
At the Stevens Institute of Technology, where she enrolled following a year in Europe and earned a master's in 1992, Farrell found her "first real teaching opportunity where I had to come up with my own project" during a summer precollege science and engineering program for middle school girls. "At the time I had gotten interested in home brewing, so we looked at brewing beer from a chemical engineering standpoint—but not from a drinking standpoint." In experiments that would later be adapted for college freshmen, the girls learned how to perform their own fermentation in the lab. "That became a common theme of my teaching: always trying to find things students are familiar with in everyday life. I think it helps make engineering concepts more accessible to them." Serving as a teaching assistant solidified her interest in education as a career. "I always really enjoyed office hours when I got to meet students and try to explain concepts they were struggling with and being able to explain things in different ways until something clicked. I knew that was the kind of career path I wanted to take."
Farrell attended her first ASEE Annual Conference in 1996, the year she earned a Ph.D. in chemical engineering from the New Jersey Institute of Technology. She went with her friend and fellow graduate student Ann Marie Flynn. "We met people who had common interests and attended sessions where people were presenting papers on research and teaching. That's where we found a home. We felt like we belonged." While adding to the engineering education literature in conference papers and journal articles, Farrell has since served twice on ASEE's Board of Directors and received the organization's National Outstanding Teaching Award (2004) and the 2006 Robert G. Quinn Award, which recognizes excellence in experimentation and laboratory instruction.
In her first full-time teaching job, at Louisiana Tech University, "I knew, it really became clear, that I had made the right choice and that for the first time I was using all those years of education that the job required," Farrell says. After two years, she was recruited to join the newly created department of chemical engineering at Rowan.
"We wanted people with new ideas, creative minds, people who can innovate—not people who had taught at x, y, or z for 20 years and were going to bring the same things here," recalls founding chair Stewart Slater. "Stephanie was a perfect fit." The young department took guidance from Benjamin Franklin's words: "Tell me and I forget. Show me and I may remember. Involve me and I understand."
For the Freshman Engineering Clinic course taken by all new engineering students, Farrell upgraded her beer-making activity for a college audience and included a visit to a local microbrewery. Slater joined the students on the bus. "It was amazing how she put it all together from the initial lab experiments to understanding concepts to actually seeing something in a finished project and talking to entrepreneurs who ran the brewery." Another Engineering Clinic course idea that Farrell came up with was reverse engineering a coffee maker: figuring out how a machine was built and all the variables that go into its construction and then creating a new one. A particular student favorite is "Hands on the Human Body," a National Science Foundation-sponsored activity that Slater says is both creative and truly multidisciplinary. It combines electrical engineering, showing the role that electricity plays in the nervous system; the chemical engineering aspect of how the kidneys and lungs work; and the mechanical engineering involved in the function of the skeletal system—even looking at how well different sneakers cushion impact on the bones and joints.
Company Partners
Farrell has made a point of partnering with local companies like General Mills and Campbell Soup to add a real-world dimension to junior and senior Engineering Clinic courses. "We would work with teams of engineers at these firms to identify problems that were on their wish list, problems that they would like to work on but didn't have the time to do. So we would put students on those projects and come up with different strategies to solve problems." That included designing a novel baking process for Goldfish crackers for Pepperidge Farms. "Not every single solution got adopted, but many did and saved companies a lot of money."
Rowan's department of experiential engineering education (ExEEd), which Farrell began in 2016, engages in real-world problem solving, with students leading the way while the professor serves as a guide-on-the-side. "We can't just cram it all in for four years. Students need to be in position to continue learning and to be comfortable guiding that learning process, to get the fundamentals and the skills to apply them to new problems as lifelong learners."
Farrell's work to provide more inclusive environments for underserved groups has drawn multiple NSF grants. including the foundation's first to focus on LGBTQ inclusion and equality in engineering. LGBTQ students are an important focus, she says, because "it's a population that has experienced discrimination and exclusion in our profession" and yet has not until recently been included in efforts to increase diversity. As a result, she says, the engineering profession is losing, or not even considering, important potential talent.
In seeking to enlarge the pool of potential engineers, Farrell has also been interested in factors that hold students back. One is a lack of spatial-visualization skills, which many educators once considered innate. Farrell spent the 2014-15 academic year as a Fulbright Scholar at the Dublin Institute of Technology, where she helped develop software that lets students rotate graphics of 3-D objects using a mouse. Upon her return to Rowan, she introduced the program to her Freshman Engineering Clinic and was impressed with the results. "It's amazing with just a couple of hours of practice how their test scores go up and how their retention improves," she says.
President Farrell's first letter to members appears in this issue's ASEE Today section.
By Pierre Home-Douglas
Pierre Home-Douglas is a freelance writer based in Montreal.
Design by Nicola Nittoli