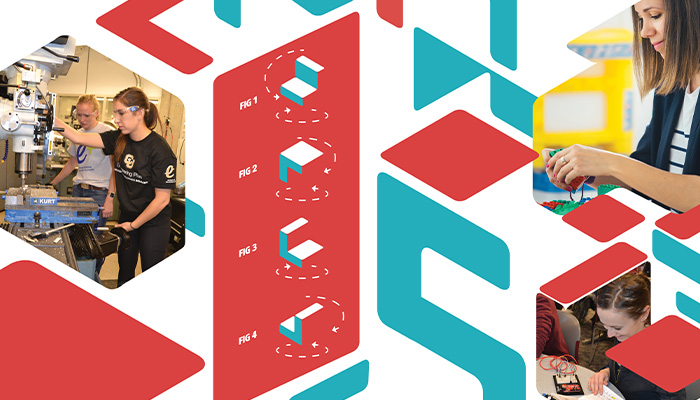 A pilot program to boost 3-D visualization skills—one that any engineering school can adopt—yields big gains for underrepresented students.
Rachel Sharpe arrived at the University of Colorado–Boulder literally primed to hit her first year running. A track-and-field state champion, she was looking forward to competing on the college team—and majoring in engineering. The heptathlete's first hurdle came at the start of class, however, when she failed a short placement test involving 3-D rotations. "I was devastated," recalls Sharpe. "I thought there must be something wrong with me."
Imagine trying to win a race with invisible weights on each ankle. That's how a sizable fraction of women and underrepresented minority students experience engineering education. Their slump in self-confidence, grades, and persistence often gets chalked up to poor preparation. But a mounting body of evidence suggests that struggles like Sharpe's reflect measurable—and correctable—deficiencies in a crucial engineering skill: the ability to mentally "see" and manipulate 3-D objects. Identify and address those shortfalls, research has shown, and diversity will increase along with retention and student success.
Spatial visualization (SV) is integral to the design process, graphics, modeling, mathematics, and other core engineering practices. Yet schools—which typically screen incoming freshmen for calculus readiness—rarely teach or even assess this essential skill, despite well-documented variation in abilities by gender, race, socioeconomic status, and even nationality. A recent controlled study of CU-Boulder engineering undergraduates, for example, found that only about 26 percent of female international students from the Middle East passed a nationally normed SV test, compared with roughly 72 percent of their domestic counterparts. The gender gap is equally profound: Men have consistently outperformed women—particularly on problems involving 3-D rotations—in studies dating back more than a century.
Mental Blocks
"The big problem with spatial skills is it's all left to chance," says ASEE Board member and Fellow Sheryl Sorby, a professor of engineering education at the University of Cincinnati whose pioneering SV research has propelled much of the current spike in interest and scholarship—including a dozen papers and poster presentations at ASEE's 2018 Annual Conference in Salt Lake City. "You played with Legos? Oh, you have good spatial skills. You didn't, too bad."
No one knows why women, low-income students, and members of other underrepresented groups are less spatially adept on average. Some researchers point to environmental factors, from differences in curricula to the kinds of activities boys and girls pursue from a very young age. Others, including Wade Goodridge, an assistant professor of engineering education at Utah State University, suspect biological factors also play a role. He and his research team are using electroencephalograms (EEGs) to analyze students' "neural efficiency" as they solve sophomore-level statics problems, which involve complex spatial reasoning. Goodridge also is coprincipal investigator on a National Science Foundation-sponsored informal science education project aimed at developing spatial acuity in blind engineering students.
Whatever the cause, SV deficits have major implications for retention and inclusion, particularly for colleges seeking to boost the proportion of female graduates beyond the decades' old benchmark of 20 percent. "For many of the women," explains Sorby, the inability to visualize objects "makes them feel like they don't belong." She can relate, having "hit a wall" in introductory engineering graphics while classmates who struggled with calculus "sailed" through. "If this is engineering, I can't do it," she thought and contemplated leaving.
Sorby stuck it out, earning a B.S., master's degree, and Ph.D. in mechanical engineering-engineering mechanics from Michigan Technological University, and then joining the faculty in 1986. But her SV skills remained so weak that she cherry-picked which problems to assign from the engineering graphics textbook because she couldn't solve them all. "It made me feel like an imposter, like I was just faking my way through being an engineer," she recalls. Serendipitously, a math-education colleague with an interest in visualization and gender differences approached Sorby about creating a course to help women learn spatial skills. "So that's what's wrong with me!" she marveled, writing the first of many successful NSF grant proposals to study and develop SV interventions over the past 25 years.
One early result was an SV-skills assessment and training program for first-year Michigan Tech engineering students that dramatically raised grades and retention. The graduation rate for women who took the SV training after failing the SV test, for example, rose to 89 percent, versus 68 percent for those didn't take the optional semester-long skill-building course. Dozens of other engineering schools have implemented similar testing and training programs as partners in ENGAGE Engineering, an NSF-funded initiative to increase student success and retention that began in 2009. (See "Whet Their Appetite," Prism, Summer 2011).
Stitch in Time
CU–Boulder's College of Engineering and Applied Science was an early ENGAGE Engineering member. On the cutting edge of reform for years, the school had begun to see payoffs in improved engagement and retention from such innovations as revamping the first-year experience around design projects and design thinking. But the SV gender disparities remained stubbornly wide. "If spatial visualization skills are as critical to retention as Sorby's work says, then all of us darned straight should be doing it," explains ASEE Fellow Jacquelyn Sullivan, codirector of the college of engineering's Integrated Teaching and Learning and Engineering Plus programs. The ambitious goal: Close the gender gap and create a short, cheap-to-implement, required intervention that any engineering school could adapt and deploy.
The resulting SV skills-training curriculum—replete with instructor tips and available free online at https://www.colorado.edu/eplus/resources/spatial-visualization/—is modeled after Sorby's but with several key changes that should make it easy for any engineering school to institute. "We stood on her shoulders," Sullivan readily admits. As at Michigan Tech, incoming students are given an assessment—in this case, the 30-question Purdue Spatial Visualization Test (PSVT)—the first week of class. Instead of a semester-long course, however, those who get fewer than 20 correct answers take four two-hour, out-of-class workshops, one per week, that teach foundational SV skills such as geometrical rotation using multiple modes, from computer animations to play-Doh. There's no fancy equipment—mostly paper, pencils, and such reusable items as workbooks and snap blocks—so the interventions are relatively cheap to implement. A key team member is Maurice "Mo" Woods, an aerospace engineer whose knowledge of design software and facility with 3-D printers, CNC machines, and circuit board assembly keep the technology and learning humming.
Training is held several evenings a week. While it's not for credit, students can earn 5 percent of their course grade if they retake and pass the PSVT after completing all four workshops. "We found they must have skin in the game to get results," explains Sullivan. The arrangement allows the college to serve students from multiple introductory courses simultaneously while requiring only a small change in how the professor calculates grades. A second four-week series of workshops is held for those who flub the PSVT retake.
Each workshop targets a key SV skill, with different practice stations and group activities to solidify concepts for visual, hands-on, and aural learners. The kickoff workshop focuses on orthographic views, such as the drawings of structures that civil engineers provide to construction crews. At the block relay station, students learn how to create two-dimensional representations of 3-D objects by building an eight-cube model that they draw from the top, front, and right before passing the model to a neighbor. Next, they individually practice workbook problems and check their answers. Pairs of students then take turns wearing a blindfold and describing a multicube shape that their partner draws. Finally, online activities provide additional practice. The only prerequisite is familiarity with the Cartesian coordinate system and its x, y, and z axes.
'Gangbuster Results'
Outcomes from the two-year SV pilot proved so robust that the workshops were expanded as a way to level the playing field for all students. An analysis published in the 2016 IEEE Frontiers in Education proceedings documented across-the-board gains. Nearly all of the 1,521 first-year students completed their engineering design class with SV skills above the 20-point threshold. Although median PSVT scores didn't change, the overall passing rate jumped from 82.8 percent to "a remarkable 98 percent," wrote lead author Jacob Segil, a faculty member in the Engineering Plus program who both oversaw the workshops' development and taught them for several years. Women and international students made the greatest leaps. "We get gangbuster results in terms of closing the gender gap," says Sullivan. The workshops also improved the SV skills of men, underrepresented minorities, and low-income and first-generation students. Moreover, the lessons seem to stick. "It's a whole new way of visualizing," says Sullivan, likening it to learning to ride a bike. "Once you get it, you get it, and it changes how you see the world around you."
That certainly proved the case for Sharpe, now a mechanical engineering senior. Her dismay at flunking the PSVT pretest turned to optimism when she attended the first workshop and discovered that her spatial disabilities probably stemmed from growing up in a family of girls who played with Barbie dolls, not building blocks. Her second happy discovery: Spatial abilities can be learned. Keen to catch up, Sharpe plunged into the workshop activities with enthusiasm, honing her ability to clearly describe objects she could only feel and imagine how models might look from different angles. The training proved invaluable during a summer internship at a local company that makes sensor-laden educational toy robots based on Star Wars and other movie characters. Stymied by a computer-assisted design project, Sharpe felt her heart sink—until she remembered her SV workshop exercises, grabbed some paper, and broke the 3-D visualizatons into 2-D sketches of top, front, and side views. Her mental roadblock vanished and she confidently met the work deadline.
As with most research, CU–Boulder's SV workshop results have raised further questions, particularly around international students and the surprisingly underdeveloped spatial skills of Middle Eastern women. This presents "an equity issue" for engineering schools recruiting students abroad, Segil and his colleagues observe in a 2017 IEEE Frontiers in Education conference paper, noting that foreign undergraduate enrollments increased by 182 percent between the 2004-2005 and 2012-2014 academic years.
Equity concerns also are fueling a spate of investigations and initiatives at the K-12 and community college level. Sorby, for example, is collaborating with Susan Metz, executive director of diversity and inclusion at Stevens Institute of Technology and a cofounder of ENGAGE Engineering, to develop and evaluate the effectiveness of an online SV skills training program for community college technical students.
Meanwhile, Sharpe is back in the SV workshop—only this time as the teaching assistant.
By Mary Lord
Mary Lord is deputy editor of Prism.
Design by Miguel Ventura