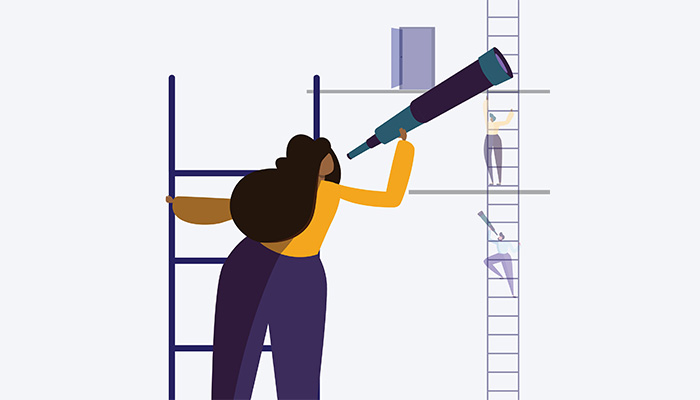 An informal network of female engineering faculty strives to open doors at the top–particularly to women of color.
By Jennifer Pocock
Rising through the faculty ranks at Northeastern University, Gilda Barabino had her sights set on becoming a full professor through her research—developing therapies for sickle cell disease and engineered tissues—and gaining recognition as a teacher. "I never, ever saw myself as an administrator. Ever," she says. But when the provost, in 1999, urged her to oversee undergraduate education for the whole university, she accepted. "Since I was always willing to try new methods of teaching, this was right up my alley." Although Barabino would later return to research, her three years as a vice provost taught her how university decisions were made and how talent sometimes went unrecognized. She also grasped the importance, particularly for women of color, of ascending to platforms where they could influence decisions. "I noticed that, if certain people are not at the table, that perspective is never going to be there."
In the years since, she has found several such platforms—as the inaugural vice provost for academic diversity at Georgia Tech, president of the Biomedical Engineering Society, and member of a National Academies Committee on the Impact of Sexual Harassment in Academia. When she became dean of the Grove School of Engineering at the City College of New York, she made known her interest in serving with ASEE's Engineering Deans Council. "And the first opportunity that I had, I was appointed to the [EDC's] Public Policy Committee," which organizes an annual colloquium where deans learn from—and attempt to influence—policymakers at the national level. Now chair of the EDC, she has gained added stature as an elected member of the National Academy of Engineering.
"Every position that I held, I was encouraging women to get engaged, to run for office or a seat on the board," she says. Other women evidently share the same view. "Right now, we have more women on the engineering dean's council than we ever have," she notes. This type of service is vital, she says, because the stats are pretty dismal. When Barabino joined CCNY in 2013, she was one of two African-American female engineering deans, and the first to be appointed at a non-historically black university. There are only five African-American women deans and three of them are at HBCUs, which means that, of the nation's approximately 393 engineering colleges or schools, only 1.27 percent are headed by black women.
Women in general account for slightly less than 20 percent of the engineering leadership, with only 77 deans or directors at the helm. While those numbers are climbing, Barabino notes that most of the jobs are going to white women; only 6 percent of all women deans are African American. "That's telling because a lot of these schools say that 'we would hire people of color if we could only find them,'" Barabino says. "They're out there, but they don't hire them."
Dinner, Then a Workshop
Barabino is working with several other deans within her region and across the country to connect women and underrepresented minorities to leadership positions, both formally and informally. It started with Cammy Abernathy, dean of engineering at the University of Florida, and Emily Allen, the engineering dean at California State University–Los Angeles. They thought all the women deans should get together for dinner at the Engineering Deans Institute in 2017. Barabino serves as principal investigator of the National Science Foundation-funded Engineering Deans Forum on Broadening Participation, which builds on activities like the dinner and will conduct workshops into 2020.
The problem of diversity at the top isn't always the fault of those doing the hiring, as Stephanie Adams notes. Now in her second dean's role, having left Old Dominion University for the University of Texas–Dallas, she says, "There are some out there who are afraid of leadership positions, or who don't feel they meet all of the qualifications to hold such positions." Adams, current ASEE president, clearly isn't among them. "We women can do this job and we need more of us in top positions, as we bring a perspective that others may not."
Allen came to engineering in a roundabout way, along a path that included dropping out of college after high school, a stint as an industrial welder, and community college coursework that helped her prepare to go back to school at Columbia University. With a B.S. in metallurgy and materials science, she went to work at Raychem Corporation, a California industrial electronics firm, while pursuing a master's degree at Stanford. As her interest in research grew, she stayed to earn a Ph.D. and landed a job as an assistant professor at San Jose State University in 1992. Nine years later, she was appointed department chair. "I don't think that going from an assistant professor to a department chair is usually recommended," she says, but she excelled in the job, and also rose to become a full professor. She served as associate dean from 2008 until 2013, when she became dean at Cal State LA.
Though her path was a winding one, her experiences help her better serve her students and faculty, Allen says. Cal State LA is a majority-Hispanic institution, where close to 70 percent of the students are first-generation, but hungry to move up in the world. "The nontraditional student is becoming the traditional student now," Allen says. "The whole college is nontraditional. It's all on a vast scale."
As dean, she says, "you're pretty much always advocating for resources for the job," whether that's funding or finding the right professors. She says that making the right hires is the most important thing aside from making sure the school is running day-to-day. Allen seeks to hire and encourage people whose ambition is to solve problems that will help students and faculty—not people who are simply vying for prestigious titles.
She strives to create a familial feeling within the college, forging strong cohorts among first-year students. "We use community building as a resource," she says. "The success of the community is as important as academic success." This idea has gained traction among her Hispanic students, who come from a traditional family culture. To build a community, it's increasingly important for college leaders to reflect the population they're serving, Allen says. But connecting the best people to leadership roles isn't always easy; sometimes it comes down to chance and the right attitude.
Seize the Moment
A good mentor can help a woman ascend to leadership, but "sometimes you have to reach out and ask for it," says Robin Coger of North Carolina A&T State University, who became engineering dean in 2011. While at the University of North Carolina–Charlotte, she wrote a white paper charting the future of biomedical research at the school. She was then asked to run the biomedical research center that emerged in the process and became the center's director.
"As the center director, you're working as an ambassador for your people and the university. You're thinking about what strengths we have, and how you present and represent that work. You're seeking grants and philanthropic funding," says Coger, who serves on Prism's Editorial Advisory Board. When it came time to move on, however, she didn't know what job to pursue. "Sometimes, we have colleagues who know that they want to be full professors and chairs, then deans, provosts and presidents. Then there are others who think differently," she says. She found a book that gave her an exercise: Write down the top five responsibilities you want in your next role. "Later, I was contacted by a search firm asking if I would be interested in applying to a deanship at North Carolina A&T. I hadn't thought about being a dean, but I had thought about that list. Everything on my list was in the ad for the position."
For women, she says, it's important to keep in mind the impact they want to make, more than their career trajectory, and to take a chance when the right job comes along. "When you look at the demographic differences between men and women, sometimes the difference comes from whether or not there is mentorship. I had fortunately read a book that made me do the exercise." While she did benefit from mentors throughout her career, this major step arose from self-reflection.
'It's About Who You Know'
Barabino, along with many others, believes women's careers can't be left to chance. To that end, she often teams up with two other female engineering deans in her backyard, New York City: Mary Boyce from Columbia University and Jelena Kovačević at New York University. "Mary and Jelena and I have been on at least three different panels together," she says. "We also look for opportunities to bring our schools together on multi-institutional grants and think about how we might help each other around joint programming." The three extend event invitations to members of each other's institutions.
Spreading this regional networking model is one of the goals of the deans' Broadening Participation workshops, which offer participants a chance to find out who is doing similar projects around the country and what is working for them. The deans are also working on starting mini leadership programs for women that will help school leaders identify talent and help women rise into senior positions.
"What we're worried about is those who are interested in leadership but don't see themselves that way either because they're not encouraged or don't know enough about what a dean does—and, had they had the encouragement or known about the opportunities, they'd go for them," Barabino says. "It's having the understanding and preparation."
Ultimately, though, leadership workshops can only do so much if the positions aren't available and interested candidates aren't told about them. "Part of why we don't diversify our upper ranks is because it's about who you know—and those networks are still mostly dominated by white men," she says. That's why these networks of women and people of color are so important.
If guiding young leaders through the old-school-network maze is what's needed for success, then engineering leaders need to become and install the necessary guides. "We recognize that, if we want to see more women and underrepresented minorities in leadership positions, we need to cultivate it. We need to help groom and build that community," Barabino says.
These networks should be a mix of both formal institutions and informal mentorships. Whether it's connecting over a meal or attending a grant-funded workshop, the conversation needs to continue and the abysmal numbers need to be dragged into the light, she says.
"I go at it from both angles: How do we empower ourselves, but also how do we break down the barriers by engaging those who are in the more privileged positions?" Barabino says. "We need to engage them as well, because allies are critical. None of us should be let off the hook."
Jennifer Pocock is associate editor of Prism.
CORRECTION: The print version of this article stated incorrectly that Robin Coger, dean of engineering at North Caroline A&T State University, had been an associate dean. Coger also wishes to correct the impression left by the article that she had not benefited from mentoring in the past.
Design by Toni Rigolosi