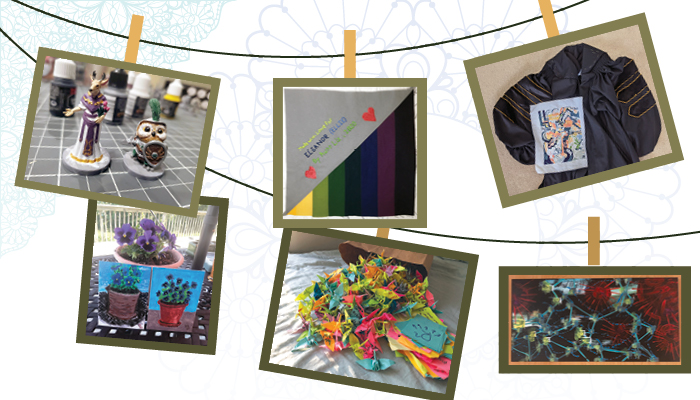 Creative pursuits from embroidery to knitting to painting help faculty hone diverse skill sets—and restore equilibrium during the pandemic.
By Eva Miller and Mary Lord
While novel designs and demonstrations of outside-the-box thinking are encouraged in students, engineering educators rarely share their own creative endeavors. ASEE's Virtual Conference provided a rare opportunity for bakers, quilters, and other artisans to display their handiwork. Some examples surfaced at division socials, such as the acrylic painting that Michigan Tech engineering dean Janet Callahan introduced via Zoom. The biggest showcase, however, sprang up on a Slack platform that Alice Pawley, an associate professor of engineering education at Purdue University, established to encourage "much more informal and playful interactions" and build community among attendees. "The best parts of a conference are the conversations you have in the hallway," she explains. "We needed a hallway."
Pawley, a lover of tech tools that foster engagement, had started a Slack workspace to help her department stay connected during the pandemic lockdown. It now has about 90 members and separate channels ranging from daily check-ins and virtual workouts to social justice. Her ASEE2020 Slack platform surged from 80 to 230 members in just two days (it currently totals about 430) and people started suggesting their own channels—just as Pawley had hoped.
Among the additions was #craftingwhileconferencing, the brainchild of Journal of Engineering Education editor Lisa Benson, a professor of engineering and science education at Clemson University and a longtime knitter. Both she and Pawley, an avid bread baker, often see attendees at other conferences knitting and crocheting while listening to presentations. ASEE's Virtual Conference seemed a natural extension.
Posting images of projects that kept attendees' hands occupied—and off e-mail—during sessions or have helped them cope with pandemic-related stress "gave us some space to play, be creative, laugh with each other, praise each other, swap ideas, share little victories—these are things that make us happy," reflects Benson. "We shared a bit of our humanity."
Here's an #ASEEVC gallery of selected works to inspire your next leap into learning something new.
Eva Miller is editor and Mary Lord is deputy editor of Prism.
Design by Francis Igot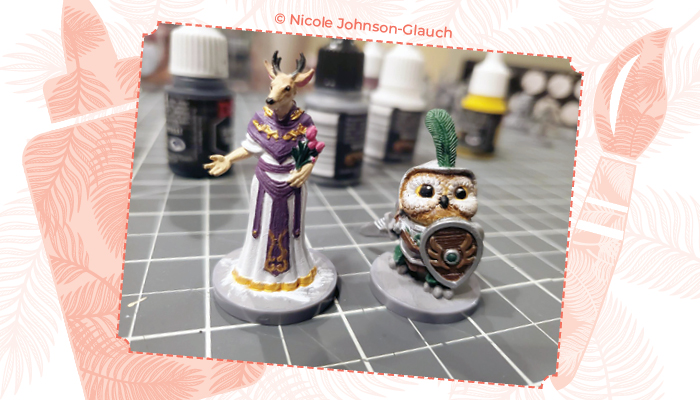 Quarantine Quests
Nicole Johnson-Glauch
Lecturer, Materials Engineering Department
California Polytechnic State University, San Luis Obispo
A human, an elf, and a dwarf walk into a pub…and adventure ensues. So goes one of the most prevalent Dungeons & Dragons tropes. Nicole Johnson-Glauch knows it well, having played the game since middle school. It's not just the role-playing that she relishes, however. She also uses miniatures to stand in for characters in her games. Recently, a set she "had to buy" incorporated a jauntily armored owl knight. The pieces were unpainted, so she learned how to finish them using YouTube tutorials. Like many educators, Johnson-Glauch says that the pandemic has affected her mental health. "Having a small, creative project that I can finish in a couple hours helps distract me from what's going on in the world," she says. Being able to complete a project also has helped her feel effective when she struggles with putting course material online "in a way that is still pedagogically meaningful to my students." As classes restart, Johnson-Glauch sends her best wishes out to all: "I don't know who needs to hear this, but you are awesome and totally got this!"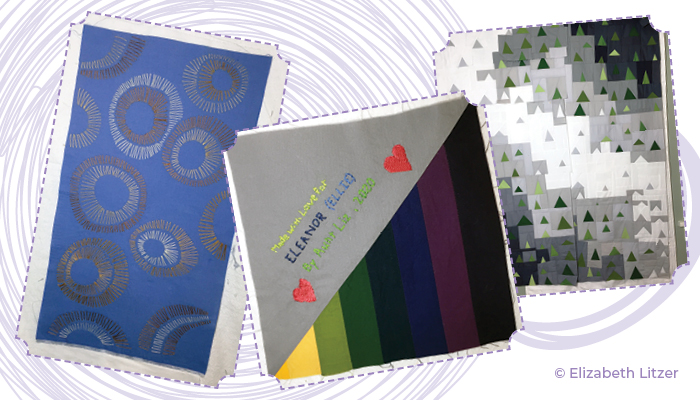 Blanket Statement
Elizabeth Litzler
Director, Center for Evaluation & Research for STEM Equity
Affiliate Assistant Professor of Sociology
University of Washington
"Made with love for Eleanor, by Aunt Liz 2020." Flanked by two embroidered hearts, that tender message adorns a patch of a quilt-in-progress for Elizabeth Litzler's newborn niece, who arrived in June. "I don't always embroider my quilt labels, but I do for very special projects like this one," says Litzler, who has made modern improvisational quilts for the past 10 years. These aren't your grandma's coverlets—they're filled with radical shapes and high-contrast colors that form larger tableaux. She's not the only one working on these, either. Litzler is part of her modern quilt guild's quilting bee. Each month, members make a block for one person's project but follow their own design, so each square is unique. Litzler says quilting, sewing, and embroidery are "respites" from pandemic-era video calls. "I love hand-sewing projects because they are portable" to the porch or park, she says. "When I do find time to sew, I start to feel more relaxed."
All Dressed Up, Nowhere to Go
Kaela Martin
Associate Professor of Aerospace Engineering
Embry-Riddle Aeronautical University
Kaela Martin wanted to show up to graduations in style after she finished her degree five years ago, but the regalia—those long flowing robes with puffy sleeves and elaborate stitching—was not cheap. "It is outrageously expensive to buy regalia for your alma mater," she exclaims, "and the less expensive options don't have pockets!" Martin has been handy with sewing since graduate school. The robe seemed simple enough to make ("famous last words"), and the pandemic gave her the time and opportunity. The regalia project has given her something to take her mind off work, she explains, and it lets her multitask while watching TV guilt-free. Martin pushed herself to get the robe ready for her school's fall graduation, but "now everything is virtual! It's very ironic that I finally finish the regalia and now have nowhere to wear it!"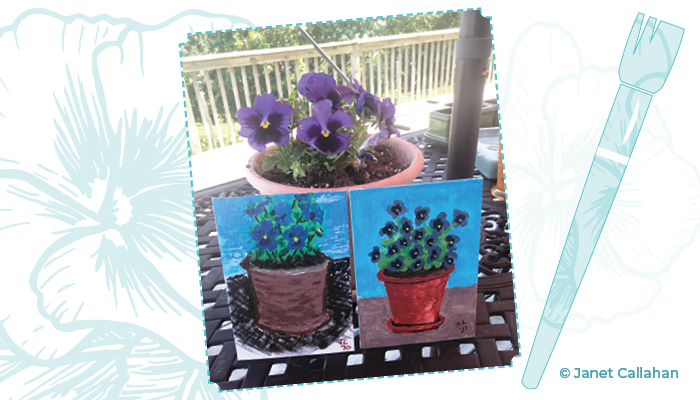 Impulse Art
Janet Callahan
Dean and Professor of Engineering
Michigan Technological University
Like the "classic engineer," ASEE Fellow Janet Callahan, Michigan Tech's dean of engineering, favors pencil on paper for drawing. "Color isn't my normal," she says. But then a friend was put on pandemic leave. Purchasing a set of acrylics and some boards to fill her friend's newfound spare time, Callahan impulsively added an extra paint kit and brushes to the cart for herself. Later, while the two friends socially distanced on the back patio, she brought out a pot of pansies (she's always liked their "faces") and both broke out the paints. "I'll never be known as an artist," allows Callahan, who exhibited her painting at the Pre-College, Minorities, and Women in Engineering divisions' joint social at ASEE's Virtual Conference. She wanted to underscore the value of engaging a different part of the brain and attempting something new as a means of self-care during the pandemic. "But it is fun to try to capture an image with brushes." Painting with color also is "extremely humbling" and far less forgiving than a "a good pencil (and eraser and smudging)." Undaunted, Callahan says she and her friend have another paint night coming soon.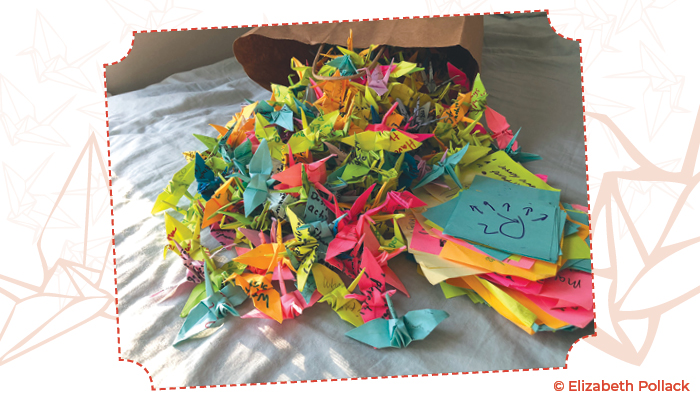 Wishful Making
Elizabeth Pollack
Ph.D. student in mechanical engineering with a focus on design
Michigan Technological University
The sticky note is as ubiquitous as it is useful. For Ph.D. student Elizabeth Pollack, those colorful paper squares help her organize design sprints, brainstorming sessions, literature reviews, and homework assignments. When finished, Pollack turns them from potential trash into treasure—folding the small origami cranes her mother taught her to make as a child. Wherever she happens to be—in class or conferences—making cranes is a "a mindless, reflective, relaxing activity" that keeps her from fidgeting. Currently, she's made close to 450 cranes, and aims for a thousand—when, according to Japanese folklore, the folder's wish will be granted. Pollack's other pandemic activities include baking sourdough, doing embroidery, studying Italian, and learning to weld. "This pandemic has been an incredible time to reflect," she says, "which, from my perspective, is one of the most important practices of teaching and learning." As a 23-year-old just beginning her career, "I am very grateful for the time and space to learn how to do so, especially in this time of complete uncertainty."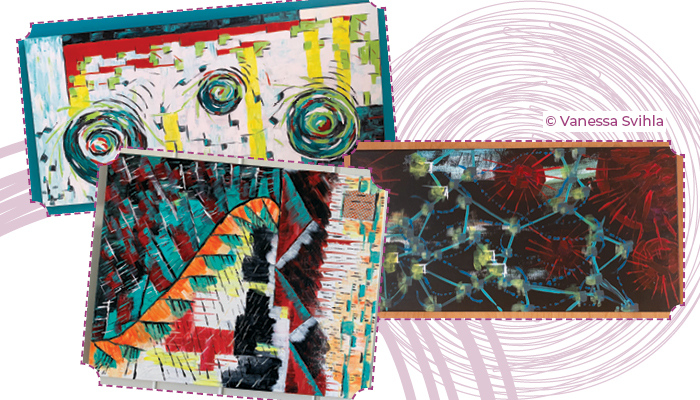 Fit to Frame
Vanessa Svihla
Associate Professor, Organization, Information and Learning Sciences/Chemical and Biological Engineering
University of New Mexico
"Unpredictable social connections" is part of what Vanessa Svihla loves about conferences. Such opportunities are challenging in virtual spaces, but the #craftingwhileconferencing Slack channel helped fill that need, she says, by introducing her to other creative professors. The associate professor has painted off and on for years, but she was more "off" than "on" prior to the pandemic. She picked up her paintbrush again during the upheaval to "paint it out." The paintings connect to her research on framing agency ("making decisions that are consequential to framing and learning about problems"). As Svihla puts it: "Amidst the pandemic, many of us feel we have lost agency, that decisions are being made for us." In addition to a health, equity, and economic crisis, she says, "this pandemic is a crisis of control. My paintings explore the interruptions and tensions communities face, as well as the resilience we need to cope, survive, and thrive."