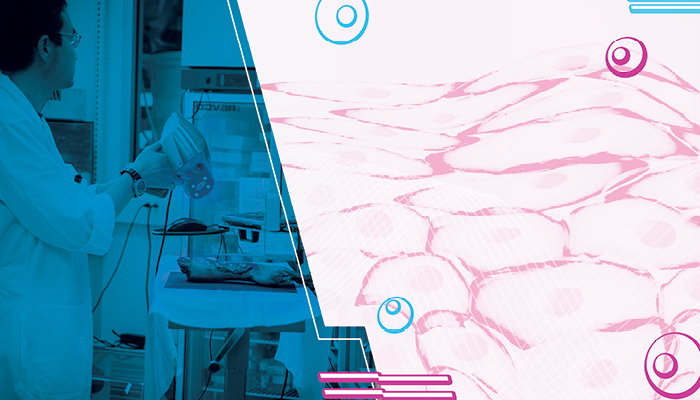 In situ 3-D bioprinters and bioengineered inks promise to transform wound care—and save lives—on and off the battlefield.
By Charles Q. Choi
Walt Whitman's paean to "the body electric" holds no hint of the suffering the poet would soon witness as a hospital volunteer during the Civil War. Nor does it mention engineering. Yet "the exquisite realization of health" his poem extolls might well describe advances in a nascent niche of regenerative medicine that could spare millions from enduring treatments often as traumatic as their injuries. The goal: use the body's own cells to 3-D "bioprint" repairs at the wound site.
Behold the therapeutic frontier of additive manufacturing and biomaterials engineering. Whereas industrial 3-D printers deposit layers of plastic, ceramic, or metal, in situ bioprinters lay down living cells to fabricate skin, tissue, and organs directly onto—or into—patients. Though many breakthroughs remain confined to the lab, researchers have made huge strides in designing microrobotic bioprinters, bioinks, gels, and other innovations to custom-fix defects at the bedside and accelerate healing. A multi-university Australian team, for example, developed a handheld 3-D biopen that patched damage and regenerated cartilage in sheep without postoperative complications. A National Science Foundation-funded project that includes chemical and biomolecular engineers from the University of California–Los Angeles has produced biomaterials that significantly reduce scar formation, while this past summer, a Chinese-led international team published the successful in situ bioprinting of an ear on a living mouse.
Even before these in vivo experiments, bioprinting's potential to radically improve health care had prompted governments around the world, particularly the United States, Russia, and China, to invest heavily in research. Commercial ventures are also taking root; several have bioprinted lung cells to study and eventually treat COVID-19. Already, the conventional global bioprinting market tops $1.4 billion, according to Grand View Research. That figure is projected to hit $4.2 billion by 2027. "A bioprinter could soon become another tool in the robotic surgery toolset," predicts David Hoelzle, an associate professor of mechanical engineering at Ohio State University whose lab investigates in situ 3-D printing methods to repair or manufacture organs.
The dream is that patients desperately awaiting kidneys, hearts, or other donated organs—such as the near-70,000 in the United States alone, estimates the nonprofit United Network for Organ Sharing—could one day receive bioprinted substitutes. That capability likely lies years if not decades in the future. But researchers worldwide say in situ bioprinting can still benefit current medical practice by fabricating relatively simple structures that can be applied using today's minimally invasive surgical procedures. "The idea of going into the body and printing a new heart—that's really cool and gets people excited, but that's not what we're trying to do," explains Hoelzle. "Our goals are much more modest. We're trying to deliver therapeutics." Among them: drugs, materials that provide mechanical strengthening, and growth factors to spur tissue regeneration—all of which "can still help people in meaningful ways."
Skin in the Game
One area where in situ bioprinting may have an early impact is the treatment of chronic wounds such as diabetic pressure ulcers and burn injuries that afflict more than 7 million Americans and cost $25 billion to treat annually. Burn injuries also account for as much as 30 percent of all combat casualties among military personnel. The current gold standard for treating these excruciating wounds involves taking skin from another part of the patient's body. Swift coverage is essential to prevent infection, retain moisture, and initiate healing. Delayed or inadequate treatment often leads to major scarring that can cause long-term disfigurement and lost range of motion.
For severely burned soldiers returning from Iraq and Afghanistan, however, "there was simply not enough skin left to graft," explains Sean Murphy, an assistant professor of biomedical engineering and bioprinting researcher at the Wake Forest Institute of Regenerative Medicine in Winston-Salem, N.C. That's true of many burn patients. So he and his colleagues, whose groundbreaking research on lab-grown human organs was featured in a February 2015 Prism cover story, set about designing a more effective treatment for such wounds. Rather than surgically remove skin, they wondered, what if doctors could print skin onto burn patients instead?
Buoyed by a $300 million research grant from the Armed Forces Institute for Regenerative Medicine, the Wake Forest researchers have made notable progress toward putting the idea into practice. In 2019, seven years after launching their investigation, Murphy and his team reported creating the first mobile skin bioprinter, which could be wheeled right up to the bedside. Their device, which has been successfully tested on mice and pigs, uses a handheld 3-D laser scanner to map and cover the wound's contours and depth. The bioink is made from two kinds of skin cells harvested from the patient's uninjured tissues: dermal fibroblasts, which play a critical role in wound healing by synthesizing the protein that serves as scaffolding, and epidermal keratinocytes that form the skin's outermost layer. The harvested cells are grown in lab dishes and then mixed with a gel to form bioprinting ink.
"Our approach is really just a high-tech improvement of a standard skin graft," says Murphy. "We have simply made the process faster, safer, and capable of covering a much larger area of wound." Bioprinted skin, he points out, also eliminates the need for multiple bandage changes—each "a traumatic and painful experience"—to clean and ultimately place grafts onto the wounds. Indeed, his "most surprising finding" from in vivo experiments on pigs and mice "was just how quickly the wounds started healing after in situ printing." Often, recovery was underway in a few weeks, while wounds in animals treated by conventional methods remained completely open. Moreover, the regenerated skin was similar in both structure and composition to normal healthy skin.
Achieving those results demanded not only overcoming technical hurdles but also coordinating a large group of specialists with very different skill sets. The learning curve was steep. "We'd give viable living cells to engineers who were testing out printing nozzles, and they'd print them, and the cells would all die straight away," recalls Murphy. The engineers blamed overly fragile cells and asked for improvements. "But then we learned that the pressures they were using to push the cells through the nozzles were exceptionally high, killing the cells immediately. So there was a lot of back and forth for all of us to understand what the others were doing."
The team is clear on its next step: a clinical trial on humans. Future directions may also include developing a handheld skin bioprinter for healing small wounds; adding more skin-cell types, such as hair follicle cells; and ensuring regenerated skin has the same pigmentation as the patient's uninjured skin.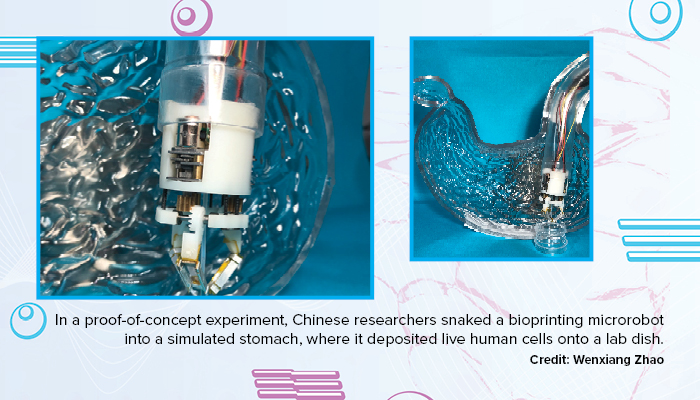 Inside Jobs
Because the equipment is so large, much of the research on in situ bioprinting has focused on skin and other external tissue that can be accessed without significant surgery. However, Tao Xu, a professor of mechanical engineering at Tsinghua University in Beijing, and his colleagues are developing a bioprinting microrobot to help treat internal injuries. The Chinese team initially is targeting stomach ulcers and other gastric wounds that afflict 1 in 8 people worldwide. Mainstream therapies for these painful sores have major drawbacks. Medications often work slowly and are not always very effective. Endoscopic surgery can mend only relatively small wounds, while endoscopically delivered sprays can stanch bleeding but are of little help in completely healing larger injuries. The hope is that in situ bioprinting could generate living structures that offer a better, less invasive way to patch these lesions, Xu says.
The miniature robot that Xu and his colleagues invented for the job is just 30 millimeters wide and 43 millimeters long. Once within a patient's body, it can unfold to a length of 59 millimeters and start bioprinting. Assembling the microrobot, which draws on techniques used to fabricate mechanical bees and cockroach-inspired robots, with high precision proved challenging. Miniaturizing the on-board bioprinter was tricky as well. Ultimately, says Xu, the team managed to find tiny stepper motors only 8 millimeters wide to help drive the device. (These electric motors have shafts that rotate in steps that are a fixed number of degrees.) The researchers have since found stepper motors only 4 millimeters wide, with which they aim to power even smaller bioprinters.
Experiments reported in August establish the method's proof-of-concept. Attaching the microrobot onto an endoscope—a long slender tube doctors can insert into bodily openings to peer inside—the researchers successfully snaked the device through a curved pipe into a transparent plastic model of a stomach. They next had it print gels loaded with human stomach-lining and stomach-muscle cells grown by a commercial laboratory onto a lab dish within the plastic stomach. The printed cells steadily proliferated over the course of 10 days.
Xu and his team hope to shrink the width of the microrobot to 12 millimeters and equip it with cameras and temperature, acidity, and other sensors to enable more complex operations. Future uses could include repairing the inner lining of the uterus to treat infertility.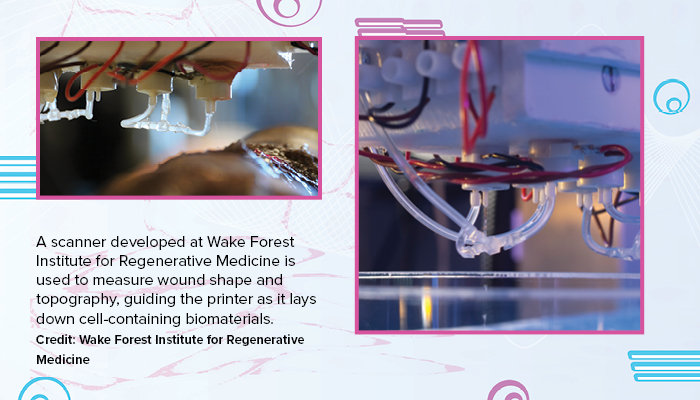 Ink Wells
Even the most ingenious printer needs ink. Xu and his colleagues found that their gels were stable only when cool. At normal body temperature, they were too liquid to form structures well, and chemicals in the solutions they added to solidify the gels could potentially damage the human body.
A gel developed independently by Ohio State's Hoelzle and his colleagues may help solve these problems. In a May study, they reported the bioink can both hold its shape at body temperature and solidify safely with the aid of visible light. "Good collaboration" was key to finding the materials, says Hoelzle. "Our expertise is in robotics and control systems for bioprinting. We're not chemical engineers." One of his doctoral students, Ali Asghari Adib, spent months researching every biomaterial to find ones that could be safely printed in the body. His unique background—an undergraduate degree in mechanical engineering and a master's in bioengineering—"paid off here," says Hoelzle.
Asghari Adib's research led Hoelzle to partner with a biomaterials expert—Ali Khademhosseini, CEO of the Terasaki Institute in Los Angeles—who had materials that could solidify using visible light. Other inks used in bioprinting often require ultraviolet light to solidify, which can damage internal organs. At first the materials they settled on could only be printed at temperatures of about 39 degrees Fahrenheit (4 degrees Celsius), too cold for the body. Through lots of trial and error, they designed a gel viscous enough to extrude and hold its shape at body temperature, a bit like toothpaste.
Another challenge with bioprinting is how to attach printed tissues effectively to soft organs and tissues. Hoelzle and his colleagues tested a potential solution that uses the bioprinter nozzle as a needle to pierce the surface of soft materials such as raw strips of chicken breast. After depositing a tiny knob made of bioink into the punctured space, the nozzle is slowly withdrawn, trailing behind a strand of material with which the researchers could keep printing. The knobs help anchor the bioprinted structures, resulting in up to a four-fold boost in adhesion strength. Hoelzle says they could tinker with these "interlocks" to boost adhesion, much like different stitch patterns in textiles have different strengths. The team is now working on a bioprinting attachment for robotic surgical arms that doctors can swap out as needed.
A host of technological and regulatory issues must be resolved before these potentially transformative techniques can make their operating room debut. Skin, for example, has several different cell types, each requiring different metabolic supports. To reproduce the complexity of living flesh, bioprinters will need greater resolution and speed. And as a group of Wake Forest and Dutch researchers noted in a 2019 Burn & Trauma article on skin bioprinting, mainstream use will depend on the development of quality standards for every step of the process, from growing bioinks to manufacturing printers. For Whitman, limited to exchanging pails of blood-soaked bandages for clean ones, such hurdles pale in comparison to in situ bioprinting's potential to preserve not just "the parts and poems of the body" but the soul as well.
Frequent Prism contributor Charles Q. Choi is a freelance writer based in New York.
Design by Nicola Nittoli