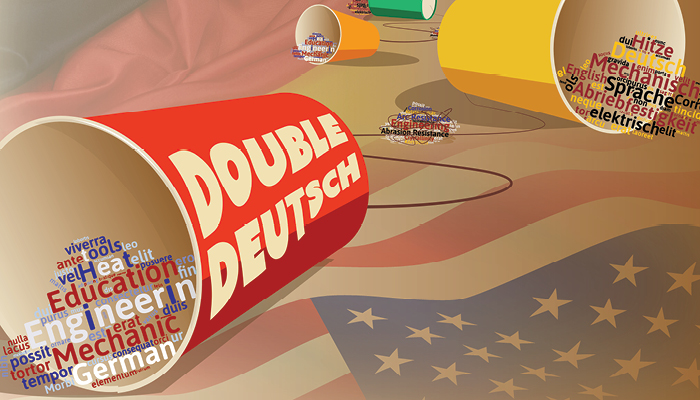 A new initiative at Clemson University aims to graduate engineers who can hold their own in a multinational company—in the U.S. or abroad.
By Margaret Loftus
Having studied German since elementary school, Wilson Wildeman felt confident about following in his father's footsteps and embarking on a two-year industrial-mechanic apprenticeship in the Bavarian town of Naila between high school and college. But he soon was at a loss for words—particularly the names of assembly-plant machinery and computer-related terms. "I had no idea what a milling machine was called or even technical stuff, like a keyboard," recalls Wildeman, who "did a lot of pointing, mostly."
Now a senior majoring in mechanical engineering at Clemson University, Wildeman is Germany-bound once again. This time, however, he will arrive primed to work in the advanced textile industry with a semester of technical German under his belt. The introductory course, which debuted this spring, is just the initial phase of an ambitious Engineering + Language initiative slated to roll out next year with mechanical engineering and German and eventually encompassing other disciplines and languages. Plans call for technical classes taught in a language other than English, study abroad programs, and internships with international companies. The goal: equip graduates with the communication and cultural competencies needed to succeed at BMW, Michelin, and scores of other foreign firms that have become cornerstones of South Carolina's economy.
The timing is auspicious. Despite pandemic-related travel restrictions and campus closures, globally focused STEM degree programs have grown increasingly popular with students. They also address the institutional challenge of underenrolled world language departments, more than 650 of which were shuttered between 2013 and 2016 alone, according to 2019 data from the Modern Language Association. The five-year International Engineering Program at the University of Rhode Island, established 30 years ago and long regarded as a national model, incorporates paid overseas internships, semester abroad partnerships, and a living-learning dorm. Last year, 60 students graduated with both an engineering degree and a B.A. in Spanish, German, French, or Chinese. That's up from 25 graduates in 2009. Moreover, the program's engineering students now account for nearly half of the university's French, Italian, and Spanish majors, and 85 percent of those majoring in German—a boon in an era of shrinking resources for world language departments.
Several other engineering schools, including those at the University of Connecticut, Purdue University, Northern Arizona University, and Valparaiso University, have followed URI's lead. And if the robust attendance at the URI-founded Annual Colloquium on International Engineering Education is any indication—2020's virtual attendance of 354 broke the record—more such programs are in the works.
Multinational corporations are fans. In addition to the practical benefits of having a workforce that speaks a common language, international employers increasingly value the interpersonal skills that come with proficiency in more than one tongue. "They know [bilingual] students are able to adapt to a different culture; they look at problems from different perspectives," explains Johannes Schmidt, a professor of German at Clemson and one of the architects of the novel collaboration between the College of Engineering, Computing and Applied Sciences and the College of Architecture, Arts and Humanities.
Warm Willkommen
Fitting German into an already crowded engineering curriculum that barely leaves room for outside pursuits, let alone attaining proficiency in a foreign language, posed a formidable design challenge. And forget studying abroad, unless students wish to spend an extra year earning their degree. Clemson's Mechanical Engineering + German program planners addressed these and other scheduling hurdles—including the misalignment between German and American school years—by looking for ways to integrate language across the curriculum. "We asked, 'Where can we add German classes?' and 'Where can we replace courses with a German experience?' " explains Schmidt.
The result is an intensive four-year track in which students take the same traditional course load as their peers but also must study at a German university (likely an abridged summer stint), intern at a German company, pass an upper-level German course, and take three technical classes in German—Technical German and two sections of calculus. Some of the program's offerings also fulfill the requirements for the standard engineering curriculum, enabling students to graduate on time with a minor in language studies. Another unique feature is the international virtual exchange, in which students headed for overseas internships can collaborate on projects with their German counterparts taking Technical English.
Kicking off with German was a no-brainer in South Carolina, where more than 270 German-owned companies are listed in the Department of Commerce's industry directory. The firms employ more than 40,000 people and account for nearly a third of overall direct foreign investment. Germany also is the state's second-largest trading partner. In the Upstate region, where BMW operates its largest plant outside of Germany, it is not uncommon to hear German spoken in the grocery store. "Starting with German makes sense for us," says Sharon Nagy, Clemson's associate provost for global engagement. "Most universities are building these programs intentionally, thinking about the relevance to their regional ecosystem, and that's what we did here."
Engineering undergraduates also show an affinity for the language. "There's something in the way German is structured that appeals to an analytic mind," surmises Lee Ferrell, who teaches the Technical German course and finds that "some of our most talented students" are in engineering. "You have to learn a lot of rules. I've noticed that engineers like to learn rules." Bioengineering sophomore Katelyn Franck, a student in Ferrell's course, agrees: "It's kind of like a puzzle to remember all the different components, and being an engineer, that's how I work through problems."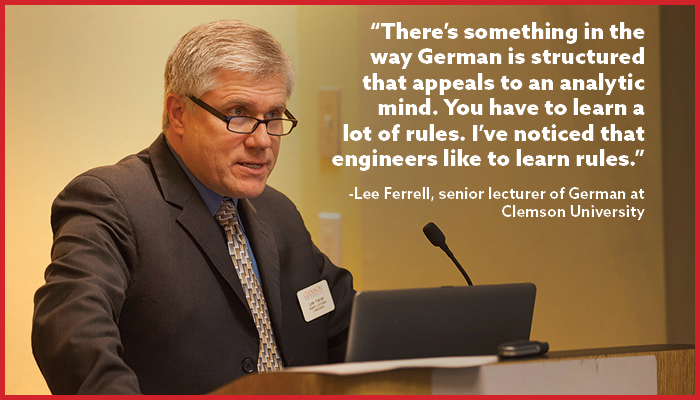 Communication Gap
The value that employers place on cultural and language proficiency was made clear to Rodrigo Martinez-Duarte, an associate professor of mechanical engineering, when he arrived at Clemson. The first thing local industry leaders told him was "we'd like graduates with more than hard technical skills." The request struck a chord: Born and raised in Mexico, Martinez-Duarte has lived all over the world, including in Spain, Switzerland, and India. He says the experience of working in so many multicultural environments taught him empathy and perseverance. As a high school exchange student in the United States, he recalls his American friends questioning why they should bother to learn another language when everybody speaks English. "Sure, they might speak English," he responded, "but you might not be communicating."
Clemson graduate Brian Wright learned this firsthand as a quality engineer for BMW Manufacturing in Spartanburg, S.C., the anchor of a thriving German automotive industrial enclave in the state. A mechanical engineering major with a minor in German, he worked at BMW's Munich headquarters as part of a co-op program—an immersion that helped him understand and navigate the cultural differences at play in U.S. and German workplaces. Wright noticed that Germans typically keep work and personal lives separate, while Americans are more apt to blur the line between the two, allowing disagreements at the office to affect relations with colleagues. After a tense meeting, for example, "a German will have no problem grabbing a beer with a coworker, whereas the American might have to cool off first." Understanding these nuances builds trust, he says. And while BMW doesn't require employees to speak German, proficiency proved invaluable in shaping Wright's career once he got his foot in the door. "I'm now in roles where being bilingual is essential," he says, noting the difficulty of trying to process and translate technical information at the same time. Wright cites the example of analyzing why a new piece of exterior trim wasn't functioning as expected. "Even with detailed pictures and videos, our colleagues in Germany were struggling to understand our proposal for a solution," he recounts. "The conversation had gone on in English for several minutes without much progress, so I stepped in and explained it in German. It wasn't perfect, but it was enough [that] our German colleagues could get a better sense of what was going on."
Strivers Wanted
Clemson's new program is designed for those with no previous German instruction. Still, having just one year of the language before tackling calculus in German as a sophomore would be challenging. "It's realistic to assume [incoming] students will have some German," cautions Schmidt. "We chose math because it's a universal language—there's a lot of overlap," he adds, thanks to German calculus coinventor Gottfried Wilhelm Leibniz. "We expect students are going to be good in math already."
Advisers will play a key role in determining students' level of German and helping them navigate the scheduling conflicts that typically plague engineering students looking to take a higher-level class with few sections. "One of the strong motivations is to try to eliminate these practical hurdles," says Martinez-Duarte.
Like communities everywhere, Clemson has had to adjust during the pandemic. Fortuitously, Technical German is structured ideally for the COVID-19 age. Each of the six modules is taught by faculty at partner schools in Germany via Zoom, with Ferrell serving as moderator. This is similar to the technical language classes students in five-year international engineering programs take overseas. Several weeks in, the class was exploring general terms in STEM (or MINT in German). The next module tackles user manuals. Two-day presentations by German scientists on their current research cap off the course. Ferrell also will help students conduct a German job search, including crafting a culturally sensitive résumé.
Wildeman is excited to have the exposure to as many technical fields as possible. Even if a job in textiles proves elusive, "having a wide base of vocabulary in areas like IT, chemistry, materials science, thermodynamics, fluid mechanics, mechatronics, industrial standards, and even business will be very helpful," he says. "We don't often think about the vocabulary that an engineer has to have," he adds, but they must "communicate in both a business and technical environment, which can be challenging." Clemson sophomore Franck, who hopes to work in research and development of biomedical devices, is also minoring in German studies. She says the research required for the technical language course has helped her "connect the two elements—to figure out how I can use German with my engineering major." In addition to identifying potential employers among German biomedical firms, Franck has discovered opportunities for master's programs and research, for example at the Helmholtz Institut for Biomedical Engineering in conjunction with Aachen University.
As with any new program, Clemson anticipates a slow rollout. "We don't expect hundreds of students," says Martinez-Duarte, who puts the likely number at closer to 10. Still, planners already are talking about adding new engineering disciplines and languages. Chinese is being discussed, but Martinez-Duarte is "biased for Spanish." Beyond mere cultural chauvinism, his partiality reflects sound business sense: The same multinational companies with beachheads in Upstate South Carolina have extensive operations in Mexico. Whatever the choice, it will resonate with today's polyglot engineering employers.
Margaret Loftus is a freelance writer and frequent Prism contributor based in Charleston, S.C.