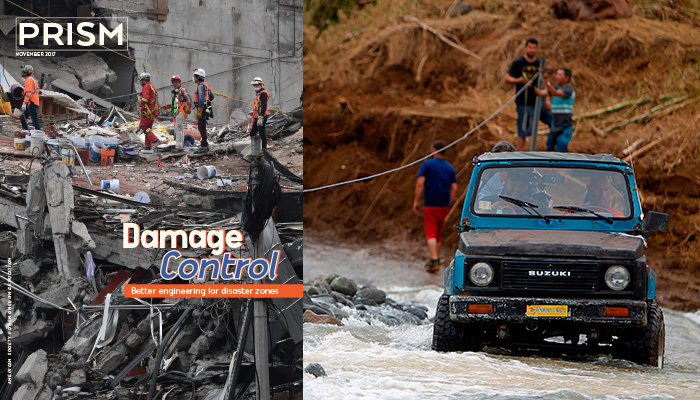 Research on construction materials, coastal protection, and power grids could help protect vulnerable communities and speed recovery from natural disasters.
Returning in 2010 after a 7.0 earthquake leveled his native Haiti, Reginald DesRoches found a striking anomaly amid the devastation that killed some 300,000 people, displaced more than a million, and incurred costs far surpassing the annual gross domestic product of the hemisphere's poorest nation. The 12-story headquarters of mobile phone company Digicel had remained upright, protecting the 600-plus people working inside. DesRoches, then department chair of civil and environmental engineering at Georgia Tech and now engineering dean at Rice University, climbed to the tower's roof and looked out over Port-au-Prince, the capital. "As far as I could see, everything was flattened," he recalled last year in a lecture at the University of California, Davis. Despite being in "an area that had sustained a fairly large amount of shaking," the building endured, he believes, because its designer and builders used concrete with adequate strength and the correct amount and placement of steel.
That kind of engineered resilience is needed now more than ever as the world grapples with exploding urban populations, a changing climate, and record-breaking storms, droughts, wildfires, and floods. Globally, natural disasters have more than doubled since 1980, resulting in hundreds of billions of dollars in damage a year, totaling $4 trillion. If engineers can't prevent nature's wrath, research now under way on predictive modeling, earthquake-resistant construction, coastal protection against rising seas and tsunamis, and sustainable electrical power production promises at least a cushion against the worst effects, and swifter post-disaster recovery. Innovations that spring from these efforts may even lead to the development of new industries, as is envisioned in Chile.
Increasingly, research includes real-time damage assessment and rescue efforts. This past September, for example, a University of Florida team led by Forrest Masters, a professor in the Engineering School of Sustainable Infrastructure and Environment, rushed three-ton instrumented towers to the southwest coastal city of Naples to meet Hurricane Irma head-on. He's part of a National Science Foundation program to study infrastructure performance in natural hazards—in this case, improving the resilience of coastal communities to extreme wind events. Drones deployed by engineering researchers at Texas A&M's Corpus Christi campus in the wake of Hurricane Harvey's deluge provided emergency crews a safer, cheaper method to quickly pinpoint damage to shipping channels and bridges, speeding restoration.
Seven years after the Haiti disaster, Mexico City faced the bitter consequence of outdated or flawed construction during September's Puebla-Morelos quake, which killed 370. A team of Stanford University engineers found that more than 60 percent of the capital's crumbled structures had been erected with a reinforced concrete column and flat slab system. Such a system "is characterized by a very low lateral stiffness and prone to experiencing punching shear failures," the team reported. When this happens, the slab-to-column connection loses its vertical carrying capacity, leading to "a partial or total collapse of the building."
Mexico's recent experience pales against the most dire predictions for the United States. The West Coast, for example, faces a 7 percent chance of an 8.0 quake in the next 30 years and a 1-in-3 chance of a "full margin rupture" measuring 8.7 to 9.2 in the next 50 years—which could kill an estimated 13,000 and displace more than a million residents. Similarly catastrophic could be a major quake in the New Madrid region of the Midwest and Southeast, running from southern Illinois to Alabama. A quake measuring 7.7 there would kill 3,500 people and cause economic losses of $300 million, according to estimates by the University of Illinois-based Mid-America Earthquake Center.
Coastal Defense
Worldwide, some of the most extreme protective measures have been undertaken by Japan, where a 2011 earthquake and tsunami wrought destruction not seen in that country since World War II. Drawing on centuries of coexistence with natural hazards, Japan has launched a $33 billion national resilience project with multiple layers of structural and nonstructural protection.
The first line of defense is seawalls, covering a wider area and built higher than ever before. New or reinforced levees are planned for 248 coastal miles, with some concrete barriers rising 32 feet or more. In the city of Iwanuma, seawall defense has been bolstered by an unusual public-private project called the Millennium Hope Hills, a series of 15 berms parallel to the coast, rising as high as 36 feet. The "filling" for the hills is nonhazardous disaster rubble such as roofing tiles and bricks. Volunteers have planted 280,000 trees, using a variety of native species, creating an emergency refuge, recreation site, and memorial to those lost in 2011.
Coastal areas at sea level have been declared danger zones, where new residential construction is banned. In towns unable to move residents away, land is being elevated. Rikuzentakata, among the worst hit by the tsunami, spent nearly $1 billion to shave off a nearby mountaintop and raise its prime downtown commercial district by a whopping 39 feet. Highways and rail lines have also been elevated, to further mitigate the force of marauding waves and hazardous flotsam such as uprooted trees. Sendai, the region's metropolis and a major port, spent about $12 billion to build a "debris-catching fence" more than two miles long. Made of 13-foot-high steel pipes connected by cables, the barrier is designed to block dangerous debris such as shipping containers and cars from drifting, catching fire, damaging buildings, or blocking roads.
Richter-Scale Design
In trips since 2010, DesRoches has continued to assist Haitians in their slow recovery. While the Digicel tower adopted American Concrete Institute standards for large buildings, simpler techniques would enable smaller structures to withstand the next quake, he says. Mainly, Haitians need to be instructed on the proper proportions of sand, cement, water, and aggregates to use in mixing concrete; his post-quake examination found that many structures contained concrete with half the strength found in the United States.
Meanwhile, at both Georgia Tech and Rice, DesRoches has reached beyond the state of the art in pursuit of the ideal earthquake-resistant building material. He thinks he's found it in shape memory alloys (SMAs), currently used in medical stents, airplane wings, and cellphone antennas. Commonly made of nickel and titanium, SMAs can undergo large deformation but revert back to their original shape through either the shape-memory effect or their own superelasticity. "We're in the process of testing rings that are 12 inches in diameter and an inch thick" and can be connected to the corner of a building, he says. DesRoches envisions using them in beam-column connections, bracing systems, expansion joints, and bridge cables. "Early testing shows great promise," he says. Still to be worked out is how to manufacture SMAs of the right size, something "still very much unknown." Rice researchers are also looking at foam materials containing SMAs, which have an even greater ability to deform and re-form.
"We know how to design a new building," DesRoches says. What's needed is a relatively simple, cost-effective way to retrofit existing structures.
Right Stuff
Materials under development will make post-disaster repairs to buildings and infrastructure faster and less costly than in the past, says U.S. Army Corps of Engineers researcher Robert Moser. He points to new formulas for concrete, derived from advanced chemistry, that is more robust and versatile. "They're a totally different material than what you would use in your house. They gain full strength in an hour rather than a month," he explains. That's important when repairs, upgrades, and retrofits need to be made quickly, such as at a lock on an inland navigation waterway. More corrosion-resistant metals and rapid-curing composite materials also are being developed that are extremely lightweight and formable.
Future buildings will require resilience as part of their design, says Daniel Hiller, executive director of the Fraunhofer Group for Defense and Security, an organization of research institutes in Germany. He participated in a National Academies-sponsored workshop in September on advanced technologies in structural engineering for resilience. "When they design a structure—a bridge, a tunnel, a building—the engineer of tomorrow will have to include the aspect of failure and recovery after failure as part of his/her design thinking," he says. "The structure has to be able to fulfill its function even if part of it fails." The Fraunhofer Institute for High-Speed Dynamics already has built a model railway tunnel with sensors that can, in the aftermath of a natural or man-made disaster, detect whether the structure is sound, needs immediate fixing, or must be completely rebuilt, sending the data to a central hub where it can be analyzed.
Power Surge
The combination of sensors and digitation will revolutionize the design, construction, and management of future structures. "We're not only talking about columns, walls, and beams and windows; we're talking about the entire supply system—water, electricity, and heating," Hiller says. Before concrete is even poured, "you will be able to analyze the total performance of the building with respect to energy efficiency, its resilience, and to even model human behavior in the aftermath of a disaster. When a fire occurs, for example, a building will automatically detect its location and which exits can be accessed. Lighting on the floor will guide people, in real time, to escape the building."
Towns in Japan's disaster zone are building microgrids to secure access to electricity. Such a development would help Puerto Rico, crippled by a weeks-long islandwide power outage following Hurricane Maria, as well as mainland coastal areas, says Gregory Reed, professor of electric power engineering at the University of Pittsburgh, where he directs the Center for Energy and the Energy GRID Institute. Not only can microgrids provide electricity locally when regional power networks collapse, but they allow for energy to be generated from multiple sources. If access to diesel is cut off, for instance, a community could draw power from wind or solar generation.
"I think we need to implement more innovative solutions to our infrastructure needs, like microgrids. It makes sense where communities are vulnerable to natural disasters," Reed says. The optimal microgrid size? "Bigger than one or two buildings and smaller than a large city." A "sweet spot" for resiliency, security, and economic benefit is a range of five to 20 megawatts, large enough to allow for interconnection with a regional or national grid.
Pitt has joined with a utility, Duquesne Light, and regional and local companies and foundations in a multimillion-dollar applied research effort aimed at a redesign of Pittsburgh's energy infrastructure. Faculty and students are working on next-generation microgrid technology using alternate and direct current, below-ground distribution (made easier by lighter-weight DC equipment), AC-DC electronics conversion, battery storage solutions, renewable integration, and control systems employing digital communication.
"There's a heavy emphasis on early-stage demonstration and deployment," says Reed, one that deepens the university's partnership with industry and the community. "What we're establishing as a core aim is to put utilities at the center of this. We don't want to develop technology blindly in a lab." Part of industry's motivation in working with Pitt, he says, is that "this is not just about technology. It's how this relates to the consumer and, as importantly, policy and regulatory bodies." One impediment to innovation in energy delivery, ironically, was a product of deregulation, which forced a separation between power companies, which generate electricity, and the utilities that distribute it.
Improved Forecasts
Modeling tools, big data, and cloud computing should add immensely to resilience against future disasters, a number of experts say. More-predictive maps of flood-prone areas, such as those in Houston inundated by Hurricane Harvey in late August, are now possible with new computational and hydrological tools, according to researchers at Rice and Texas A&M University at Galveston. Their analysis found that the Federal Emergency Management Agency's 100-year flood plain maps—used to determine both flood risk and insurance premiums—failed to capture 75 percent of flood damages from five serious floods. Stevens Institute of Technology, located in a part of the New Jersey waterfront hit hard by Hurricane Sandy in 2012, says its Stevens Estuarine and Coastal Ocean Model, developed by professors Alan Blumberg and Nickitas Georgas, is considered the representation of choice for scientists and engineers worldwide studying urban-ocean environments.
Firefighters battling wildfires will get a better sense of how the flames are spreading and in what direction as a result of data-driven predictive modeling and analysis by computer scientists and mechanical and aerospace engineers at the University of California, San Diego. Their WIFIRE project, led by data scientist Ilkay Altintas, crunches information from satellites and sensors, and observations from networks using signal processing, visualization, modeling, and data-assimilation tools. The team has tested its cyberinfrastructure with the Los Angeles Fire Department but aims to make it available to other fire-prone regions.
Cloud Controls
More challenging than creating sensors for individual buildings is figuring out ways to control large-scale infrastructure systems like road networks, the electrical grid, and urban watersheds, says Jerome Lynch, chair of civil and environmental engineering at the University of Michigan. Once dubbed "the Bridge Whisperer" by Popular Mechanics for his development of a spray-on, nanocomposite "sensing skin" to identify hidden bridge defects, Lynch now focuses on the role of cloud computing both to monitor structures and to figure out how to adapt in the aftermath of a disaster.
"With the cloud, we can aggregate large amounts of data collected over large areas from sensor networks, process that often in real time, and configure infrastructure to behave better," Lynch says. He gives an example of a highway network that has just experienced an earthquake. Ground-based sensors would indicate where the motion was greatest. Engineers could look at the vulnerability of bridges in those areas, and then make changes to provide the appropriate safety margin between load and capacity of a system. In this case, it could involve slowing traffic down to minimize the possibility of overloading a bridge. "The cloud gives you scalability," Lynch says. "You can throw more computational resources at a problem. It's a great way to aggregate data and quickly run the models you need to run to make decisions about the actions you need to take. It's a game changer."
In earthquake-prone California, Rice's DesRoches has led a project to analyze the frailties of some 25,000 bridges. To avoid having to monitor each one, an immense undertaking, his team is refining 150 models that incorporate the spans' principal characteristics to develop potential evacuation routes and point out where retrofits are needed.
Perhaps the most comprehensive approach to resilience is under way in Chile, which spends about 1.2 percent of GDP on disaster recovery—the most of any advanced industrial nation. It's prone not only to earthquakes and tsunamis but volcano eruptions, landslides, wildfires, flash floods, and droughts. In response, the National Commission of Research, Development, and Innovation for Natural Disaster Resilience has come up with a two-decade, $50 million-a-year strategy encompassing everything from community outreach to new national laboratories and study-abroad programs to develop human capital. If implemented, the strategy could "transform Chile into a laboratory for the world" on resilience, says commission head Juan Carlos de la Llera Martin, engineering dean at the Pontifical Catholic University of Chile. But the commission doesn't stop there. It sees development of a national industry contributing to "a more resilient built, economic, and social environment." Services and products could include construction technology and devices to protect structures and analysis of data from satellites and radar, says de la Llera.
Trust an engineer to find a silver lining—even in disasters.
By Mark Matthews, with Lucille Craft and Pierre-Home Douglas

Mark Matthews is editor of Prism. Tokyo-based freelance writer Lucille Craft and Pierre-Home Douglas, a frequent Prism writer based in Canada, contributed to this report.
Design by Nicola Nittoli