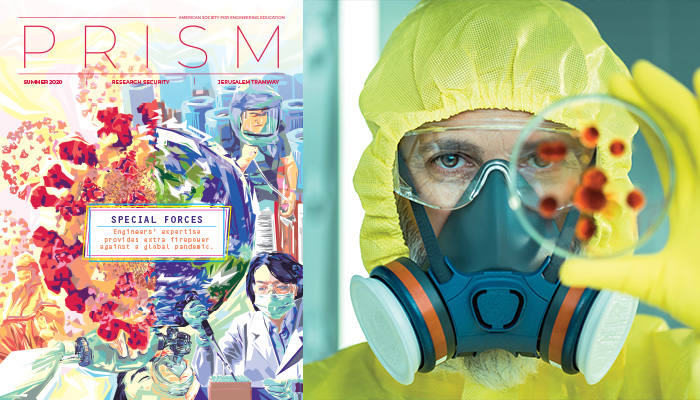 From modeling disease spread to the hunt for a vaccine, COVID-19 spurs engineers to prove anew that necessity is the mother of invention.
By Thomas K. Grose
Well into April, the United States fought the highly contagious coronavirus with one hand tied behind its back, lacking a reliable treatment, short of basic personal protective equipment like masks and hospital gowns, and shifting ventilators among hospitals and between states to keep severely ill patients breathing. A vaccine was at best months away. Perhaps most crucially, the country lacked knowledge: How was the virus changing, and how would interventions, such as quarantines, affect the spread of a mutating pathogen?
Most epidemic-tracking models don't factor in mutations, and therefore miss an important piece of the puzzle. That's where electrical engineering Professor H. Vincent Poor and a Princeton-Carnegie Mellon University research team joined the battle. Their weapon: a computer model that's able to track changes in the spread of an epidemic caused by mutations of the disease. "A model can help you make some informed decisions, ahead of data collection, and of course you can adjust the model as you collect data and that can help refine your response," says Poor, Princeton's interim dean of engineering and a winner of ASEE's Benjamin Garver Lamme award. Following publication of their study, on March 17, in the Proceedings of the National Academy of Sciences, the team set about taking the next step: running its model using data on COVID-19, the disease resulting from the novel coronavirus SARS-Cov-2. "We have a theory now and an opportunity to apply it to something critical," Poor tells Prism.
The Princeton-Carnegie Mellon project is just one example among many of how engineers and computer scientists worldwide have joined forces with other scientists and health care providers to find ways to contain the virus, save lives, and eventually defeat the disease with a vaccine or drugs. "New projects are examining how engineering faculty adapt to teaching online throughout the pandemic period, ways to improve resilience in the medical supply chain, new rapid and sustainable decontamination methods, fluid-dynamics-based solutions to prevent virus transmission, and many other ideas from just about every field of engineering," Dawn Tilbury, the National Science Foundation's assistant director for engineering, tells Prism. "Engineers are clearly eager for their research to make a difference in people's lives, and to prepare their students to do the same." NSF, which received a $75 million infusion in the $1.8 trillion Coronavirus Aid, Relief, and Economic Security (CARES) Act, had, as of April 15, funded more than 70 COVID-19-related rapid-response research (RAPID) awards. One beneficiary is a project that has already earned a global following: a web-based dashboard that keeps a running tally of confirmed cases and deaths in all countries. Created by Lauren Gardner, an associate professor of civil and systems engineering at Johns Hopkins University, the dashboard uses data culled from a wide range of national and state departments of health, international agencies, and local media reports. Another project, by civil and environmental engineers at the University of Michigan and Stanford University, examines tests of wastewater in sewer systems for early warning of disease spread. More than 20 new RAPID awards had been made in engineering by mid-April, "and the number is growing every day," Tilbury writes in an e-mail.
The wide range of current initiatives includes protection of health workers against the spread of the germs. Duke University biomedical engineers converted a surgical helmet that uses room air into a powered air-purifying respirator (PAPR). Their design for the 3-D-printed device is publicly available for other organizations to copy. In case someone breathes unfiltered air, University of Utah biomedical engineer Jessica Kramer is researching how mucous can play a part in the spread of coronaviruses. NSF, which funded her study, quotes her as saying different mucous compositions "could help identify those who are 'super-spreaders' as well as those who could be more vulnerable to becoming infected." Responding to the need for contact tracing while protecting privacy, Massachusetts Institute of Technology researchers are developing a system using short-range Bluetooth signals from smartphones. While other research has been curtailed at institutions across the country, researchers contacted by Prism say COVID-19-related work is continuing despite restrictions and the need for social distancing.
Less Guesswork, Faster Processing
Artificial intelligence (AI)—powered by superfast computers that can plow through and analyze massive amounts of data—has become a crucial tool in finding what parts of the virus are strong targets for either small-molecule drugs or a vaccine. Robert Murphy, a professor of biomedical engineering and computational biology at Carnegie Mellon, says all therapeutic development works along a spectrum. At one end are disease-causing viruses with known targets—those parts that would be susceptible to a compound capable of either killing or weakening the disease. For those, researchers have a good idea of which therapies to try. At the other end are diseases like COVID-19, where "we only have a vague idea of what the target is and possible therapeutics. At that end is where AI has the biggest role to play; it gives us a larger search place."
Pre-AI, Murphy explains, researchers conducted "greedy searches" based on imperfect information and hunches. "It was educated guesswork," he says, and "that can play into the biases of researchers. AI throws into the process more objectivity and comprehensiveness." It's also many times faster. Research has shown that AI can successfully find the correct results 60 percent of the time after, on average, only 2½ experiments. In this case, Murphy says, data from previous coronaviruses, including SARS and influenza, are a good starting point, but researchers need to develop methods to unlock the secrets of the parts of COVID-19 that they least understand. And that requires searching through mountains of data "of a scale that people can't do well" on their own.
In March, for example, the U.S. Department of Energy's Oak Ridge National Laboratory in Tennessee had its Summit supercomputer—the world's most powerful—perform simulations on more than 8,000 compounds to find those most likely to bind to COVID-19, and came up with a list of 77 small-molecule drugs worth studying. The model used in the simulations, of the single nail-shaped S-protein, or glycoprotein, that a coronavirus uses to attach itself to a cell, was created by Micholas Smith, a postdoc at the University of Tennessee/Oak Ridge's Center for Molecular Biophysics. According to center director Jeremy Smith, who headed the study, the Oak Ridge team reran the simulations after another, more accurate model of the protein was built by other researchers. "This has not led to a winnowing of the candidates, but a re-ranking," he says.
Search for a Vaccine
Back in mid-January, a team led by Matthew R. McKay, a professor of electronic and computer engineering at the Hong Kong University of Science and Technology, began looking at the early genetic sequence data of COVID-19 and realized it bore a strong genetic similarity to the 2003 SARS virus. "Vaccine design is difficult," he says, "particularly for the COVID-19 virus, since it has never been seen before." But McKay had been part of a research effort for a never-developed SARS vaccine. That effort uncovered SARS proteins, or epitopes, that experiments showed would likely trigger an immune response in humans. "We developed a basic screen algorithm to genetically match all available experimentally-determined SARS epitopes with sequences of the COVID-19 virus." Initially his team analyzed 120 full genome sequences of the virus, but as of late April, it had access to 8,422 sequences. The search is finding that only around 25 percent of SARS-derived epitopes are an identical match in at least 99 percent of the COVID-19 sequences. Though the SARS epitopes are fewer than originally thought, McKay believes "these parts are promising candidates for triggering an effective immune response against the COVID-19 virus." Using what he says is "a first-of-its-kind software," his team has built a web-based platform to assist scientists working on initial-stage vaccine development. As the virus evolves, McKay says, vaccine developers will need to take mutations into account. "Generally speaking, an effective vaccine should direct an immune response against those part of the virus which are genetically conserved, and which remain largely conserved in the future" despite mutations.
Elsewhere, researchers are working at breakneck speed to develop and conduct trials of a vaccine within a year to 18 months—an unprecedented pace. "I truly hope they [the current fast-track efforts] are successful," says Peter Kasson, an associate professor of biomedical engineering at the University of Virginia. But the result, he adds, will likely be a simple vaccine that isn't terribly robust nor able to easily cope with mutations. His goal is a vaccine that is both more effective than anything rushed out now and will resist future mutations: "Ours is further behind, but could eventually play a critical role."
Kasson is an expert on viral glycoproteins, and he's working to engineer a glycoprotein that mimics the coronavirus's single spike. "We essentially work on the mechanics of how viruses infect cells," he says. By designing a glycoprotein that mimics COVID-19's, he can determine what the immune response is and the deepest protection possible. He's leveraging his previous work on influenza and Zika viruses. His team engineered an assay that discovered the way antibodies work against influenza is different from what was previously thought. Kasson is also combining his research with that of William Petrie, a professor of medicine at Virginia who has been working on a vaccine to defend against amoebic dysentery. Petrie has found novel adjuvants that can be added to vaccines for inducing mucus immunity more efficiently in the gastrointestinal tract. "But the same process works in the respiratory tract," Kasson says. "And it does a really good job of producing antibodies. We believe it induces a more robust immunity."
A 10-Minute Test
One of the biggest impediments to controlling the spread of the pathogen in the United States and some other countries has been a lack of testing, caused in large part by a shortage of test kits. The main testing method is a polymerase chain reaction (PCR) test that's based on genetic material and requires a deep nose swab. It's also fairly slow, typically taking one to two days for a lab machine to spit out results. So many engineering academics are rushing to come up with improved testing machines and methods.
Sam Sia, a professor of biomedical engineering at Columbia University, is working on a machine that could greatly accelerate the PCR process. "It could be done, by pressing a button, in less than 10 minutes," he says. The machine is based on one for which his start-up company, Rover Diagnostics, received U.S. Food and Drug Administration approval last April to check PSA levels for prostate cancer. "We're refocusing it for COVID-19," he explains. If the FDA approves it for PCR testing, Sia thinks it can hit the market quickly. "We are taking multiple steps to deliver the tests. We've partnered with groups who are big distributors." He also suspects that the need for the machine won't dissipate anytime soon. "Right now, the pandemic seems like it will be around for a while," says Sia, who is also working on a simpler test that would work like an at-home pregnancy test and require only a mouth swab. "This would be very important for surveillance. There are a lot of people not tested who have mild symptoms or are asymptomatic."
Separately, two University of California–Santa Cruz engineers are working to develop faster tests. Holger Schmidt, a professor of electrical and computer engineering, is adapting optical sensing technologies he's developed to come up with an optofluidic chip for rapid detection of COVID-19. And Nader Pourmand, a biomolecular engineering professor and expert in biosensors, wants to come up with a quick test that could be conducted at pharmacies. E25Bio, a start-up spun out of MIT's Institute for Medical Engineering and Science by a team led by Lee Gehrke, a professor of health sciences and technology, is developing a paper-based test that would provide results in less than 30 minutes. Its "lateral-flow technology" has been used before to test for other viral diseases, including Ebola and dengue fever. The team plans to seek temporary approval for the test from the FDA, under emergency use authorization. Purdue University's Jacqueline Linnes, an assistant professor of biomedical engineering, has successfully built a portable, paper-based device in her lab that can detect MERS-CoV, another coronavirus. It could easily be modified to detect COVID-19, too. The hurdle, however, is cost: Linnes estimates she needs at least $2 million to devise a commercial manufacturing process.
At Cornell Tech, the graduate-level engineering school formed jointly by Cornell and the Technion, postdoctoral fellows Rebecca Brachman and Server Ertem figured out they could repurpose a tool being developed for cancer detection to be a test for immunity to COVID-19. They're working with New York hospitals and private companies to deploy it rapidly, allowing people found to have immunity to return to work.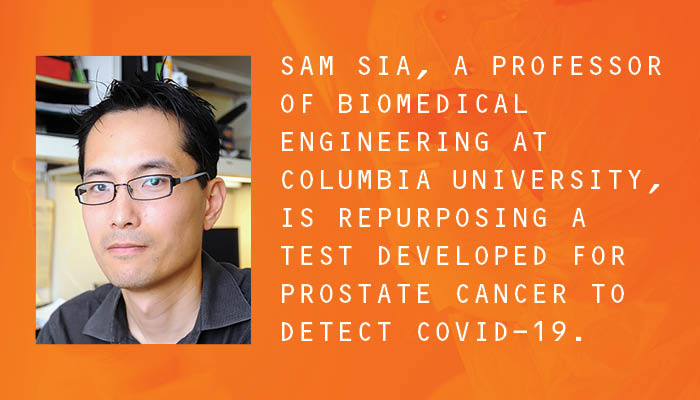 Robots Could Do More
China's response to the coronavirus outbreak in Wuhan spotlighted the use of robots for such tasks as disinfecting hospital rooms and ambulances, using ultraviolet light. While these practices have also been adopted in some U.S. hospitals since 2015, it's hard to know whether other examples of Chinese prowess, like robots at a field hospital checking patients' vital signs by using smart bracelets and cloud data storage, are more hype than real. "We don't actually know what's working and what's not. That's the nature of the beast," says Robin Murphy, a computer science professor at Texas A&M University. Still, these examples point to the growing importance of hospital robots in saving medical workers' time and reducing their direct exposure to infected patients—and to missed opportunities to do more. Murphy was among an international group of 13 authors who lamented that robotics had not advanced more by the time COVID-19 hit. Calling for a "fusion of engineering and infectious-disease professionals with dedicated funding," the group wrote on March 25, in Science Robotics: "Now, the impact of COVID-19 may drive further research in robotics to address risks of infectious diseases. But without sustained research efforts robots will, once again, not be ready for the next incident." Among other authors were Guang-Zhong Yang, dean of the Institute of Medical Robotics at Shanghai Jiao Tong University, and Marcia McNutt, president of the National Academy of Sciences.
Telemedicine is also being put to use during the pandemic. A hospital in Everett, Wash., used a telemedical robot to allow doctors to communicate with a patient in isolation and to monitor heart and lung function. Hospitals in several cities, including Chicago, Washington, D.C., and Cleveland used telemedicine to help screen patients remotely and thereby reduce the number of people needlessly heading to emergency rooms. But some systems crashed under the strain of huge call volumes.
Around the world, COVID-19 has spurred engineers, often on a DIY, ad hoc basis, to come up with ways to ease the shortage of vital equipment and supplies, particularly ventilators, respirators, and surgical masks. When Houston-area hospitals needed a short-term solution to help patients with respiratory problems who didn't yet require ventilators, Rice University engineers focused on bag-valve masks. These are manual resuscitators—basically balloons that are squeezed to provide air to patients. The team designed a motorized robotic device to squeeze the bag. "They looked at them as a low-tech option," says Marcia O'Malley, a professor of mechanical engineering and computer science. Biomedical engineers at the University of Texas at Austin took a similar approach, but used a windshield-wiper motor to squeeze the bag. The Rochester Business Journal reports that 30 researchers, professors, and graduate students at the Rochester Institute of Technology are testing portable ventilators modified for COVID-19 patients who need frequent adjustments to the flow of oxygen. University of San Diego engineers came up with a similar concept, using premade and 3-D-printed parts to automate the pumping of bag-valve masks.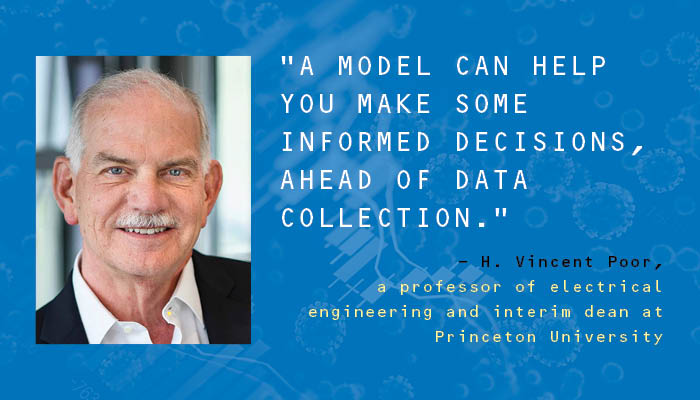 Ventilators and Respirators
Engineers and physicians at Oxford University and King's College London are addressing the ventilator shortage by building and testing prototypes that could be manufactured at many universities and small-to-medium-sized companies. Their plan uses off-the-shelf components, and an open-source design, for a distributed-manufacturing system: The ventilators would be cobbled together by providers close to local hospitals. On March 31, the U.K. government gave the green light to proceed with safety tests. If the ventilator passes, it can rapidly go into production. A team of Polish engineers developed a design for a ventilator made from readily available and 3-D-printed parts and posted it online. Kagya Amoako, an assistant professor of biomedical engineering at the University of New Haven, developed 3-D-printed flow connectors that would allow doctors to hook two patients simultaneously to a single ventilator. Many engineering schools—including those at South Dakota School of Mines & Technology, the University of Wisconsin, Syracuse and Michigan State Universities, and the University at Buffalo—have used 3-D printers to churn out masks and face shields. At George Washington University, newlyweds Destie Provenzano, a Ph.D. student in biomedical engineering, and physician Yuan James Rao, prototyped a 3-D-printed reusable respirator for use if hospitals run short of N95 masks. Publicly available online since March 31, their design had been downloaded more than 7,400 times by April 17.
Once the pandemic got underway, people worldwide have been constantly reminded to regularly wash their hands to help avoid contracting the disease. Ruben Juanes, an MIT professor of civil and environmental engineering, was coauthor of a hand-hygiene study, with Christos Nicolaides, an assistant professor of business at the University of Cyprus, that coincidently came out in December, just as the virus emerged. It looked at how often people at airports washed their hands after using public toilets. Around 30 percent didn't bother, and half of those who did failed to wash them properly. "The baseline was grim," Juanes says. Their model, however, determined that if messaging on handwashing was beefed up at all airports and it boosted the number of people with clean hands by just 10 percent, it could slow the spread of a virus by 24 percent. An even bigger decrease in spread could result if the average number of people with clean hands jumped to 50 percent, he says. "At the time, 50 percent was considered unrealistic. But the incentive is there now." Juanes and Nicolaides are now working to simulate overlaying hand-hygiene messaging with restrictions on global air travel to come up with an optimal strategy that could slow the advance of COVID-19 in the coming weeks or this fall, when it's possible the pathogen may return in a second wave.
Public health measures, including social-distancing and lockdowns, are being taken into account by the Princeton-Carnegie Mellon team as it adjusts its model. In fact, flexibility is a hallmark of the team's work. Last summer, the researchers were developing a social media model, seeking to predict how small changes in information on social media networks can affect how widely (or "viral") that information is circulated. Carnegie Mellon team members suggested that the theory might also be used in epidemiological modeling, substituting changes in information regarding mutations in a virus to better gauge the speed at which a pathogen might spread. "It really is serendipitous," Poor says of the arrival of COVID-19 just months later. The same methods apply. "The way we model random things [like mutations] is to use probability, and it's not just in this case, it's in almost every field," Poor says. While some epidemiological models may occasionally consider mutations, he says, "what we're trying to do here is put it on a more formal basis, and I think that's what the contribution of this paper is."
Of course, he adds, "When you have very accurate data, you may not need a model so much. But the problem is the data come in more slowly than you need it." Models themselves can be inaccurate, depending on disease-tracking efforts. Quoting British statistician George Box, Poor says, "the scientist must be alert to what is importantly wrong." For now, though, models are "the best thing we have" to make decisions during a pandemic.
Thomas K. Grose, Prism's chief correspondent, is based in the United Kingdom.
Design by Francis Igot