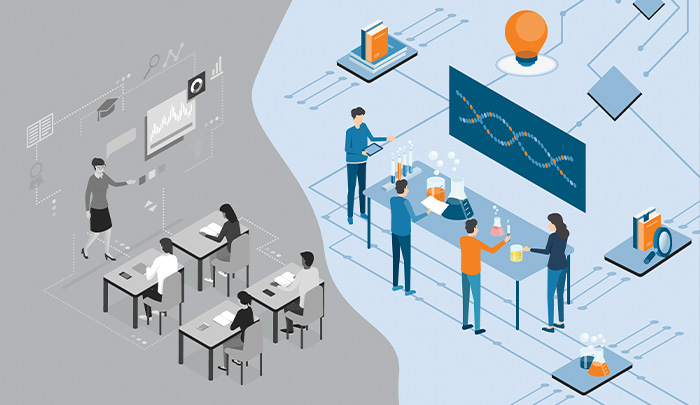 More Than a 'Nice Change'
Educators must teach students that ethics are an integral part of engineering education and practice.
By Johanna Lönngren

Technological advancements profoundly influence society and impact people's lives globally. Engineering students therefore must learn how to take ethical responsibility for the societal impacts of technology. Many engineering instructors are highly engaged in, and committed to, teaching ethics in their classrooms. However, research suggests that many students still graduate with the impression that ethics is not an important part of their education and doesn't concern them as future engineers. I wanted to understand why and how that occurs.
I conducted an in-depth study in a general introductory course for first-year engineering students in Sweden. The course covered ethics as well as design methodology, group and project work, and engineering as a profession. According to the course description, the ethics instruction in the course aimed to develop the students' ability to discuss moral and ethical concerns that may arise in their professional work. Students attended a lecture highlighting two professional codes of ethics and participated in discussions of fictitious ethics cases in small groups and from perspectives such as those of employees or customers. At the end of the lecture, they were assigned a reflective essay in which they had to identify an ethical dilemma they could expect to encounter in their future professional life, apply at least one of the professional codes, and discuss how they would act.
I followed the students to most of their classes and observed group work sessions. I also conducted interviews with students and teachers and collected course documents and student work. In analyzing the data, I focused on how instructors and students talked about ethics in relation to other topics in the course, the engineering degree, and the engineering profession. For my analysis, I created a mind map of positive (aligning) and negative (distancing) relations.
The results illustrate how ethics may be viewed as unimportant in the culture of engineering education and how this often happens unintentionally despite instructors' best intentions to integrate ethical reflection and decision-making in their teaching. For example, the results show that teachers talked about ethics as something other than the technical content of the engineering program, comparable to subjects such as philosophy or Japanese. Indeed, students experienced the ethics content in the course as "a nice change" but not very well integrated with the technical content.
Teachers also described ethics as mostly about commonsense thinking and personal opinions, which left students with an understanding of ethical reflection as an activity that requires neither analysis nor carefully developed ethical principles and frameworks. In contrast, teachers talked about technical content with a strong focus on robustly tested theories and methods. This difference further strengthened students' impressions that ethics is not an integral part of engineering. In addition, students' ethics learning was not properly assessed in the course. The reflective essays were mainly assessed on their format, such as layout and use of references, rather than the quality of students' ethical reflection. Unfortunately, students concluded that the essay "wasn't very important."
To communicate the importance of ethics, instructors can teach ethical reflection as a structured, analytic activity based on frameworks of ethical reasoning. However, these frameworks must not be presented as abstract theories that could be perceived as irrelevant to engineering practice. Instead, students need to learn to apply these frameworks to concrete, real-world cases from everyday engineering work. Instructors must also assess ethics learning with explicit criteria, since students tend to focus their energy on what is assessed.
Assessment criteria can also help teachers and students better understand what students are expected to learn, thus reducing their experience of ethics as "fluffy" and mostly about personal opinions. If we want our students to become responsible professionals, ethics needs to become one of their—and our—main foci. Frameworks of ethical reasoning and assessment rubrics can serve as effective tools to achieve that aim.
Johanna Lönngren is an associate professor in the department of science and mathematics education at Umeå University, Sweden. This article is based on "Exploring the Discursive Construction of Ethics in an Introductory Engineering Course" in the January 2021 issue of the Journal of Engineering Education.
For examples of assessment criteria, see this rubric for ethical reflection, https://peer.asee.org/13015, or the Engineering Ethical Reasoning Instrument (EERI), https://doi.org/10.1002/jee.20249.
Image by Getty Images/Alexander Da Silva